The Best Places to Visit Along the Costa Brava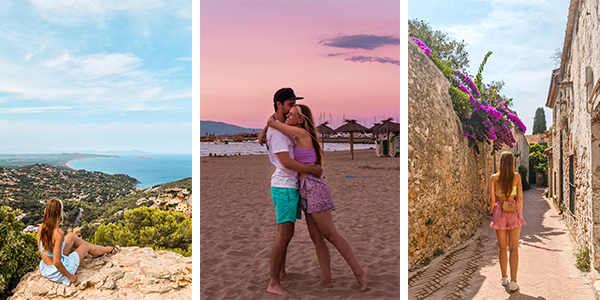 The Costa Brava is a coastal region in northeastern Spain and stretches from the French border to Blanes. The name Costa Brava translates to rough or wild coast and that's exactly what the landscape looks like. Because of the warm summers, it's a popular holiday destination among Europeans. Along the coast you will find beautiful beaches and picturesque towns. In this blog post, we're sharing the best places to visit along the Costa Brava, as well as some places you might want to avoid.
L'Escala
During our time at Costa Brava, we stayed in the town of l'Escala. It wasn't our first time there. Joop has been there many times as a child and we've also been together before. For us, it's the perfect place to stay at the Costa Brava.
Platja de Riells
L'Escala has three areas we love. The first area is Platja de Riells. Platja de Riells is located in a bay facing north and offers a huge sandy beach and a long promenade filled with restaurants. This is by far the best beach in l'Escala, and because of its size, there's always a spot available without being cramped in between other beach go-ers. There's a huge choice of restaurants along the promenade but these aren't the best in town, and mostly offer touristy food. However if you don't set your standards too high, it's okay. The long promenade is perfect for evening walks, especially during sunset. Even though there's no direct view of the sun setting into the sea, the skies are always beautifully colored during this time of day.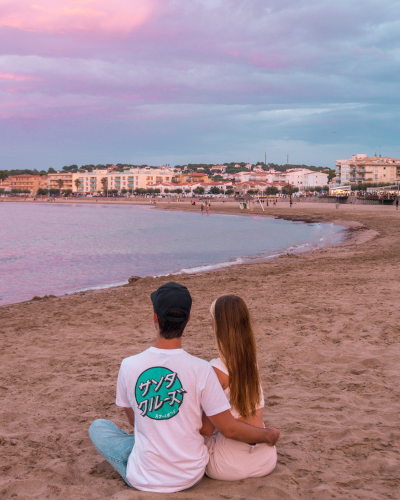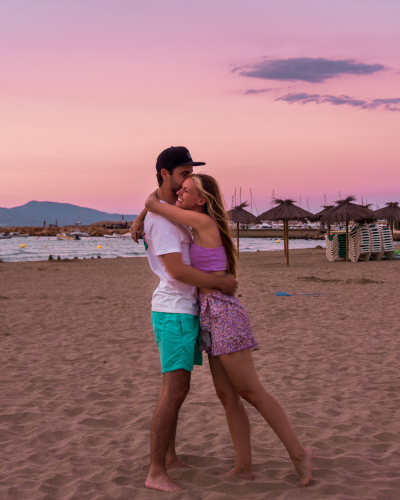 Cala Montgó
Cala Montgó is located in a bay facing south-east. This beach is a lot smaller than Platja de Riells, but it's our favorite in l'Escala. The bay has some beautiful nature and pretty houses, which we love.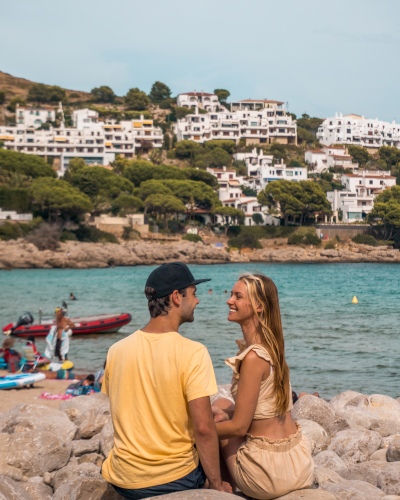 The water in the bay is surrounded by rocks, which makes it a nice place for snorkeling too. Snorkeling here isn't as spectacular as in other places of the world (such as in Nusa Penida, Indonesia), but when you're lucky you can definitely see some pretty fishies. We loved renting a water bike here to pedal around the bay to discover new places for snorkeling. It's also possible to rent a kayak and explore a cave that's located further into the bay.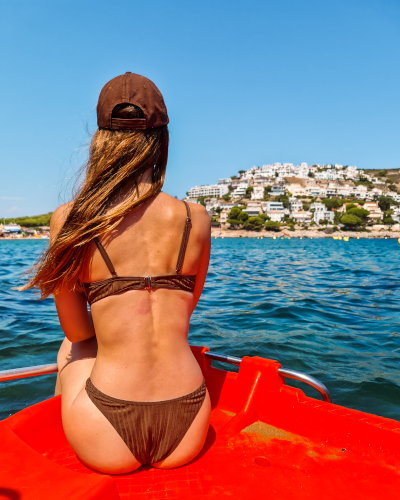 When you're done with swimming and snorkeling, you can hike up the rocks surrounding the bay. There, you will find the Montgó Tower, which was built as a piracy defense tower in 1598. Besides the tower, the view overlooking the bay is amazing. It's a fun activity on a somewhat cooler or cloudy day or in the morning. We wouldn't recommend doing this hike in the blazing afternoon sun.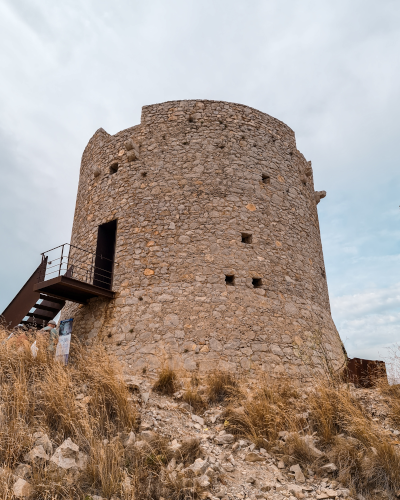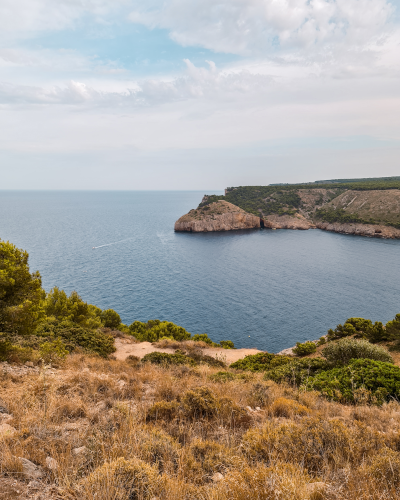 Center of l'Escala
The third area of l'Escala we love is the town center. The beaches Platja de les Barques and Platja Port d'en Perris are located in this area. We think this area of l'Escala is the most authentic and offers the best restaurants. The beaches here are very small so we assume they quickly fill up, but we've actually never been there during the day. We always visit this area in the evening when all tourists and locals come here for dinner. It's very lively at night. We'd recommend spending some time on the rocks along the coast during sunset. Even though there's no direct sight of the sunset, the changing of the skies is amazing to witness.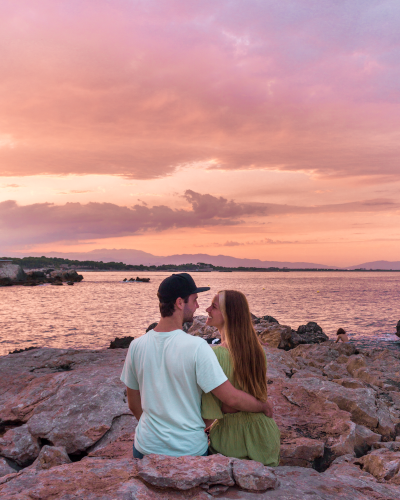 Water activities
In l'Escala, there are plenty of possibilities for water activities. Besides renting kayaks or pedal boats at Platja de Montgó or Platja de Riells, you can also go on boat trips or take diving lessons. Most of these water activities are offered from companies located in the harbor of l'Escala. We went on a snorkel trip by boat, which wasn't a success for us. We hoped they would take us to a nice bay to snorkel where you wouldn't be able to get to easily. However, they took us to Cala Montgó where we went to the beach every day and to a place in the bay you could get to on foot. So we were a bit disappointed by that. We wouldn't recommend doing a snorkeling trip, but just bring your snorkeling gear to Cala Montgó. Besides snorkeling trips, it's also possible to go on a boat or jet ski tour along the coast and there are lots of diving schools. We also looked into renting a boat, but the sea is actually very wild so we didn't feel comfortable doing that. If you're into water activities, there are plenty offered in l'Escala.
Where to stay in l'Escala
All of the three areas we mentioned before are perfect areas to stay in l'Escala. During our last stay, we stayed in a ​​Albatross Mobile Home on Camping Lacus near Platja de Riells. Being conveniently located between our two other favorite areas in l'Escala, staying there was perfect for us. The mobile home was brand new and had a fully-equipped kitchen, bathroom with shower and air conditioning. We're big fans of camping and used to camp in our own tent every summer. Over the years, we're getting more into glamping, so staying in this mobile home was right up our alley. If you're also into camping, there are a lot of campings near Cala Montgó that offer standard camping spots as well as mobile homes or pre-set-up tents. If you prefer staying in an apartment or hotel, your best bet is in the center of l'Escala or near Platja de Riells.
Click here for accommodation in l'Escala.
Sant Martí d'Empúries
Sant Martí d'Empúries is a tiny village that was established by the Greeks in the 6th century BC. It's a very authentic village and it's lovely to wander around its pretty streets. There are a few restaurants that are very busy during lunch time, so be aware of that if you're coming for lunch. The beach of Sant Martí d'Empúries is large and looks like a very nice beach. We loved soaking up the beauty of the village. There are two (paid) parking areas in Sant Martí d'Empúries. We parked our car here. We can't remember what we exactly paid, but we remember it was a reasonable price, so probably just a few euros.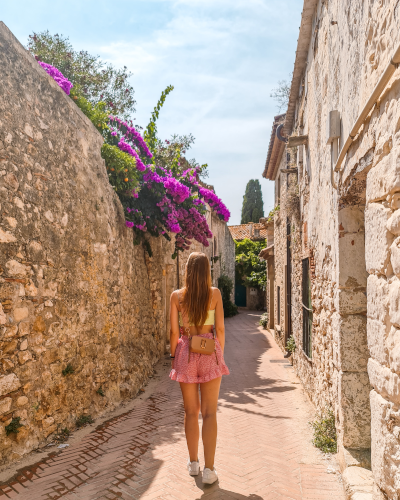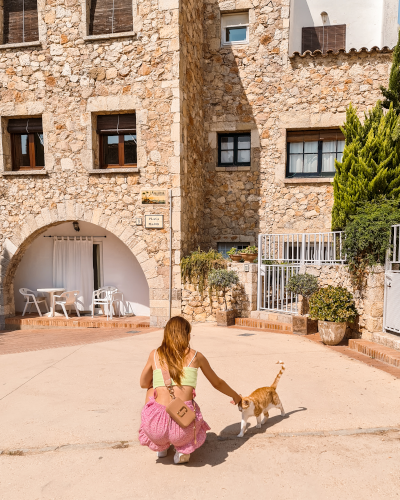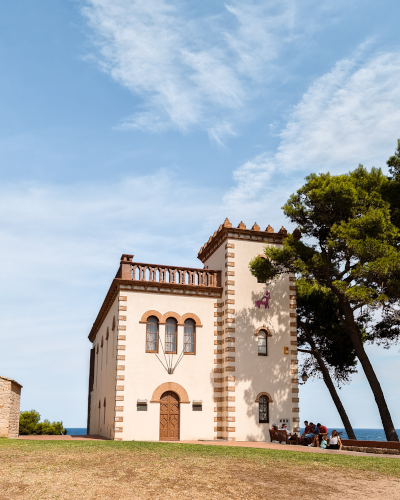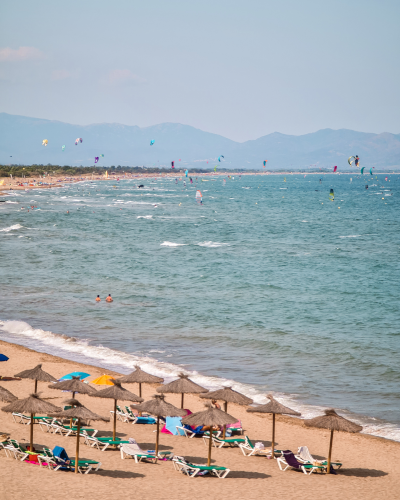 Begur
Another tiny village we loved is Begur. It is a hill-top village and on top of that hill you will find Castell de Begur. The castle was built in the 11th century, but it's currently a ruin. We can definitely recommend the walk uphill to Castell de Begur. The view from up there over the coastline and the center of Begur is amazing. The village itself is very authentic with pretty yellow and red-colored houses. It's a lovely village to wander around in for a few hours.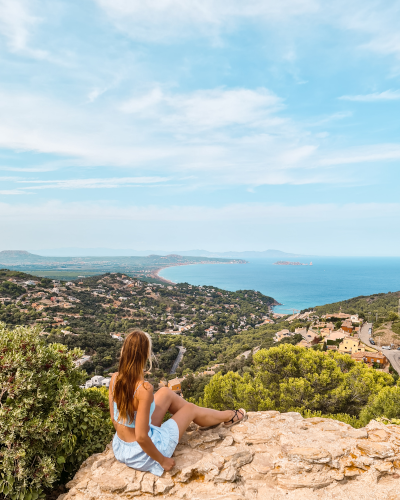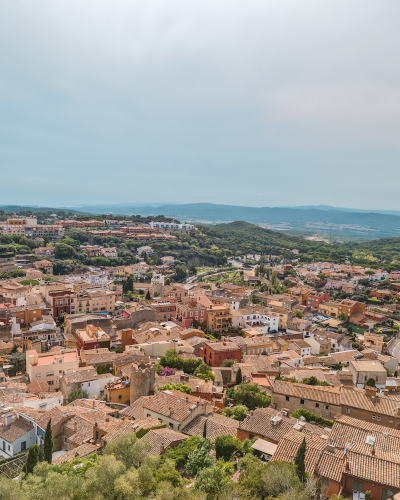 Travel tip:
There's a free public bathroom at the tourist office in Begur.
We parked our car along a street near Castell de Begur. It's free to park there, but it's still quite a hike up from there to the castle. From Castell de Begur we walked down into the center of the village.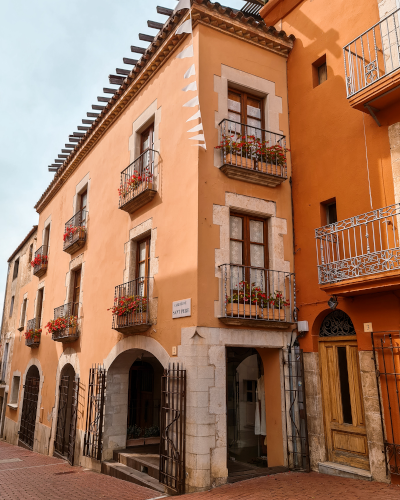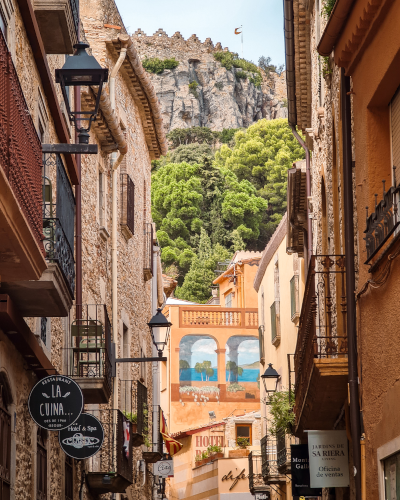 Cala Sa Tuna
Cala Sa Tuna is by far the prettiest place along the Costa Brava. It's a tiny coastal village located near Begur. The pebble beach is small but is surrounded by beautiful, colorful houses. It almost feels a bit like Cinque Terre or Positano in Italy. Because of the small pebbled beach, it isn't the best place for a beach day but it definitely is the best place to take photos. If you're lucky you might even spot some pretty flowers too.
Parking in Cala Sa Tuna is a bit tricky. There is a small parking area in the village but it quickly fills up. We parked somewhere along the street uphill, which was also fairly crowded but it was free. You have to be a bit lucky to find a place.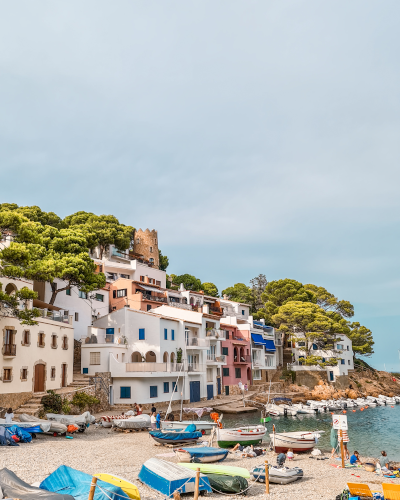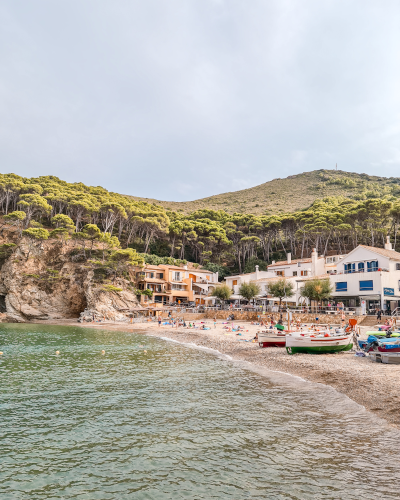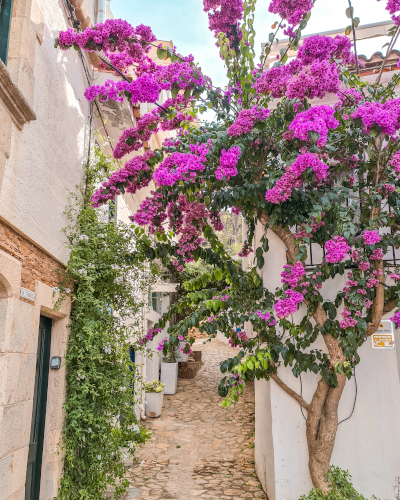 Cadaqués
Another very pretty place along the Costa Brava is Cadaqués. The picturesque town of Cadaqués has been the love of many artists, such as Pablo Picasso, Salvador Dalí and Juan Miró. Dalí even built his house in the nearby bay of Portlligat. Nowadays, Dalí's house is open to the public as a museum and it's a must-visit when you're in Cadaqués. Besides Dalí's house, Cadaqués is a nice town to walk around in. There are few pebble beaches that are quite large. There are also lots of restaurants with beautiful views of the beach and the sea. Wandering along the coast and through the narrow streets is a must. Be sure to check out our blog post about Cadaqués for all the necessary information for your visit to this pretty village: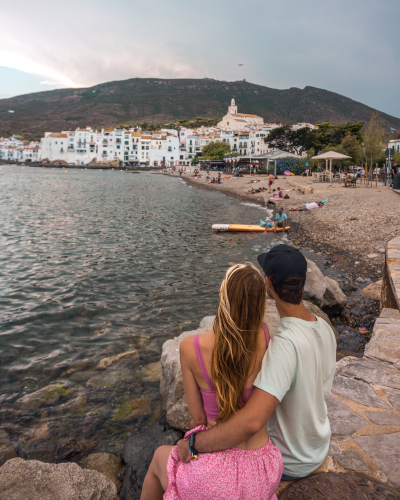 Roses
Roses is one of the larger towns along the Costa Brava. We only spent a few hours here, but it looked like a nice town. It's not very authentic though. The beach in Roses is huge, which is always a good thing. The city center is the largest along the coast and you can even do some decent shopping. It's a nice town to spend a few hours in and it might even be a nice place to stay in (but not as nice as l'Escala, haha).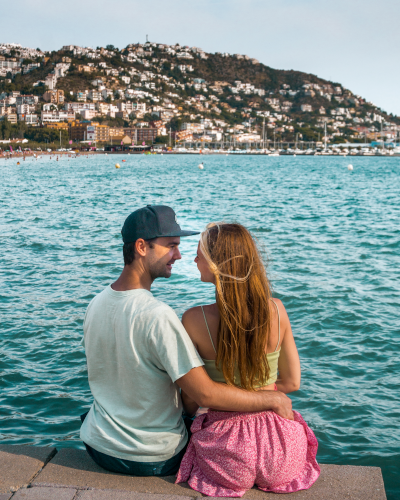 Figueres
Figueres isn't a coastal town but it is located near the Costa Brava. The town itself isn't very large, but attracts a lot of tourists because of the Teatre-Museu Gala Salvador Dalí, also referred to as the Dalí Museum. Figueres is actually the hometown of Salvador Dalí. There used to be a theater at the location of the museum, but it was burned down during the Spanish Civil War. The old theater was one of the first public places to exhibit young Dalí's art. Dalí and the mayor of Figueres decided to rebuild the remains of the theater to a museum dedicated to Dalí's work. Dalí designed the museum himself and it's considered his last great work. Everything in the museum is conceived and designed by Dalí in order to offer visitors an immersive Dalí experience into his fascinating and unique world.
We loved wandering around the museum and witnessing his paintings, sculptures, art installations and more from different kinds of era's in his career. If you like Dalí's work, the museum is a must-visit during your stay at the Costa Brava. Besides the museum, Figueres has a small shopping center and there are plenty of restaurants for lunch and dinner, but on a day trip you've easily seen it all.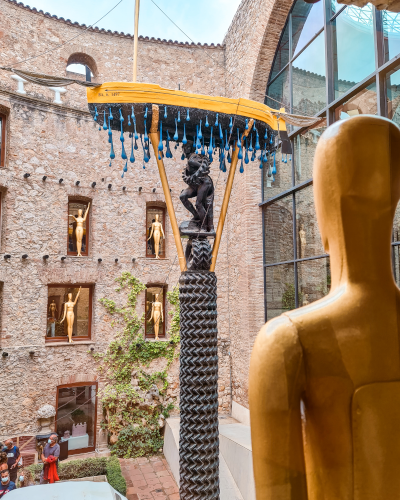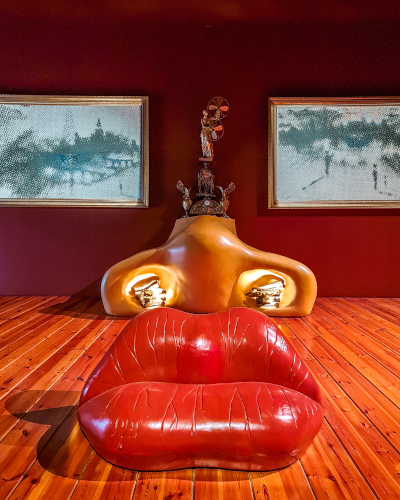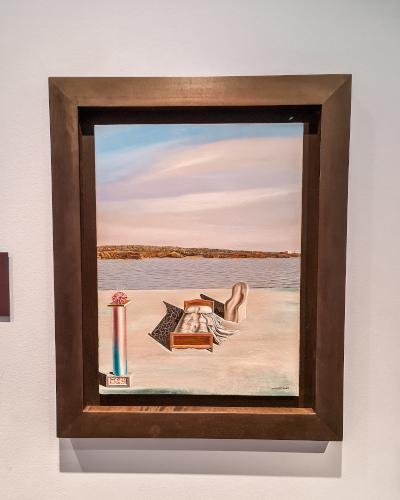 Opening hours of the Dalí Museum:
January - June & September - December:
Tuesdays until Sundays from 10.30 until 18.00
July & August:
Daily from 09:00-20:00
Tickets are €14 online and €15 at the ticket office. It's recommended to buy a ticket online to avoid waiting times at the desk. Especially during summer, the museum is always busy. You can buy tickets online through the official website of the museum.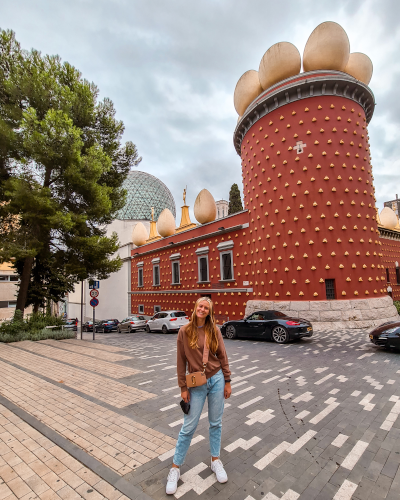 How to get to Figueres
By public transport
Figueres is well-connected by train from Girona and will take you just under 30 minutes to get there. If you're staying at the coast, it's a bit harder to get to Figueres by public transport. Most coastal towns have multiple buses running to Figueres, which will take between 45 minutes and two hours, depending on where you're coming from. There are no direct trains running between Figueres and the coastal towns of the Costa Brava.
By car
If you're staying at the coast, the easiest way to get to Figueres is by car. Depending on where you're coming from, it will take you up to an hour to get to Figueres. For example, from Cadaques it's a 45-minute drive, from Roses and l'Escala it's both a 30-minute drive.
Parking tip
We parked our car in a free parking area near the city center of Figueres. From there, it's only a 6-minute walk to the Dalí Museum. If you arrive during the day, it can be crowded and you might have to wait for a free spot. There are also multiple paid parking garages in the city center, just follow the signs when entering the city if you prefer to park in one of those. Be aware that the ones near the Dalí Museum fill up very quickly during the day.
Girona
While the Costa Brava is part of the province Girona, Girona is not part of the Costa Brava as it's not located along the coast. Besides that, Girona is a very nice city to visit on a day trip from the Costa Brava, just like we did. You can read everything you need to know about visiting Girona in our blog post: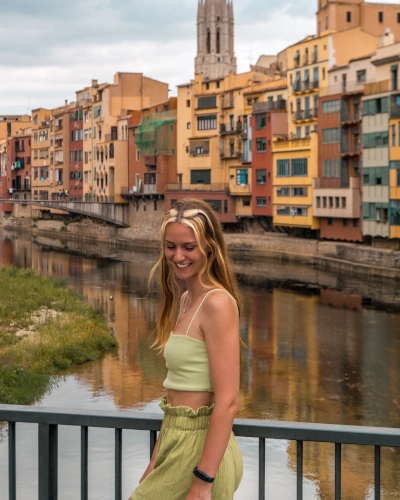 Places to avoid visiting
Empuriabrava
We briefly checked out Empuriabrava, as we thought it could be a nice town. It is located along the coast and has large sandy beaches. Further into the town, there are lots of canals that look lovely to explore by boat. However, we didn't like the vibes of Empuriabrava at all. Many of the buildings along the coast are run-down, including all the restaurants. There was no authenticity at all. The boat rental places along the canal looked very touristy (which is often the case but this felt different). We read reviews about the boat rentals and many of the complaints were loud music coming from the boats. It looks like Empuriabrava is more like a party destination for friend groups, and not a pretty coastal town like we prefer.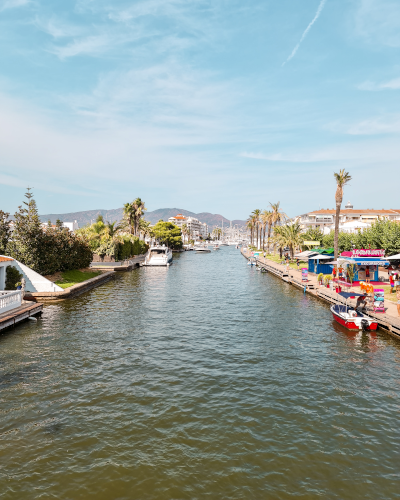 Lloret de Mar and Blanes
There are a few places along the Costa Brava that are perfect for party vacations. We didn't know this was the case in Empuriabrava, but we did know it's the case in Lloret de Mar and Blanes. Both towns are very popular among young Dutch people to go on their first group vacation during or after high school. If you don't like partying with young people (between 17 and 20 years old), skip these places.
We hope we've inspired you to visit this beautiful coastal region of Spain. Let us know in the comments below if you're planning on going to any of these places!
Be sure to check out:
The Best Things To Do in Barcelona
10 Amazing Places to Eat in Barcelona