10 Amazing Places to Eat in Barcelona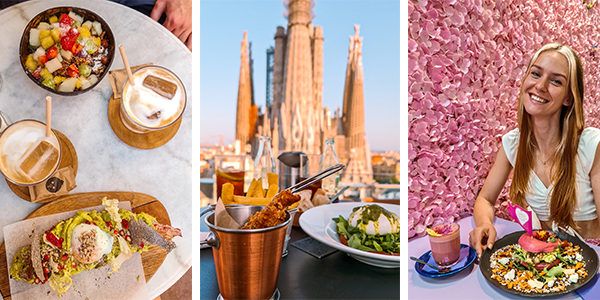 Barcelona is filled with amazing restaurants, which can make it overwhelming to choose where to eat. We got you covered though! During our stay in Barcelona, we found some amazing places for lunch and dinner and we're sharing them with you in this blog post. Read on to find out about 10 amazing places to eat in Barcelona.
Eixampeling Café
Located in the neighborhood Eixample, Eixampling Café is one of the most (if not the most) Instagrammable café in Barcelona. The interior is amazing with lots of colors, and most of the tables have a small flower wall right next to it. It has some similarities to the Unicorn Café in Bangkok but without the unicorns. This was definitely Mika's dream place, and luckily for her we got placed right next to a pink flower wall. We ordered an avocado bagel that turned out to be pink (the menu said red, but it looked more like pink) and a mermaid yogurt bowl. Both dishes were huge and looked so pretty and colorful. They also serve different kinds of colored lattes, freak shakes and smoothies, as well as "regular" (read: boring) coffee, tea and other drinks. We visited on a Thursday morning about 45 minutes after opening time and had to wait for roughly 20 minutes to get seated inside. The staff was nice (which isn't always the case in Instagrammable places like this). It's definitely a must-visit if you're into pretty and colorful cafés!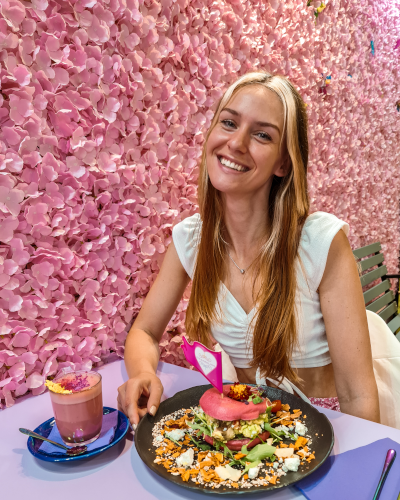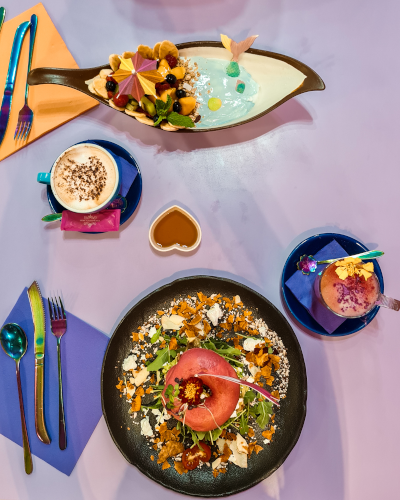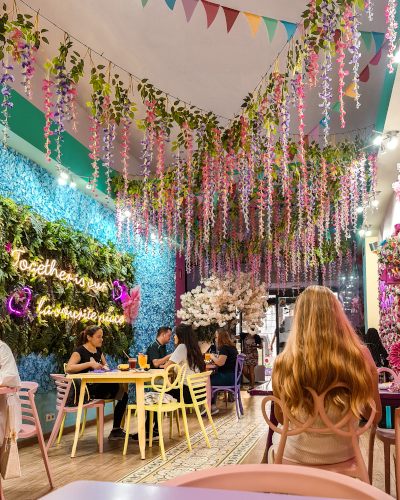 Lilo Café
Lilo Café is a lovely café located within walking distance from the Sagrada Família. The staff is nice and the atmosphere is great. They serve yummy food, such as eggs benedict, waffles with all kinds of toppings, avocado toast and more. On a hot summer's day, we enjoyed our cold granola bowls a lot. The café is famous for its large teddy bears that you'll see everywhere on their Instagram. We can absolutely recommend this place for a nice lunch and it's perfect to combine it with a visit to the Sagrada Família. Apparently, they also serve (pink) teddy lattes, so we'll need to get back for those!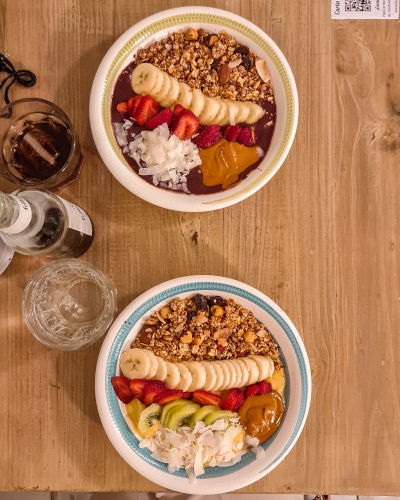 Nabucco Tiramisu
We unexpectedly ended up at Nabucco Tiramisu, while walking back from Parc Güell to the city center (which is quite a long walk actually). For lunch, they serve yummy Italian focaccias that we enjoyed together with an avocado salad. They're famous for their tiramisu, but unfortunately we didn't try it. Nabucco Tiramisu is absolutely a nice place for lunch if you're in the area!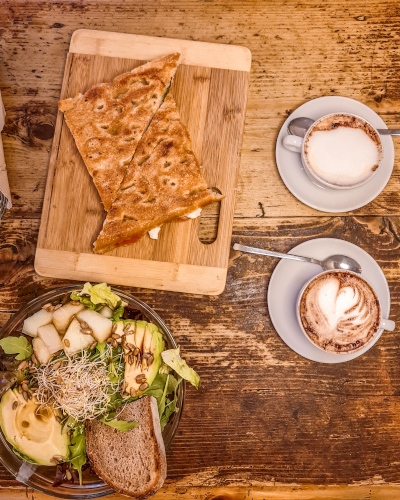 Billy Brunch & Garden
Billy Brunch & Garden is one of those places that you have to line up for, especially on the weekends (you can't make a reservation). We lined up for 45 (!) minutes to have a spot in their garden. The garden is very lovely with lots of greenery and a nice vibe. It's also extremely hot in the garden in summer, which was a little less pleasant. The food was nice and the iced lattes were very welcomed by us. It's a nice place for brunch, but we're not sure whether it's worth the 45-minute wait (for Joop it absolutely wasn't worth it). Maybe when it's less crowded (and less warm), we would have had a better experience.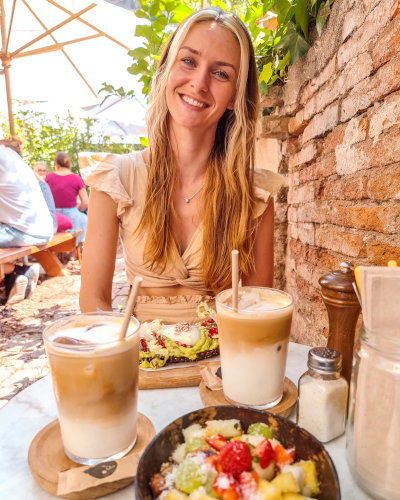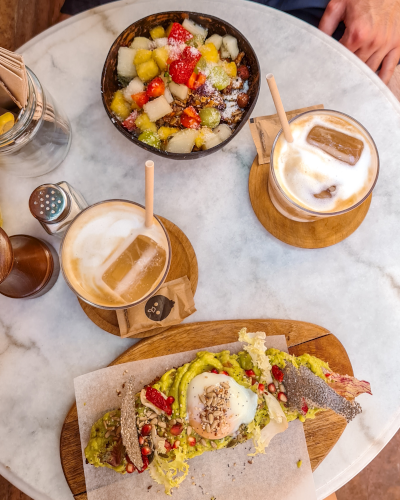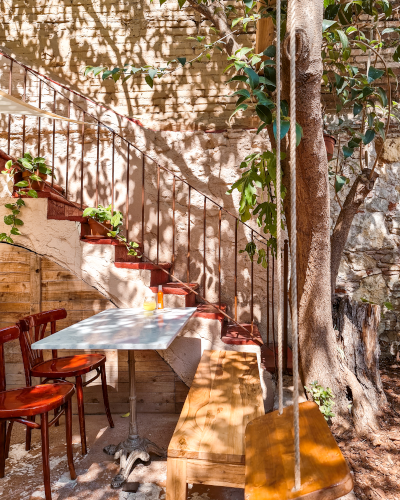 Lateral Consell
Lateral is one of our favorite restaurants in Madrid, so when we found out they also have a location in Barcelona, we had to have dinner there. As always at Lateral, the food was incredible. We recommend reserving a table in advance, which you can easily do on their website. We love eating outside in summer and we're glad that we managed to get a table outside. The interior looks absolutely stunning as well, so it's not a bad thing at all to be seated inside.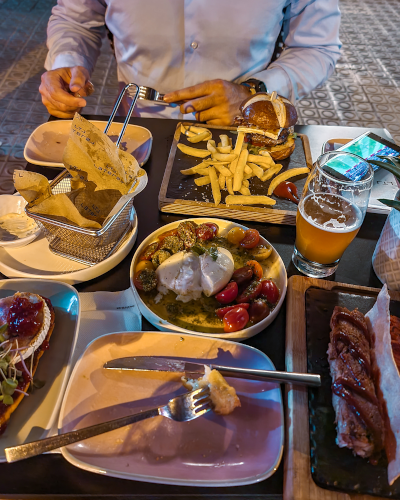 Honest Greens
Honest Greens is such a nice place for a walk-in quick dinner (or lunch). There are multiple Honest Greens locations around Barcelona. You have to order the food at the counter and pick it up yourself, which is perfect for those days when you just don't want to spend hours eating at a restaurant. It's kind of like a fast-food restaurant but with healthy food. It's also very affordable, which is great.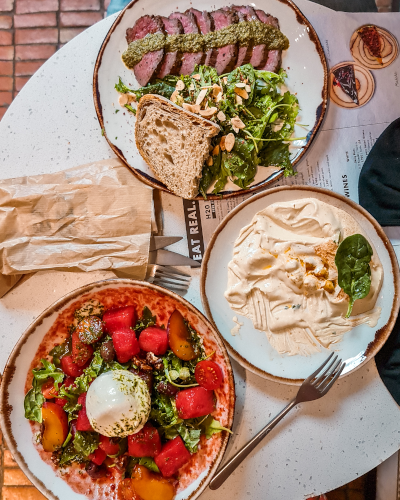 Bacoa Burger
We love having burgers at Bacoa. Joop actually discovered this place years ago in Barcelona. A while ago, they also had a location in Madrid but unfortunately not anymore. Bacoa is a fast-food restaurant, but with amazing quality. Just like Honest Greens, Bacoa is perfect for a quick dinner (but a little less healthy). Bacoa also has a location at Barcelona's beach, which is perfect for dinner (or lunch) after a day in the sun.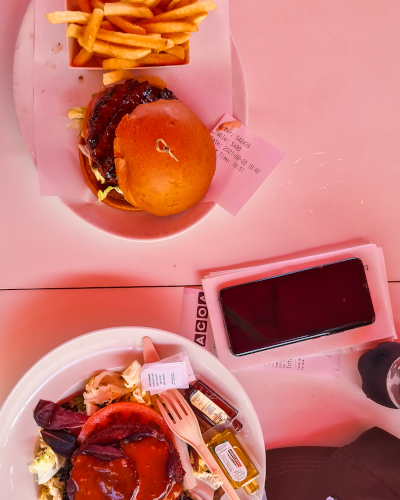 Poke Sí
While we were craving poke bowls, we wandered around Eixample and discovered Poke Sí. It was a perfect discovery and the poke bowls were very good. Poke Sí is also a perfect spot for a quick dinner or take-away. Poke bowls on a warm summer day are just the best!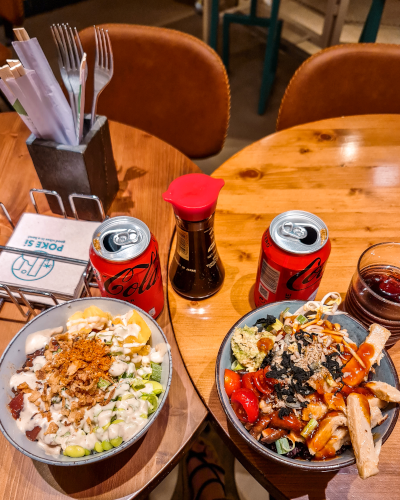 Terraza de Vivi
Terraza de Vivi is a rooftop restaurant located at the top of the Kimpton Vividora hotel. The rooftop restaurant is beautiful, with lots of greenery and very comfortable seating. The rooftop looks out over the gothic neighborhood, the Cathedral of Barcelona and the sea. The staff is very nice and the food is incredible. We can absolutely recommend Terraza de Vivi for an amazing night out. You can reserve a table in advance on their website. It's also possible to walk-in, but you might have to wait a while for a table.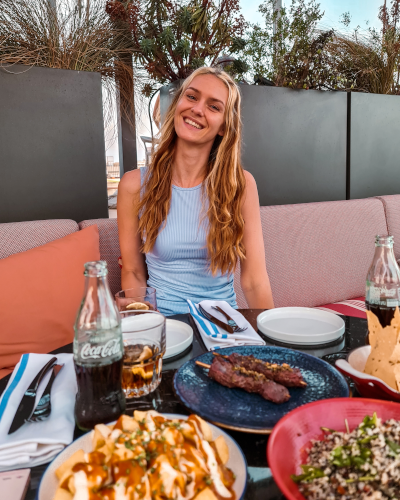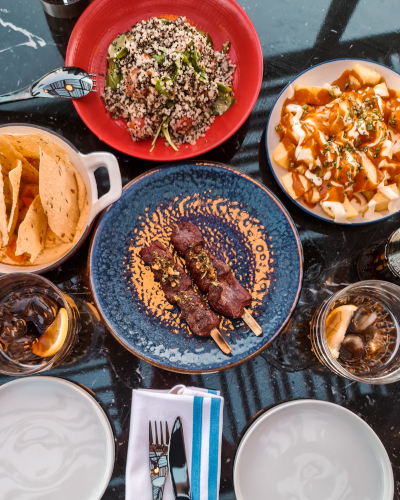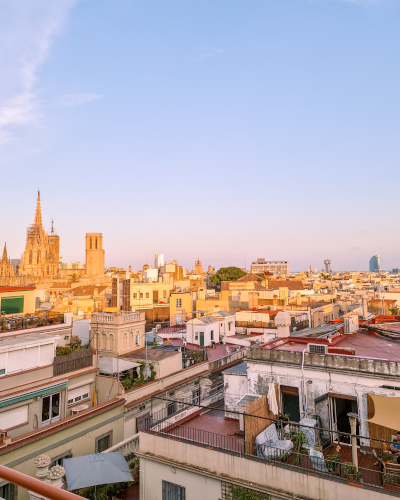 Rooftop Terrace at Ayre Hotel Rosellón
The rooftop of Ayre Hoteles has the best view in Barcelona! From the rooftop, you have an unobstructed view of the Sagrada Família. It's absolutely a must to visit this place during your stay in Barcelona. Don't expect too much from the food and service though, it's not a fancy restaurant at all. The food menu is very small, they offer just a few choices of tapas. The food itself is not bad, but also not great. You have to order the food and drinks at the bar and have to pay on the spot. But the view definitely makes up for it! A reservation is mandatory, which you can easily make on their website, up to 7 days in advance. We advise you to make the reservation immediately when your desired day comes available as the spots fill up quickly.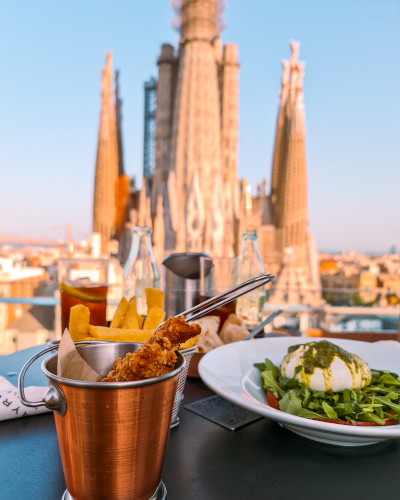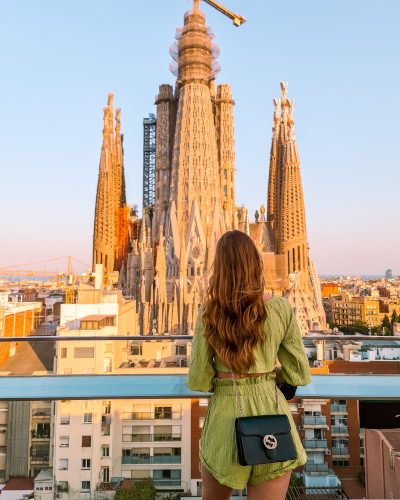 You can also look into booking a room in the Ayre Hotel Rosellón. They offer rooms with views of the Sagrada Família that are quite affordable (from €83 per night). How nice would it be to wake up to that view!?
Click here to book a room in the Ayre Hotel Rosellón.
Lele Cha Bubble Tea
As bubble tea of course isn't food (you can chew on tapioca though), this is a bonus spot. Lele Cha is located right across the street from Ayre Hotel Rosellón. We were craving bubble tea and Lele Cha didn't disappoint at all. It's the perfect after-dinner treat!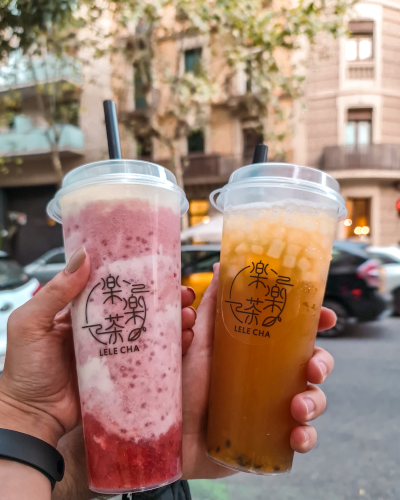 Where to eat without a plan
If you don't want to plan where to eat but just want to walk around and find a nice restaurant, you have to go to the Eixample district. The Eixample district is actually pretty large, but the best restaurants are located in the area west of the Passeig de Gràcia. This is absolutely our favorite area to wander around in, looking for a nice restaurant. We love that this area isn't touristy at all. If there are people not speaking Catalan, they're often expats living in Barcelona.
We would love to hear from you if you're planning on checking out any of these places. Let us know in the comments below!
Be sure to check out:
9 Local Places to Eat in Madrid
All Things To Do in Madrid: A Complete Sightseeing Guide