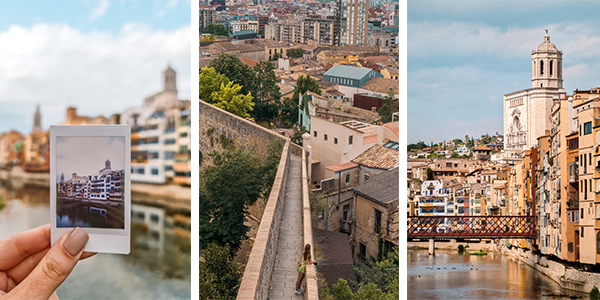 Our Favorite Things To Do in Girona
Girona is a city filled with history and perfect for a day or weekend trip. During our time in the Costa Brava, we visited Girona twice as we loved it so much. The city is filled with historical sightseeing spots, colorful buildings and lovely cafés. It's a good spot for some shopping too. Read on to find out about our favorite things to do in Girona!
Muralles de Girona
We started our day at the Muralles de Girona: the walls that surround the historic city center of Girona. The walls are located just outside of the current city center and a large part of the walls are preserved or restored. The first walls date from the 1st century BC. We loved walking on top of the walls and enjoying the beautiful view of Girona. Head up the lookout towers for even better views. There are multiple entrances to get up the walls, just look for stairs when walking along them. Best part of the Muralles de Girona is the lack of an entrance fee!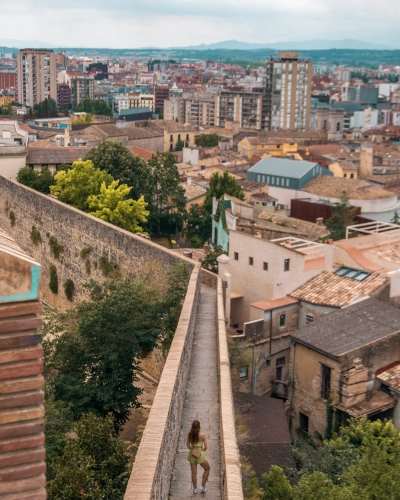 Old Town of Girona
The northern part of the current city center is the historic city center of Girona. All the colorful historic buildings are located here. There are lots of cafés and restaurants in this part of the town. It's a great place to just wander around. If you're a fan of Game of Thrones, this is also the place to be for you as you can find some GoT filming locations in this part of the town. Don't forget to make your way to one of the bridges across the river in the old town. One of the most famous bridges in Girona is the Pont de les Peixateries Velles which was constructed by Gustave Eiffel (yes, that's the guy from the Eiffel Tower). However, our favorite bridge is Pont de Sant Agustí (next to the Pont de les Peixateries Velles) as it has the best view of the colorful buildings along the river.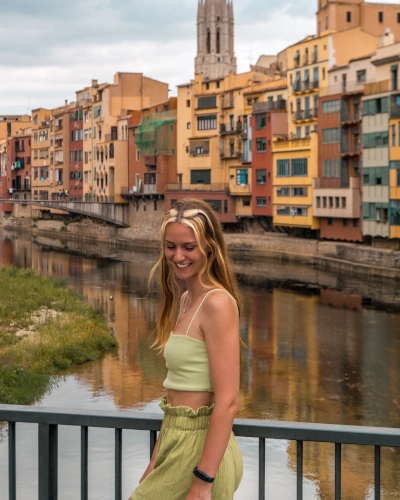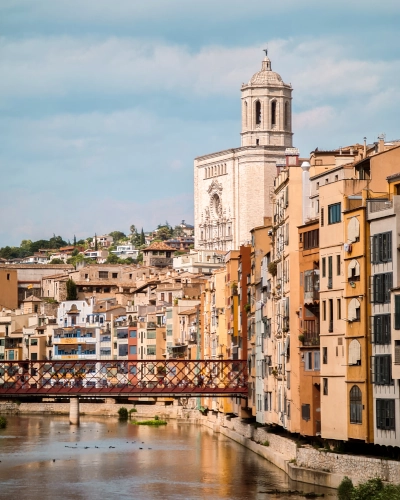 Shopping
After wandering the old town of Girona, we were in the mood for some shopping. The southern part of the city center is where you can find all of the stores. In this part of town, you're not only surrounded by historical buildings but also by modern ones. The shopping center of Girona isn't too big, but it has a good selection of stores. Of course, you can find all the big Spanish clothing brands here (Zara, Bershka, Pull & Bear, Stradivarius, Mango), but also drug stores (turns out cosmetics are way cheaper in Spain as compared to the Netherlands!), electronic stores and game stores. We love shopping areas like Girona's: not too big, but with the right selection of stores.
Food and Drinks in Girona
Exploring and shopping makes us thirsty and hungry. We were lucky to find some good places in Girona that we would love to share with you!
Coffee at Espresso Mafia
We found this coffee shop through Google Maps and it was such a good find. We had coffee here during both of our visits to Girona. The coffee here is great and we loved the ambiance of the place. The coffee is served on bamboo plates, so 10 points for presentation. It's a nice small coffee shop and this would definitely be our go-to place if we lived in Girona. We will definitely go back here!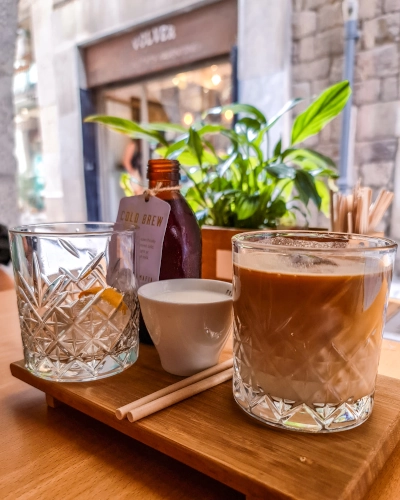 Lunch at La Fabrica
After our first time in Girona, we discovered that the owners of Espresso Mafia also have a lunch café: La Fabrica. So of course, we had to check that out during our next visit. La Fabrica is also located in the old town of Girona. The place isn't too big, but it was very crowded when we visited on a Saturday afternoon. They serve healthy colorful food and it was so yummy. The staff is very nice as well. When it's less crowded, it also looks like a good place to do some work. If you're looking for a place to have lunch in Girona, we can definitely recommend La Fabrica!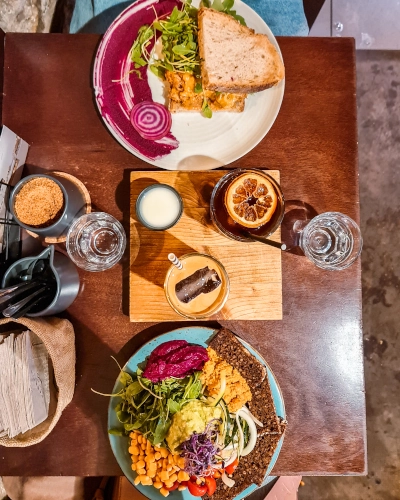 Ice Cream at Rocambolesc
Rocambolesc is a famous gelateria in Spain and Girona is the place where they started their first shop. We had to wait in line for half an hour, but it was definitely one of the best ice creams we ever have. They serve soft-serve with different kinds of toppings, as well as ice cream lollies. The ice cream lollies all had funny kinds of shapes, such as the hand of Jaime Lannister (which is apparently a GoT thing), the mask of Darth Vader or the nose of the owner Jordi Roca. We went for the soft-serve ice creams and they were definitely the best soft-serve ice creams we ever had!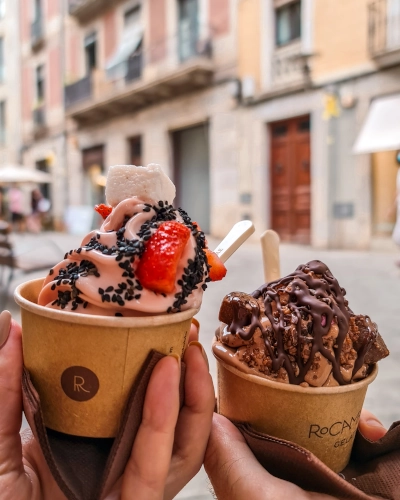 How Long to Stay in Girona
Girona isn't too big of a city and you can see it all in one day, which makes it a perfect city for a day trip. But if you want to take things more slowly, consider staying a weekend to enjoy the great vibes in the city and discover some more cafés and restaurants. As we were staying at the coast, for us going on a day trip was the best choice. We loved the city so much though, that we wanted to go back another time. Girona is definitely one of those places that we would love to revisit.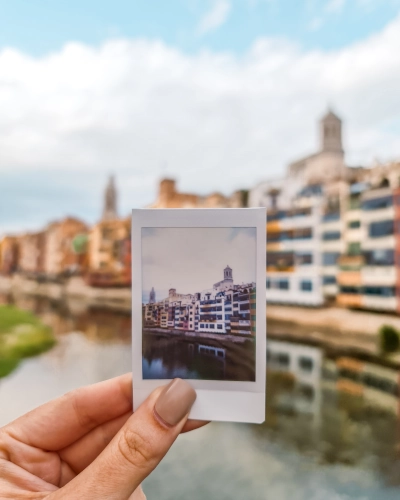 How to Get to Girona
Train from Barcelona
As Girona is well connected by train from Barcelona, it's perfect to visit Girona on a day trip from Barcelona. It takes only 40 minutes to get there. There are 7 trains a day on this route, so there are plenty of options to get there (and to get back to Barcelona).
By Plane
Girona also has its own airport with direct flights from various destinations (often from the cheaper carriers) in Europe. As the airport is just outside the city, Girona is perfect for a weekend trip if you're staying (or living) in Europe. It's only around 15-20 minutes to get to the city center of Girona from the airport, which is perfect!
By Car
Costa Brava is a popular holiday destination for many Europeans by car. If you happen to be in the region by car, it's often less than an hour to get to Girona (depending on where you're staying of course). We parked our car for free here, right next to the city walls. If there's no space in the parking lot, you can also park your car in any of the surrounding streets. Parking is free in this area. From here, you can get up the walls and walk towards the historic city center of Girona. It's the perfect starting point for your day (or days) in Girona and saves you a lot of money on parking.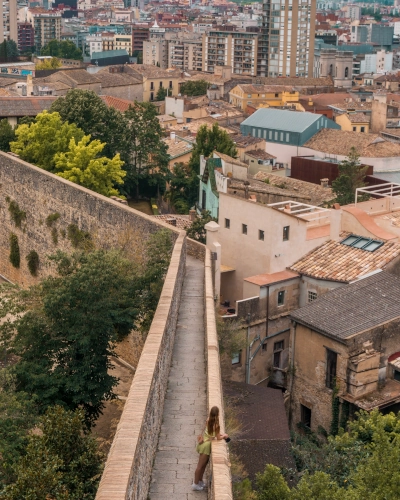 Be sure to check out:
All Things To Do in Madrid: A Complete Sightseeing Guide
A Complete Sightseeing Guide of Retiro Park in Madrid