A Two-Day Itinerary in Madrid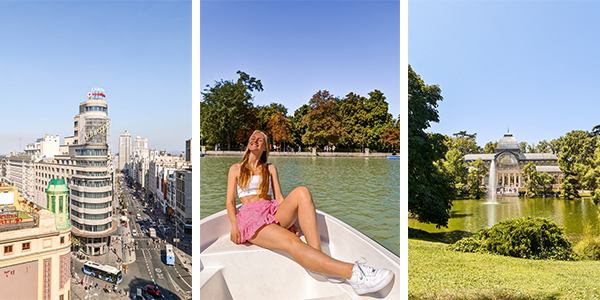 Madrid is our favorite city in Europe and we try to visit the capital of Spain every year. Even though we've been to Madrid many times (and even lived in Madrid for a couple of months), we never get bored of this amazing city. We love revisiting the places we've been to and love, but also try to discover new places every time we visit. Read on for our two-day itinerary of Madrid in 2021.
If you're staying more than two days in Madrid, or just want to have other options, check out our complete Madrid sightseeing guide as well.
The rooftop terrace at the Pestana CR7 hotel
Ever since the opening of the Pestana CR7 Hotel, we've been looking into staying here. As we were traveling by car, we opted for a different hotel with parking available this time, but we still wanted to check out the rooftop terrace at the Pestana CR7. So we booked a table through their website for our arrival day.
We arrived at 9 o' clock in the evening and were just in time to witness the sunset from the rooftop. We ordered our drinks (Tinto de Verano is Mika's go-to drink in Madrid, make sure you try it if you haven't) and of course had to snap that fiery sky. After taking photos, it was time to order some food. The food menu isn't very extensive, but has a few nice (vegetarian) options. We ordered the burrata, hummus with bread and truffle fries. The food was okay, but the real reason you should come here is because of the ambience and views.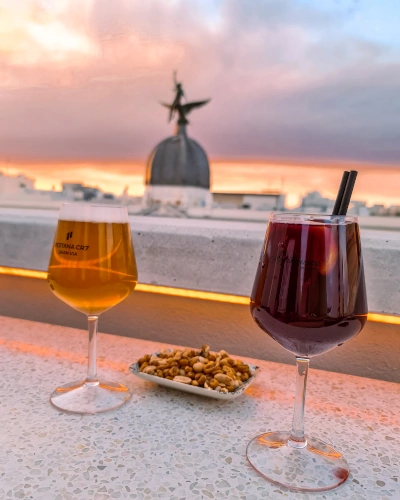 Being on the 10th floor, the rooftop bar is around the same height as the other buildings on Gran Vía. This means you don't have a view of the city, but rather a view of the other buildings around you. We actually love that as the buildings around you are stunning and have a lot of detail. Besides that, we had a perfect view of the sunset so we were already very happy. The atmosphere at the bar was very good and the staff was friendly. It's definitely a place we would return to during our next visit for drinks.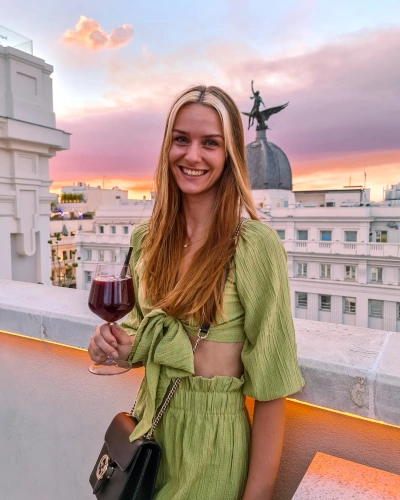 Have a look at our best sunset spots in Madrid blog post if you're looking for more places to watch the sunset from in Madrid.
Breakfast at the Gourmet Experience in El Corte Inglès Callao
Breakfast at the Gourmet Experience was one of the highlights of our Madrid trip. We've been to the Gourmet Experience before and absolutely adore the view of Callao and the Gran Vía. The Gourmet Experience can be very crowded during the day, so we decided to check whether they had some kind of breakfast. What a good idea!
They open at 10 in the morning. We arrived a few minutes after that and grabbed the best seat looking right over the Capitol Building and Gran Vía. At Amorino, we got a breakfast deal which included a croissant or napolitano (the Spanish name for a pain au chocolat), coffee of choice and an orange juice for just €2. This was exactly what we were looking for! We enjoyed two of the breakfast menus with one of our favorite views of the city. As we visited Madrid in summer when a heat wind just left the city, we were very happy with the air-conditioning at the Gourmet Experience. We stayed way too long enjoying the views, but it was the best way to start the day in Madrid. We're definitely keeping this one in our repertoire.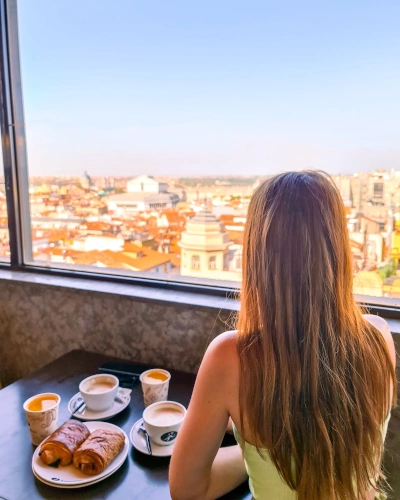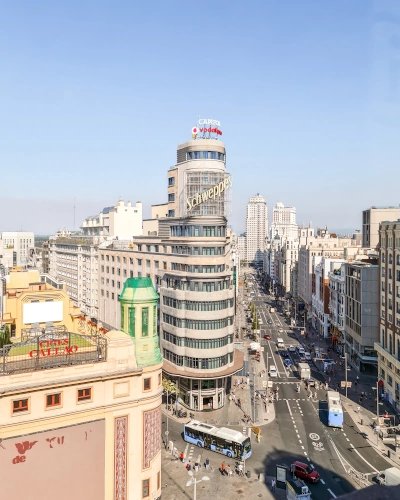 Palacio Real
After shopping and wandering from air-conditioning to air-conditioning (with 37 degrees Celsius, the city was still very hot after the heat wind), we decided to check some of our favorite sightseeing spots. On our way to dinner, we made sure to walk past Palacio Real as we love the palace and its surroundings. Plaza de Oriente is a beautiful square surrounded by colorful buildings, flowers and of course Palacio Real. We also love the view of the palace from the Sabatini Gardens, but there was construction going on so we didn't pay a visit this time. For when the construction is over, the fountain in the Sabatini Gardens is a great photo spot.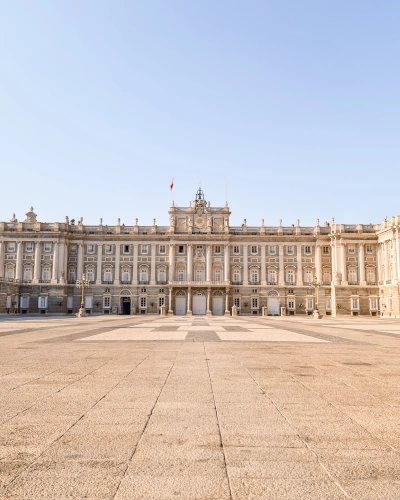 Plaza Mayor
Plaza Mayor is probably the most famous (and most touristic) square in Madrid. We actually love paying a visit to the square every time we're there. We think it's a beautiful square! We love soaking up the surroundings. The construction of Plaza Mayor finished in 1619 and it used to be the center of Old Madrid. Be aware of your belongings, as it is said that there are a lot of pickpockets on the square (we luckily have never experienced that).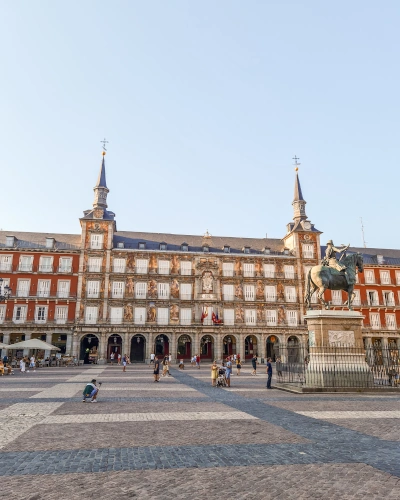 Dinner at La Musa
For our second night in Madrid, we had dinner at one of our favorite restaurants: La Musa in la Latina. La Musa serves delicious tapas and we always order way too many. We try to eat here every time we visit the city. You can easily reserve a table through their website which we would recommend because they're often fully booked (especially if you want to sit outside).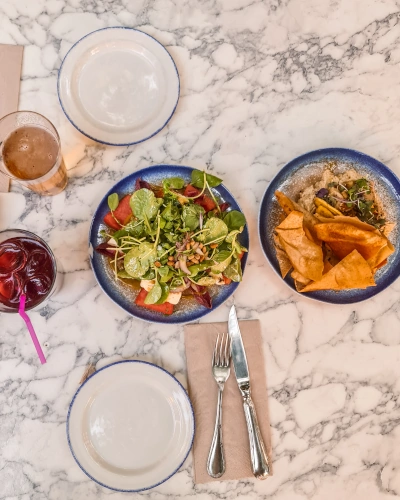 Click here to read about our favorite places to eat in Madrid.
Retiro Park
Puerta del Alcalá
The next day we spent the entire day in Parque del Buen Retiro. Retiro Park is by far our favorite city park in the world. We love coming here. The park is beautifully designed and has so much to see. Our first stop, just outside the park, was Puerta del Alcalá. It was actually a coincidence that we were walking past this spot but we had to take a photo here as Mika was matching with the pink flowers.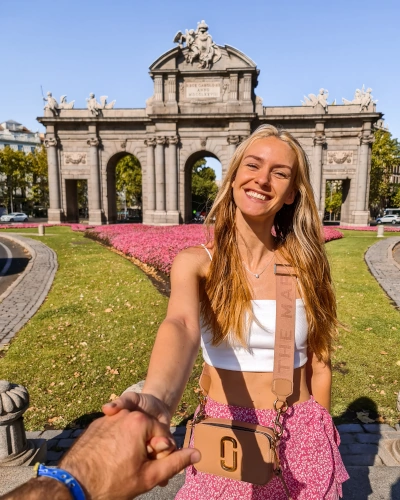 Retiro pond
There's a large artificial pond in the middle of Retiro Park. Here, you can rent a rowboat, which is one of our favorite things to do in Retiro in summer. Being on the water is so relaxing and we love enjoying the surroundings and ambience of the park. There's always someone playing music which adds to the entire vibe. We think this is a must during your visit to Retiro Park!
Opening hours boat rental:
Daily: 10.00 - 14.00 & 15:30 - 20.00
Prices:
Monday-Friday: €6
Saturday & Sunday: €8
Check this website for current opening hours and prices.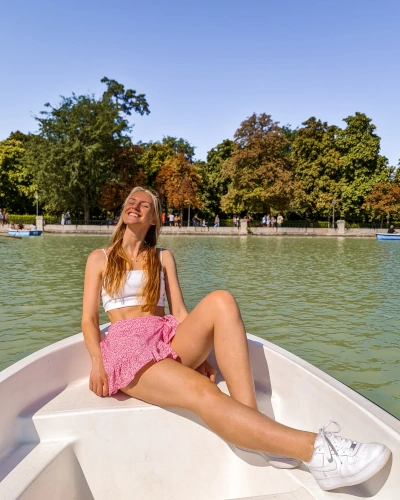 Jardines de Cecilio Rodríguez
In our opinion, the Jardines de Cecilio Rodríguez is the most beautiful garden of the park. Best time to visit is in early summer (July), when the hydrangeas and other flowers are at their peak bloom. The design of the garden is beautiful with black and white tiles and lots of greenery. Unfortunately, we visited way past the bloom time of the flowers but it was still worth the visit. A bunch of peacocks live in the garden and if you're lucky, one might show off its feathers!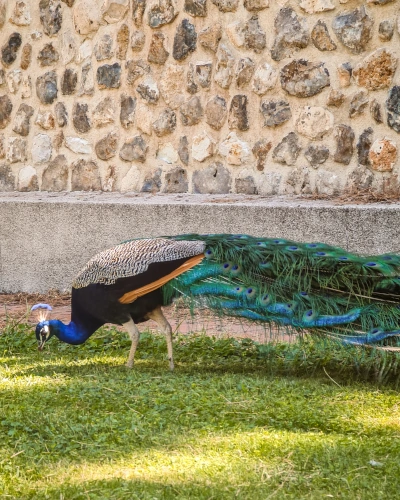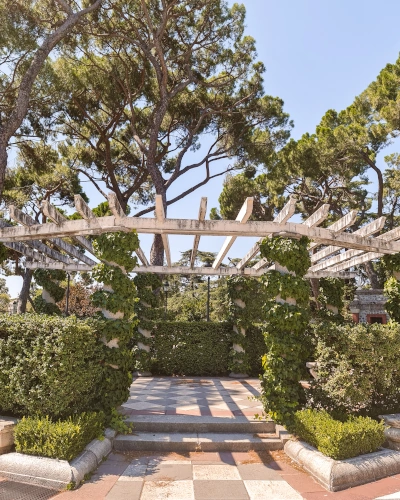 La Rosaleda
We were also way past the bloom time of the roses, but la Rosaleda (the rose garden) is still a pretty garden to visit. This garden is also beautifully designed with a fountain in the middle. We love coming here to just wander around.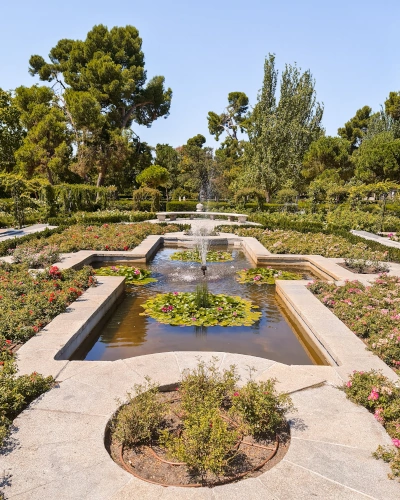 Palacio Cristal
Palacio Cristal (the Crystal Palace) is one of the most beautiful buildings in Madrid. From both the outside and the inside, Palacio Cristal is absolutely stunning. There's often a mini art exhibition from the Reina Sofia Museum. Entrance to the palace is free. Good thing to know is that it's also a perfect stop for a sanitary break. Make sure to check out the tiny turtles in the pond in front of the building too!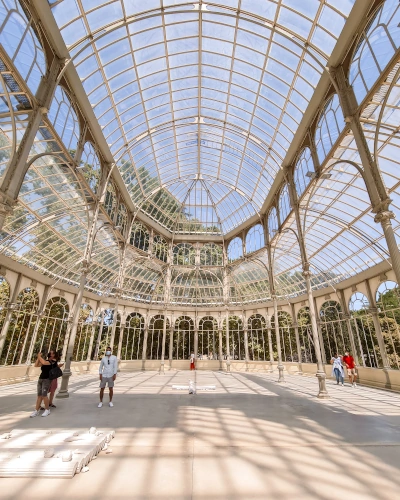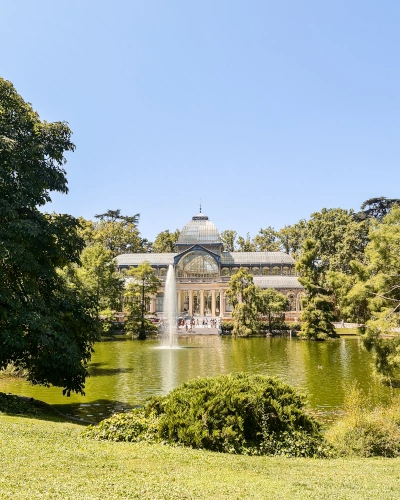 If you're visiting this park, make sure to check out our complete sightseeing guide of Retiro Park in Madrid.
Dinner at El Viajero
For dinner, we decided to try a new place. El Viajero is located in la Latina and we had walked past it many times. We always wondered what their rooftop was like so decided that this was the time to check it out. We weren't too happy with our choice though. We quickly noticed how touristy the place actually was and we like to discover the more local places in Madrid. The rooftop bar was self-service (you had to order drinks and food at the bar) and the staff wasn't very friendly. The rooftop looked nice though, with lots of greenery and a beautiful view of the San Francisco Basilisk. We ordered burgers for dinner which were alright. Overall, the place didn't leave a good impression on us and we don't think we'll be back.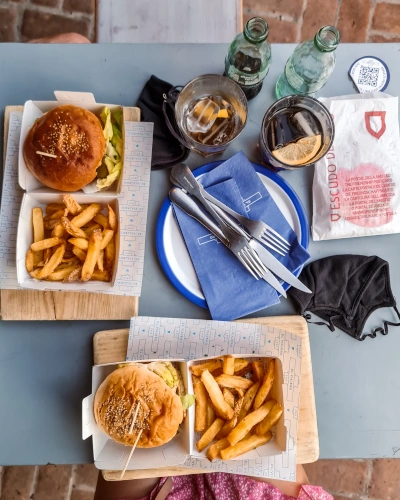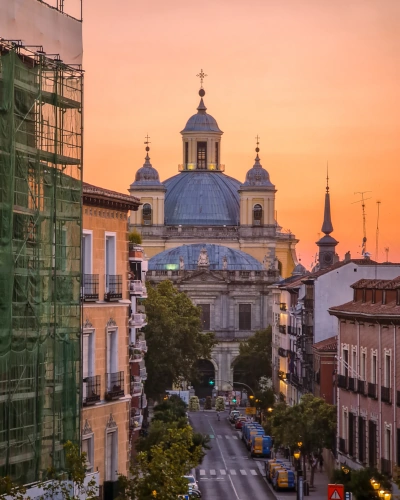 Churros at San Gines
To end our time in Madrid, we had churros for dessert at San Gines. Even though we're not the biggest churros fans, coming to San Gines has become somewhat of a tradition, as we love the ambiance so much. San Gines is one of the oldest chocolatiers in Madrid and we're obsessed with the white and green interior of the place. They're open 24 hours a day so you can always squeeze in a little visit during your stay in Madrid.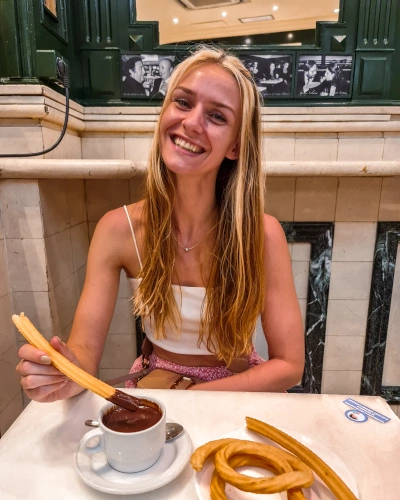 Be sure to check out:
The Most Instagrammable Places in Madrid
The Most Instagrammable Places in Toledo
All Things To Do in Madrid: A Complete Sightseeing Guide