9 Local Places to Eat in Madrid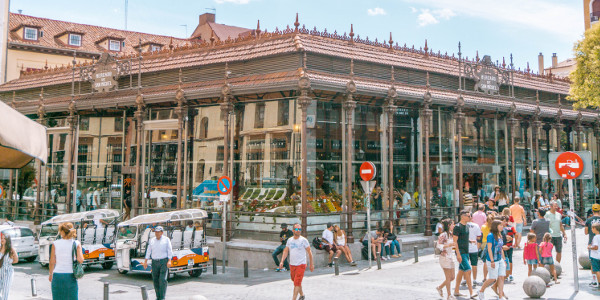 Madrid is a huge city which can make finding good places to eat seem overwhelming. During our time in Madrid, we discovered some very nice restaurants which quickly became our favorites. In this blog post, we'll sharing them with you.
1. Lateral
We have two absolutely favorite restaurants in Madrid that we go to every time we're in the city, and Lateral is one of them. There are multiple locations of Lateral throughout the city, but we usually go to the one at Plaza Santa Ana as it has the best outdoor seating area. The food at Lateral is simply amazing. They serve different kinds of typically Spanish tapas and dishes and we always end up ordering way too much. Our favorite tapa at Lateral is solomillo con brie (sirloin with brie) and we usually order at least two portions. It's a nice spot for drinks too and they serve a variety of cocktails. It's always crowded at Lateral and most of the time you have to wait a bit for a table. Making a reservation is not possible. If you're in Madrid you have to eat here!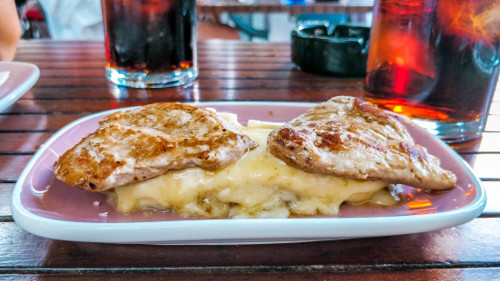 2. La Musa Latina
Another restaurant we make sure to always visit is La Musa Latina in the La Latina neighborhood. La Musa serves typically Spanish tapas, as well as tapas inspired by other cuisines, such as Asian ones. Our favorite tapa at La Musa is the beef carpaccio roll and we get it every time. La Musa has a large outside seating area which is perfect in summer, but the interior is also very lovely. We've only been there for dinner, but their breakfast and lunch menu look very good too. You can conveniently make a reservation online on their website, which we would recommend doing as it's always busy. There's another location of La Musa in Malasaña, but we've never been there. The menu is the same, so we bet the food is just as good!
3. Restaurant Haroma in the Heritage Hotel
We got invited by the Heritage Hotel to eat at their restaurant Haroma. The executive chef of the restaurant is Mario Sandoval, who earned two Michelin stars and you can really taste that. Our 3-course dinner was delicious and we have to mention that the waiter was so helpful and the sweetest ever. The interior of Restaurant Haroma is very beautiful: lots of dark blue and beige elements and all the pieces fit together very well. If you feel like having a nice dining experience and some amazing food, we can absolutely recommend Restaurant Haroma!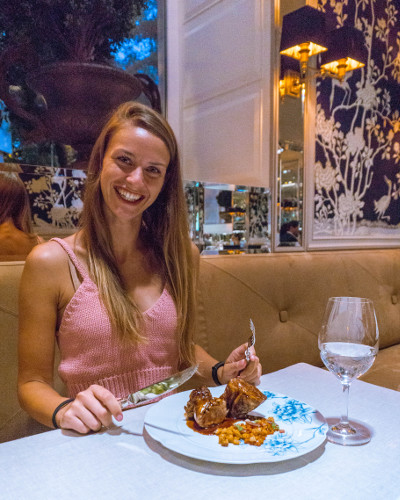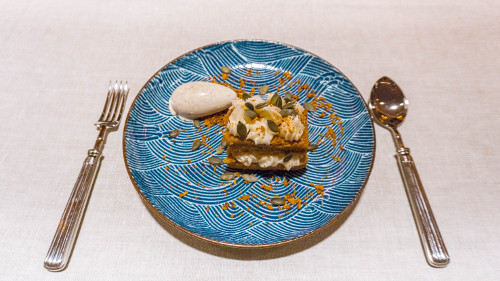 4. Bacoa
Bacao is a hamburger restaurant originally from Barcelona. When we found out Bacoa also opened a location in Madrid, we just had to go there! They serve delicious burgers and it's a great spot to have a quick bite. Don't expect anything fancy, but the food is really good. You have to order everything at the bar and pick it up yourself when it's ready. If you wanna grab a tasty dinner without spending much time, this is the place to be.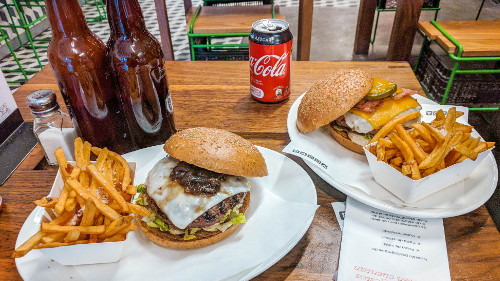 5. 100 Montaditos
100 Montaditos is one of our favorite places for lunch. They serve all different kinds of small sandwiches, or montaditos'. It's a quick, cheap and easy way to have lunch. There are over 100 montaditos to choose from. On Wednesdays and Sundays all montaditos on the menu are only €1 each!. Since 100 Montaditos is actually a cerveceria, you'll see many people having drinks. We can't blame them, because the drinks are cheap and the snacks are tasty. There are many locations scattered throughout Madrid so there's always one nearby.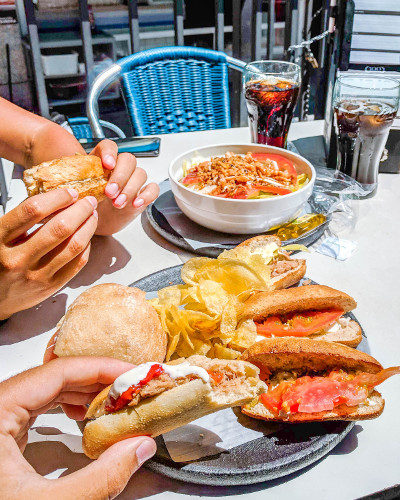 6. Chocolateria San Gines
Chocolateria San Gines is not really a place for a meal as they only serve churros, but it's a must-visit in Madrid. It's one of the oldest chocolatiers in the Spanish capital, which makes it extra special. The churros and chocolate are very good and we love having them with a cup of coffee. The interior looks very stylish and the walls are full of photos featuring Spanish and international celebrities who have visited San Gines in the past. If you'd like to, you can get some Instagram photos here as well. San Gines is open 24 hours a day, so you can just go whenever you feel like it.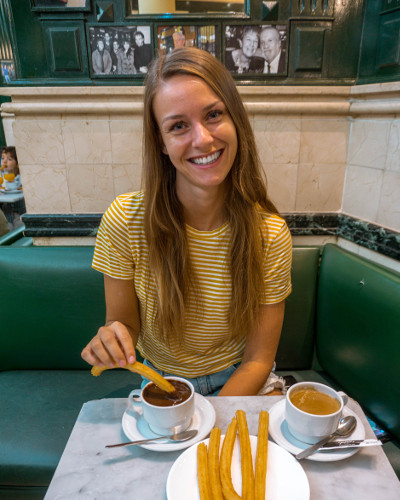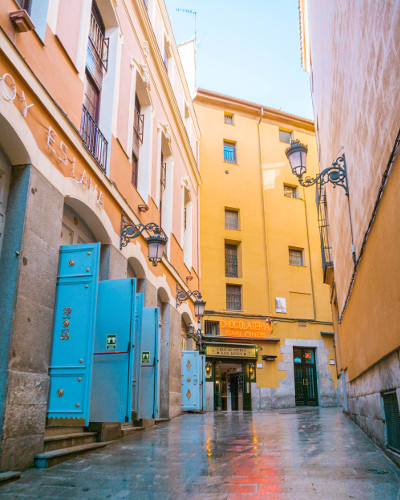 7. Gourmet Experience Corte Ingles
On the top level of the Corte Ingles department store at Callao, you'll find the Gourmet Experience with a few different stalls to eat. The food here always looks amazing. We had lunch at the burger stall Hamburgesa Nostra once, and we can really recommend going there, as the burgers are delicious. The Gourmet Experience is the perfect place to get a few dishes at different stalls to try them out. Besides hamburgers, you can get typical Spanish tapas, sushi, Mexican food, pizza, oysters, Basque Pintxos and more. It's a popular place during lunch time, so be prepared for that. The best thing about the Gourmet Experience, however, is the view. The large windows offer a beautiful view over Callao and the city. There's also a small outside seating area, which is lovely if it's not too hot or too cold outside.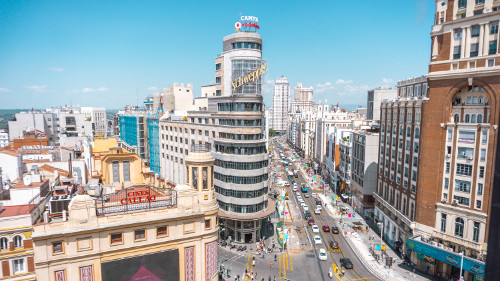 8. Azotea de Circulo Bellas Artes
Circulo de Bellas Artes is an art museum in Madrid and on its rooftop you'll find a bar and a restaurant. It's the perfect spot for some drinks on a hot summer night. The restaurant, Azotea, is lovely for dinner or lunch when the weather is good. You need to make a reservation in advance, which you can do online, as it's always fully booked. We had lunch at Azotea once and we can say from experience that it's a lovely atmosphere with decent food. In our opinion Azotea is a place you go to for the atmosphere and not necessarily for the food. The food isn't bad, but considering the price, we prefer the food at Lateral and La Musa, haha.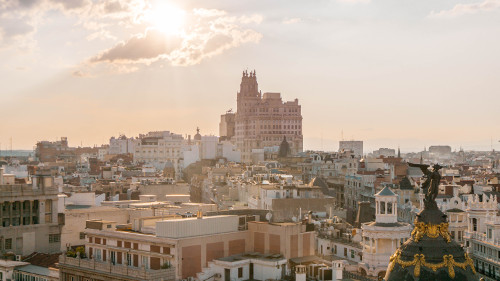 9. Mercado de San Miguel
Mercado de San Miguel isn't our favorite spot for food but it's a nice way to get to know the Spanish cuisine. You can try lots of different tapas at the stalls in the Mercado. If it's your first time in Spain, we'd recommend going there as they serve lots of different kinds of tapas. It's always very crowded with tourists drinking and eating, but that also makes it a really bustling place.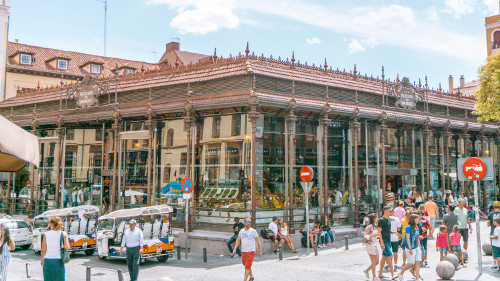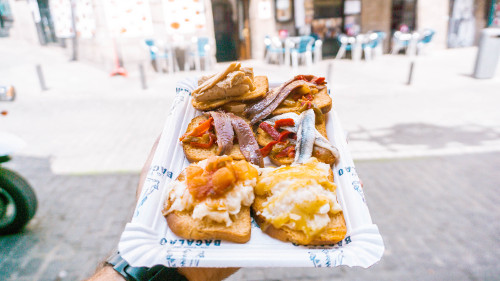 Which of these restaurants in Madrid would you like to try? Let us know in the comments below!
Be sure to check out:
A Complete Sightseeing Guide of Retiro Park in Madrid
All Things To Do in Madrid: A Complete Sightseeing Guide
The Best Sunset Spots in Madrid
The Most Instagrammable Places in Madrid