The Best Things To Do in Barcelona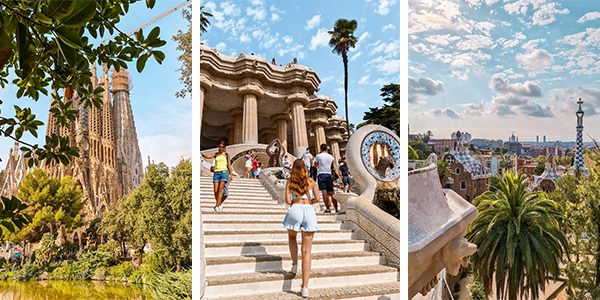 Barcelona is one of the most popular European city trip destinations, and we can absolutely see why. Barcelona has so much to offer, from shopping to amazing architecture and, of course, the beach. Especially when you like Gaudí's work, Barcelona is a paradise. We've both been to Barcelona a few times before but we love returning to this city. In this blog post, we're sharing the best things to do in Barcelona!
Sagrada Família
The Sagrada Família is one of Antoni Gaudí's greatest works. Construction of the Sagrada Família started in 1882 and has been going on ever since. Completion of the Sagrada Família was planned for 2026. However, because of construction halts due to lockdowns in 2020-2021, the 2026 completion date will be missed. A new completion date hasn't been provided yet.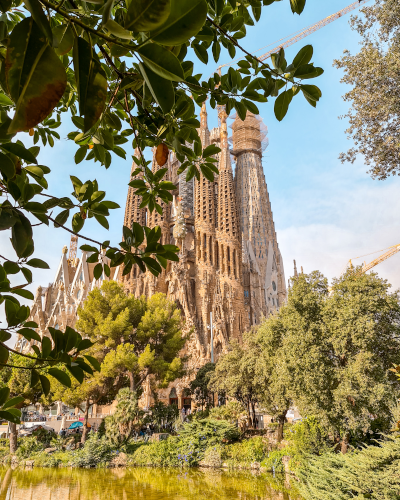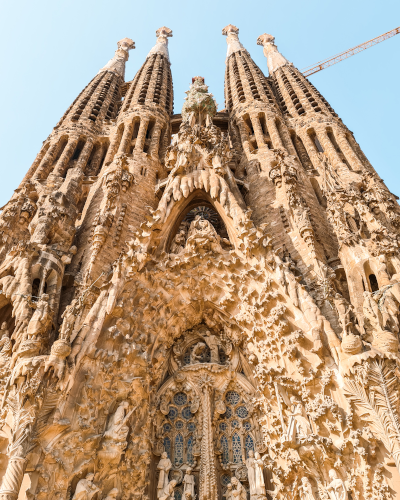 While working on the construction of the Sagrada Família, Gaudí knew he wouldn't outlive the completion of the basilisk. He died in 1926 when the basilisk was between 15 to 25% completed, and is buried in the crypt of the Sagrada Família.
It has been amazing to witness the construction. During Mika's first visit to the Sagrada Família in 2009, only pathways below the ground were accessible for visitors to enter. The interior still needed to be constructed. Five years later, we visited Barcelona together for the first time. This time, we could walk around inside of the Sagrada Família. Not all parts were accessible yet, because of the ongoing constructions of the interior. During our last visit in 2021, the interior was completed.
We think it's absolutely worth it to visit the Sagrada Família. The details are amazing. The facades tell different biblical stories, which the audio guide will tell you all about. The columns in the interior are typically Gaudí. It somewhat feels like you're in a forest instead of in a basilisk. The stained glass on the one side resembles the light at dawn and on the other side it resembles the light at dusk. It's absolutely unlike any other church we've ever visited.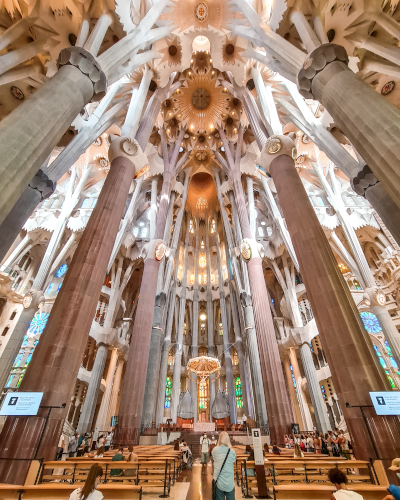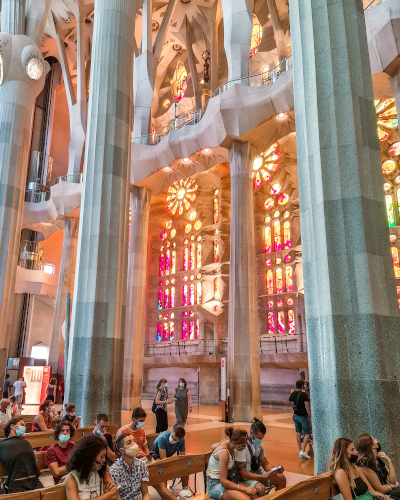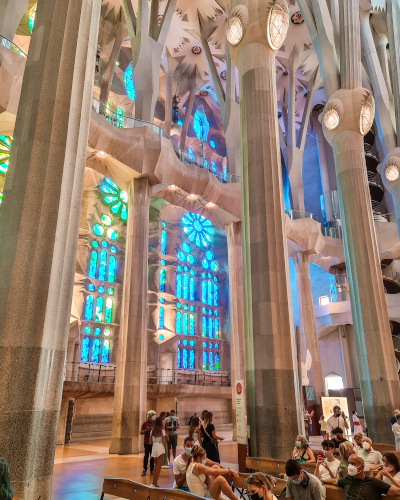 Opening hours:
Winter (November - February):
Monday - Saturday: 09:00-18:00
Sundays: 10:30-18:00
Spring/Fall (March and October):
Monday - Saturday: 09:00-19:00
Sundays: 10:30-19:00
Summer (April - September):
Monday - Saturday: 09:00-20:00
Sundays: 10:30-20:00
Ticket price with audio guide: €26
We recommend buying tickets in advance to avoid waiting times at the ticket office. You can buy tickets on the official website of the Sagrada Família.
Parc Güell
Parc Güell is another must-visit in Barcelona. Even though it was Mika's third time in Barcelona, it was her first time in Parc Güell. Just like many other attractions in the city, Parc Güell is designed by Antoni Gaudí. There is no other park in the world that's like this. If you love Gaudí's work, you'll love this park. While designing it, Gaudí was inspired by organic shapes. You can see these shapes throughout the entire park. It's absolutely a must to wander around the park and enjoy the beautiful and colorful designs of Gaudí.
Unlike a few years ago, you now need to buy tickets to enter the park as a tourist. It's also not possible anymore to visit the park very early in the morning, as the early mornings (7:00-9:30) and evenings (18:30-22:00) are reserved for residents of Barcelona. Parc Güell is open to tourists daily from 9:30 until 18:00. To avoid lines, we recommend buying tickets online on the official website of Parc Güell. The price of a general ticket is €10.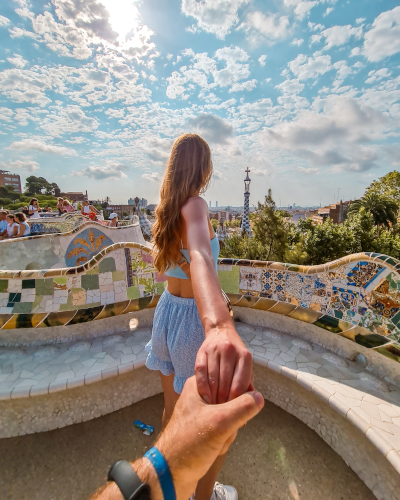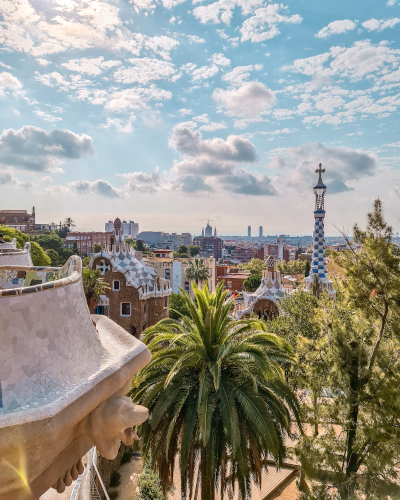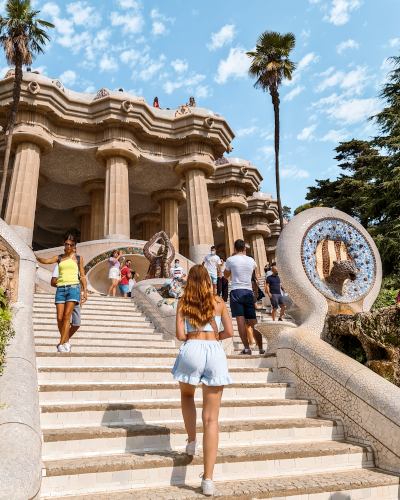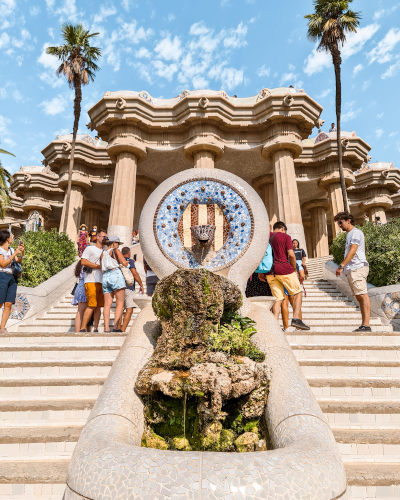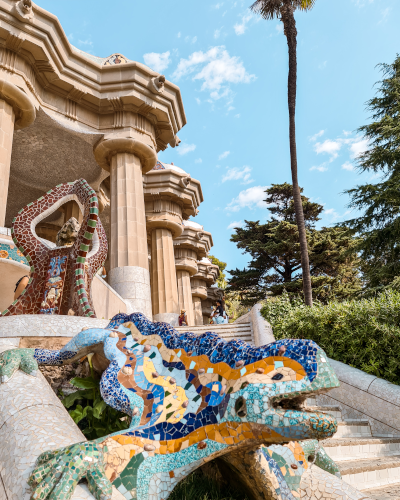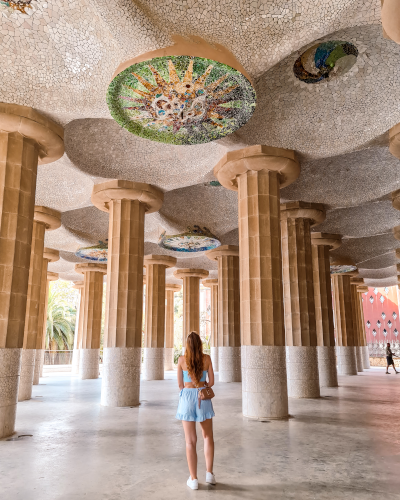 Arco de Triunfo
The Arco de Triunfo was built by architect Joseph Vilaseca i Casanovas and served as the main access gate for the 1888 Barcelona World Fair. There are similar triumphal arcs in other cities, such as the Arc de Triomphe in Paris. Unlike the others, the one in Barcelona does not celebrate military victories but is intended to welcome people. The Arco de Triunfo is built in Neo-Mudéjar style, which gives the Arc a typically Spanish vibe. It's worth checking this sightseeing spot out in Barcelona!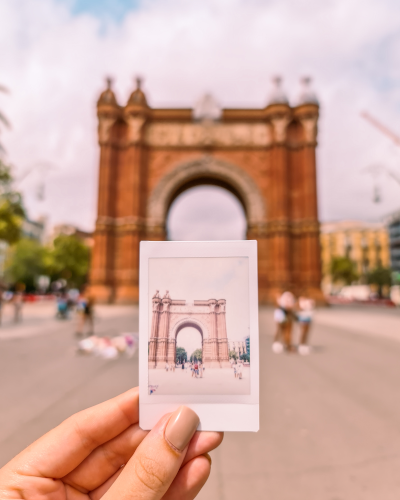 Parc de la Ciutella
The Parc de la Ciutella is a city park in Barcelona. You can find the city zoo, the Palau del Parlament de Catalunya, a small lake, museums, and a fountain designed by Josep Fontserè in this park. The fountain is absolutely beautiful and worth checking out. You can rent boats to paddle around the small lake which is located opposite the fountain. Even though we enjoyed walking in the park during our previous visits to Barcelona, we didn't like it this time. There weren't many local people around, just a handful of tourists with children, and it felt like the park wasn't maintained very well. If you want to cross Parc de la Ciutella off your list, you can check it out, but you probably won't miss a lot when you skip it.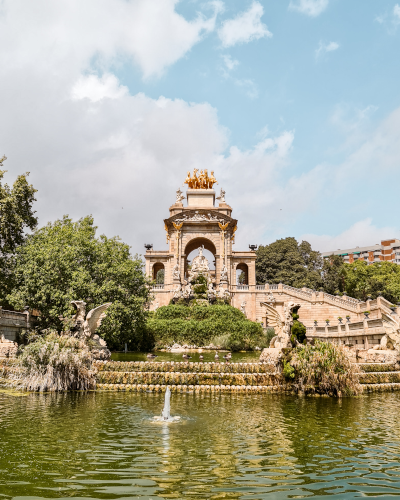 Maremagnum Shopping Center
Maremagnum is a mall in the Port Vell (old harbor) of Barcelona. It's not a very large mall and quite a few stores are empty but it's the only shopping center that's allowed to open on Sundays. Yes, you read that correctly. All stores are closed on Sundays in the city center. So if you're in Barcelona on a Sunday, make sure you plan something that doesn't involve shopping, or head over to Maremagnum. Despite being quite small, it's a nice mall to hang around in for a few hours (there's a Bershka and Stradivarius, so it's not too bad). If you want to pass some time, you can always have a nice Frappuccino at Starbucks. Next to the mall, there's also an IMAX cinema and an aquarium, if you're into that.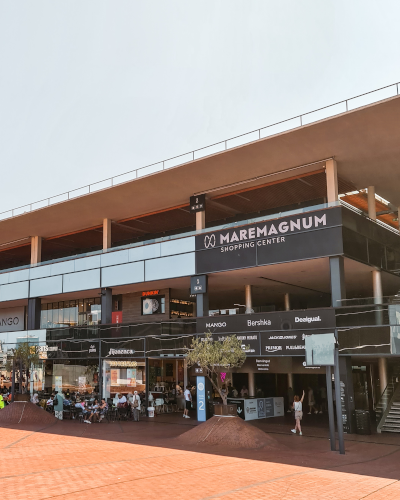 Platja de Barceloneta
One of the reasons why Barcelona is so popular is because of the combination of the city and the beach. Barcelona is not famous for having the best beach, but it's a large patch of sand and if you like to tan and swim, it's simply perfect. Because all stores are closed on Sundays, it's the most popular day of the week to go to the beach, both for locals and tourists. Be aware of crowds if you're going to the beach on a Sunday. If you're not visiting Barcelona in summer, a walk along the beach is always nice. If you're visiting in summer, don't forget to bring your swimsuit and towel, because you will want to take a dip in the Mediterranean Sea!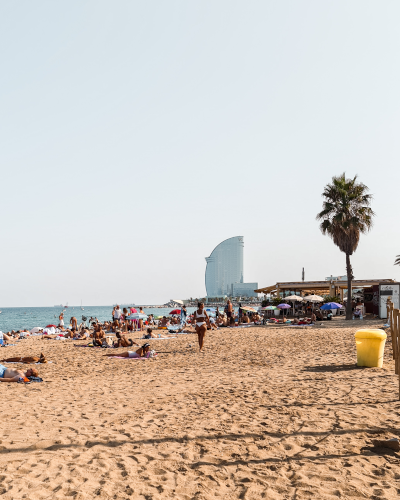 Foodie's paradise
Barcelona is truly a foodie's paradise. There are so many amazing places for brunch and dinner and we discover new places every time we're in Barcelona. Our favorite area for finding nice places to eat is the Eixample district. You can simply walk around and find so many interesting places. Besides that, Barcelona also has a few amazing rooftop bars and restaurants. The rooftop restaurant with the best food, vibes and service is Terrazza de Vivi. The rooftop bar with the best view is the Rooftop Terrace at Ayre Hotel Rosellón. In this blog post, we've listed 10 amazing places to eat in Barcelona.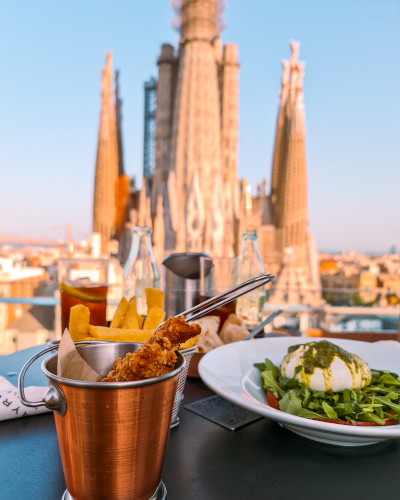 How long to stay in Barcelona
Barcelona is one of those cities where you can easily stay a week without getting bored. It really depends on how much you want to see. If it's your first time to Barcelona and you want to do a lot of sightseeing or planning on a few beach days, consider staying one week. If you've been before or if you plan on returning at a later time, a (long) weekend stay in Barcelona is perfect. During our last visit, we stayed five nights in Barcelona. This was perfect for us to do our favorite things.
Where to stay in Barcelona
We stayed in Best Western Premier Hotel Dante which we absolutely loved. The hotel offers comfortable rooms and a private parking garage, which was a necessity for us as we were traveling by car. It's located in our favorite district in Barcelona: Eixample. Walking around Eixample you will find many nice places for lunch and dinner. It's not a touristy district, but still very close to the city center and the Passeig de Gràcia.
Click here to book a room in the Best Western Premier Hotel Dante.
Have you ever been to Barcelona or is it still on your travel bucket list? Let us know in the comments below!
Be sure to check out:
10 Amazing Places to Eat in Barcelona