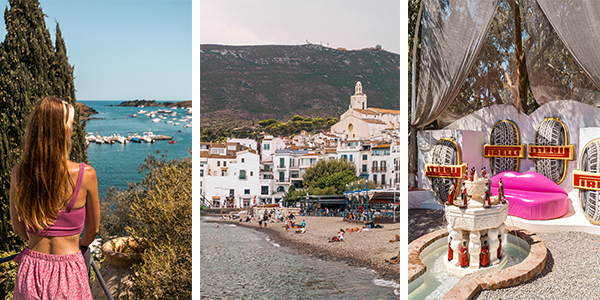 Things To Do in and near Cadaqués
Cadaqués is situated along the Spanish Costa Brava. This picturesque town has been visited by many notable artists such as Salvador Dalí, Pablo Picasso and Joan Miró. Salvador Dalí even built a home just outside of Cadaqués in the small village of Portlligat. Cadaqués is a must-visit during a stay on the Costa Brava. Read on to find out about the best things to do in Cadaqués!
Cadaqués
The beautiful town of Cadaqués is surrounded by mountains on one side and the sea on the other, which makes it feel like you're disconnected to the rest of the country. The white buildings with orange roofs and the clear blue sea are a true pleasure to the eye. While wandering the streets, you'll stumble upon many pretty corners and sights. We would recommend spending a few hours in the town to just wander around. Don't forget to take your bathing suit with you in case you want to cool off in the sea.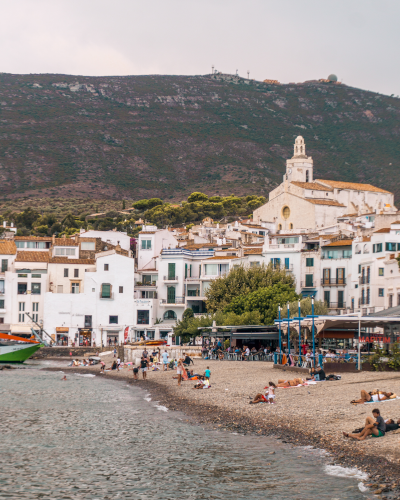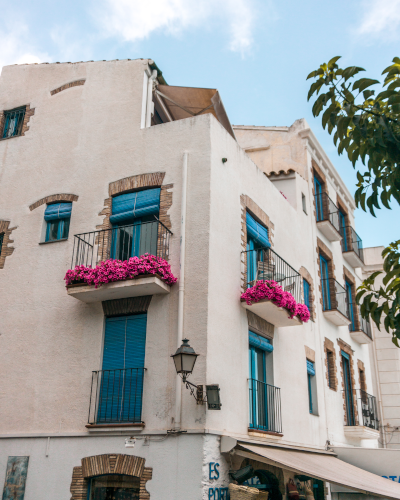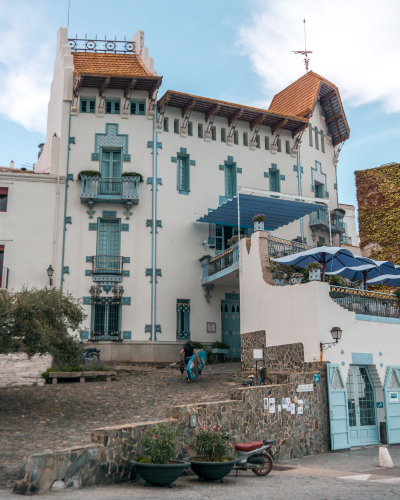 Salvador Dalí House Museum
One of the main reasons to visit Cadaqués is the Salvador Dalí House Museum. In 1930, Dalí bought a tiny fisherman's hut in Portlligat, a bay located next to Cadaqués. Over the course of 40 years, he bought more huts, connected them together and as such created his own house. Dalí was drawn to the Portlligat Bay because of the light, the landscape and the isolation of the area. It's not hard to recognize the landscape of the Portlligat Bay in Dalí's works.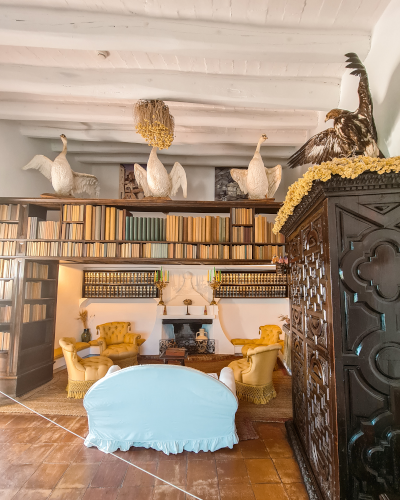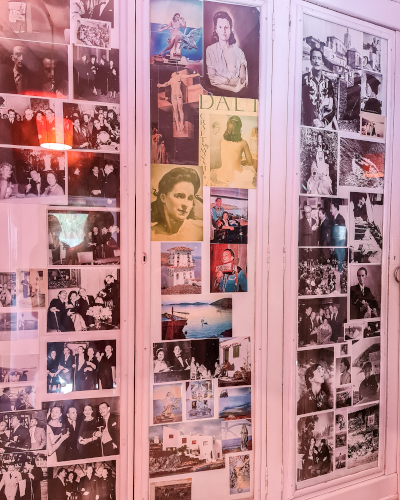 Nowadays, Dalí's house is a museum. When visiting the museum, a guide will show you the house in small groups of 8 people. It's not possible to explore the house by yourself. The guide provides you with background information about all of the rooms and Dalí's life in the house. It's so interesting to see how Dalí lived and where his inspiration came from. The house, with all its connected rooms, is a true piece of art itself. After the guided house tour, you can walk around the garden by yourself.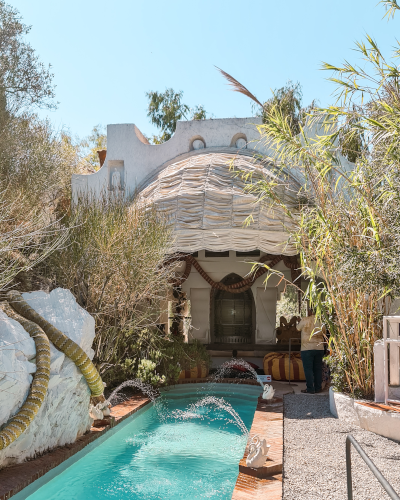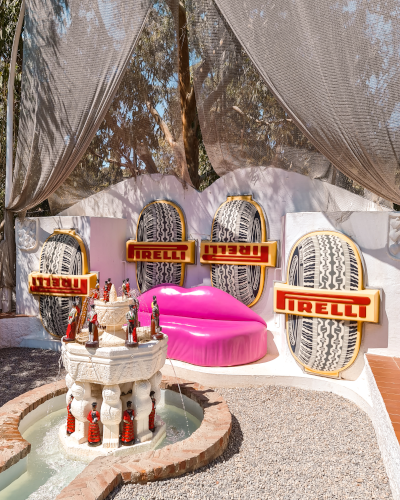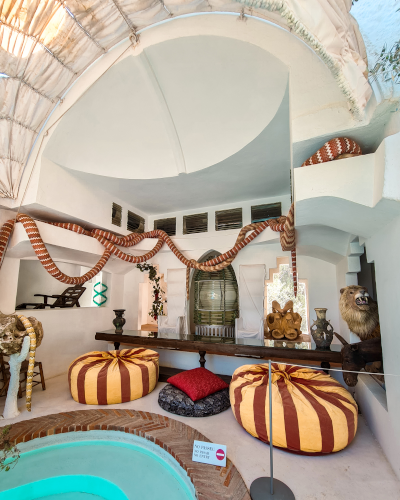 Opening hours:
November until March:10.30-18.00 (closed on Mondays)
April until Mid-June: 10.30-18.00 (open daily)
Mid-June until Mid-September: 9.30-20.30 (open daily)
Mid-September until October: 10.30-18.00 (open daily)
Ticket price:
Online: €13
Ticket office: €14
We would recommend buying tickets online to ensure a spot for the day. If you buy tickets at the ticket office, you might have to wait a few hours for a free time slot. Click here to buy tickets online.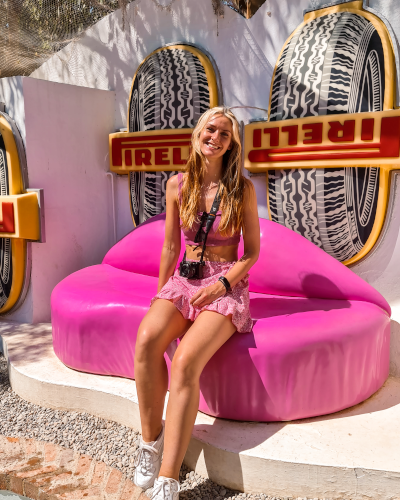 Other than the Dalí House Museum, there is not much to do in the bay of Portlligat.There's a souvenir shop and a small café, and there are also some stalls from tour boat operators at the end of the pier. It's only a 15-minute walk between Cadaqués and Portlligat.
Cap de Creus
Cap de Creus is the name of the peninsula on which Cadaqués and Portlligat are located. In the Natural Park of Cap de Creus, the nature of the peninsula is well-maintained. The area is known for its moon-like landscapes and crystal-clear waters. It's the perfect area for hiking, mountain biking, diving and snorkeling. Unfortunately, we didn't have enough time to explore Cap de Creus during our day trip to Cadaqués. Snorkeling in the area looks very interesting though, so we need to save that for another time.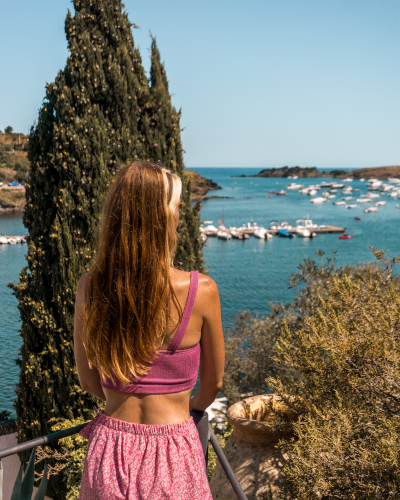 How to get there
By public transport
It's possible to get to Cadaqués by public transport. Buses to Cadaqués run from Figueres and take about one hour. The train from Barcelona to Figueres takes one hour and the train from Girona to Figueres takes 30 minutes. Depending on the transfer time between connections, your trip from Barcelona to Cadaqués should take around 2.5 hours, and from Girona to Cadaqués it should take around 2 hours.
By car
If you're in Spain by (rental) car, we would recommend driving to Cadaqués. Driving from Barcelona to Cadaqués takes around two hours and 15 minutes. From Girona it's around one hour and 15 minutes.
Where to park
Parking can be an issue when traveling by car, especially in small towns that are flooded by tourists in the high season. We don't recommend driving into the center of Cadaqués, because parking is very limited or even non-existent. We parked our car here, right in between Cadaqés and Portlligat, which is perfect if you're visiting both places. The parking space isn't paved and it's basically a huge field, but it's free.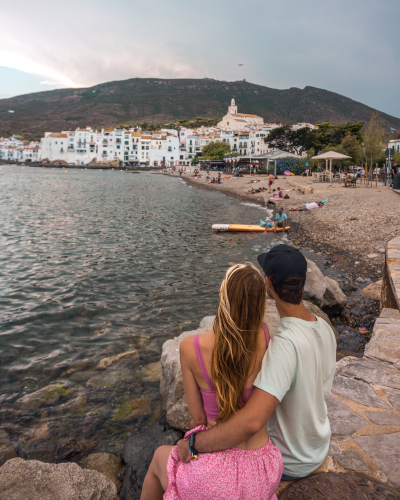 Where to stay
Cadaqués is perfect to visit on a day trip, but if you want to explore more of Cap de Creus and the area you might want to consider staying a few days. Besides the surrounding nature of Cadaqués, it's also a nice place to stay for a beach summer holiday. Click here for accommodations in Cadaqués. As we didn't stay the night in Cadaqués, we can't personally recommend a nice place to stay there.
Search for accommodation in Cadaqués.
Most people will visit Cadaqués on a day trip, just like we did. When we visited Cadaqués we stayed in an Albatross Mobile Home on Camping Lacus in L'Escala, another coastal town on the Costa Brava. L'Escala has beautiful sand beaches, which makes it a perfect place to stay for a beach holiday. From L'Escala it's a one-hour drive to Cadaqués.
Click here to book a mobile home on Camping Lacus in L'Escala.
Visiting Cadaqués during your stay in Barcelona is also perfectly possible. In Barcelona we stayed in Best Western Premier Hotel Dante, which is a nice base in the lively Eixample district. We particularly loved this hotel for the comfortable rooms and private parking garage.
Click here to book a room in Best Western Premier Hotel Dante in Barcelona.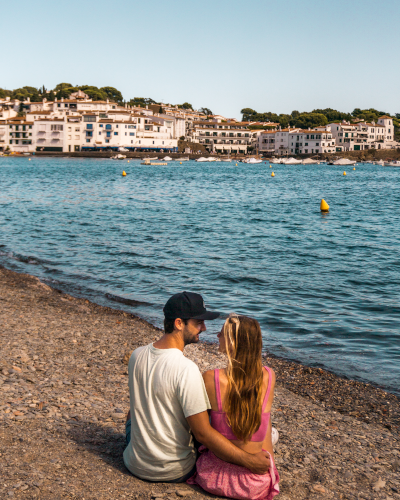 Have you been on the Costa Brava or do want to go? Let us know in the comments below!
Be sure to check out:
10 Amazing Places to Eat in Barcelona
The Most Instagrammable Places in Toledo