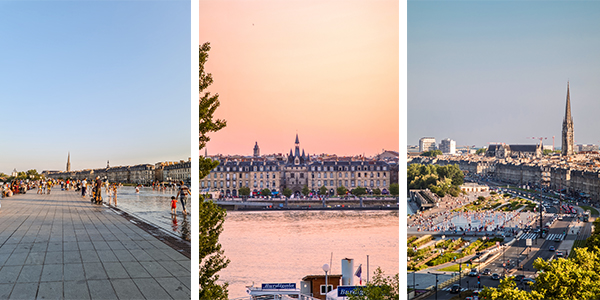 Our 2021 Trip to Bordeaux
We've been to Bordeaux many times before, but this year was our first time spending the night there. It was the perfect opportunity to discover some new places in this stunning French city. Did you know that Paris took example in Bordeaux when transforming into a modern capital city? You can absolutely see the resemblance. Bordeaux is one of the places we love returning to. Read on to find out what we discovered this year!
If you're planning a trip to Bordeaux, make sure to check out these blog posts as well:
The Best Things To Do in Bordeaux
Ferris Wheel
Every summer, there's a ferris wheel at Place des Quinconces. Even though we visited Bordeaux many times in summer the last few years, we somehow never took a ride in this ferris wheel. This year, we finally did it and we have no idea why we didn't do it any sooner. For €7 per person, we got to experience incredible views of Bordeaux. It wasn't busy when we went (there were no lines), and we went three times round. We recommend doing this during golden hour or when the sun sets as the light is the most beautiful at that time of the day. We love views from up high so this was the perfect thing to do for us!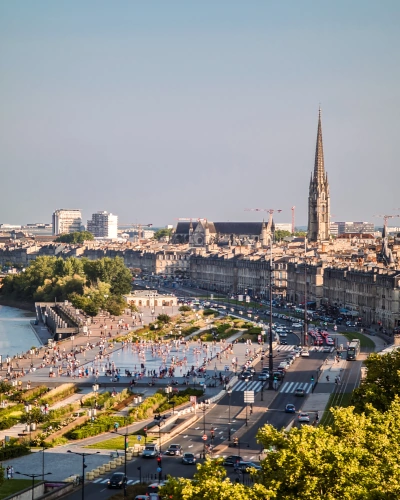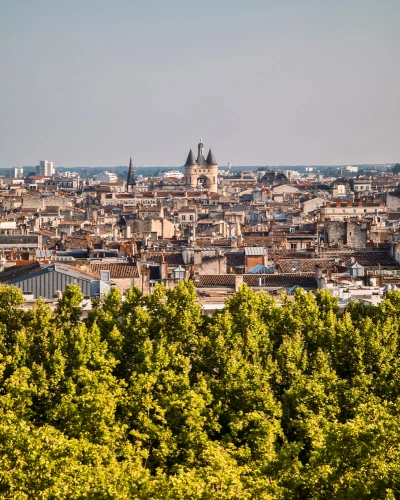 Miroir d'Eau
Miroir d'Eau is one of our favorite sightseeing spots in Bordeaux and we always make sure to go there. As it was a hot summer's day, the Mirror of Water was filled with children playing. Because of the crowds, we couldn't get any beautiful water reflection photos of Place de la Bourse (the beautiful square right behind it). Nevertheless, it's still a must-visit in Bordeaux (and the perfect spot to cool down during hot summers).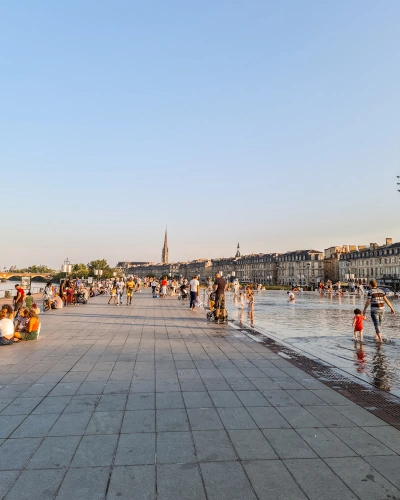 Garonne river walk
Walking along the Garonne river is also a must-do in Bordeaux. There's a nice broad path divided into paths for pedestrians, cyclists and runners. Along the path, there are multiple spots (benches and grass fields) to relax and enjoy the weather. When walking from Place de Quinconces to Pont de Pierre, you're walking past the stunning 18th century buildings that Bordeaux is famous for. We love being near the water, and this is definitely the most beautiful river bank we've ever walked along.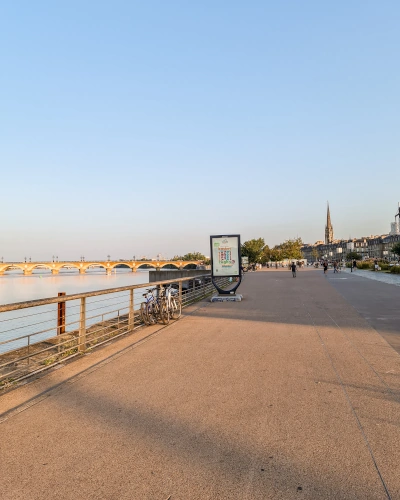 Sunset dinner at Le Siman
Le Siman has a rooftop terrace that's located along the Garonne river and has perfect views of the 18th century buildings across said river. It's the perfect place to watch the sun set behind these buildings. Besides the amazing location, the restaurant has a great atmosphere and serves typically French food. It's a little bit pricier than in other comparable restaurants in Bordeaux, but the location and views absolutely make up for it. We recommend making a reservation in advance, especially if you're planning on going on the weekend. You can easily book a table through their website. We can definitely recommend having dinner here during sunset, it's so worth it!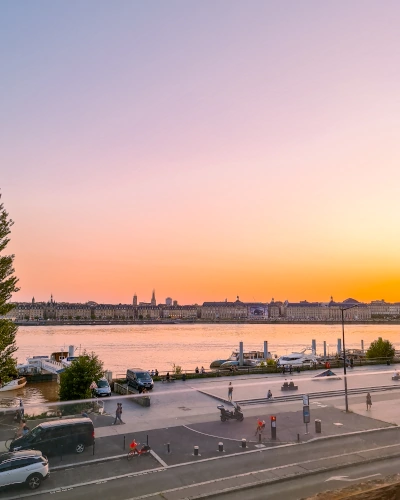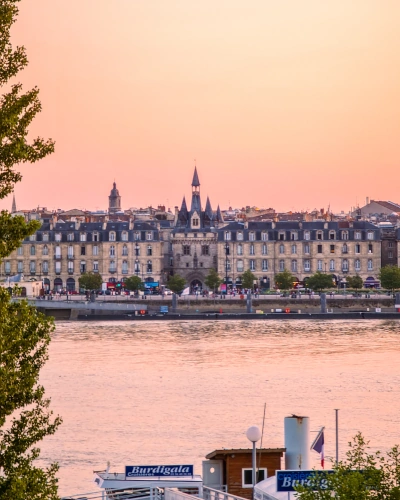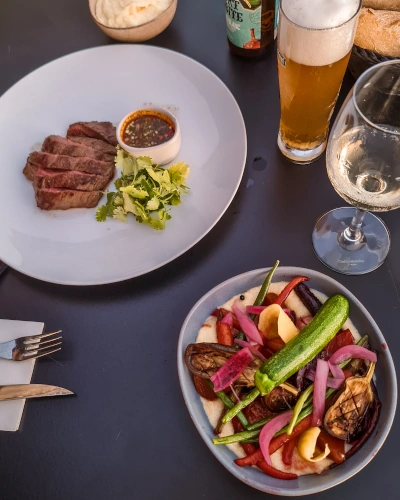 Note: as of the summer of 2021, a pass sanitaire is required if you want to eat/drink at restaurants and cafés (both for inside and outside tables). The French pass sanitaire is a QR-code that the restaurant staff can scan. We used the Dutch app "CoronaCheck" and it worked in France as well. We figure that other EU countries have similar systems that will also work in other EU countries. Check this website for more information about the pass sanitaire.
Breakfast at the Cathedral
This was our first time ever having breakfast in Bordeaux, so we were determined to make it a special one. We decided to have breakfast at Le Café Français, which is located right next to the Bordeaux Cathedral. This restaurant always looks like a tourist trap to us (it also gets a lot of bad reviews on Google Maps), but the location is so beautiful. We ordered two french breakfasts which included coffee, orange juice and either a croissant or a small baguette with butter and jam. It was €10 per person, which is a bit pricey but our entire experience was good. We loved the location, the food and drinks were nice and the service was good. We don't think we'll ever try lunch or dinner here, but in our opinion it's a great spot for breakfast or drinks!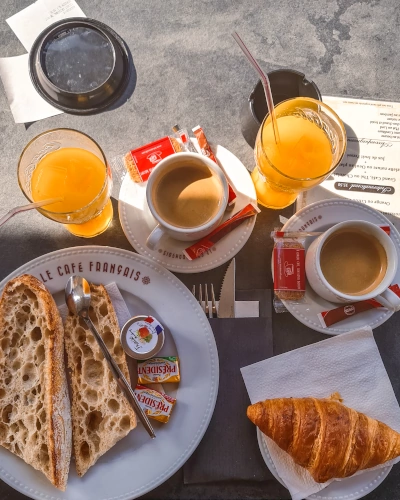 Bordeaux Cathedral
Cathédrale St-André de Bordeaux, commonly known as Bordeaux Cathedral, was first mentioned in documents dating from 814, but it was rebuilt to Gothic style between the 12th and 14th century. We've been to the Bordeaux Cathedral many times before, but never went inside. So of course we had to change that! The Gothic style inside is very impressive with beautiful stained glass windows and a large organ. If you're in the area, it's worth going inside the cathedral as well.
If you want to know more about the historical sights in Bordeaux, check this blog post out:
10 Historical Sights You Can't Miss When Visiting Bordeaux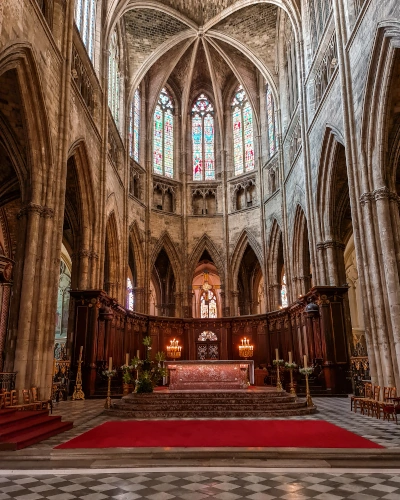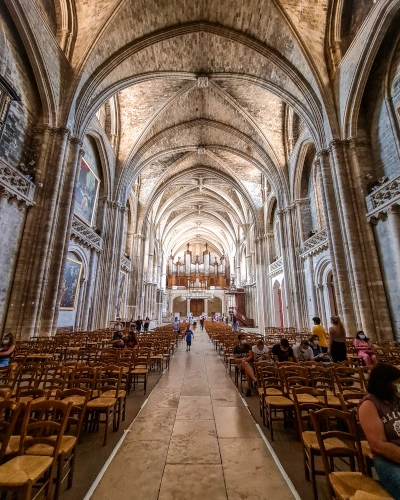 Lunch at Kokomo Café
The rest of the day we spent shopping (Promenade Sainte-Catherine and Rue Sainte-Catherine are our favorite places for that), but found an Insta-worthy brunch spot we had to check out. Kokomo Café serves Californian brunch dishes, such as avocado toast (we think it's debatable whether that's Australian or Californian), pancakes and grilled cheese. The design of the place is pretty and Mika can't say no to avocado toast. We love that Bordeaux is getting more food spots like this.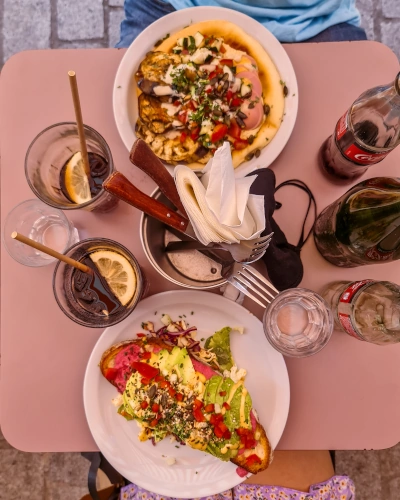 Dinner at Place Fernand Lafargue
Usually we go to Place Saint Pierre and the surrounding area for dinner, but this time we stumbled upon Place Fernand Lafargue. This square is also filled with restaurants and we had a hard time choosing, but ended up at Umami Ramen. The food was okay (not the best ramen in our opinion), but we had a great night. The dining out scene in Bordeaux is amazing and we love the atmosphere of dinner squares like this one. We will definitely return to Place Fernand Lafargue to try out some other restaurants.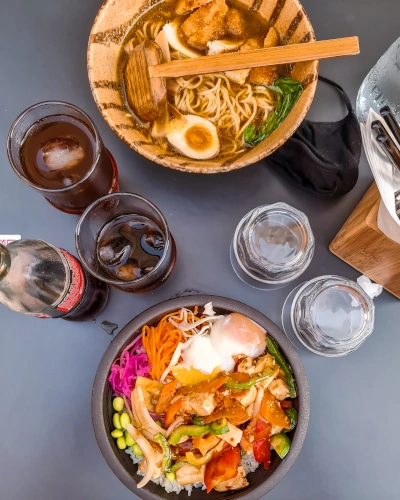 Ice cream at la Maison du Glacier
We did end up at Place Saint Pierre though, for ice cream this time. The ice cream at Maison du Glacier is só good. We had to wait in line for a while, but it is absolutely worth it. It's one of those ice cream places that have mint ice cream that actually tastes like mint instead of the artificial mint flavor. This is absolutely the best ice cream place in Bordeaux!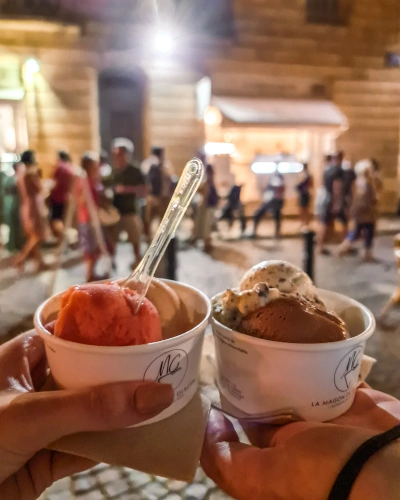 Is Bordeaux a place you'd love to visit? Let us know in the comments below!
Be sure to check out:
The Most Instagrammable Places in Bordeaux
How To Get Close To the Pink Lakes in the South of France (Without a Tour)
Things To Do in Arcachon Bay: A One-Day Itinerary
Dune du Pilat: A Bucket List Destination in France