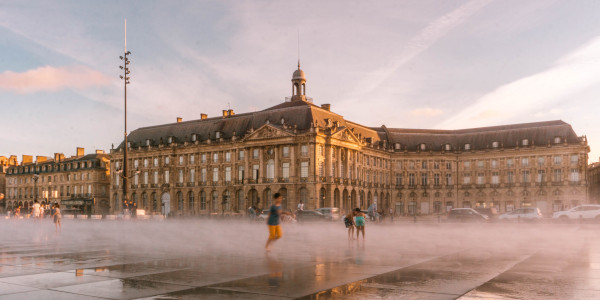 Our Favorite Things To Do in Bordeaux
A few weeks ago, we went back to our favorite summer destination: Montalivet-les-Bains at the west coast of France. We always make sure to visit Bordeaux when we're staying there. Bordeaux is a beautiful city and besides all the amazing sightseeing spots, we always spend a few hours shopping. Read on to find out this years' day trip itinerary in Bordeaux. If you want more in-depth information about Bordeaux, make sure to check these blogs too:
The Most Instagrammable Places in Bordeaux
The Best Things To Do in Bordeaux: One Day in Bordeaux
10 Historical Sights You Can't Miss When Visiting Bordeaux
Pont de Pierre
Usually, we cross the Garonne by tram but this time we decided to walk across the river on the Pont de Pierre. The Pont de Pierre itself is beautiful but the view from up there is amazing too! If you're entering the city from this side, we can absolutely recommend walking across the bridge.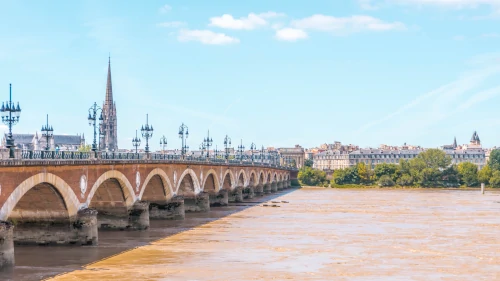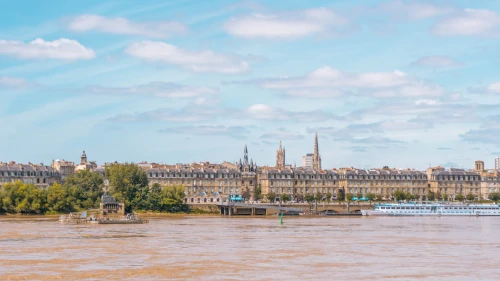 Porte Cailhau
We love to walk along the river in the direction of the city center. The riverside is also one of the most beautiful parts of the city. The 18th-century buildings along the river are all impressive. Of course we had to take a photo of Porte Cailhau. Porte Cailhau is built in 1494 and used to be part of the city walls. In our last Bordeaux blog, we said we would climb the tower during our next visit to Bordeaux, but we still haven't done that. Maybe next time, haha!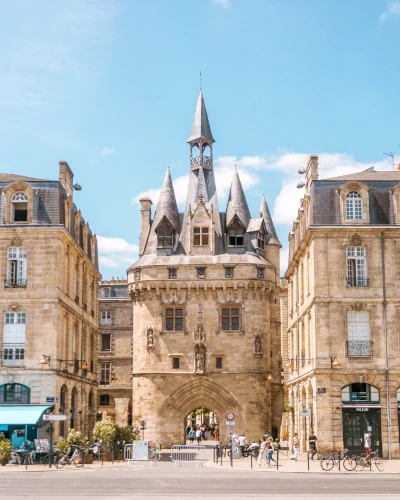 Place de la Bourse
We always just have to pay a visit to Place de la Bourse and Miroir d'Eau (or multiple visits). The buildings on the square are too beautiful to miss. Miroir d'Eau is our favorite sightseeing spot and it's gorgeous every time. A trip to Bordeaux is not complete without coming here.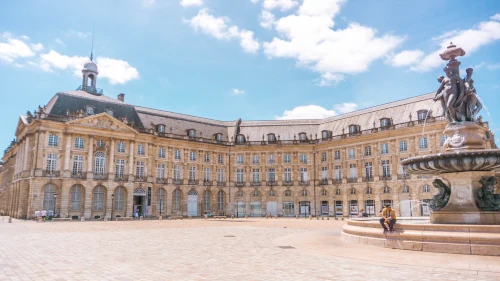 Place de la Comédie
From Place de la Bourse we usually walk towards the Grand Théâtre from where we enter the shopping street Rue Sainte-Catherine. We're always distracted by the beautiful buildings surrounding the Place de la Comédie. We had to take an obligatory snap of the Grand Théâtre and the "Flat Iron" building on the corner of the street.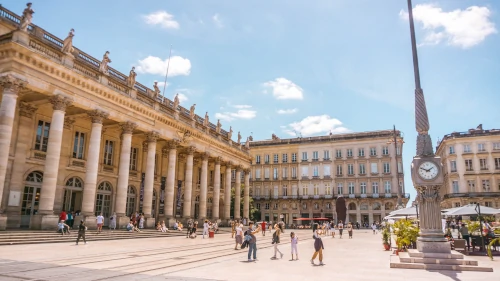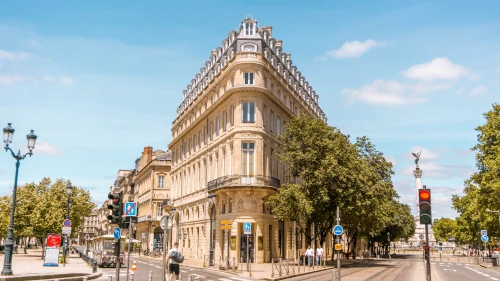 Shopping
Our favorite places for shopping are Rue Sainte-Catherine and Promenade Sainte Catherine. Here you can find the best clothing stores. We always spend quite some time here checking out our favorite stores.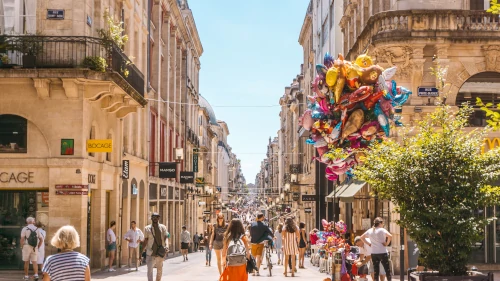 Jardin Public
This time we also explored a place new to us: Jardin Public. We had walked past the park a few times before, but never went inside. We visited Bordeaux on a sunny Sunday afternoon and the park was packed with people (all keeping a safe distance). It was quite a huge park with plenty of grass for people to sit on, but pretty flowers and ponds as well. The Jardin Public is the perfect place to sit down for a bit and do some people watching. Too bad the line for ice cream was way too long, that would have made it even better!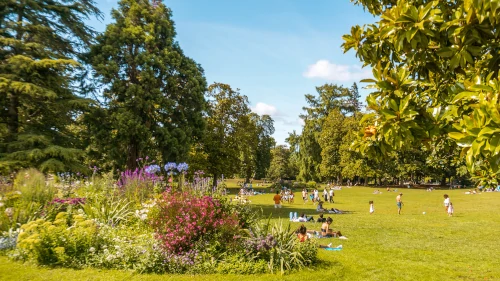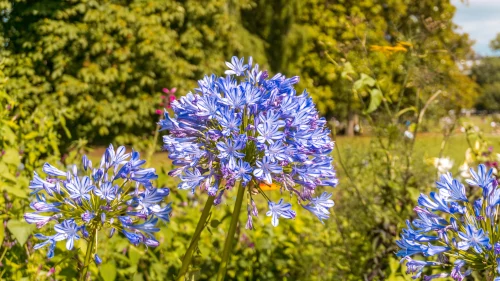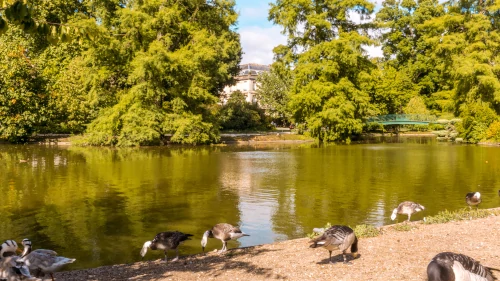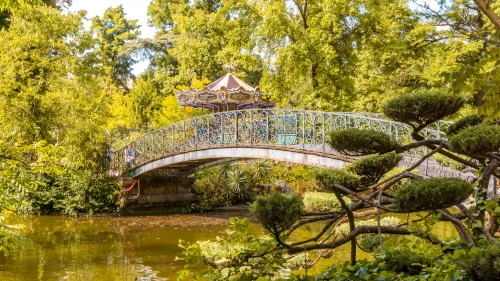 Jardin Botanique du Jardin Public
To our surprise, there's also a botanical garden inside the Jardin Public. Of course we had to check that out. The botanical garden houses over 2500 plant species originating from different countries, such as China, Australia, Japan, Indonesia and Mexico. There was a large patch of daisies in full bloom during our visit, which was beautiful. The garden isn't that large but it's a lovely place to walk around in. If you're into flowers and plants, we can absolutely recommend visiting both the Jardin Botanique and the Jardin Public.
Opening hours
Summer: daily from 08.00-20.00
Winter: daily from 08.00-18.00
There's no entrance fee.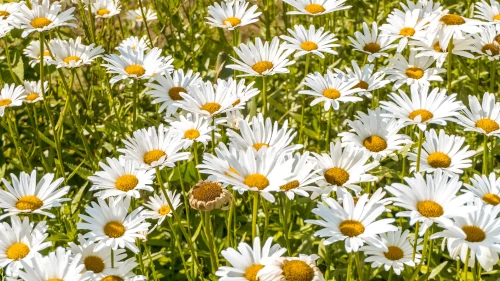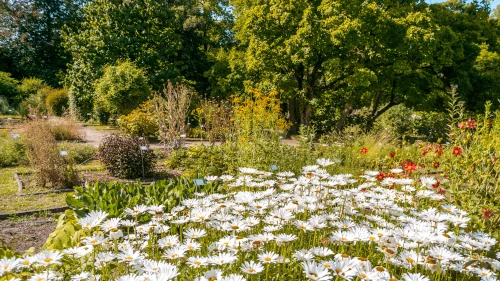 Place des Quinconces
Next to the Place des Quinconces are beautiful rows of oak trees. We always walk past this place but never took a photo of it. Looks pretty cool if you ask us!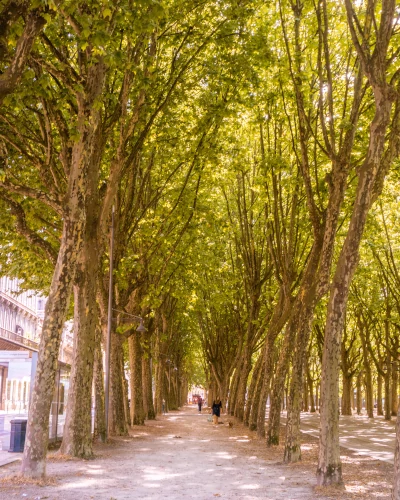 Place Saint Pierre
Place Saint Pierre is still our favorite place for dinner. The square is filled with outdoor seating areas from several restaurants and the atmosphere on the square is just great. It's one of the liveliest squares in Bordeaux and often there are street performers making music or dancing. This time we had dinner at a restaurant called Max á table and it was very good. We can absolutely recommend checking the restaurants at this square out!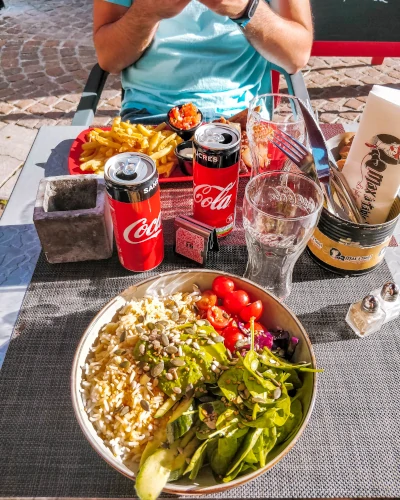 Miroir d'Eau
We ended our day in Bordeaux at Miroir d'Eau. As mentioned before, Miroir d'Eau is our favorite sightseeing spot so we had to come back a second time that day. The golden hour light and the reflection of the buildings on Place de la Bourse in the Miroir d'Eau is just perfect. Every 15 minutes, the irrigation system sprays water and creates fog which makes the entire setting look dreamy. We love hanging out here a bit during golden hour before heading back to the car.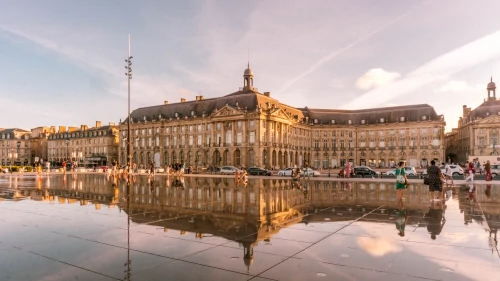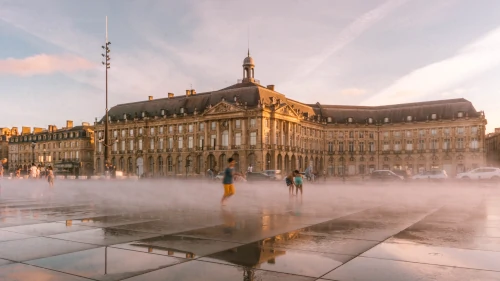 For more information on how to get to Bordeaux and parking tips, check our blog about the Best Things To Do in Bordeaux.
We hope you loved reading about our favorite spots in Bordeaux. We already can't wait until our next visit! Is Bordeaux on your travel bucket list? Let us know in the comments below.
Be sure to check out:
How To Get Close To the Pink Lakes in the South of France (Without a Tour)
Camping in South West France: A Summer Getaway in Montalivet-les-Bains
Dune du Pilat: A Bucket List Destination in France
Things To Do in Arcachon Bay: A One-Day Itinerary