The Most Instagrammable Places in Lisbon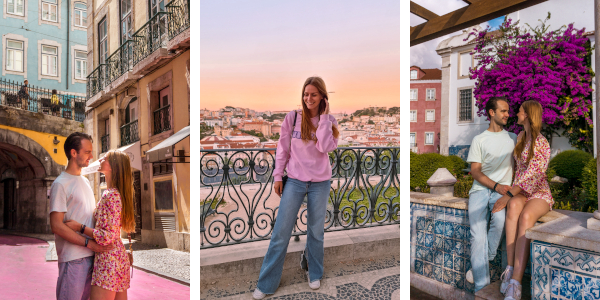 Lisbon's Best Photo Spots
Lisbon is a city full of history, charm and unique sights that make it a perfect destination for travel enthusiasts. With its colorful streets, stunning viewpoints, and impressive architecture, there's no shortage of Insta-worthy photo spots in Portugal's capital city. In this blog post, we've listed the most Instagrammable places in Lisbon, including links to the exact locations.
Read more:
The Best Things To Do in Lisbon
Castelo de São Jorge
Castelo de São Jorge is a medieval castle that sits on a hilltop in Lisbon in the Alfama neighborhood. The castle is open to the public and is a popular tourist attraction. As the castle is built atop of a hill, the panoramic views of the city are beautiful. You can walk around the grounds of the castle and climb the remnants and towers. We loved capturing the view from one of the towers looking over the castle's remnants and the city. Be aware that if you visit Castelo de São Jorge during the day, you have to be very patient to take a photo like this without people. We had to wait quite a while for a break in the crowds. We can imagine it's less crowded in the morning.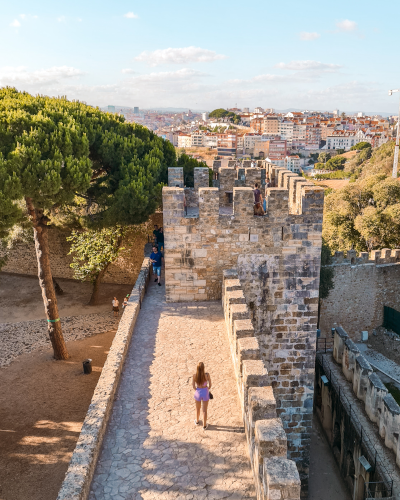 Another great photo spot is from the outer walls of the castle. The views of the city and the Tagus River are simply stunning from here.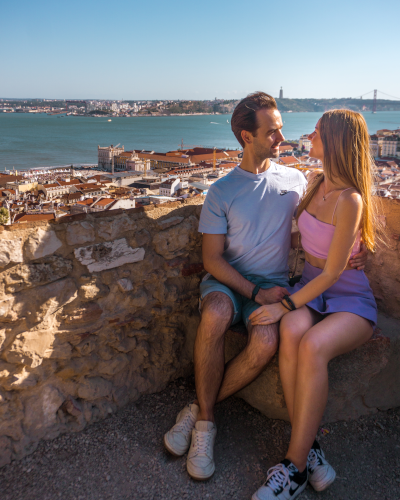 Besides these two photo spots, you might be able to find some different angles for photos. We'd highly recommend simply walking around the grounds and keeping your eyes peeled for pretty backdrops. This shouldn't be hard with the great views here.
Opening hours of Castelo de São Jorge
March - October: daily from 09:00 until 21:00
November - February: daily from 09:00 until 19:00
An entrance ticket is €15.
Miradouro de Santa Luzia
Miradouro de Santa Luzia is a stunning viewpoint that offers panoramic views of the city and the Tagus River and we think it's the most beautiful viewpoint in Lisbon. The buildings and structures on the square are decorated with azulejo tiles, which are traditional Portuguese tiles that add a beautiful touch to any photo. If you're visiting in spring or (the beginning) of summer, you're greeted with bright pink bougainvillea flowers. This viewpoint is a great location for sunset, as you can watch the sun set into the sea. However, that's also the most crowded time of the day. Therefore, we'd recommend going there in the morning if you want to take photos. The morning light is also beautiful and you'll probably have the place to yourself. We even witnessed a couple getting engaged here in the morning!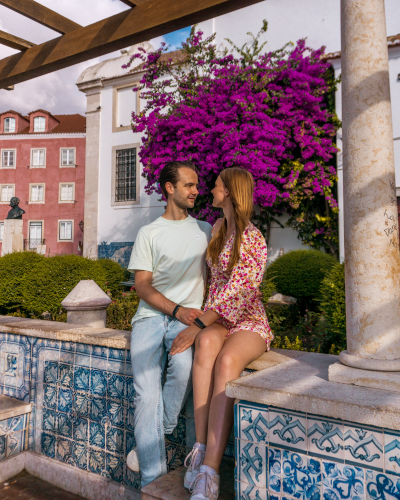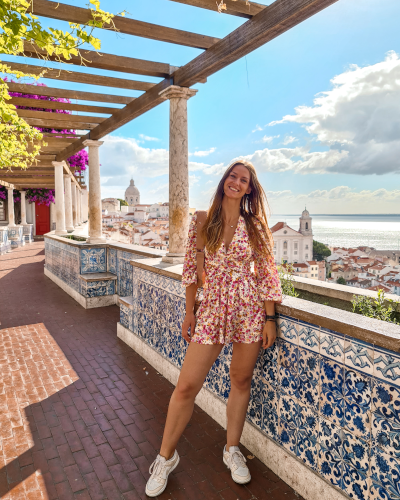 Miradouro de São Pedro de Alcântara
Another beautiful viewpoint in Lisbon is Miradouro de São Pedro de Alcântara. This viewpoint looks out over the historic city center of Lisbon, Castelo de São Jorge and the Tagus River in the distance. This viewpoint is beautiful at any time of the day, but we'd highly recommend coming here at sunset (too). You don't have a direct view of the sunset, but the sunset colors brighten up every photo. As the viewpoint is located on a very large square, you can always find a spot to take photos without any people in it. This viewpoint is located in the Bairro Alto neighborhood, which is our favorite neighborhood for restaurants. It's a great viewpoint to check out before or after having dinner in the Bairro Alto neighborhood, depending on what time the sun sets during your visit.
Check out this blog post in which we share amazing places to eat in Lisbon, including some restaurants in the Bairro Alto neighborhood.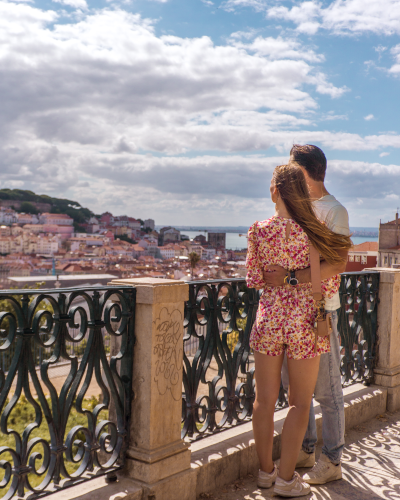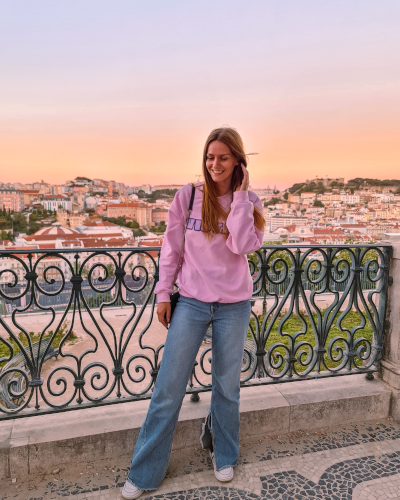 Bica Funicular
The Ascensor da Bica, or Bica Funicular, is a historical funicular that started operating in 1892 and is still in operation today. The Bica Funicular runs between Rua de São Paulo and Calçada do Combro and it's so fun to watch the funiculars go by. Make sure you have your camera ready if you want to take a photo (or video) with the funicular passing by, because you only have a short time frame to do so. If you missed it, you can always wait until the funiculars go by again, which is every 15 minutes.
The Bica Funicular runs from 07:00-21:00 from Monday until Saturday and from 09:00-21:00 on Sundays and public holidays. Tickets are €3,80 per person for a round trip and can be bought from the driver.
Pink Street
Rua Nova do Carvalho, also known as Pink Street, is a street in Lisbon that is painted pink. This street has become a popular spot for Instagram photos due to the vibrant colors of the streets and the surrounding buildings. This neighborhood used to be Lisbon's red light district. Nowadays, it's the most popular nightlife area in Lisbon. Therefore, we wouldn't recommend getting here early in the morning if you want to take photos of the Pink Streets. The street isn't cleaned up yet and there probably will be garbage of the night before scattered around. It's best to visit this street in the early afternoon as the street is cleaned by then.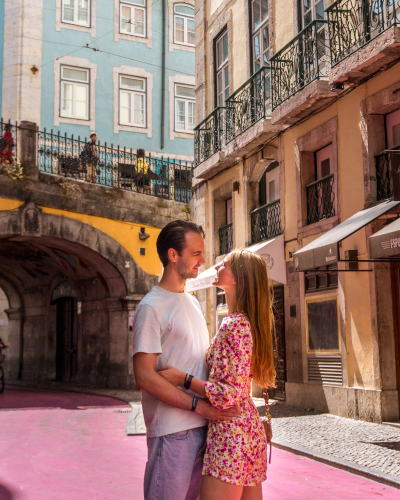 Palácio Chiado
Palácio Chiado is a restaurant located in the beautifully restored palace called Palácio Quintela. The restaurant features a stunning interior with ornate details and chandeliers that make for an Instagram-worthy photo backdrop. Especially the hall with the stairway and the room with the lion hanging from the ceiling are stunning. We don't think you can enter the restaurant without ordering something. The restaurant is pricey, especially for Portuguese standards, but the food is really good. We came here for lunch without a reservation and we were lucky they still had a table available. If you're planning on visiting Palácio Chiado, we'd highly recommend reserving a table at least a week in advance, whether you're coming for lunch or for dinner. Tables fill up quickly as it's a popular restaurant. We took photos of the beautiful areas in the palace while waiting for our food.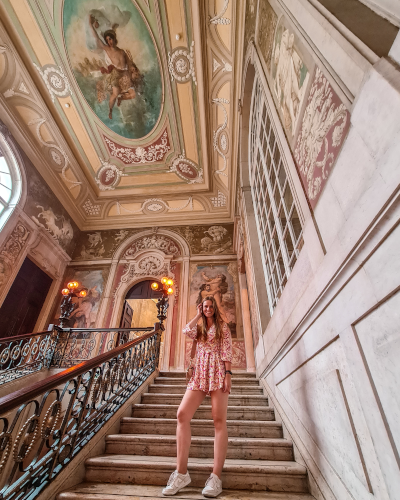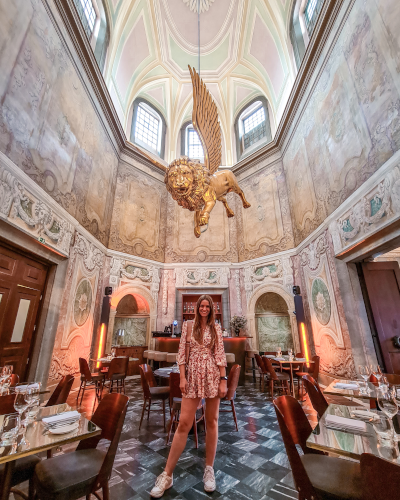 Belém Tower
Belém Tower is a famous monument in Lisbon that is located on the Tagus River. This tower was built in the 16th century and has been a UNESCO World Heritage Site since 1983. The tower's unique architecture and location make it a great spot for photos. You can also go inside the tower and admire the view from the top of the tower. We can't tell you about our experience inside the tower, as we only admired the tower from the outside. Belém Tower is located in Belém, a district of Lisbon. As Belém is a bit further away from the city center, we'd recommend going to Belém by public transport which is approximately 20 minutes from the Cais do Sodré station in Lisbon.
Opening hours of the Belém Tower
May - September: Tuesday to Sunday from 10:00 until 18:30
October - April: Tuesday to Sunday from 10:00 until 17:30
Closed on Mondays, January 1st, Easter Sunday, May 1st, June 13th and December 25th. An entrance ticket is €6. Entrance is free of charge the first Sunday of every month.
Cascais
Cascais is a beach town located just 40 minutes from Lisbon by train. Lisbon's district of Belém is connected to the same train line as Cascais. Cascais has a beautiful historic city center with colorful buildings. We loved wandering along the coast line and admired the beautiful beaches and architecture. We stumbled upon a beautiful villa that we just had to take a photo with. The beaches in Cascais look very Instagrammable too. We can highly recommend venturing out on a day trip to Cascais, which you can perfectly combine with a visit to Belém too.
Check out this blog post for tips on using public transport in Lisbon.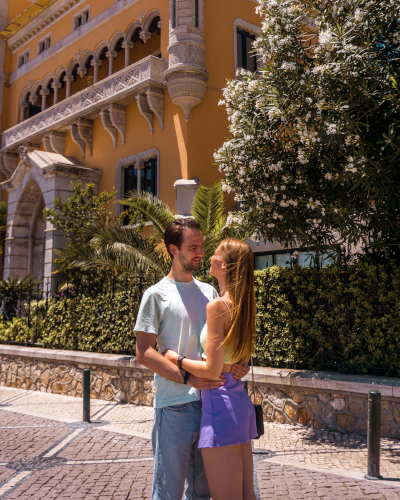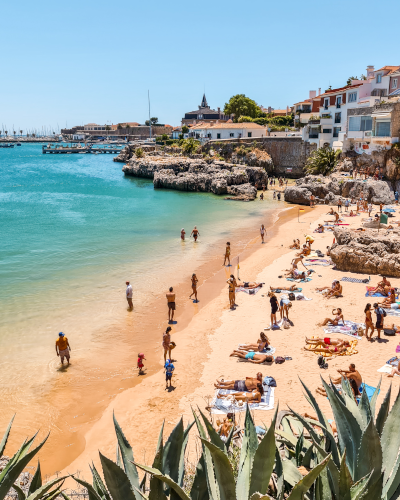 From the colorful streets of the historic city center to the stunning viewpoints, Lisbon has no shortage of beautiful photo spots. We hope this blog post with Lisbon's most Instagrammable places has inspired you to plan a trip to this beautiful city.
Have you been to Lisbon or is it still on your travel bucket list? Let us know in the comments below!
Be sure to check out:
6 Amazing Places to Eat in Lisbon
The Best Things To Do in Lisbon
Discovering the Best of Aveiro and Costa Nova do Prado
The Most Instagrammable Places in Porto