A Complete Guide to Visiting Sintra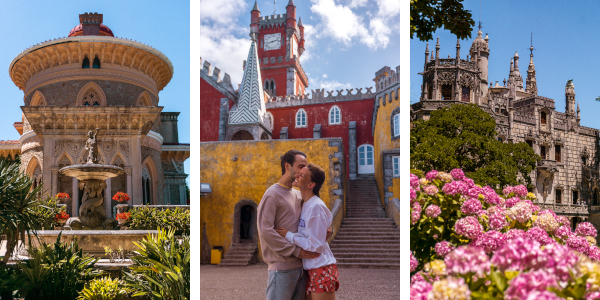 Everything You Need to Know About Visiting Sintra
If you're planning a trip to Portugal, a visit to Sintra is a must. This picturesque town, located just 30 kilometers west of Lisbon, is known for its stunning palaces, exotic gardens, and rich history. With so much to see and do, it can be overwhelming to plan your visit. That's why we've put together a guide to everything you need to know about visiting Sintra, including information on four of its most famous attractions: Pena Palace, Quinta da Regaleira, Monserrate Palace and the Moorish Castle. From the history of these beautiful destinations to practical tips for visiting, this guide has everything you need to make the most of your trip to Sintra.
History of Sintra
Sintra has a long and fascinating history. The earliest remnants of human occupation date back to the early Paleolithic, or Old Stone Age, a period in human prehistory that started approximately 3,3 million years ago. The Sintra mountains have been inhabited since the Neolithic period, with ceramic fragments found dating back to the fourth and third millennia BC. In the 8th century, Sintra was conquered by the Moors, who established a castle on the mountain overlooking the town. The castle, known as the Castle of the Moors, was an important strategic stronghold, and it played a significant role in the region's history for several centuries. In 1147, the castle was captured by Afonso Henriques, the first king of Portugal, during the Christian Reconquest of the Iberian Peninsula. In the following centuries, Sintra became a popular destination for Portuguese royalty and aristocrats, who built palaces and gardens in the Sintra mountains. In 1995, Sintra was designated a UNESCO World Heritage Site in recognition of its outstanding cultural and natural importance. Today, the town remains a popular destination for tourists from around the world, who come to admire its stunning palaces, gardens, and natural scenery.
The main attractions of Sintra are its stunning palaces and estates, of which Pena Palace, Quinta da Regaleira, Monserrate Palace and the Moorish Castle are the most well-known.
Pena Palace
The colorful Pena Palace is the most popular attraction in Sintra. It was built in the 19th century on the ruins of an old chapel as a summer residence for the Portuguese royal family. The construction of the palace was commissioned by King Ferdinand II and he and his wife highly intervened on matters of decoration and symbolism. The colorful palace is designed in Romanticism style with influences of Neo-Gothic, Neo-Islamic and Neo-Renaissances architectural styles.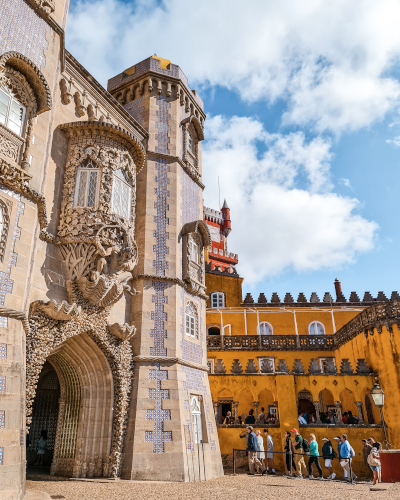 When visiting Pena Palace, you can explore the grounds, the courtyard and the palace itself. As Pena Palace attracts a lot of visitors, it gets crowded very quickly. There are two types of tickets: a ticket that allows you to explore the grounds and the palace from outside and a ticket that additionally allows you to go inside the palace. For the palace ticket you have to book a time slot and we highly recommend getting it a few days in advance as slots can fill up quickly. The grounds open half an hour earlier than the palace. It's a 15-minute uphill walk from the entrance gate to the palace, so be aware of that. You can also get up by a shuttle bus.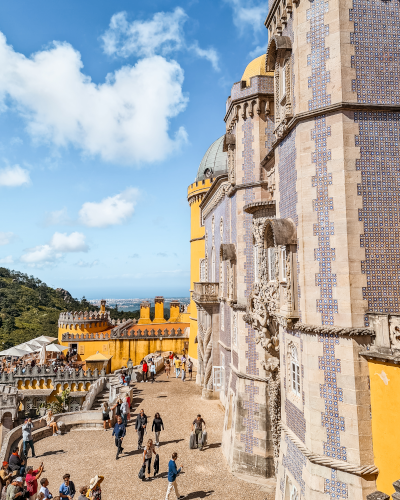 We got to the entrance of Pena Palace around 10 minutes before the opening time of the grounds and there was already a line, mostly with private tour groups. Once we were up at the palace, we went into the courtyard to take photos. As it was extremely windy at the courtyard, there were only a handful of people who all just peeked in and left very quickly. The wind was so strong that it was almost impossible to take photos with a tripod, but luckily for us it all went well. If you want to take photos in the courtyard of Pena Palace, we'd highly recommend getting there when it opens.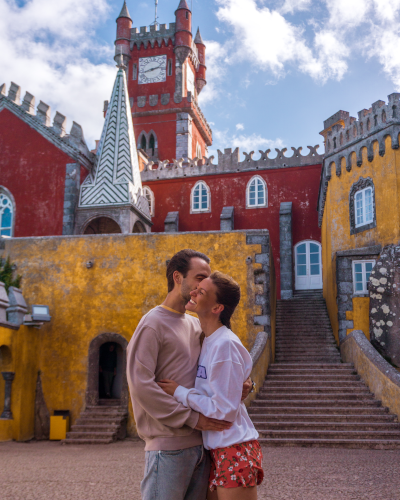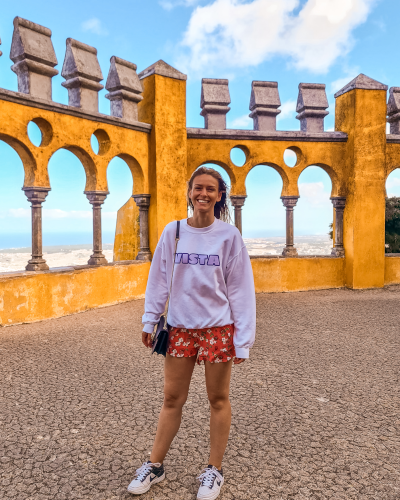 We had tickets for the first time slot of the palace, so after taking photos we went in. It's nice to see the palace from the inside. You're walking through the rooms that are mostly restored to when the palace was used as a summer house for the royal family. However, the rooms aren't as lavishly decorated as the rooms in an average castle in France. If you're short on time, we wouldn't recommend going inside. All the private tour groups stop at every room to tell things about it, and the narrow hallways make it impossible for other people to pass them. This means that you're constantly waiting and what should have been a leisurely 15-minute walk through the palace quickly becomes 45 minutes. If we knew it was like this, we wish we didn't get tickets for the palace as it wasn't worth it for us. Once we got outside, the line to enter the palace was insanely long and it would have taken hours to get in. Maybe it was just an extremely busy day when we were in Sintra. FYI: we were there at the end of June.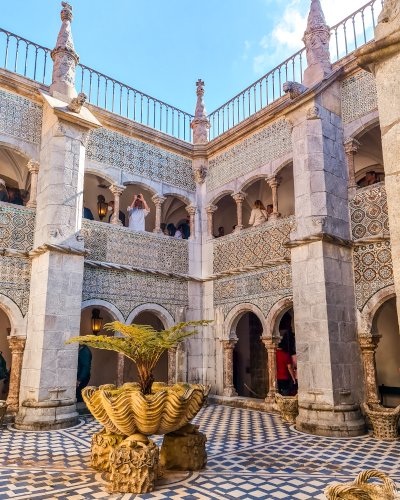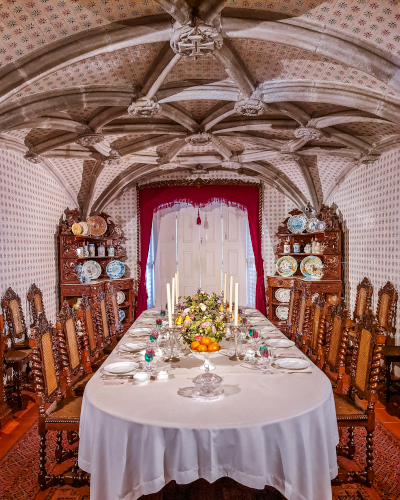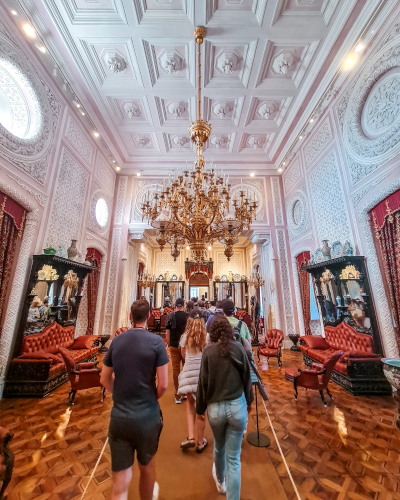 Opening hours of Pena Palace
Park: daily from 09:00 until 19:00
Palace: daily from 09:30 until 18:30
An entrance ticket for both the park and palace is €14. An entrance ticket for the park only is €7,50. With a park only ticket, you can explore the grounds and courtyard of the palace. A park and palace ticket grants entrance to the interior of the palace.
Quinta da Regaleira
The next estate we visited was Quinta da Regaleira, which is mostly known for its stunning gardens. The estate includes a palace, a chapel, lakes, fountains, and underground tunnels. The land of Quinta da Regaleira belonged to the Viscountess of Regaleira and was sold in 1892 to wealthy Brazilian-Portuguese businessman Carvalho Monteiro. Monteiro hired the Italian architect Luigi Manini to design the estate. The estate was constructed over a period of several years, from 1904 to 1910, and it features a mix of architectural styles, including Roman, Gothic, Renaissance, and Manueline.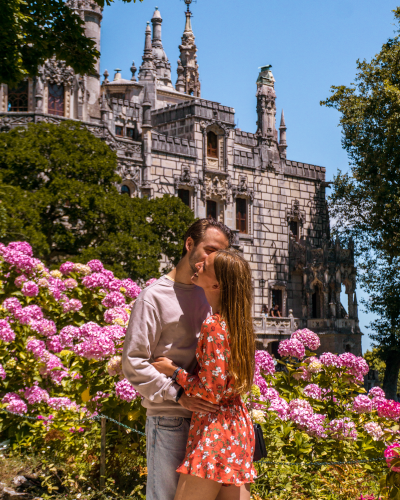 After Monteiro's death in 1920, the estate passed through several different owners. It was eventually purchased by the Sintra Town Council in 1997 and after extensive restorations opened to the public in 1998. Nowadays, it's one of Sintra's most popular tourist attractions.
The Regaleira Palace is built in Gothic style and has five floors. When visiting Quinta da Regaleira, you can walk through some of the rooms on the ground floor.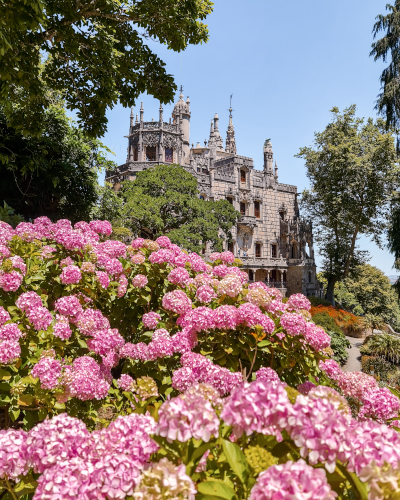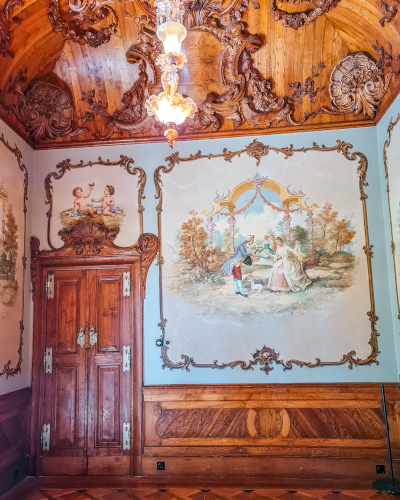 The Roman Catholic Chapel is built in Gothic style, just like the Palace. The interior of the chapel is lavishly decorated with frescoes, stained glass windows and stuccoed. Even though the chapel looks small, it actually has several floors!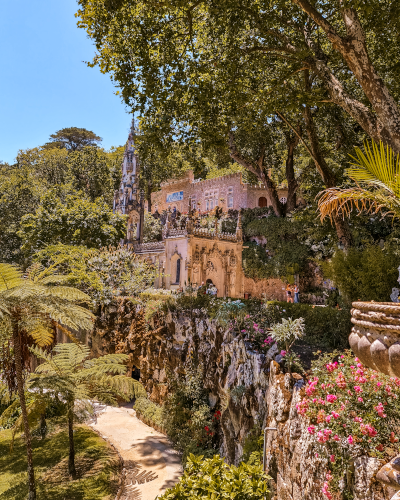 One of the most distinctive features of Quinta da Regaleira is the gardens, which cover over 4 hectares of land and include a mix of natural and human-made elements. The gardens feature winding paths, hidden tunnels, grottoes, and waterfalls, as well as several structures that are adorned with esoteric symbols. We highly recommend spending some time wandering through the gardens and admiring everything you stumble upon. As the gardens are huge, you can easily spend a few hours there.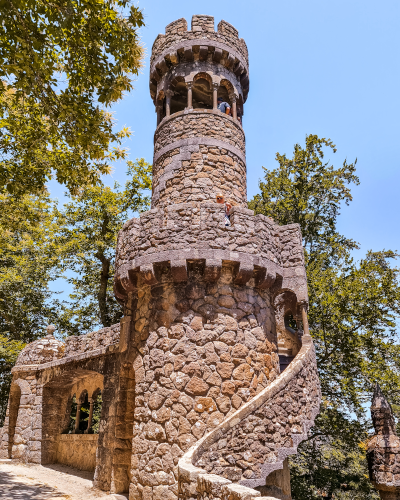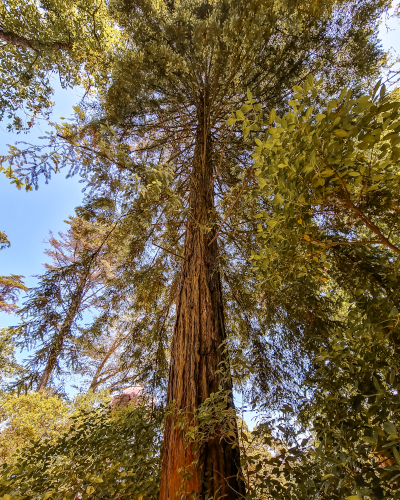 One of the highlights of the gardens are the two Initiation Wells, which are actually underground towers lined with stairs. Both wells never served as water sources. There are tunnels connecting the wells to each other. The larger well has a 27-meter tall spiral staircase and is open to the public. You can enter the well and the staircase as well as explore some of the connecting tunnels and caves. We didn't do it as the line was very long. The smaller well is also called the "Unfinished Well" and isn't open to the public.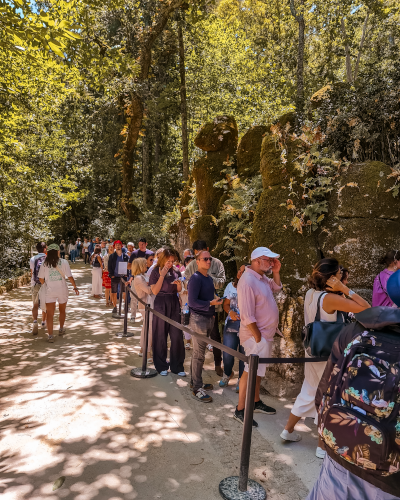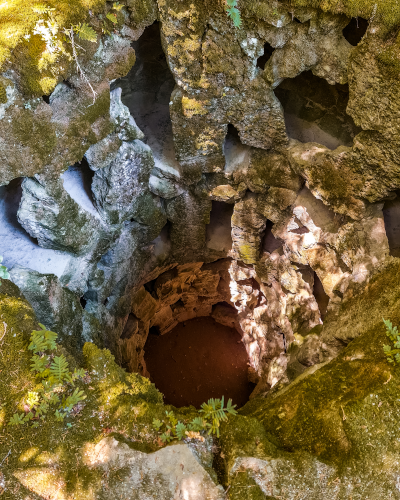 You don't need to buy tickets in advance to visit Quinta da Regaleira. You can just go to the ticket office and get your tickets there. If there's a line, you can even scan a QR-code to buy tickets on your phone and skip the line at the ticket office. As the grounds are so huge, you probably won't notice any crowds. We got there around noon and it didn't feel like it was too crowded. Be aware that if you want to visit the larger Initiation Well that you probably have to wait in line. Or you could go early in the morning as we assume it's less crowded at that time of the day.
Unlike many other estates in Sintra, Quinta da Regaleira isn't owned by the State of Portugal. For some reason, this means that the restaurant in Quinta da Regaleira is way more expensive than the restaurant in, for instance, Monserrate Palace. If you want to save some euros, we'd recommend planning your lunch in a way that you don't need to have it in Quinta da Regaleira.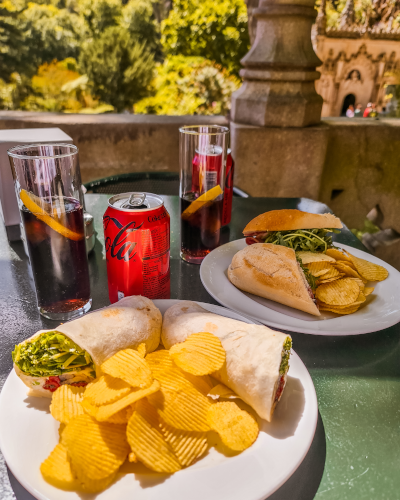 Opening hours of Quinta da Regaleira
October - March: daily from 10:00 until 18:30
April - September: daily from 10:00 until 19:30
An entrance ticket is €11.
Monserrate Palace
Monserrate Palace was the third and last estate we visited during our day in Sintra. The history of the estate dates back to the 16th century when a chapel dedicated to Our Lady of Monserrate was built on the grounds of the palace. In 1863, the wealthy English merchant Thomas Cook, who was graced with the title Viscount of Monserrate by the King of Portugal, bought the estate and built the palace as we now know it as a summer residence for his family. The design of the palace was influenced by Romanticism and Moorish architecture with neo-Gothic elements. In 1949, the estate was acquired by the Portuguese government, but extensive restorations began much later, in 2000. This eventually allowed Monserrate Palace to be opened to the public in 2010. Since 2016, the Monserrate Palace has been fully restored and recovered.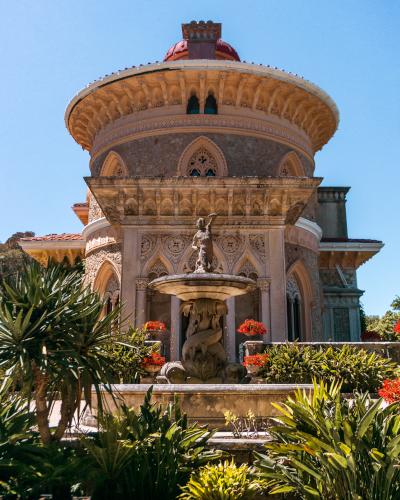 The palace is surrounded by large grounds that are mostly landscaped into gardens, organized according to geographical areas, such as the Mexico garden and Japan garden. There are winding paths that take you past a wide variety of exotic plants and trees, including palm trees, bamboo, and ferns. It's lovely to take a stroll through the gardens. Be aware that the estate is very hilly, so you have to go up and down quite a few times.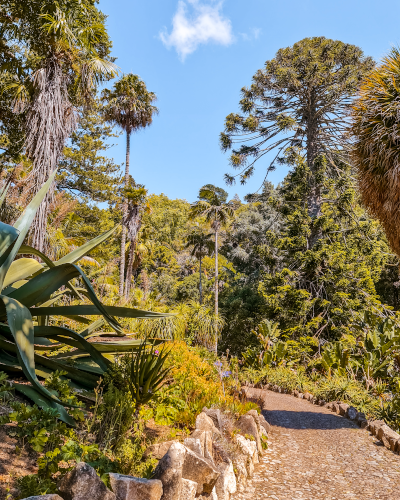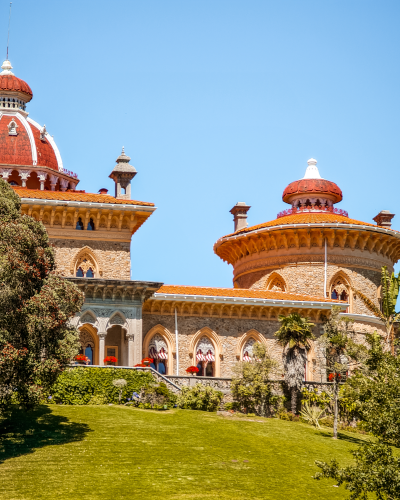 You don't need to buy tickets in advance for Monserrate Palace. There was no line at the ticket office when we got ours. We visited Monserrate Palace at the end of the afternoon and it wasn't crowded at all. We only saw a handful of people, which made it actually the most pleasant estate we visited in Sintra. We took our time to explore the interior of the palace as well as to take a leisurely stroll through the gardens. We can highly recommend visiting Monserrate Palace at the end of the afternoon.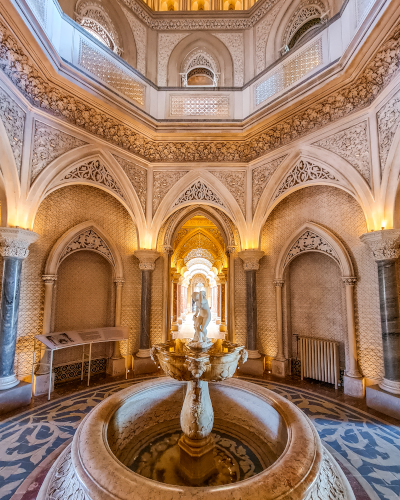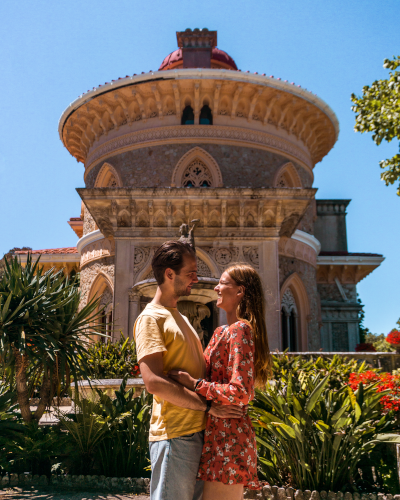 Opening hours of Monserrate Palace
Park: daily from 09:00 until 19:00
Palace: daily from 09:30 until 18:30
An entrance ticket is €8.
Moorish Castle
Another highlight of Sintra is the Moorish Castle. Unfortunately, we didn't have enough time left to visit this castle, so we had to save it for next time. We'd love to tell you a bit about this place as we think it's very much worth visiting and the castle has a fascinating long history. The Moorish Castle was constructed during the 8th and 9th centuries by the Moors. After the conquest of Lisbon in 1147 by Afonso Henriques, the castle was given to Christian forces. To guarantee the region's security and development, 30 inhabitants were installed in the castle. In 1375, the King of Portugal ordered rebuilding of the castle, and in 1383 the castle was well fortified. However, the military importance was diminishing as the conflicts between the Moors and Christians were long over, and the inhabitants abandoned the castle as they preferred to live in the old village of Sintra. Over the next centuries, the Moorish Castle lost significance and was left in ruins. In the 19th century, the King of Portugal undertook restoration works on the castle. Nowadays you can walk along the walls of the castle and enjoy the amazing views of the surroundings. On a clear day, you can see Pena Palace perching on top of a nearby hill.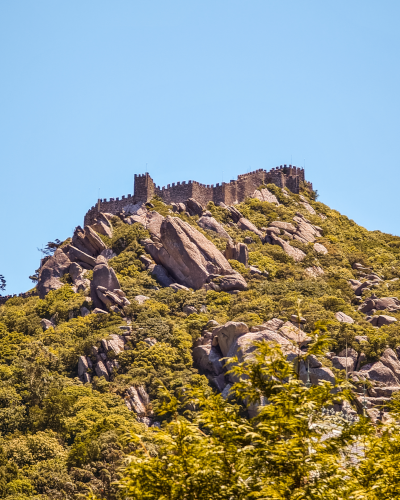 Opening hours of the Moorish Castle
Daily from 09:30 until 18:30
An entrance ticket is €8.
Getting around Sintra
There are three options of getting around Sintra: by public transport, by hiking trails or by taxi/Uber. The roads in the mountains of Sintra are not accessible to private vehicles and there's no parking space at any of the estates and palaces.
There are two bus lines that drive past the palaces and estates in the Sintra Mountains: lines 434 and 435.
Line 434 follows this route: Sintra Station > Biester Palace > Moorish Castle > Pena Palace > Sintra Historic Center > Sintra Station.
Line 435 follows this route: Sintra Station > Monserrate Palace > Seteais Palace > Quinta da Regaleira > Sintra National Palace > Sintra Historic Center > Sintra Station. Check this map for the bus lines. The lines only operate in this one-way direction, so you have to think about the order of places you want to visit in Sintra. A round trip ticket for bus line 434 is €7,60 and a round trip ticket for bus line 435 is €5,50. You can also get an unlimited "hop on hop off" ticket for both bus lines, which is €12,50. Check out this website for the bus fares of lines 434 and 435.
To be honest, we think the bus tickets are quite expensive, taking into account that you lose your flexibility and especially if you have to take both the 434 and 435 lines. The buses are also pretty small, so if it's full you might have to wait for the next one. We didn't think it was worth it for us, so we got around Sintra by taxi and Uber.
When we arrived in Sintra by train early in the morning, there weren't any Ubers nearby so we decided to take a taxi. There were multiple taxis lined up at the taxi stand next to the station. We paid €9,05 for the taxi ride from the train station to Pena Palace and the taxi driver even told us some things about the palaces and estates we were passing. From Pena Palace to Quinta da Regaleira, we got an Uber which was €3,63. There was an Uber right outside Pena Palace available for us, which was very convenient. From Quinta da Regaleira to Monserrate Palace we took an Uber which was €3,25. We had to wait a while for this one, as the police were checking if there were any public vehicles driving on the roads resulting in some traffic congestion. From Monserrate Palace we took an Uber back to Sintra Station, which was €5,33. We had a bit more struggle getting an Uber here, and we were canceled a few times by the Uber drivers as we were connected to drivers that were 20 minutes away. Fortunately, it all worked out great and the total wait time was around 10 minutes. In total we spent €21,26 on the taxi and Ubers for the two of us, which is less than the bus as we needed to get two hop on hop off bus tickets for the palaces we wanted to visit.
There are a few marked hiking trails in the mountains of Sintra that lead to some of the estates. Check this website for more information about the hiking trails and to which estates you can hike. Almost all hiking trails take around one to two hours, so if you're short on time and want to visit more than one estate, we wouldn't recommend hiking.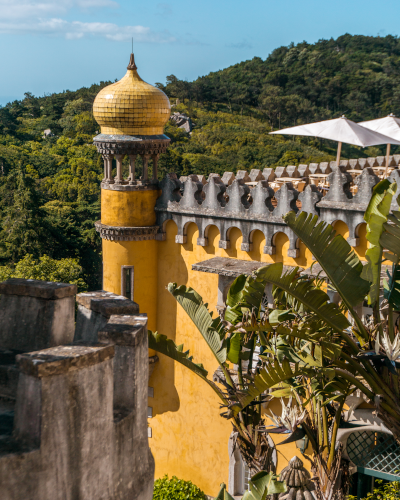 How long to stay in Sintra
As Sintra is closely located to Lisbon, many people (including us) visit Sintra on a day trip to Lisbon. However, as there is so much to see in Sintra, you could easily spend 3 days (or even more!) exploring more of the amazing estates in the area. When you visit Sintra in one day and you start the day early, you'll be able to explore three estates without having to run around. If you do run around a bit, you might be able to add a fourth to the list, but we wouldn't recommend that. As mentioned before, we weren't able to visit the Moorish Castle, but besides that Sintra National Palace and Sintra's historic town center also seem worth visiting. Furthermore, you could also visit Biester Palace, Seteais Palace, Convent of the Capuchos and Villa Sassetti. A palace that's high on our list for next time is the National Palace of Queluz, which is a gorgeous and lavishly decorated palace in Queluz, and is 20 minutes by train from Sintra.
Click here for accommodations in Lisbon.
Click here for accommodations in Sintra.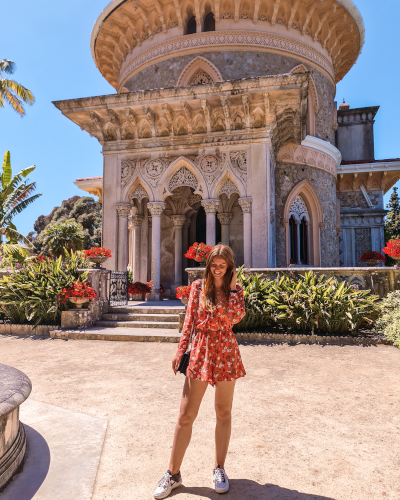 How to get to Sintra
By public transport
Sintra is well-connected by public transport from Lisbon. There are multiple train stations in Lisbon with trains departing to Sintra. Depending on where you're staying in Lisbon, we'd recommend checking the best route for you on Google Maps. The train from Sete-Rios station in Lisbon takes 35 minutes to get to Sintra. You might have to take the metro to one of the train stations where the train to Sintra is departing from.
The first time you're traveling by train or metro in Lisbon, you have to buy a rechargeable paper card for €0,50 at one of the machines in the stations. You have to charge that ticket with a train or metro ticket. Most stations have gates that open with your rechargeable paper card. If there isn't a gate, you have to validate your ticket at one of the validation poles that are indicated with a sign stating "validate aqui". A one-way metro ticket is €1,50 and a return train ticket for Lisbon - Sintra is €4,50. Be aware that the ticket machines don't always work properly. Very often you can't pay by card, so make sure you bring cash. We also noticed a machine with a stuck coin, so you couldn't insert any other coins. It's also always a struggle having the machine accept euro bills. Overall, you have to be a bit patient and we'd recommend planning in enough time to get a metro or train ticket in Lisbon, just to be sure.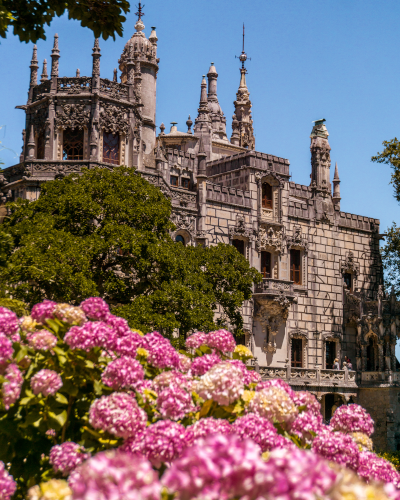 By car
From Lisbon, the drive to Sintra is around 30 to 50 minutes, depending on traffic. Be aware that you can't reach the estates with a private vehicle, so you have to park your car in the town of Sintra and continue your journey by public bus or taxi/Uber. As we were in Lisbon by car, we researched the possibilities of parking in Sintra. Parking in the old town of Sintra is paid. We found this parking area with a maximum day fee of €14. We also found a few free parking areas near the train station Portela de Sintra, but after we read reviews on Google Maps about broken car windows and burglaries, we decided not to take any risks and visited Sintra by train.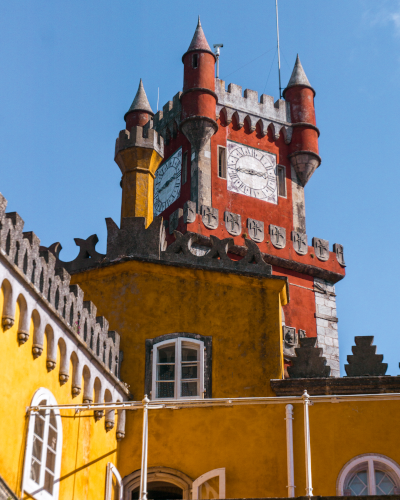 We hope we've inspired you to explore some of the beautiful estates Sintra has to offer and that this guide makes planning your trip to Sintra easier. Have you been to Sintra or is it still on your travel bucket list? Let us know in the comments below!
Be sure to check out:
Discovering the Best of Aveiro and Costa Nova do Prado
The Most Instagrammable Places in Porto