Discovering the Best of Aveiro and Costa Nova do Prado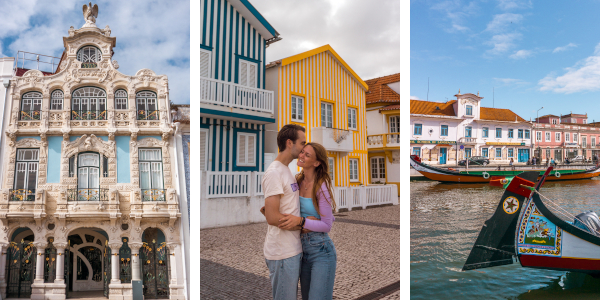 From Canal Cruises to Colorful Beach Houses
Nestled near the coast of central Portugal, Aveiro and Costa Nova do Prado, also known simply as Costa Nova, are two charming destinations that offer a unique blend of natural beauty, history, and culture. Aveiro is a coastal city known for its canals and historic landmarks, while Costa Nova is a seaside village renowned for its stunning beach and colorful striped houses. As the drive between the two towns is only 15 minutes, it's a great idea to visit both places on a day trip from Porto. In this blog post, we'll explore the best things to do in Aveiro and Costa Nova, from taking a boat ride along the canals of Aveiro to admiring the colorful beach houses in Costa Nova.
Aveiro
The charming city of Aveiro is known for its canals, colorful boats, and traditional architecture. The city is often referred to as the "Venice of Portugal" due to its similarity in appearance to the Italian city. Historically, Aveiro played an important role in the production of salt and commercial shipping for centuries. Aveiro's importance in salt exploration can even be traced back to the Roman period. As early as the 11th century, Aveiro had become a favorite destination of Portuguese royalty. This royal presence brought attention to the town, which resulted in an increase in development. Many of the city's wealthy salt merchants built lavish houses along the canals, often in the style of Art Nouveau. Nowadays, the production of salt has significantly decreased, and only a few salt ponds still remain in operation.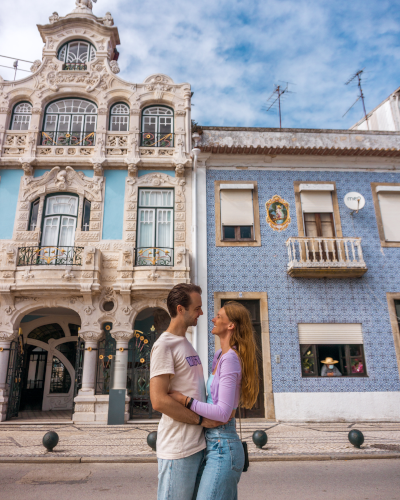 Moliceiro boats
Besides the production of salt, Aveiro was also known for the harvesting of moliço seagrass. The boats that were used for harvesting the moliço seagrass are now one of Aveiro's main attractions and you can see them everywhere on the canals. These large colorful boats are called moliceiros and resemble the Italian gondolas. Nowadays, the moliceiros are used for boat tours along the canals of Aveiro.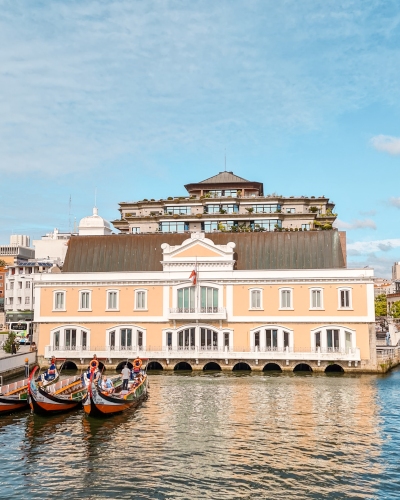 There are multiple companies in Aveiro offering boat tours in a traditional moliceiro. Unfortunately, we can't share our experiences because we didn't do a boat tour. You can find a few boat tour companies in Jardim do Rossio and there's a company at Cais dos Botirões. Alternatively, you can ask the Tourist Office for more information on moliceiro boat tours.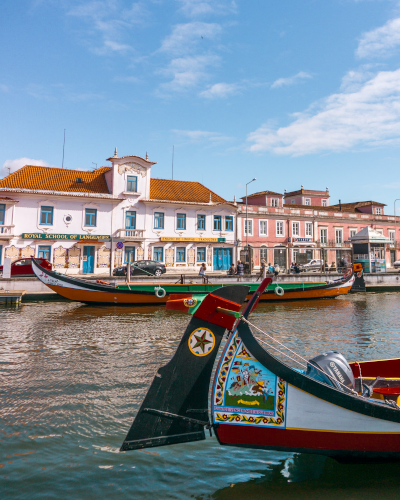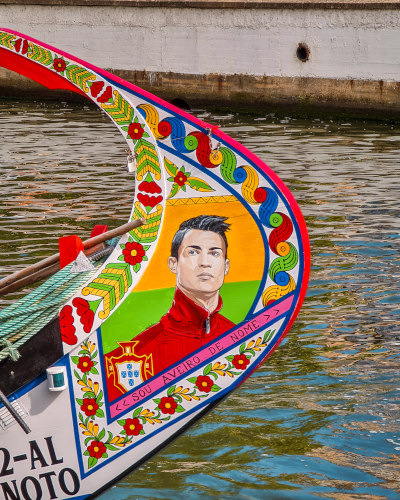 Admire the Art Nouveau architecture
Art Nouveau became very popular in Aveiro in the beginning of the 20th century. When wandering around the city, you'll stumble upon many Art Nouveau facades. In Aveiro, one of the distinctive features of Art Nouveau is the utilization and creation of tiles adorned with Art Nouveau designs. We'd highly recommend just wandering around and keeping your eyes peeled.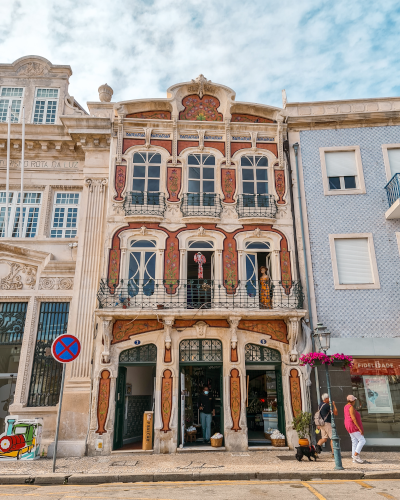 A beautiful example of Art Nouveau architecture is the Museu de Arte Nova, or Art Nouveau Museum, a blue and white colored building filled with Art Nouveau details. The museum has a small collection dedicated to Art Nouveau pieces, but is mostly about the building itself. There's a tea room in the garden of the museum where you can admire more of the building's Art Nouveau architecture. The admission fee for the museum is €3.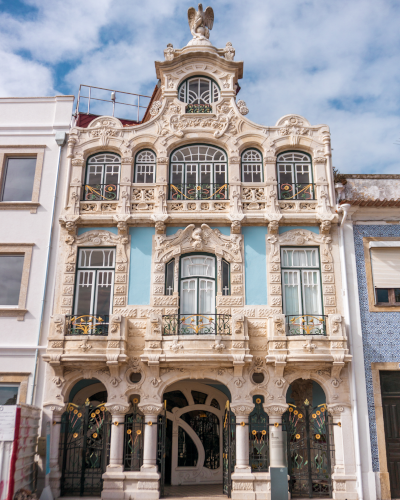 Opening hours of the Art Nouveau Museum
Tuesday - Sunday: from 10:00 until 12:30 & from 13:30 until 18:00
Closed on Mondays.
Ovos moles
Ovos moles, which translates to "soft eggs", are a typical pastry from Aveiro. It's made of a mixture of egg yolks and sugar, which is put in a wheat flour casing. The ovos moles often come in a nautical shape, such as shells. The pastry originates from the early 20th century and was created by nuns. They became increasingly popular when they were sold at the Aveiro train station along the Lisbon-Porto line. You can find patisseries selling ovos moles everywhere in Aveiro. One of the most famous patisseries is Confeitaria Peixinho, but it's also one of the priciest. Alternatively, you can also get them across the canal at Pastelaria Rossio, where the ovos moles are just as good but for less money.
M Bakery
If you're into Instagrammable cafés with a lot of flowers, you're at the right place in Aveiro too. When we got out of the parking garage, we stumbled upon a beautiful pink lunch room with walls covered by pink flowers called M Bakery. They offer a wide range of pastries and cakes as well as lunch dishes. As it was lunch time for us, we had some nice sandwiches here and of course a pink latte. The food was yum and the service was very good, so we can highly recommend this place. It's always a plus when you leave a restaurant with a few photos for the Instagram feed.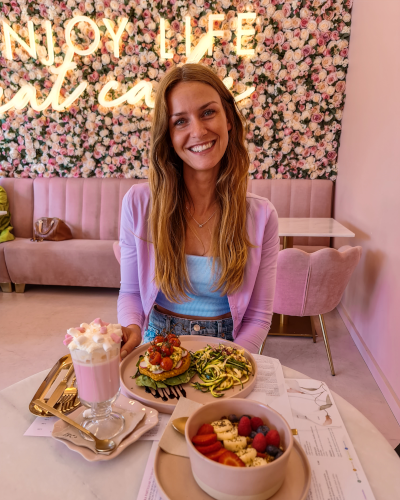 Shopping
Very much to our surprise, Aveiro is a great city for shopping. Next to the main canal, there's a modern outdoor shopping mall with a great selection of stores, called Forum Aveiro. We spent quite some time here shopping. If you have some spare time left or just feel like shopping, we can highly recommend Aveiro. We were extra lucky as the sale had just started at the clothing stores. By the way, did you know that Zara in Portugal has the same prices as in Spain, which is cheaper than anywhere else in the world? So make sure to have your Zara wish list ready when you're going to Portugal or Spain!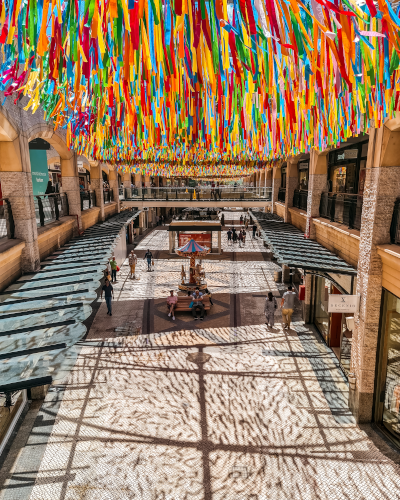 Costa Nova do Prado
Only a 15-minute drive from Aveiro will get you to the beach town of Costa Nova. The beach town is mostly known for the colorful beach houses, called palheiros. Originally, these houses were used by fishermen as shelter for their boats and equipment. During the mid-19th century, Costa Nova became a popular beach destination and the fishermen began renting out their palheiros in the summer season. To make them more attractive to tourists, the outside panels of these wooden houses were painted in bright colors. We'd highly recommend just walking around and admiring the bright-colored houses. You can find most of these houses along Avenue José Estêvão, a long promenade along Ria de Aveiro.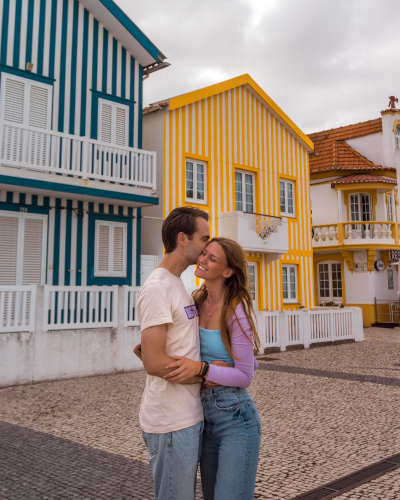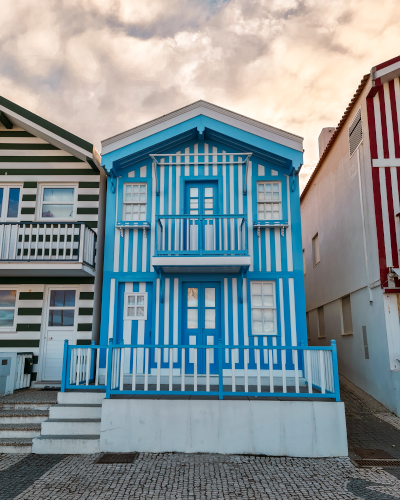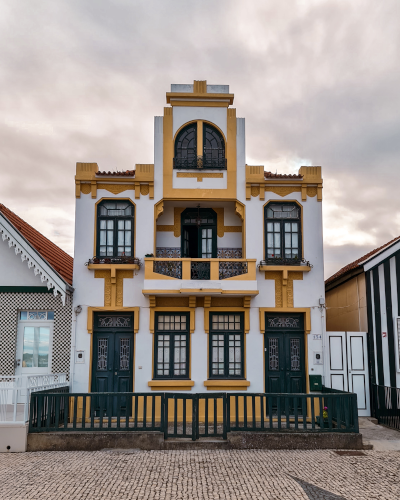 Costa Nova waffle
When walking along the colorful houses on Avenue José Estêvão, you might notice that there are a few kiosks selling waffles. These waffles are typical for Costa Nova and the Aveiro region. There are two types of waffles: Bolacha Americana, meaning American cookie, is the crispy variant and Tripa is the soft variant, resembling a French crêpe. The waffles are made fresh to order and you can choose many different kinds of fillings such as chocolate, ovos moles and jellies. We got a bolacha with chocolate filling at a kiosk called Zé da Tripa and it was a delicious snack.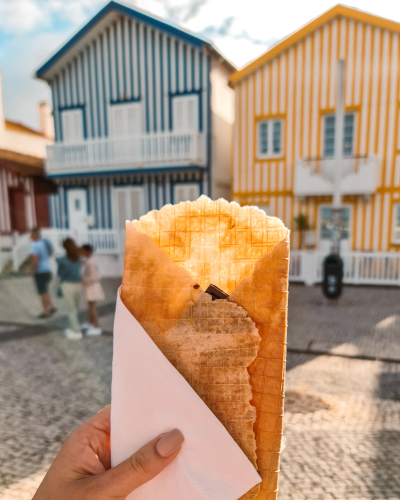 Beach
Costa Nova actually has a very nice huge stretch of sandy beach on the Atlantic Coast. It's just a short walk in the western direction from Avenue José Estêvão. It's a perfect beach to spend a sunny day. There are a few restaurants on the beach where you can have a drink and/or a bite. If you don't feel like laying down at the beach (or the weather is not cooperating), you can also walk along the wooden trail while admiring nature. The trail goes all the way from Avenue do Mar and ends at the lighthouse Farol da Barra. The trail is 6 km long in one direction.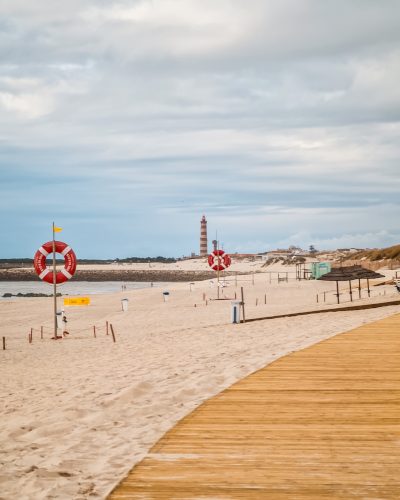 How to get to Aveiro & Costa Nova do Prado
By car
We visited Aveiro & Costa Nova by car on a day trip from Porto. The drive from Porto to Aveiro is 45 minutes and getting from Aveiro to Costa Nova is only a 15-minute drive. Be aware that you have to pay tolls on this route. In Aveiro, we parked our car in an underground parking garage called Parque Saba Marquês de Pombal, which is conveniently located near the city center and the outdoor shopping mall Forum. We can't remember the exact hourly rate for the garage, but we believe it was around €1 an hour. In Costa Nova we parked our car here, next to the beach, but we believe you can park anywhere on the streets in Costa Nova. As we were visiting in shoulder season and it wasn't beach weather, there was plenty of parking space. We can imagine that it's much harder to find parking space in high season (July and August), especially when the weather allows for a beach day. As far as we know, there's no parking fee to park on the streets in Costa Nova. This might change in the future, so always check for parking meters.
You can also visit Aveiro & Costa Nova by car from Lisbon, which is a 2,5 hour drive.
By public transport
Aveiro and Porto are well-connected by public transport. Trains to Aveiro leave from train station Porto Campanha and leave every hour. With the Intercity train the ride takes about 50 minutes and with the regional train, the ride takes about 1 hour and 10 minutes. You can also visit Aveiro by train from Lisbon, but trains from Lisbon don't leave regularly and take around 2,5 hours. We couldn't find any public transport connections between Aveiro and Costa Nova, but since the ride between the two towns isn't that long, you could always opt for an Uber or taxi.
How long to stay in Aveiro & Costa Nova do Prado
We think visiting Aveiro & Costa Nova is perfect on a day trip from Porto. You can easily see Aveiro in around 4 hours, including taking a boat trip on the canals. Costa Nova is a lot smaller than Aveiro and if you only go there for the colorful houses and the typical waffles, an hour is plenty of time. If you want to enjoy some time at the beach, you can consider staying a few days in Aveiro or in Costa Nova.
In Porto, we stayed at the Ibis Porto Centro São Bento. The hotel is conveniently located in the bustling Bolhão neighborhood, right in the heart of the city. As we were traveling by car, the hotel's arrangement with the nearby car park was a real bonus. The rooms at the Ibis Porto Centro São Bento are reasonably priced, yet spotlessly clean and equipped with all the necessary amenities for a comfortable stay. Overall, we highly recommend this hotel to anyone looking for a simple yet convenient accommodation option in Porto while traveling by car.
Click here to book a room at Ibis Porto Centro São Bento.
Click here for accommodation options in Aveiro.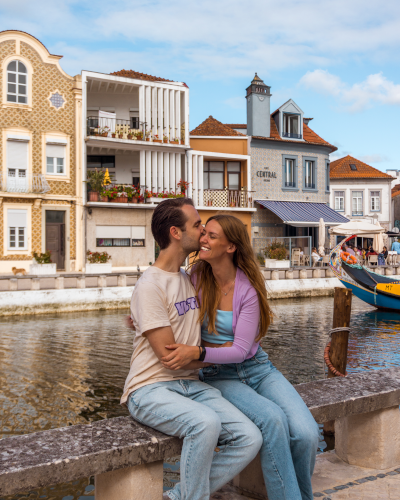 Whether you're interested in taking a boat ride along the canals, visiting historic landmarks of Aveiro or admiring the colorful houses in Costa Nova, both Aveiro & Costa Nova are destinations that should not be missed. Have you been to Aveiro & Costa Nova or is it still on your travel bucket list? Let us know in the comments below!
Be sure to check out:
The Most Instagrammable Places in Porto