A Complete Sightseeing Guide of Rotterdam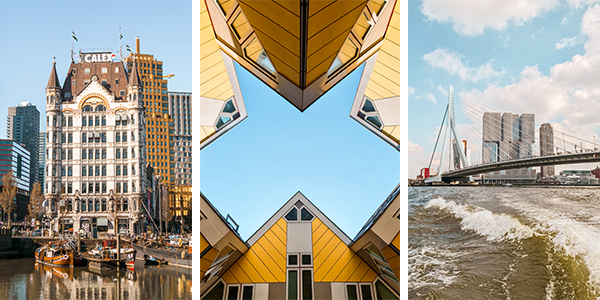 All Things To Do in Rotterdam
Rotterdam is the second-largest city in the Netherlands, and also the city in which we live. The first settlement of Rotterdam dates back to 950. Unfortunately, Rotterdam had to be rebuilt almost completely due to heavy bombings in World War II. This resulted in a varied architectural landscape with a lot of modern architecture, skyscrapers and high-rise buildings, which led to the nickname Manhattan at the Meuse. The modern architecture distinguishes Rotterdam from other Dutch cities that typically have a lot of historical buildings. Besides architecture, Rotterdam is also known for its cultural life, university and Europe's largest sea port. Needless to say that Rotterdam offers plenty of things to do and see, which we'll all share with you!
We're starting this guide with a walking tour past some of the best sightseeing spots in the city. Because we can't fit all of them in a single walking tour, we'll end this guide with a few extra sightseeing spots that are also very much worth visiting. You'll have to walk a bit further for those, or you can get there by public transport, bike or shared scooter.
Wilhelminapier
We start this walking tour at the south bank of the Meuse river. In the 19th and 20th century, passenger ships left from the Wilhelminapier to the United States. Nowadays, the pier is characterized by skyscrapers, restaurants and the Cruise Terminal.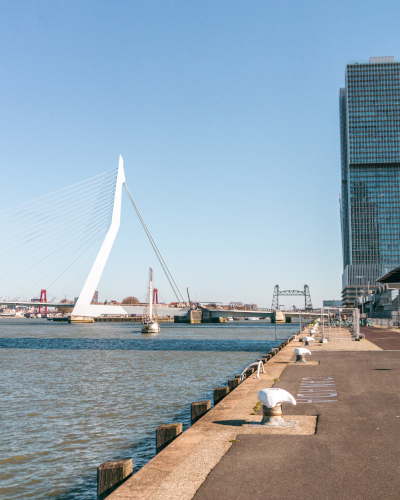 The Wilhelminapier is a lively pier and a great place to walk around. You can admire the beautiful skyscrapers named after cities, such as The Rotterdam, New Orleans and Montevideo. Almost every week, or a few times a week in high-season, a cruise ship docks at the quay along the Wilhelminapier. If you're lucky, you might witness some of the largest ships in the world, such as the Oasis of the Seas.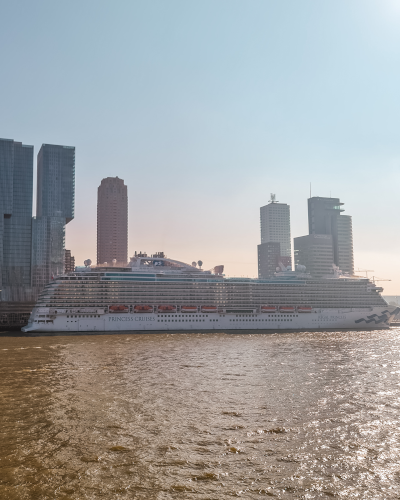 Cross the Rijnhaven Bridge to Katendrecht for even better views of the Wilhelminapier skyline. Here you can also find the Fenix Food Factory with a large outdoor seating area which is a great spot for afternoon drinks and snacks.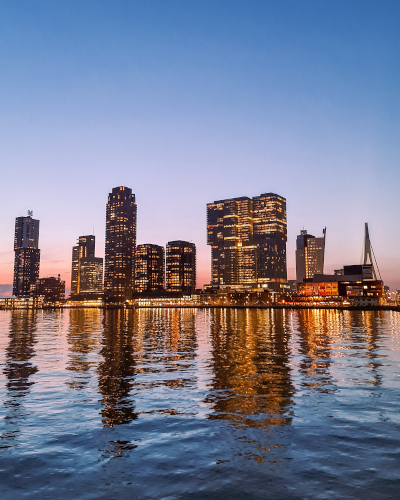 The Wilhelminapier itself also offers a great variety of restaurants, such as the Foodhallen, By Ami, Loetje and many more. The restaurant in the Nhow Hotel, located in the building The Rotterdam has a rooftop terrace on the 7th floor overlooking the Erasmus Bridge. From here, you can see the sunset behind the beautiful skyline of Rotterdam which makes it a perfect spot for summer evenings.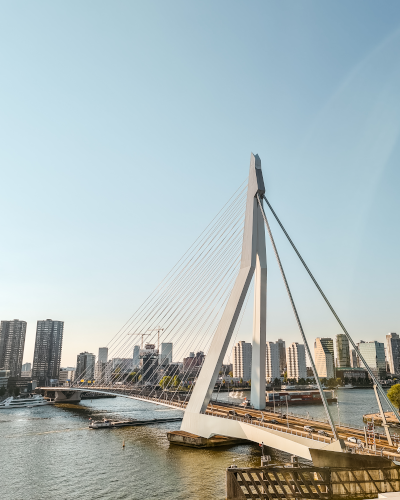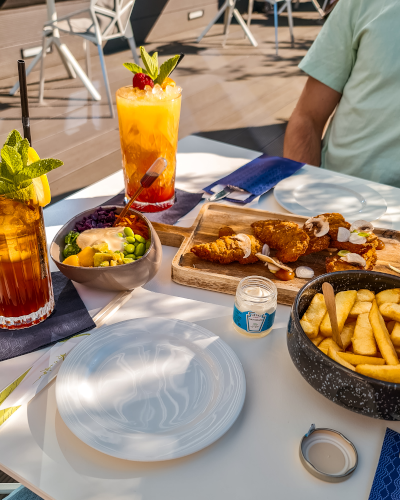 Hotel New York
Hotel New York is located at the end of the pier. This building, currently a hotel, used to be the headquarters of the Holland-America Line. The building was built from 1901 until 1917 and is in stark contrast with the modern architecture of the rest of the pier. It's a beautiful building and definitely worth checking out. This spot also offers amazing views of the Meuse river and the skyline of the north bank of the river. Besides being a hotel, there's also a restaurant with a huge sunny outdoor seating area in summer which is perfect for food and drinks.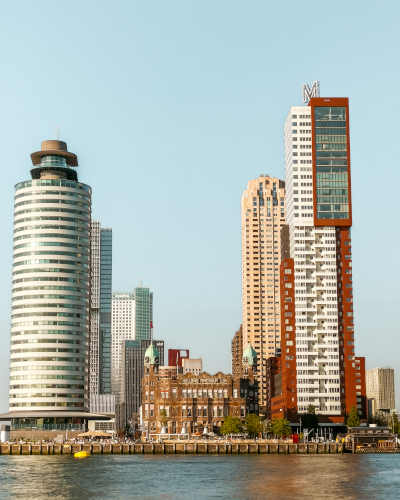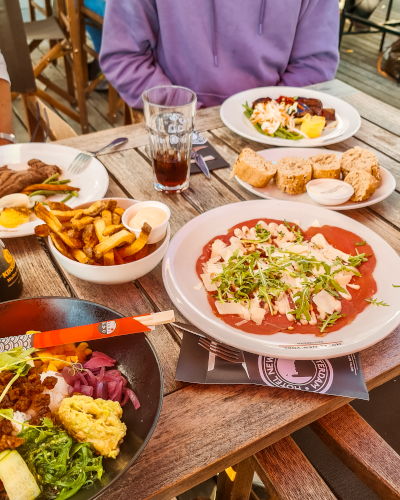 Erasmus Bridge
You've been able to witness this beauty from the Wilhelminapier already, but now it's time to cross it. The Erasmus Bridge crosses the New Meuse and connects the north and south parts of Rotterdam. Construction of the bridge started in 1986 and it was completed in 1996. The bridge is named after Desiderius Erasmus, a Dutch philosopher who was born in Rotterdam. The Erasmus Bridge is considered Rotterdam's most iconic landmark and it's always a joy to cross it. The bridge offers one of the best views of the skyline.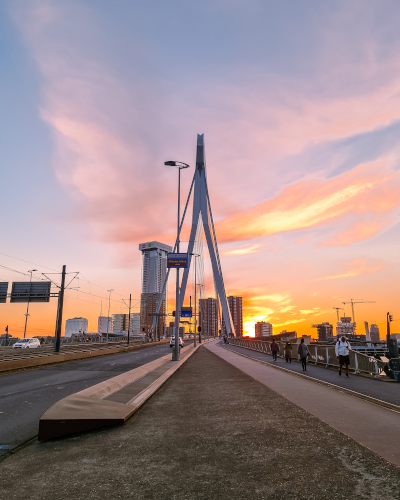 Zalmhaven Tower
One of the newest landmarks in Rotterdam is the Zalmhaven Tower, located close to the Erasmus Bridge on the north side of the river bank. With 215 meters, the Zalmhaven Tower is currently the tallest building in the Netherlands. It's a residential tower with 295 apartments, and was completed in 2021.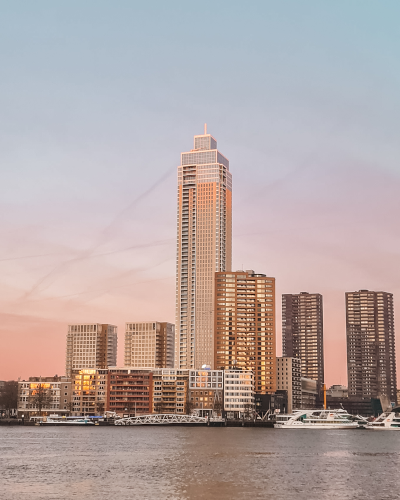 The completion of construction was celebrated by a light show. We usually don't have light shows like this in Rotterdam, so it was a lot of fun to watch!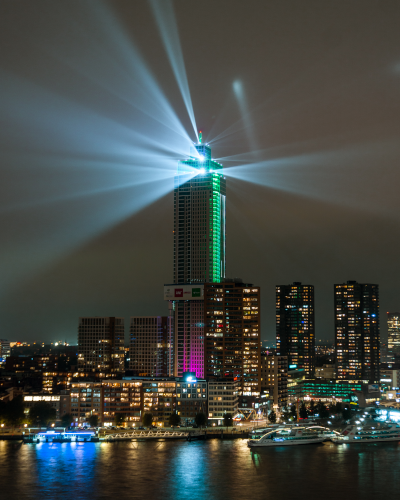 Het Park
The walk from the Erasmus Bridge to the Park is one of the most-scenic walks in Rotterdam. Walking on the Willemskade and Westerkade along the north bank of the river offers the best views of Wilhelminapier's skyline and the Erasmus Bridge. It's one of our favorite areas for a walk.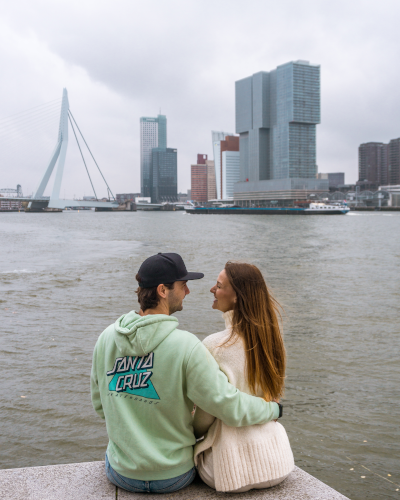 Het Park, simply translating to The Park in English, is our favorite city park in Rotterdam. It's a great place to take a stroll in, and to witness the changing of the season. There are also a few restaurants in Het Park, such as Dudok In Het Park which is a great spot for a drink after a walk. We always enjoy spending time in this park.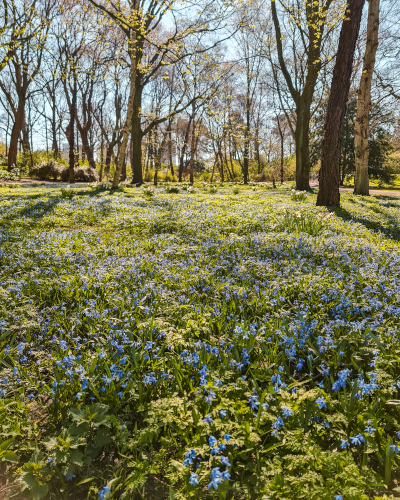 Euromast
As the Euromast is located in Het Park, you've probably already seen it. The Euromast is an observation tower and was constructed between 1958 and 1960. It has three observation platforms, the highest at 185 meters and two at 100 and 112 meters high that are connected by stairs. The observation platforms offer amazing views of Rotterdam. You can even see The Hague in the distance. Besides the observation platforms, there is also a restaurant at 96 meters. It's a very unique place to have lunch or dinner at, and we can absolutely recommend it. Since recently, you can also spend the night in one of their suites at 100 meters high.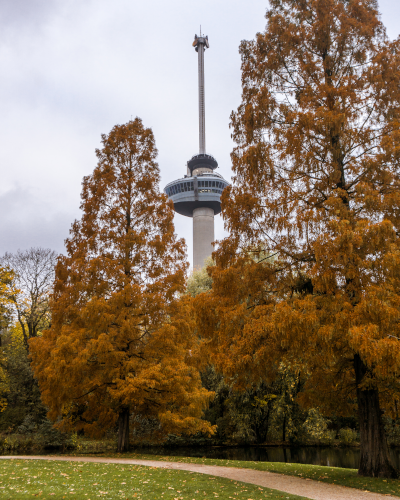 Opening hours:
Daily from 09.30 - 22.00
Admission fee: €11,50 online & €12,50 at the ticket office.
You can find more information and buy tickets through this link.
Depot Boijmans Van Beuningen
The Depot Boijmans Van Beuningen is one of the newest sightseeing spots in Rotterdam. The Depot opened in November 2021 and is the first art depot that's open to the public. It is located next to the Boijmans Van Beuningen Museum which is currently closed for renovations, which are expected to last until 2026.
The building of the Depot is truly unique. It's a round building and the facade is completely covered in mirrors. The building literally reflects the skyline of Rotterdam. There's a restaurant and garden located on the rooftop of the building. Unfortunately, we haven't visited the Depot yet but we definitely will. Even if you're not planning on going inside, seeing the reflection of the skyline in the Depot is a must!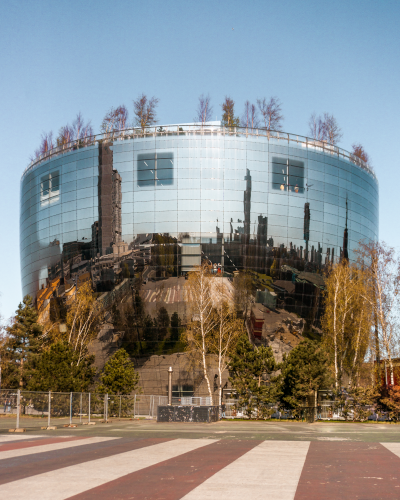 Opening hours:
Tuesday until Sunday: 11.00 - 18.00
Ticket price: €20
You have to buy tickets online, which you can do through their website. It's not possible to buy tickets at the Depot.
During opening hours of the Depot, the rooftop restaurant (Restaurant Renilde) is only open to visitors of the Depot with entrance tickets. The restaurant is also open for dinner outside of the opening hours of the Depot itself, from Wednesdays until Sundays. On these days, it's also possible to visit the rooftop garden after 18.00 for free without a Depot entrance ticket. If you want to have dinner at Restaurant Renilde, we would recommend making a reservation well in advance as they're often fully booked.
The Depot Boijmans Van Beuningen is located in the Museumpark. You can find more museums here, such as Kunsthal Rotterdam (an exhibition center often exhibiting contemporary art), Natuurhistorisch Museum (a natural history museum) and Het Nieuwe Instituut (a museum for architecture, design and digital culture).
Witte de Withstraat
Head east from Museumpark and you'll get onto Witte de Withstraat. This street is filled with restaurants and is bustling at night. Our favorite restaurant here is Wagamama, but there are plenty of other good options such as Restaurant Bazar and Supermercado. Some of the restaurants here turn into nightclubs on the weekends. If you're interested in clubbing head over to Nieuw Rotterdams Café (also referred to as NRC) or the basement of Supermercado: Superdisco.
Leuvehaven
Following Witte de Withstraat towards the east, you'll end up at Leuvehaven. Leuvehaven is one of the oldest harbors in Rotterdam. It was an important harbor in the so-called Golden Age of the Netherlands as many ships of the Dutch East India Company docked here. Currently, a large part of the harbor is used as the open-air museum of the Maritime Museum, which is located next to Leuvehaven. That's why there are lots of historical ships, cranes and other harbor equipment here. It's a great place to walk around in, witnessing the ships and cranes that are located there. There's no entrance fee to access Leuvehaven.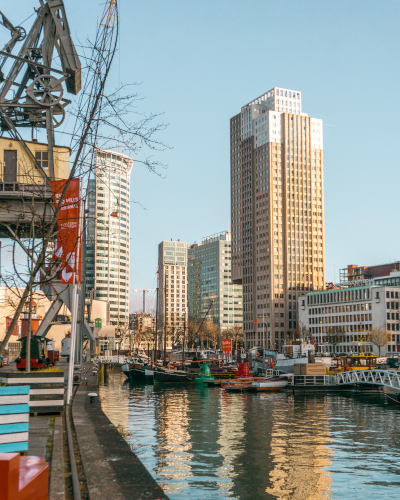 Oude Haven
Head further east along Wijnhaven until you get to Oude Haven, which translates to Old Harbor. Oude Haven is one of the oldest harbors in Rotterdam, dating back to 1350. It's not actually the oldest harbor in Rotterdam, because that is the Steigersgracht. Nowadays, Oude Haven is best known for its restaurants with great outdoor seating areas overlooking the beautiful historical harbor. Especially when the weather is great, Oude Haven is flooded with people. To be honest, it's often a bit too crowded for us. But it's definitely a beautiful harbor, especially in the morning when not many people are around.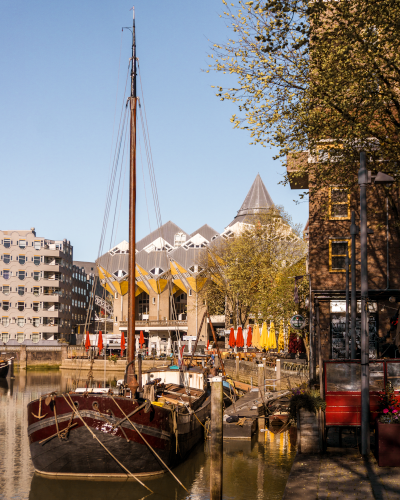 Witte Huis
The Witte Huis (translates to White House), is located in Oude Haven. This building is the first ever high-rise building in Europe. It was built in 1898 and stacks up 10 floors to 43 meters tall. It's one of the few building in the center of Rotterdam that survived the World War II bombings. The building, designed in Art Nouveau style, is so different from the other buildings in Rotterdam and we love it!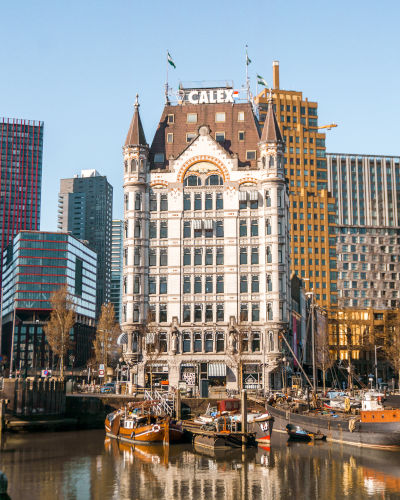 Kubuswoningen
The Kubuswoningen, or Cube Houses, are a must-visit sightseeing spot in Rotterdam. The bright yellow houses that stretch from Oude Haven to Blaak are hard to miss. Head up the stairs from Oude Haven and you will be surrounded by these uniquely shaped houses. The Kubuswoningen were built between 1982 and 1984 in the shape of tilted cubes placed on poles. We love how unique and brightly-colored these houses are!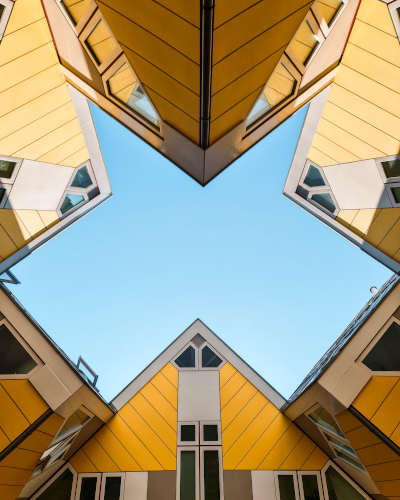 It's possible to visit one of the houses to see what it's like to live in such a uniquely shaped building. The address of the Kijk-Kubus is Overblaak 70 and it's open daily from 11.00 - 17.00. The entrance fee is €3.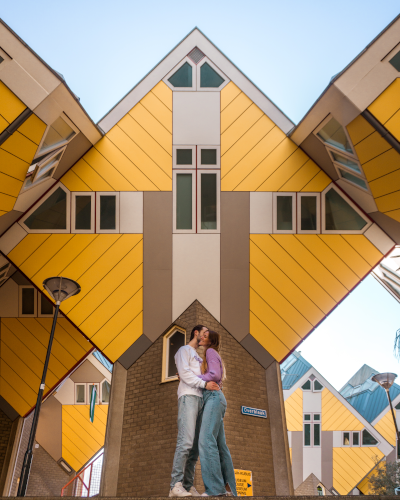 Markthal
Head down the stairs at the other side of the Kubuswoningen and you'll find yourself at Blaak. Across the Kubuswoningen, you'll notice a large horseshoe-like structure: the Martkhal (or Market Hall in English). Construction of the Markthal was completed in 2014. It's a residential building with an indoor market. The building has a large artwork on its ceiling, showing fruits, insects, vegetables, seeds and flowers. It's truly a unique sight. Because of the ceiling art, the Markthal is nicknamed the Sistine Chapel of Rotterdam.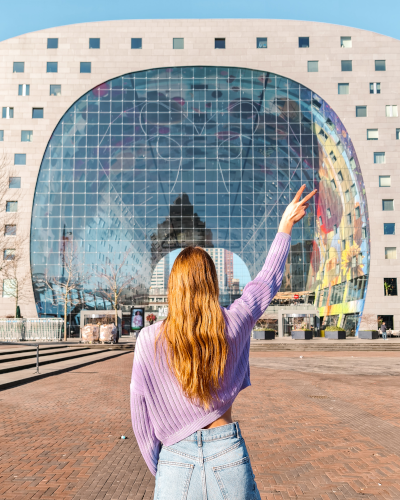 The Markthal contains different kinds of stands that offer a huge variety of food. There are stands that offer tapas, hamburgers, candy, fries, chocolate, cheese, ice cream, etc. Some of the stands have seating areas on top of the stands. On both sides of the Markthal, there are more restaurants and an Asian supermarket. It's a great place to admire the architecture, the artwork and of course the food.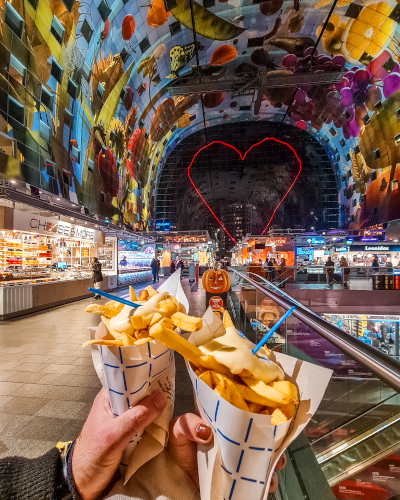 Sint-Laurenskerk
The Sint-Laurenskerk is a church close to the Markthal. It was built between 1449 and 1525, and it's the only remnant of medieval Rotterdam. The Laurenskerk was heavily damaged in the World War II bombings though, with only the tower and walls still standing. The rebuilding of the church was completed in 1968. It's possible to visit the church and to climb the tower.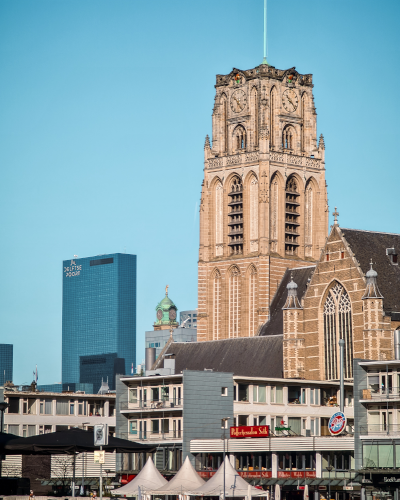 Opening hours church visits
March - October:
Tuesday until Sunday: 10.00 - 17.00
November - February:
Tuesday until Sunday: 11.00 - 17.00
Entrance fee: €3
The church might be closed for private events, so make sure to check their website before visiting.
The tower is only accessible with a private guide. With a group of up to 20 people you head up the 300 steps. It's not possible to buy tickets in advance, so make sure to be on time to secure a spot.
Opening hours tower
April - October:
Wednesday 14.00
Saturday: 12.00 & 13.30
Ticket price: €7,50
Koopgoot & Lijnbaan
Head onto Hoogstraat from the Laurenskerk into western direction and you'll stumble upon the Koopgoot. The Koopgoot, actually called Beurstraverse (but nobody calls it that), is a shopping street in the heart of the center of Rotterdam. The Koopgoot is located below street level and creates a two story shopping street. Walk along the Koopgoot until you end at Lijnbaan, another shopping street in Rotterdam. This is where our walking tour ends. You can spend hours shopping in this area, but there are also lots of restaurants here and a cinema. Just take some time to enjoy the bustling city life of Rotterdam.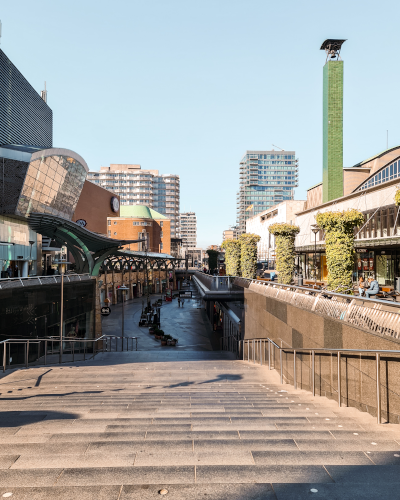 As mentioned before, we can't fit all the sightseeing spots in a single walking tour. To visit the next sightseeing spots, you have to either walk a little bit further or get there by public transport, bike or shared scooter.
SS Rotterdam
The SS Rotterdam is a former flagship of the Holland-America Line and from 1959 it sailed the oceans as an ocean liner and cruise ship. Currently, the ship is docked in the Maashaven in Rotterdam and since 2010 it's open to the public. The SS Rotterdam serves as a hotel and it has a restaurant, bar and outdoor seating area. It's truly a unique location to sleep in and/or eat at. It's also possible to tour the ship and learn more about it. There are different kinds of tours offered, both guided and audio tours. Check their website for more information about their tours.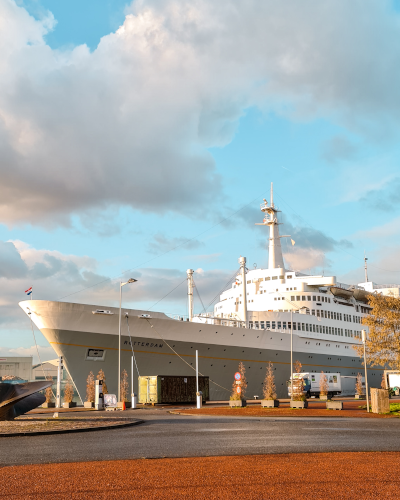 How to get to the SS Rotterdam
The SS Rotterdam is a 20-minute walk from Hotel New York on the Wilhelminapier. If you're in the city center of Rotterdam, we'd advise you to go to the SS Rotterdam by public transport, bike or shared scooter. From Beurs, take metro D or E in the direction of Slinge or De Akkers and get off at Rijnhaven. Then, take bus 77 in the direction of SS Rotterdam. This journey takes 20 minutes. Biking from Beurs to the SS Rotterdam is 15 minutes, a shared scooter will take around 12 minutes.
Kralingse Plas
Kralingse Plas is a lake near the center of Rotterdam. The lake is surrounded by a beach, windmills and a forest (Kralingse Bos). Especially in summer, Kralingse Plas is a great place to spend some time. Renting a kayak is a fun summer activity. This way you can explore the lake from the water and get up close to the pretty windmills. Besides water sports, Kralingse Plas is a nice area for a walk. A lap around the lake is around 5 km. There are also a few restaurants located along the lakeshore.
We rented a kayak at Klimpark Fun Forest Rotterdam last summer.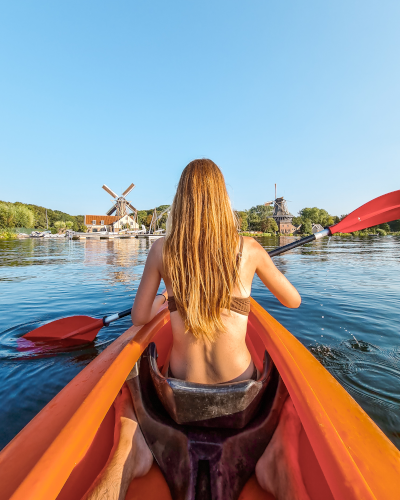 How to get to Kralingse Plas
Kralingse Plas is a 40-minute walk from Beurs. If you prefer to travel by public transport, the best way is to take metro A, B or C in the direction of Binnenhof, Nesselande or De Terp and get off at Gerdesiaweg. From there, it's a 20-minute walk to Kralingse Plas. The entire journey by public transport takes 25 minutes. By bike it's 15 minutes from Beurs to Kralingse Plas and by shared scooter it's around 12 minutes.
Delfshaven
One of the few places in Rotterdam where you can find historical buildings is Delfshaven. Delfshaven, translating to harbor of Delft, used to be a part of the city of Delft. As Delft wasn't connected to a major river, they built a harbor 10 km to the south to avoid tolls that were levied in competing harbors in Rotterdam. In 1886, Delfshaven became part of Rotterdam and luckily escaped the bombings in 1940 during World War II.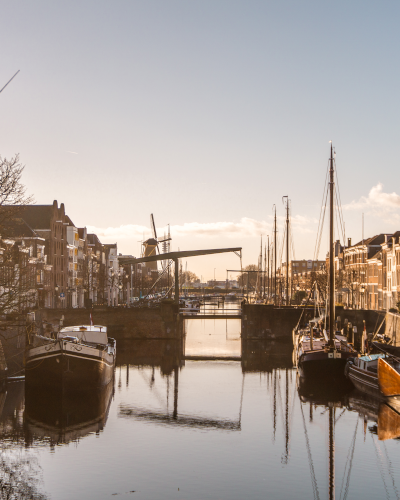 Delfshaven has been well-preserved. It's not a large area, but there are a few museums, a brewery and restaurants. It's a very nice area to walk around in, and it doesn't feel like you're in Rotterdam at all. At the southern end of the canal, there's even a typically Dutch windmill. If you ask us, Delfshaven is a must-visit during your stay in Rotterdam!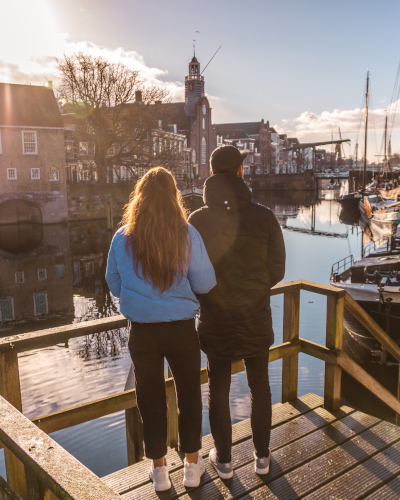 How to get to Delfshaven
The easiest way to get to Delfshaven is by public transport. From Beurs, take metro A, B or C in the direction of Schiedam Centrum, Hoek van Holland Haven or De Akkers and get off at Delfshaven. From the metro station, it's just a few steps east until you reach Voorhaven on your right hand side. The entire journey takes less than 10 minutes. By bike it's 10 minutes from Beurs to Delfshaven and by shared scooter around 8 minutes.
Schiedam
Schiedam is a small town neighboring Rotterdam. Schiedam has a historical city center with canals and the tallest windmills in the world. Besides that, Schiedam is also well-known for its jenever (gin) production. Jenever by the brand Ketel One is distilled in Schiedam.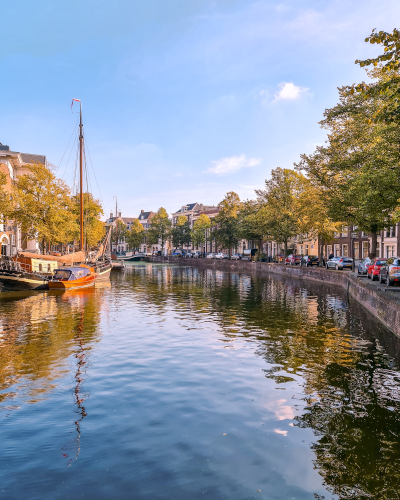 Schiedam is home to a few museums: Schiedam Stedelijk Museum (a museum about art, history and culture) and Jenevermuseum. What we loved most about Schiedam was wandering along the canals and soaking up the historical Dutch vibes. Here you'll probably notice a few windmills. There actually used to be 20 windmills in Schiedam, from which there are only 6 remaining. In 2006, Schiedam's 7th windmill was added. A list of windmills that you currently can find in Schiedam:
De Drie Koornbloemen
De Palmboom
De Vrijheid
De Walvisch
De Noord
De Kameel
De Nolet
It might be fun to check out all 7 windmills while you're there.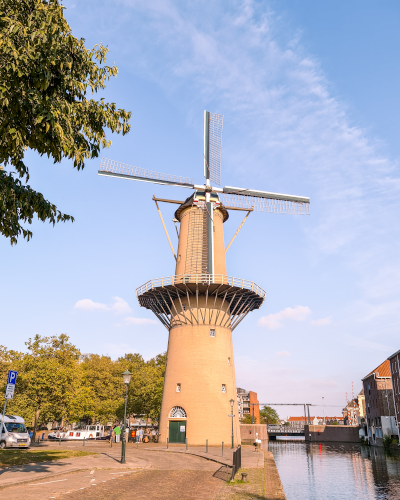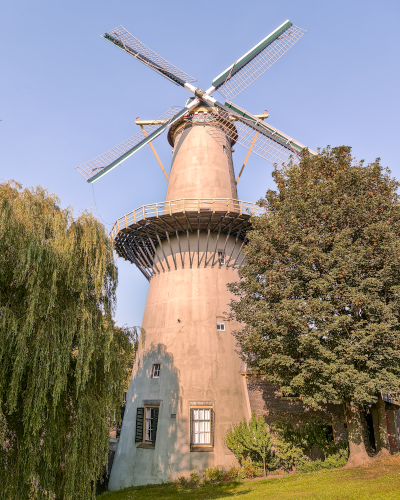 One of the windmills, De Walvisch, is open to the public as a museum mill. You can learn more about the history of the windmills in Schiedam and have a look inside. There's also a store where you can buy souvenirs and (baking) products that were grinded in the windmill.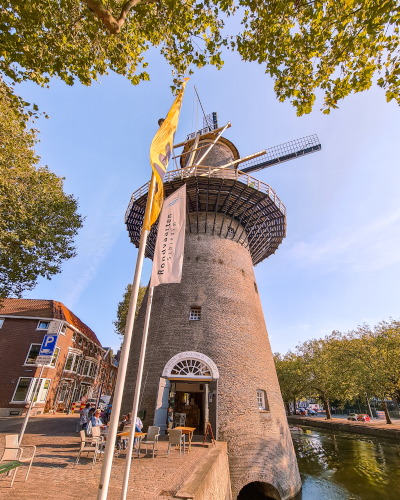 Opening hours museum mill De Walvisch:
Tuesday until Saturday: 11.00 - 17.00
Admission fee: €7,50
From Mid-April until the end of October, there's also a tour boat going through the canals of Schiedam. The tour starts at the windmill De Walvisch, so it's perfect to combine these activities.
Boat tour times
Tuesday until Sunday: 11.30, 13.30 & 15.00
The 11.30 tour takes 1 hour and 20 minutes and takes you along 6 windmills in Schiedam (for the same price). The 13.30 & 15.00 tours take 1 hour and sail past 3 windmills.
Boat tour price: €8,50
We don't think it's necessary, but it's possible to buy tickets in advance online through this website.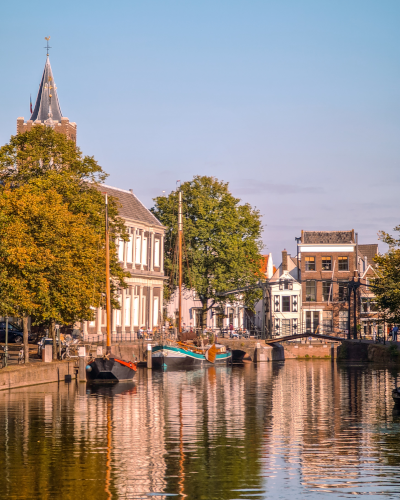 How to get to Schiedam
You can easily get to Schiedam by public transport. Take metro A, B or C from Beurs in the direction of Schiedam Centrum, Hoek van Holland Haven or De Akkers and get off at Schiedam Centrum. From Schiedam Centrum, it's a 10-15 minute walk into the city center of Schiedam. The entire journey by public transport takes 20-25 minutes. It's a 25-minute bike ride from Beurs to Schiedam and approximately a 20-minute ride on a shared scooter.
Hoek van Holland Beach
If you love spending time at the beach, we have good news for you. Rotterdam is close to the sea and has good connections to Hoek van Holland, which is part of the municipality of Rotterdam. Just like other beaches in the Netherlands, the beach in Hoek van Holland is very large so there's plenty of privacy on crowded beach days. There is a small promenade with a good amount of restaurants that serve breakfast, lunch and dinner. During the summer season, it's also possible to rent beach beds for a more comfortable stay on the beach. If you don't like laying down at the beach (or the weather doesn't allow for it), you can walk through the dunes and surround yourself in the typical Dutch coastal landscape.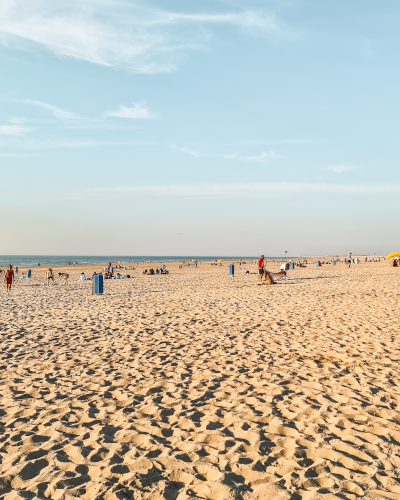 How to get to Hoek van Holland
They're currently constructing a new metro station right at the entrance of the beach of Hoek van Holland. Constructions are expected to be finished in July 2022. So hopefully this summer, it's possible to take metro B in the direction of Hoek van Holland Strand and get off at the final destination. That journey will take 35 minutes. If you want to visit the beach of Hoek van Holland right now, you have to take metro B in the direction of Hoek van Holland Haven and get off at the final destination. From Hoek van Holland Haven it's a 20-minute walk to the beach. The entire journey by public transport takes 55 minutes, which is a little long. At this moment, the easiest and fastest way to get to the beach of Hoek van Holland is by car, which is a 40-minute drive from the city center of Rotterdam.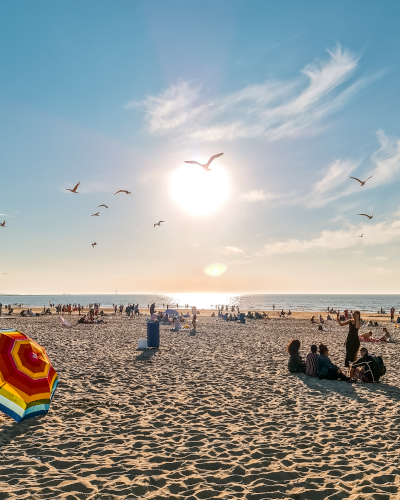 Kinderdijk
Kinderdijk should be included in everyone's travel itinerary in the Netherlands. Kinderdijk is famous for its 19 (!) windmills and it's truly a unique place to visit. You can walk around the UNESCO World Heritage Site, visit the two museum mills or go on a boat tour along the windmills. Click here for all the information needed for visiting Kinderdijk.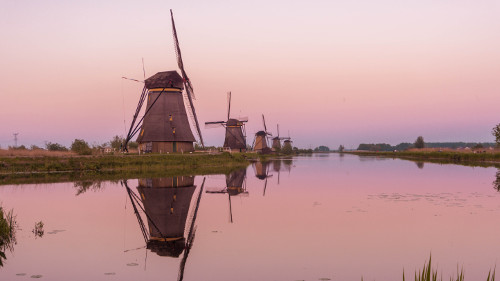 How to get to Kinderdijk
Kinderdijk is well-connected by public transport from Rotterdam. Take metro A, B or C in the direction of Binnenhof, Nesselande or De Terp from Beurs and get off at Kralingse Zoom. Take bus 489 in the direction of Nieuw-Lekkerland via Kinderdijk, get off at Kinderdijk, Molenkade and you'll find yourself right in front of the entrance to the World Heritage Site of Kinderdijk. The journey by public transport takes 55 minutes. The fastest way to get to Kinderdijk from Rotterdam is by car, which is only a 30-minute drive. However, parking near the World Heritage Site is very limited, so keep this in mind.
How to get around Rotterdam
Water taxi
A fun and typically Rotterdam kind of way of getting around the city is by water taxi. The water taxi stops at 50 locations in and around the city. The water taxi rides within zone 1 (city center) are usually very short and only take about 5 minutes. A ride within zone 1 is €4,50 per person. You can call the water taxi when you're at the jetty, or you can book a taxi through their website. Especially on warm days, it's recommended to book a water taxi a few hours in advance to avoid a long wait. For more information check their website.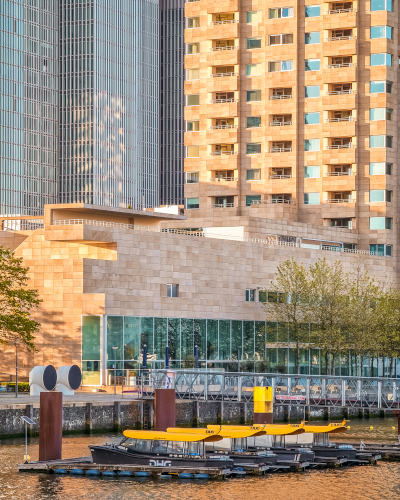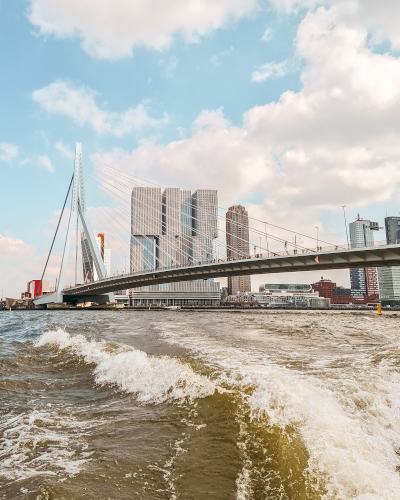 By public transport
Rotterdam has an extensive public transport network with metros, trams and buses connecting all parts of the city and neighboring places. The fastest and most convenient way of traveling within the city is by metro. Metros leave every 3-5 minutes and a metro ride within the city is always less than 10 minutes. Rotterdam is also well-connected with other cities in the Netherlands by train. Trains to, for instance, Amsterdam, The Hague and Utrecht leave every 15 minutes. Rotterdam is also connected to the Intercity Direct high-speed railway so a train ride to Amsterdam is only 40 minutes.
By bicycle
Just like every city in the Netherlands, it's easy to get around Rotterdam by bicycle. There are safe dedicated lanes for bicycles everywhere and cycling in the Netherlands is simply a bliss. Most hotels offer bike rentals or you can look for a store that rents bicycles.
Shared scooters
Sometimes, getting from one place to another by shared scooter is just the best option. There are currently three providers that offer shared scooters in Rotterdam: Felyx, Check and GoSharing. We would recommend setting up an account in the apps of all three providers. That way, there's always a scooter nearby. You need a driver's license to drive the scooters which you have to upload in the account setup process. Some providers take a few minutes to verify your driver's license so don't set up an account last-minute. We love using shared scooters in Rotterdam and it's an easy and fast way to get around the city.
Tip: look for scooters with blue license plates (most of them will have this). These scooters only go 25 km/hour, but you can drive these scooters without wearing a helmet, which is convenient. Scooters with yellow license plates go 45 km/hour and you have to wear a helmet riding those. (Note that this differs from Amsterdam, where you have to wear a helmet on all scooters.)
There are also shared e-bike and bicycle providers: Donkey Republic, Lime and Vaimoo. We have never used these as we think the scooters are more practical. We also feel like the e-bikes are less present, while there's always a scooter nearby.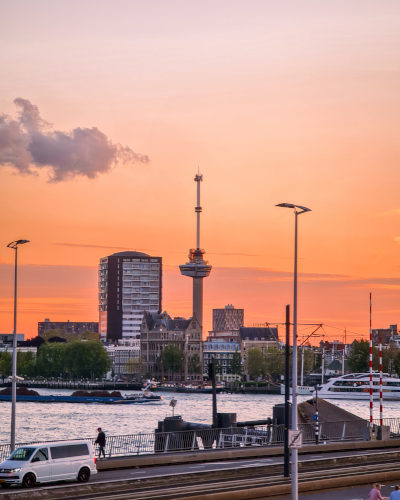 How long to stay in Rotterdam
As you might have realized, Rotterdam offers a lot of things to do and lots of sightseeing spots that are worth it. Therefore, you won't get bored quickly. If you want to do all of the things on this list, we would recommend staying in Rotterdam for a week. If you only want to do the things included in the walking tour, a (long) weekend's stay or 3-4 nights is probably enough.
Click here for accommodation options in Rotterdam.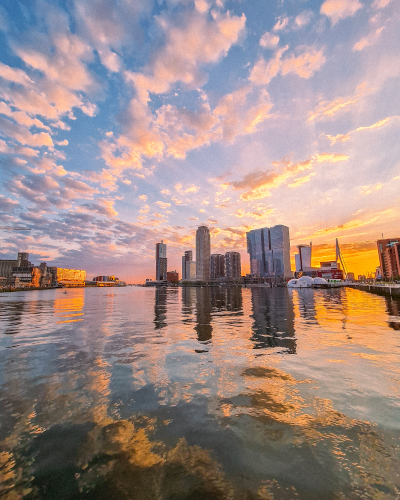 When is the best time to visit Rotterdam
It's possible to visit Rotterdam all year round, but if you can we would advise you to avoid winters. Temperatures in the Netherlands are mild in winter, but it can rain a lot and 5 degrees Celsius is still very cold if you're outside the entire day. Besides that, there aren't any fun winter fares or Christmas markets in Rotterdam, so there's no need to visit Rotterdam during the festive season. The best time to visit would be in spring, summer or fall. Summers attract the most tourists, but Rotterdam never gets flooded like Amsterdam. Be aware that weather in the Netherlands is rainy and unpredictable all year round so bring appropriate clothing and always check the forecasts. Because of all the high-rise buildings, Rotterdam is also a very windy city so it can feel a bit more chilly than it actually is.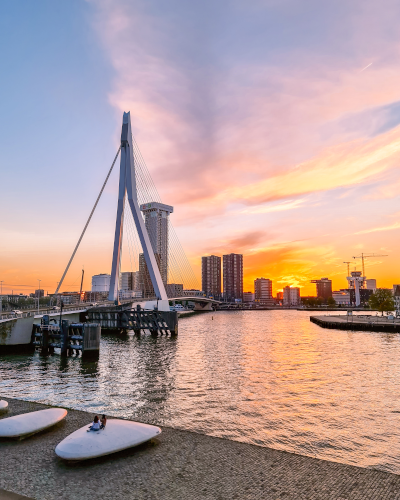 We'd love to hear whether we've convinced you to visit the beautiful city of Rotterdam. Let us know in the comments below!
Be sure to check out:
One Day in Gouda: All Things To Do