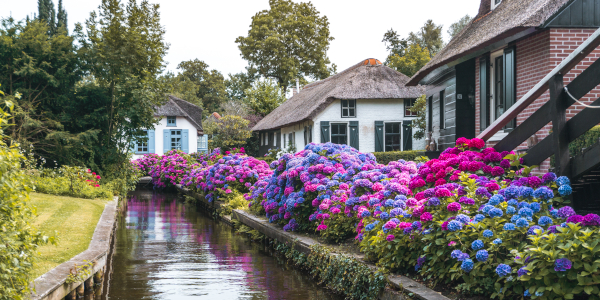 Visiting Giethoorn: everything you need to know
Giethoorn is definitely one of the prettiest villages in the Netherlands. It is often referred to as little Venice and we can absolutely see why. There are no roads in the village, only a pedestrian pathway and canals, lots of canals. The meaning of Giethoorn is "goat horn" and it is said that the first inhabitants discovered hundreds of goat horns in the area. Nowadays, you won't find any goat horns in Giethoorn but you will find a fairytale-like village filled with bridges, romantic gardens and lots of greenery.
Things to do in Giethoorn
Electric boat rental
With zero roads and plenty of waterways to make up for that, most of the activities in the Dutch village of Giethoorn revolve around water. One of the best things to do here is therefore renting a boat. This way, you can enjoy the charming village from the water and go under the 176(!) bridges. There are so many places where you can rent an electric boat, which can be a bit overwhelming. A general price for boat rental in Giethoorn is around €20 per hour. A bit of Googling in advance might get you some cheaper prices.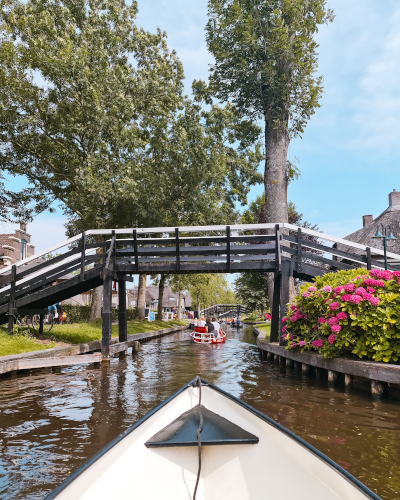 We rented a boat in advance through this website (the website is only available in Dutch). The company is called Recreatiebedrijf Geythoorn. We rented the boat for three hours from 10:30 to 13:30 for €52,50. One of the reasons we rented a boat in advance was because we wanted some certainty and didn't feel like wandering around looking for a boat. I also wanted the boat to look a certain way for our photos. I ended up with this company because I saw their boats were black and white. Many other boat rental companies offer aluminium colored boats. That didn't fit the aesthetic I was going for, haha.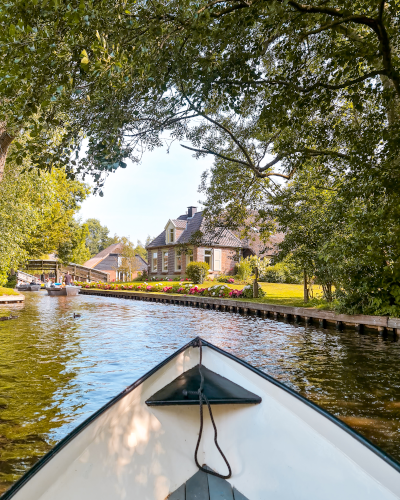 If you want more flexibility, you can also choose to rent a boat right at the spot. Especially if you're visiting in the morning, you won't have much trouble finding an available boat.
Be aware that if you rent a boat, you have to drive it yourself. The boats don't come with a skipper. You don't need a boat driving permit, but it is recommended to have some boat driving experience. The canals through the village are narrow and it can be very busy with boats. Bumping into another boat is a bit annoying for the other boat. But that said, if you don't have any boat driving experience you definitely won't be the only one.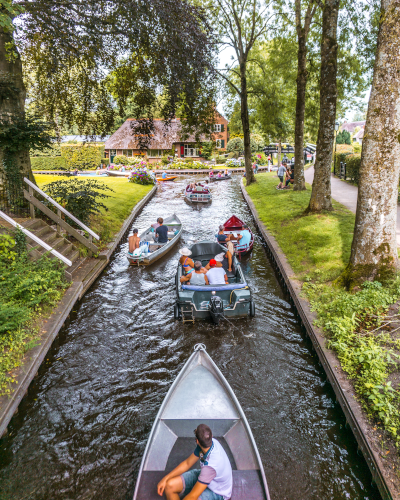 You can rent a boat for a couple of hours or an entire day. If you only want to see the village of Giethoorn from the water, renting a boat for an hour is more than enough. Giethoorn is located right next to a lake called Bovenwijde. There's an island in the center of the lake, where you can dock the boat and have a picnic. If the weather allows it, there's also a spot that allows for swimming on the island. The lake and the surrounding waterways are a nice place to drive the boat around too. It's a great way to be surrounded in Dutch nature, which is all about water and flat green landscapes. If you rent a boat for a full day you can even visit the National Park Weerribben-Wieden by boat. We didn't go there, but we guess it's just more Dutch nature (read: flat green landscapes).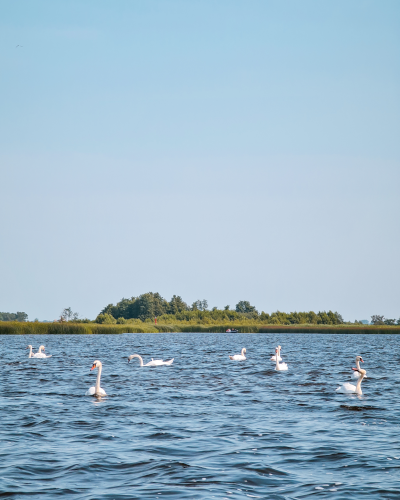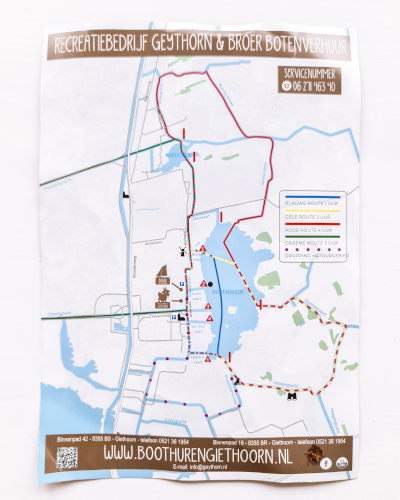 This is a map of the boat routes in Giethoorn. The map shows four routes: the blue route (one hour), the yellow route (two hours), the red route (four hours) and the green route (three hours). Be aware that the canal that's running through the village is one-way (south to north). This means that you always have to cross the lake in order to get back into the village.
Kayak rental
Besides electric boat rental, it's also possible to rent a kayak in Giethoorn. This option is way less popular than renting an electric boat. We only saw two kayaks when we were there. So, it doesn't seem necessary to make a reservation in advance. Personally, we wouldn't recommend renting a kayak because you have to share the narrow canal with electric boats that are driving faster and not everyone is a skilled driver. We wouldn't be happy if a boat bumped into our kayak. Besides that, because the canal in the village is one-way, you always have to cross the lake. While the water in the canal is quite calm, the water in the lake is less so. So kayaking on the lake is way more exhausting than kayaking in the village. Of course kayaking is way more adventurous than driving an electric boat, so if that's what you love then you should definitely rent a kayak.
Boat tour
If you don't like kayaking nor driving a boat yourself, but you still want to enjoy Giethoorn from the water, you can also do a boat tour. Walking along the Dominee T.O. Hylkemaweg, you'll find a few boat tour companies. If you've ever been to Amsterdam, the boats of these boat tours are somewhat comparable to the canal tours boats. They're quite big (they hardly fit the narrow canals of Giethoorn) and you share the boat with other people. Restaurant 't Achterhuus is one of those places that offers boat tours. According to their website, a boat tour is €12,50 per person. Signs at the boat tour places indicate the departure times of the boats.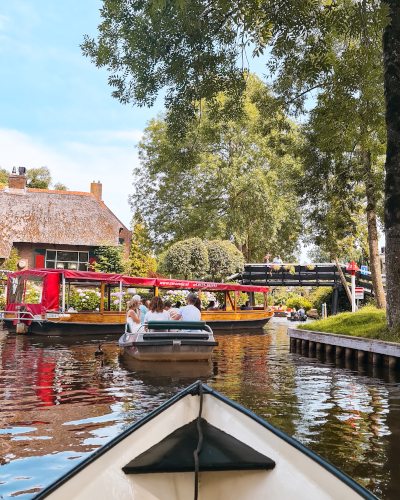 Walking
Even if you've enjoyed Giethoorn from the water, we still recommend walking around the village for a bit too. The village is filled with souvenir shops and places to eat. We visited Giethoorn on a warm and sunny day, so we of course got some soft-serve with typically Dutch dips.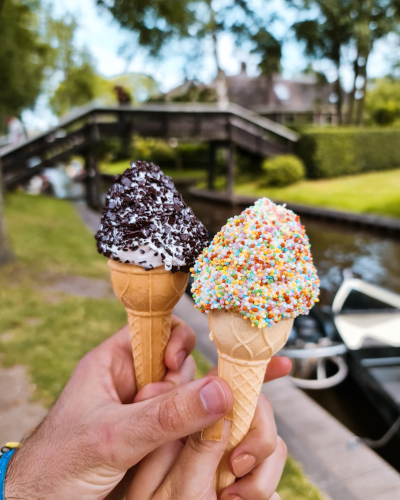 Practical information about Giethoorn
Giethoorn is a very touristy village, loved by both domestic as well as international tourists. The village is tiny, so be aware of crowds. Especially during the weekends and the summer months, it can be very crowded. If you want to have the place to yourself, the earlier you get there, the quieter it will be. If you want to rent a boat early in the morning, make sure to contact the rental place for their opening times. Some of the rental places open at 10:00. On a sunny day in summer, the crowds start coming in between 11:00 and 12:00.
It's also good to know that there's no entrance fee for Giethoorn.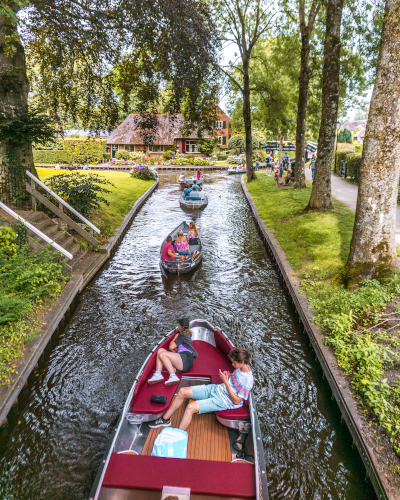 How to get to Giethoorn
By public transport
It's possible to visit Giethoorn by public transport, but it isn't easily connected to the big cities in the Netherlands. The closest train station to Giethoorn is Steenwijk Station. From there, buses can take you to the village of Giethoorn. However, if you want to go from Amsterdam to Giethoorn by public transport, you need to switch two trains (at Almere Centrum and Zwolle) before you get to Steenwijk Station and the total journey to Giethoorn takes over 2 hours. From Rotterdam, there's a direct train that takes you all the way to Steenwijk Station, but the total journey to Giethoorn takes 2 hours and 40 minutes. Let's just say that Giethoorn is pretty remote.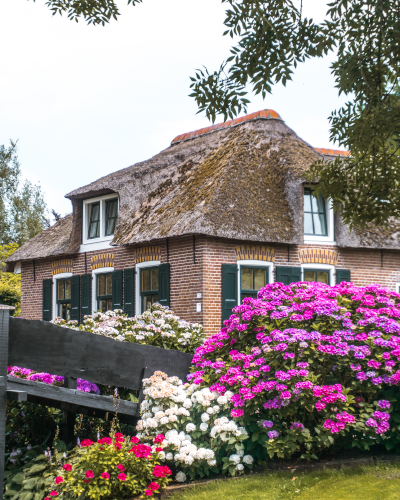 By car
It's a bit easier and quicker to get to Giethoorn by car. From Amsterdam, it's approximately 1,5 hours to get to Giethoorn. From Rotterdam, it's around 2 hours to get there. Usually, parking is very expensive at touristy places in the Netherlands. To our surprise, there were multiple free parking areas in Giethoorn. We parked our car here, which is the closest free parking area to the village. There are also signs directing you to other free parking areas, in case this one is full. This parking area is next to a supermarket which is very convenient if you want to get some drinks and snacks for the day. Right across the supermarket (and next to the parking space), there's a free public toilet. We were very surprised by this because there are never free public toilets at touristy places in the Netherlands. It's very convenient though after or before a long car drive.
We also found this parking area closer to the village on Google Maps. We haven't checked it ourselves, but reading the reviews on Google Maps this parking area costs €4 per day. A downside is that it's apparently only possible to pay for parking with coins.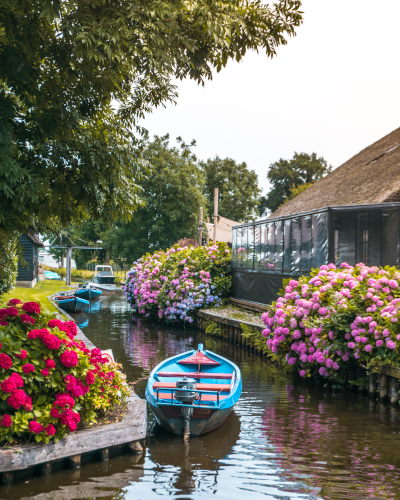 Group excursion from Amsterdam
If you're staying in Amsterdam, it's also possible to visit Giethoorn through a Giethoorn tour excursion. A bus will take you and other people from a specific place in Amsterdam to Giethoorn. Once in Giethoorn, you'll discover the area together with your excursion group. Most of the time, you'll visit other places in the area as well. You probably won't have a lot of flexibility, but you also don't have to organize anything yourself. For more information on group tour excursions, you can contact the tourist information center in Amsterdam (Iamsterdam).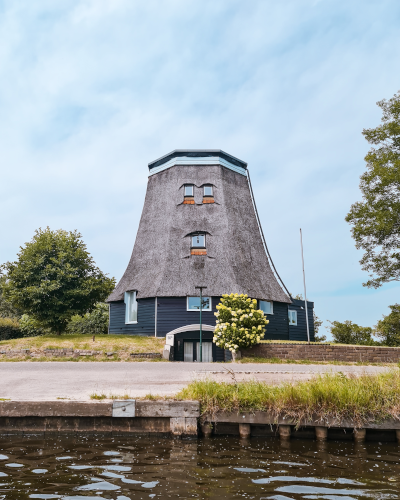 How long to stay in Giethoorn
In our opinion, Giethoorn is perfect for a day trip. It might take some time to get to the village, but you'll still have plenty of time to explore the village as it's very small. If you're staying a few days in Amsterdam (or another city in the Netherlands), we can absolutely recommend going on a day trip to Giethoorn.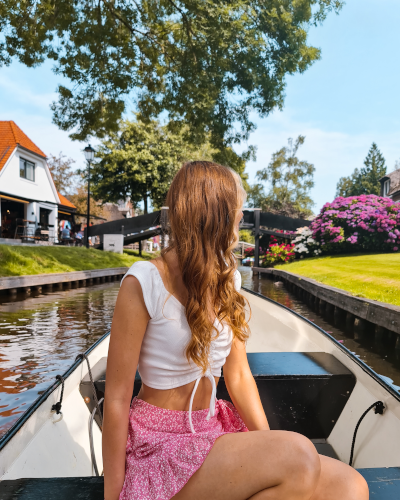 Best time to visit Giethoorn
For a variety of reasons, summer is absolutely the best time to visit Giethoorn. The first reason is the weather. Dutch weather can be very unpredictable, but we can have some nice summer days. As most activities in Giethoorn revolve around water, it's just so nice to be on a boat on a warm and sunny day. When it's rainy or chilly, it just isn't the same. The second reason is because of the gardens. Almost all gardens have lots of hydrangeas and they bloom in summer. It's beautiful to witness the hydrangeas in full bloom. Unfortunately, summer is also the most crowded time of the year. But if you want to go for those fairytale vibes, you have to visit Giethoorn in summer.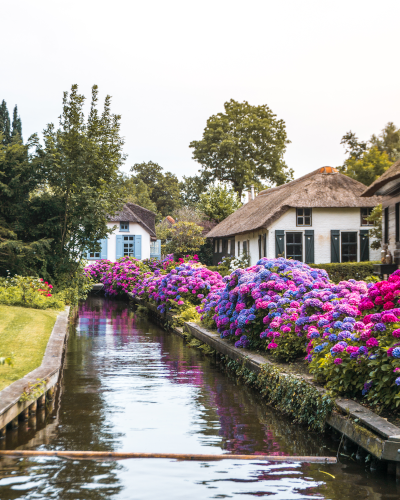 Pandemic
Unfortunately, the pandemic is still going on. At the time of writing, traveling within the European Union is possible, but most of the areas in the Netherlands are indicated as 'dark red' on the EU coronavirus map. Despite that, there are no strict rules in the Netherlands. There is no obligation to wear masks anymore (only in public transport), almost everything is possible (except for festivals and clubbing) and the most important rule is to keep others at 1,5m distance. Especially the last rule can be hard to follow in touristy, small places such as Giethoorn. Despite the pandemic, everything is open in Giethoorn, including shops, restaurants and boat rental places. Please consider the pros and cons of visiting Giethoorn during the COVID-19 pandemic and be aware of crowds.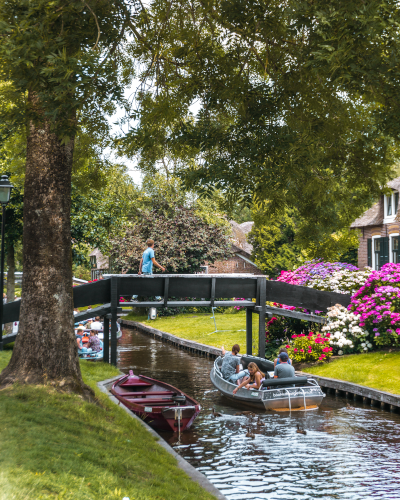 We hope you enjoyed this guide of Giethoorn. According to us, Giethoorn is a must see when visiting the Netherlands. Would you like to visit Giethoorn? Let us know in the comments below!
If you're looking for another fairytale-like destination in the Netherlands, we can recommend visiting Kinderdijk. Especially during sunset, Kinderdijk is truly magical and you'll probably have the entire place to yourself.
Be sure to check out:
Visiting the cherry blossoms in the Amsterdam Forest
Tulip Fields in the Netherlands - A Photo Guide with Locations
A Unique One-Day Itinerary in Amsterdam
One Day in Haarlem: All Things To Do