The Most Instagrammable Places in Normandy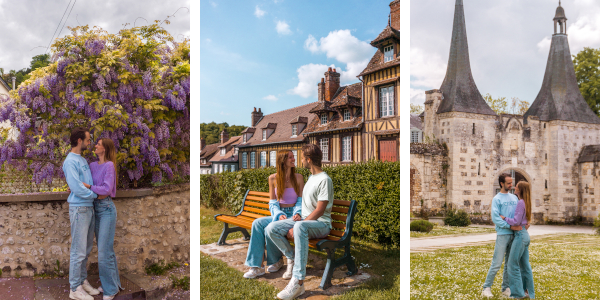 Normandy, a region in the northwest of France, is known for its charming countryside, stunning coastline, and rich history. With its picturesque towns, quaint villages, and breathtaking landscapes, Normandy is a dream destination for Instagram enthusiasts and photographers looking to capture the perfect shot. From the iconic Mont Saint-Michel to the colorful houses of Honfleur and the cliffs of Étretat, Normandy is home to plenty of photogenic spots that will make your Instagram feed stand out. In this blog post, we've rounded up the most Instagrammable places in Normandy, some of Les Plus Beaux Villages de France (the most beautiful villages in France). Whether you're a seasoned Instagrammer or just looking for some inspiration for your next vacation, these photogenic spots in Normandy are sure to leave you in awe. So grab your camera and get ready to explore some of the most picturesque spots in Normandy!
Le Mont-Saint-Michel
Le Mont-Saint-Michel is considered one of the most photogenic places in France, if not the world. Its stunning beauty is largely due to its unique location on a small rocky island in the middle of a vast bay, surrounded by sweeping views of the sea and coastline. The island itself is crowned by a magnificent Gothic abbey, which towers above the narrow, winding streets lined with stone houses and shops.
Our favorite shots were taken from a distance, as they truly showcased the island's breathtaking grandeur. At low tide, it's possible to walk on the sand in the bay and capture the island from an even more unique perspective. However, it's crucial to be cautious and check the tide schedule before venturing out onto the sand, as it can quickly turn into quicksand when the high tide rolls in, creating dangerous situations.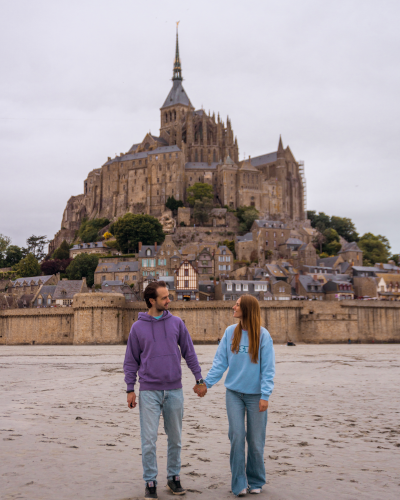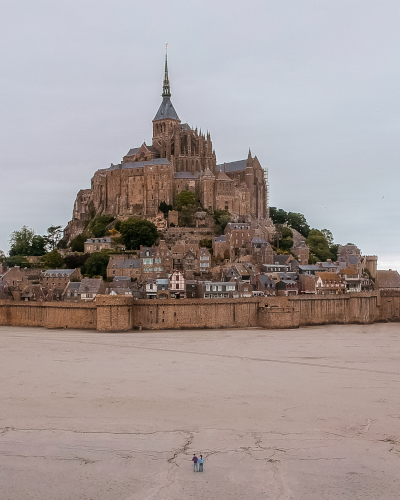 Reaching the next location requires climbing a boulder pier that's only accessible during low tide. Be careful climbing the pier, as it can be wet and slippery. However, the view from here is well worth the effort, particularly during sunset, when the scenery is simply magnificent.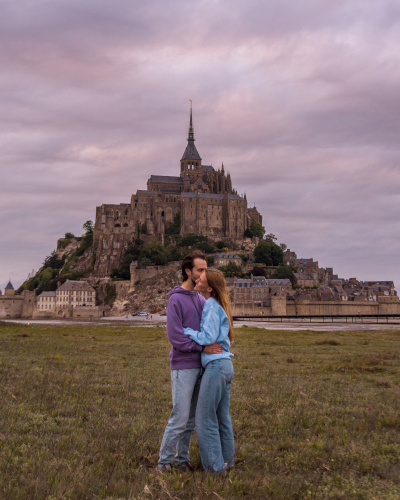 The final photo spot is easily accessible. Head left onto the grass from the walkway to the island to reach it. If you're fortunate, there may even be some sheep grazing behind the fence. We decided to spend the night near Le Mont-Saint-Michel and returned for a sunrise photo shoot. However, we were disappointed to find that it was raining and extremely foggy, making it nearly impossible to see the island. It wasn't quite the breathtaking sight we were hoping for after waking up in the middle of the night, but we still managed to snap a few shots.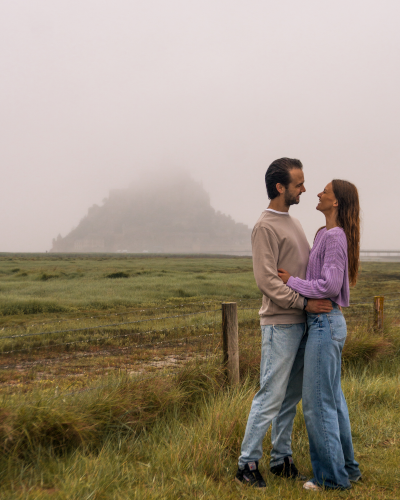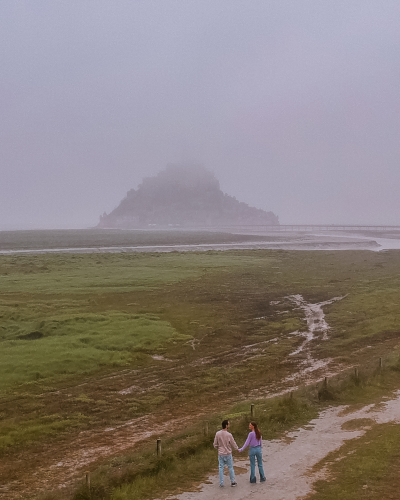 Don't forget to check out our blog post in which we share everything you need to know about visiting Le Mont-Saint-Michel.
Étretat
Étretat is a picturesque coastal town located in Normandy. It is known for its stunning white cliffs and dramatic natural arches, which make it a popular destination for photographers and Instagram enthusiasts. We'd highly recommend hiking the cliffs of Étretat for the best views and some amazing photo spots. In a previous blog post, we've shared everything you need to know about visiting Étretat, including the directions of a 5,5 km long round trip hike on the cliffs. Along this hike, you'll find this photo spot at Pointe de la Courtine.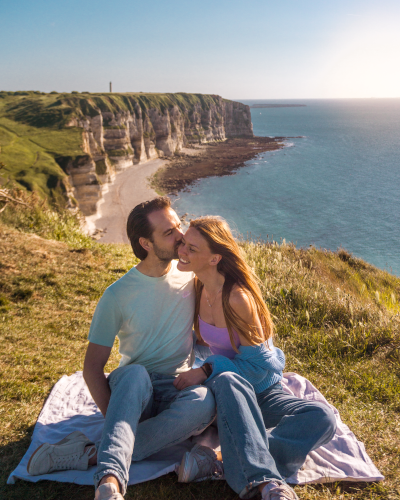 Continuing the hike, you'll reach Falaise la Manneporte, from where you have the best views of the most beautiful cliff near Étretat: Falaise d'Aval.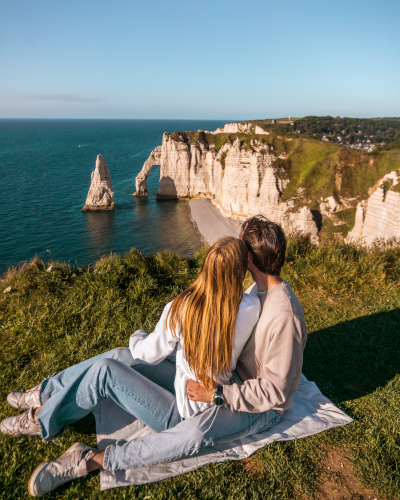 From Falaise la Manneporte, it's only a 15-minute walk to the beach of Étretat. The pebbled beach also offers great views of Falaise d'Aval, making it a perfect photo spot. Since the beach is facing west, you can also watch the sun set into the sea. Sunset isn't only the most beautiful time of the day, it's also a perfect moment to capture that magical light. We'd recommend planning your trip to Étretat in a way that you will be able to watch the sunset from the beach!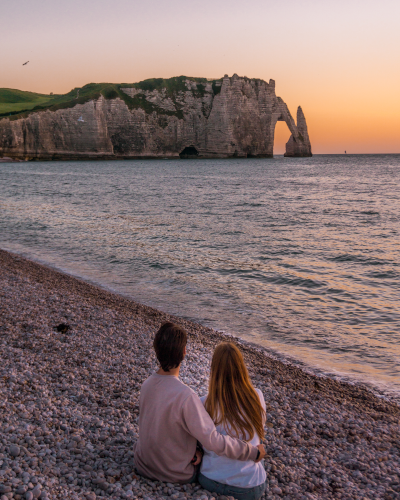 Honfleur
The picturesque harbor town of Honfleur is known for its historic architecture, colorful houses, and charming harbor, which offer a wealth of photogenic spots for visitors. The best spot in Honfleur is the harbor, also called Vieux Bassin. The harbor offers a postcard-perfect view of the medieval houses and the sailboats.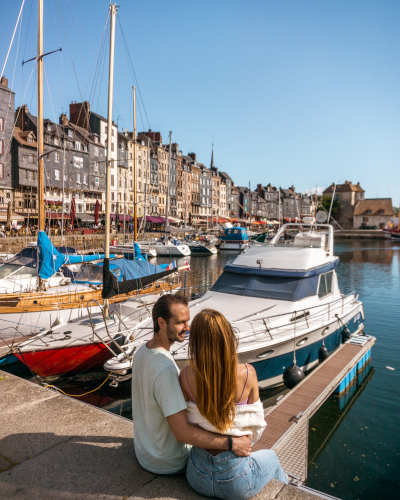 Don't forget to take a stroll to the town's center and capture the charming half-timbered houses. Honfleur is perfect for strolling around and capturing the beautiful places you come across.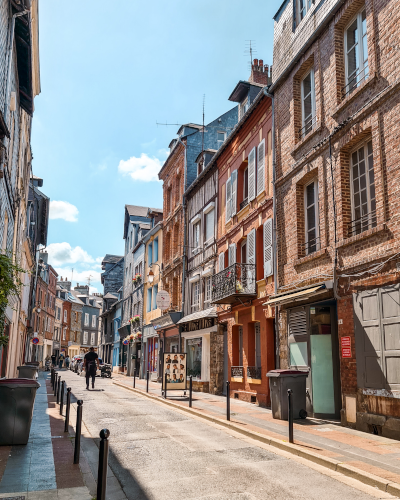 Check out this blog post for a 3-day road trip itinerary along the Coast of Normandy, including Le Mont-Saint-Michel, Étretat and Honfleur.
Rouen
Rouen is the capital city of Normandy and is known for its rich history and charming half-timbered houses, which makes it a perfect destination for photographers and Instagram enthusiasts. When strolling through the city, you'll stumble upon countless of pretty half-timbered houses that are all worth taking a photo of.
Just outside of the city, there's a viewpoint offering amazing views of Rouen and the Seine. From the city center, it's a 30-minute walk/hike to the top of the viewpoint. The directions on Google Maps to "Rouen Panorama de la Côte Sainte-Catherine" were accurate during our visit in Rouen. If you can't follow Google Maps directions or for whatever reason they aren't accurate anymore, you can follow the directions as described in our blog post about the best things to do and see in Rouen.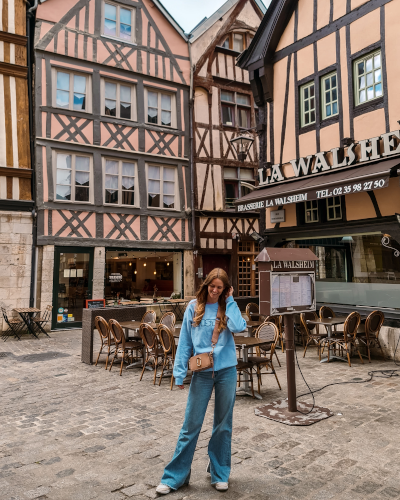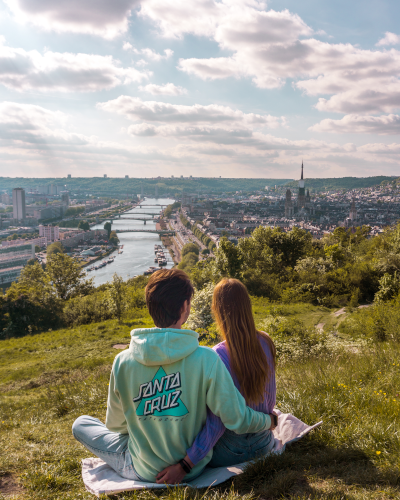 Giverny
Giverny is best known for being the home of the famous painter Claude Monet. Monet lived in Giverny for over 40 years, and during this time, he created some of his most famous paintings inspired by the stunning natural beauty of his surroundings. Monet's house and gardens are open to visitors and offer a wealth of photo spots. While walking through the garden it feels like you're walking in a real-life Monet painting!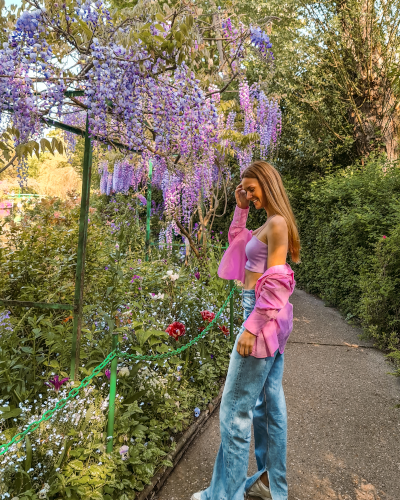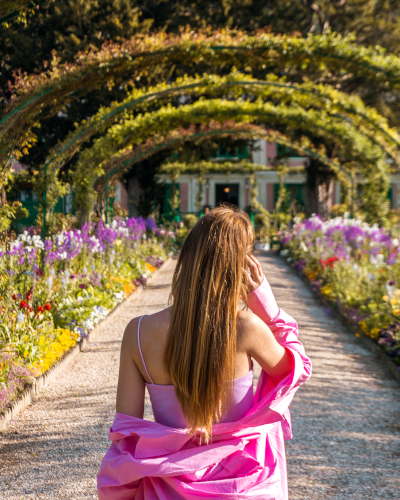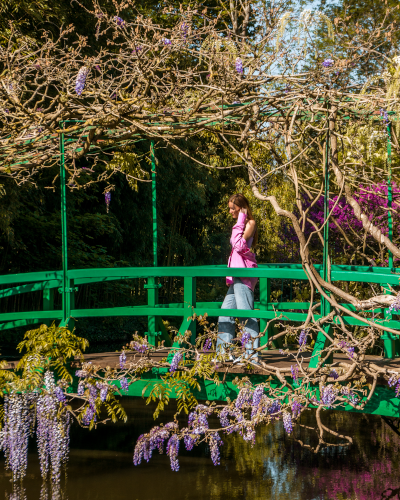 Check out this blog post for all information about visiting Monet's house and gardens in Giverny.
Vernon
Vernon is a small town, only a 10-minute drive away from Giverny. It is located along the banks of the Seine and features a lot of historical structures and buildings. Two of the most beautiful structures in Vernon are Château des Tourelles and the Vieux Moulin, which both are great photo spots.
Château des Tourelles was constructed in the 12th century and initially served as a defense tower. Throughout the years, Château des Tourelles was used not only as a defense tower but also as a fortress, flour mill, prison, zinc rolling mill, and tannery. Despite its many uses, the castle remains beautifully preserved to this day, making it a great photo spot!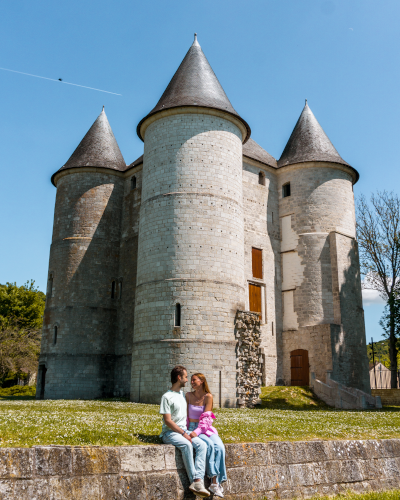 Dating back to the 16th century, Le Vieux Moulin is an ancient mill built on the old bridge of Vernon. Despite being damaged by bombings during World War II in 1940 and 1944, the old mill has been restored and now stands as a symbol of Vernon. We think the mill with its pretty half-timbered house is very photogenic.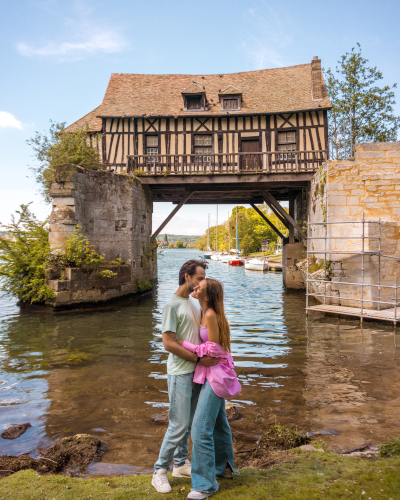 Les Andelys
Just like Vernon, the charming village of Les Andelys is also located on the banks of the Seine river. Perched atop a hill overlooking Les Andelys stands the impressive medieval castle ruin of Château Gaillard. The castle was built in 1196 and despite being a ruin, Château Gaillard still exudes the grandeur and strength of its past. The hill next to Château Gaillard is a perfect spot to capture the huge castle ruins and the countryside in the background.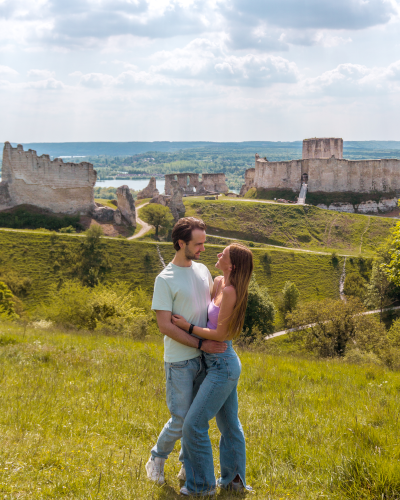 This same spot also offers a gorgeous view of Les Andelys, the winding Seine river and the surrounding countryside. This stretch of grass is also a nice spot for a picnic.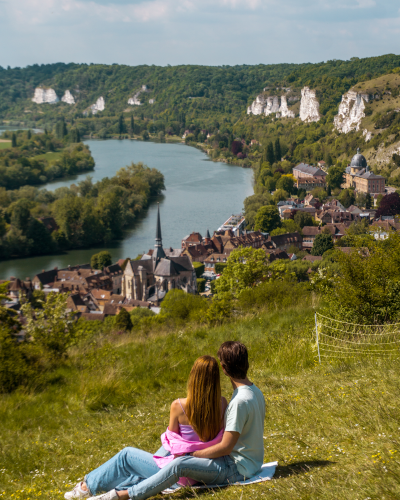 La Bouille
Another village located on the banks of the Seine is La Bouille. La Bouille is not only renowned for its breathtaking views of the Seine, but also for its charming half-timbered houses. Among the streets that boast the prettiest architecture in La Bouille are Rue du Grenier à Sel, Rue Quicampet, Rue du Docteur Magalon and Place Saint-Michel. We'd highly recommend strolling through the narrow streets while immersing yourself with all the prettiness.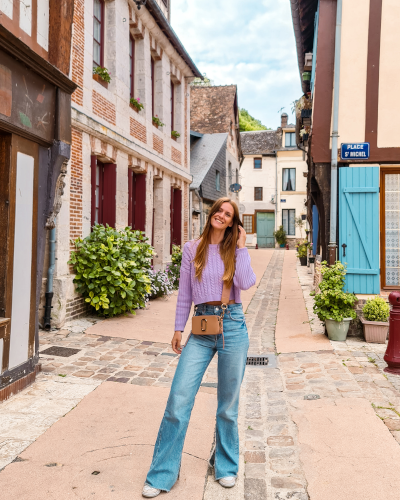 While wandering the streets of La Bouille, we unexpectedly stumbled upon wisteria in full bloom. If you ask us, this is a must-see photo spot when you're in La Bouille during wisteria season, which is usually in the beginning of May.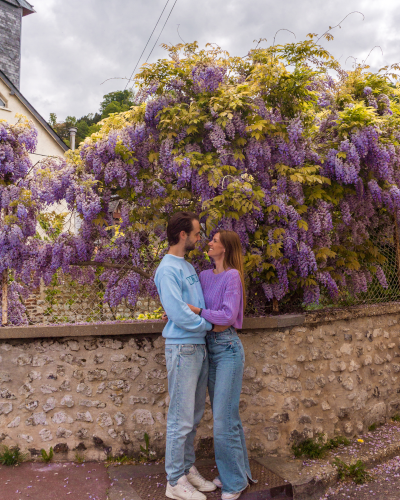 Check out this blog post for a 3-day road trip itinerary through the Seine Valley, including Rouen, Giverny, Vernon, Les Andelys and La Bouille.
The Most Beautiful Villages of France
Les Plus Beaux Villages de France (the most beautiful villages of France) is a prestigious label that was created in 1982 to promote and preserve the exceptional heritage of small French villages. The label is awarded to villages that meet strict criteria for their architecture, landscape, and cultural heritage, and have a population of less than 2,000 inhabitants.
Currently, there are 172 villages in France that have been awarded this label. These villages are scattered throughout the country and represent the diversity and beauty of rural France. In Normandy, there are 6 of these most beautiful villages. We've been able to visit 4 of them, and we can assure you that they're all absolutely worth visiting.
Le Bec-Hellouin
The tiny village Le Bec-Hellouin is located in the heart of the countryside Normandy. It is known for its picturesque half-timbered houses, peaceful ambiance, and the historic Abbaye Notre-Dame du Bec. There's a large patch of grass in front of the abbey offering views of the half-timbered houses that surround the square as well as the gate to the abbey. This is a perfect spot to capture both of these beautiful sights. When you're done taking photos, don't forget strolling through the village and visiting the grounds of the abbey.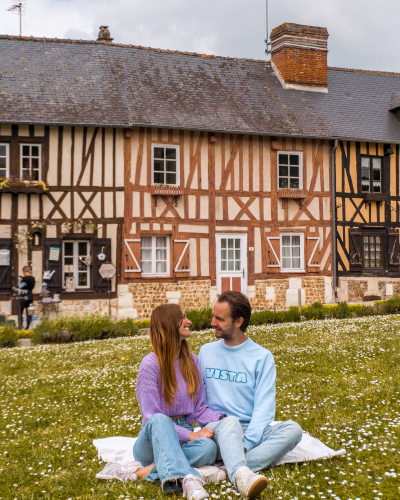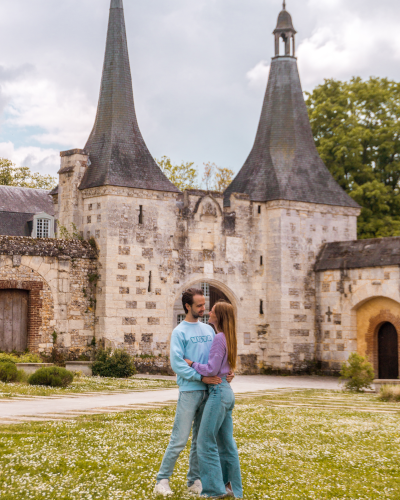 Lyons-la-Forêt
​​Lyons-la-Forêt, with only 800 inhabitants, is filled with charming half-timbered houses that date back to the 17th century. The village's history goes back even further, but unfortunately, a destructive fire in 1590 forced the rebuilding of the village. We'd highly recommend taking a leisurely walk through the village's picturesque alleyways, while admiring and capturing the stunning architecture.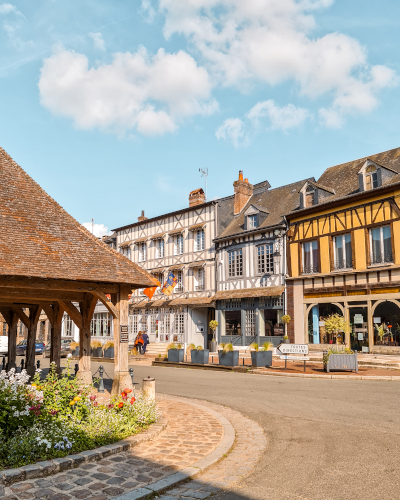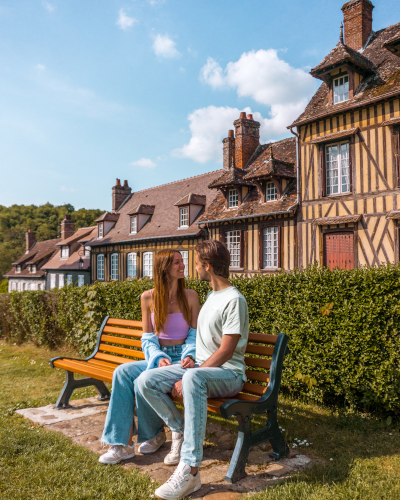 Veules-les-Roses
Veules-les-Roses is located on the Alabaster Coast in Normandy. The village is built along the Veules, which is the smallest river in France, spanning a little over a kilometer long. You can take a scenic walk along the river from the source to the sea. While strolling along, make sure to stop at one of the historic water mills running through the river.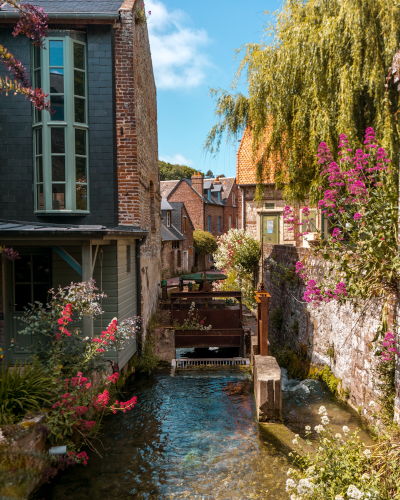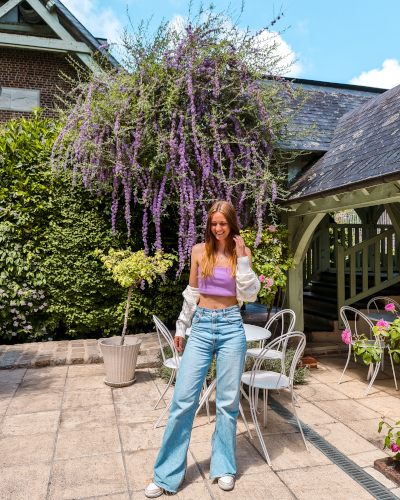 Beuvron-en-Auge
The village Beuvron-en-Auge with less than 200 inhabitants is tiny, but despite its size it doesn't lack charm. The half-timbered houses are a true sight for the eye and it's so lovely walking around Place Michel Vermughen and the few streets of the village.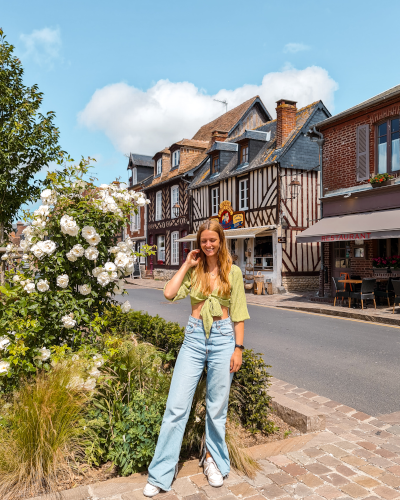 North of Place Michel Vermughen, there's a small gate to a courtyard where you can buy local goods based on apples, such as ciders, Calvados brandy and apple juice. In this courtyard, there are wisteria that are at their peak bloom in the beginning of May, offering a pretty photo spot.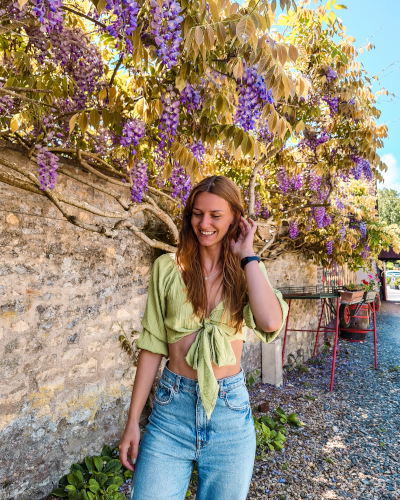 Normandy's unique blend of history, culture, and natural beauty provides endless opportunities for exploration and discovery, making it an ideal destination for photography enthusiasts. Whether you're looking to capture the perfect photo or simply soak up the ambiance of this stunning region, Normandy is a destination that is sure to inspire. We hope we've inspired you to visit Normandy with all these Instagrammable places.
Have you been to Normandy or is it still on your bucket list? Let us know in the comments below!
Be sure to check out:
The Most Instagrammable Places in Paris
3-Day Road Trip along the Coast of Normandy
3-Day Road Trip in the Seine Valley
The Prettiest Places to Visit in Provence