3-Day Road Trip in the Seine Valley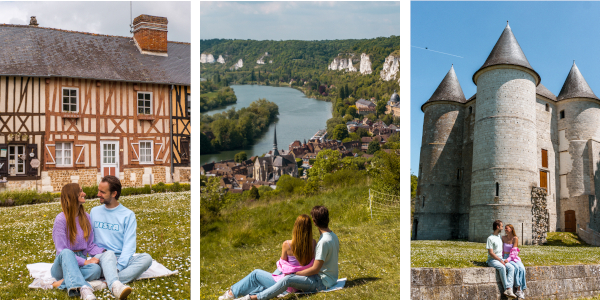 The Seine Valley is a beautiful area in the province of Normandy in France. The area has been an inspiration to many French artists and writers, such as Victor Hugo, Gustave Flaubert and Claude Monet. In just 3 days, we were able to visit some of the most beautiful places and villages in this area, including Rouen, Giverny and two of the most beautiful villages of France: Lyons-la-Forêt and Le Bec-Hellouin. In this blog post, we're going to take you with us on our 3-day road trip in the Seine Valley.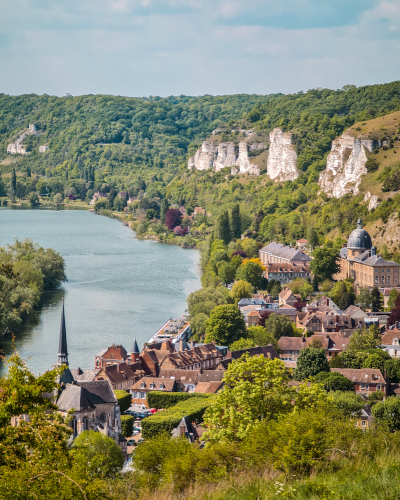 Day 1
Rouen
We started our road trip in Rouen, which is the largest city in the Seine Valley and also the capital of Normandy. Rouen is located along the banks of the Seine river and is one of the most important European ports for agricultural goods. Normandy's capital city has a rich history and a lot of monuments are well-preserved.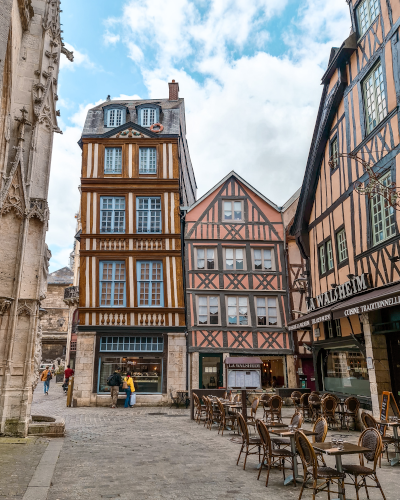 We spent the first day strolling through the city center of Rouen while immersing ourselves in history. There are over 2000 medieval half-timbered houses in the city center, which makes it feel like you're going back in time. The main highlights of Rouen are the Notre-Dame de Rouen (also known as the Rouen Cathedral), Gros-Horloge and Place du Vieux Marché. The Notre-Dame de Rouen is the largest cathedral in France that achieved even more fame thanks to Monet featuring the church in 30 paintings of Monet expressing the changing light conditions at different times of the day and year. Gros-Horloge is an impressive astronomical clock from the 14th century. Place du Vieux Marché is famous, because the French military leader Jeanne d'Arc was burned at the stake on this square in 1431. Check out our blog post for the best things to do and see in Rouen.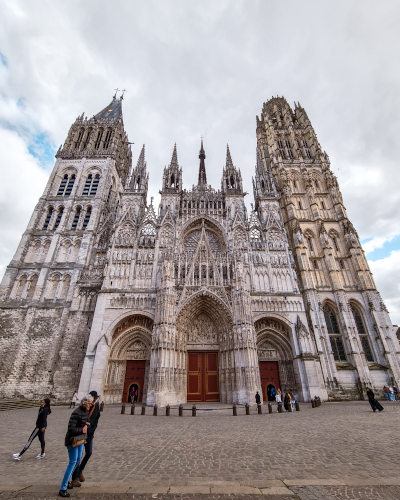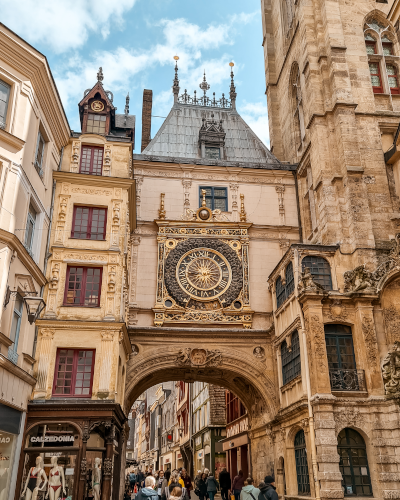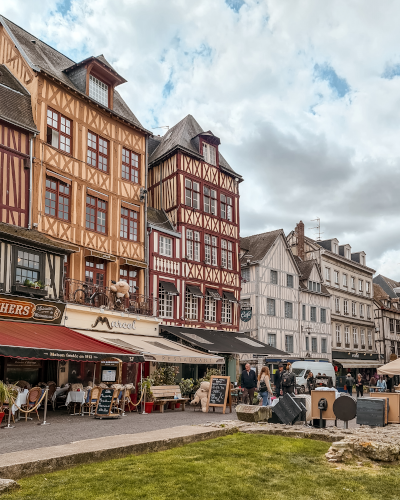 Day 2
Giverny
The first place we visited on day 2 was Monet's House and Garden in Giverny. Giverny is a one-hour drive from Rouen. We bought tickets in advance for the first time slot of the day at 09:30, which we can recommend as the gardens get crowded very quickly. The gardens are designed by Monet himself and strolling through them feels like you're in a real-life impressionist painting. I don't think we've ever seen gardens this beautiful. You can also have a peek inside a few rooms in his house. Check out our blog post about visiting Monet's House and Gardens for all the information to plan a successful trip to this stunning place.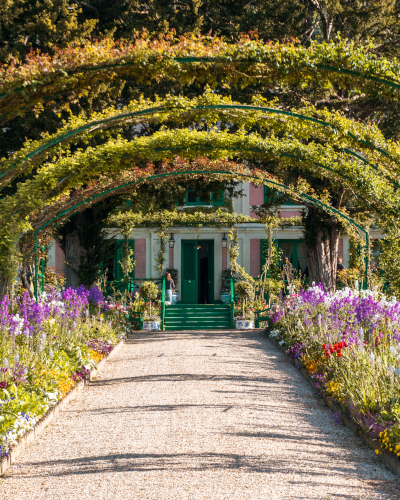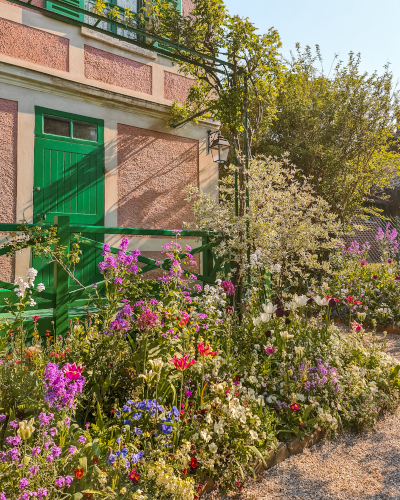 When you've seen every inch of Monet's House and Gardens, don't forget to stroll through the tiny village of Giverny. The Museum of Impressionism in Giverny is dedicated to works from impressionist artists around the world. We haven't been there, but if you're specifically interested in Monet's work it's said that you're better off visiting Musée d'Orsay, Musée de l'Orangerie or Musée Marmottan Monet in Paris. When strolling along Rue Claude Monet, we stumbled upon a large field of grass covered with daisies. We grabbed some sandwiches to go from Gourmandes de Giverny, threw out a blanket and had a lovely picnic here.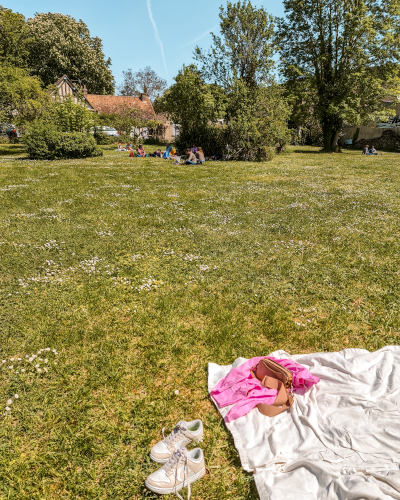 Vernon
After having lunch in Giverny, we drove in less than 10 minutes to the nearby town of Vernon. This town is located along the banks of the Seine and features a lot of historical structures and buildings. As we wanted to visit Château des Tourelles and Le Vieux Moulin, we parked our car on the northeast bank of the Seine river along Rue Jules Soret. Parking here is free.
Château des Tourelles was built in the 12th century and served as a defense tower to protect the entrance to the bridge. The castle used to be surrounded by moats with water from the Seine. Over the centuries, Château des Tourelles did not only serve as a defense tower, but also as a fortress, flour mill, prison, zinc rolling mill and tannery. The castle is beautifully well-preserved.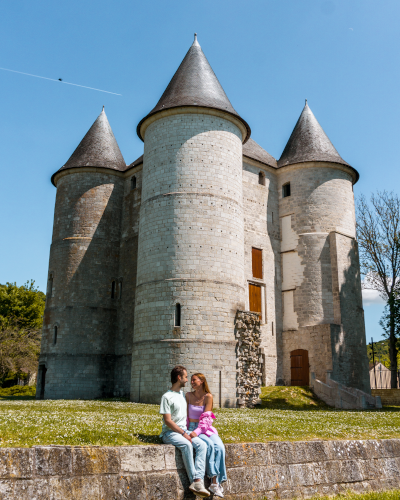 Le Vieux Moulin is an old mill that dates back to the 16th century and is built on the old bridge of Vernon. The old mill was damaged by World War II bombings in 1940 and 1944, but has been restored and is currently regarded the symbol of Vernon. The mill operated until 1849 using a hanging-wheel-system that moved the millstones inside the building. Monet painted Le Vieux Moulin in his painting Old house on the bridge which is showcased in the Museum of Fine Arts in New Orleans.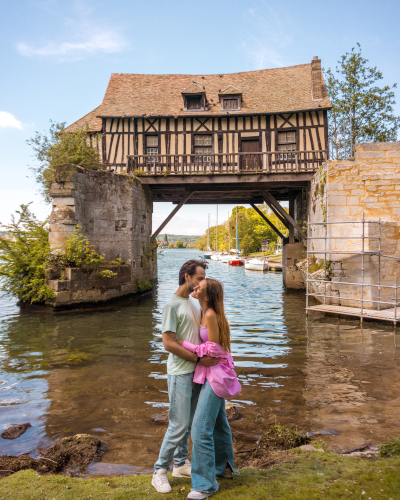 The two piers on which Le Vieux Moulin is built are the only remnants of the old stone bridge, save for a few piles of stone in the river. The old bridge dates back to the 12th century and the then-wooden bridge has been destroyed and rebuilt several times in the Middle Ages. In 1861, the wooden bridge was replaced by a stone bridge. During World War II, the stone bridge was heavily damaged bombed. Instead of restoring the old bridge, a completely new and modern bridge was built right next to the old one. The new Pont Clemenceau is still in use today.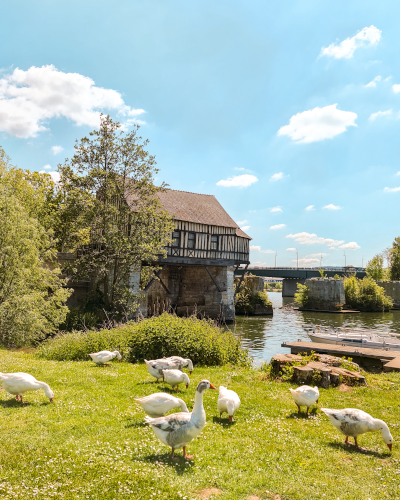 Other sightseeing spots in Vernon are Collégiale Notre-Dame de Vernon (a church built from the 11th century until the end of the 16th century in Roman and Gothic style), the medieval half-timbered houses (from which Maison du Temps Jadis from the 15th century is the most famous one and currently houses the tourist office of Vernon) and Tour des Archives (a tower that used to be part of an old castle). Musée de Vernon has two works of Monet in their permanent collection: a round canvas of the waterlilies in his pond called Nympheas, 1908 and the cliffs of Pourville at sunset titled Effet de soleil couchant à Pourville, 1896. The museum also showcases a few impressionist works of Blanche Hoschedé-Monet, Claude Monet's stepdaughter.
Les Andelys
The next village we've visited is Les Andelys, which is less than a 30-minute drive from Vernon. The village of Les Andelys is divided in two parts: Grand-Andely and Petit-Andely. Especially Petit-Andely, which is located right along the bank of the Seine, is the most picturesque part of the village. You can stroll right along the Seine while admiring the medieval houses in Petit-Andely.
On top of the hill next to Les Andelys stands an impressive medieval castle ruin named Château Gaillard. Construction of Château Gaillard started in 1196 and was finished in an unusually short time of two years. The construction of the castle was commissioned by Richard the Lionheart, both King of England and Duke of Normandy at the same time, in order to protect the duchy and the capital city Rouen.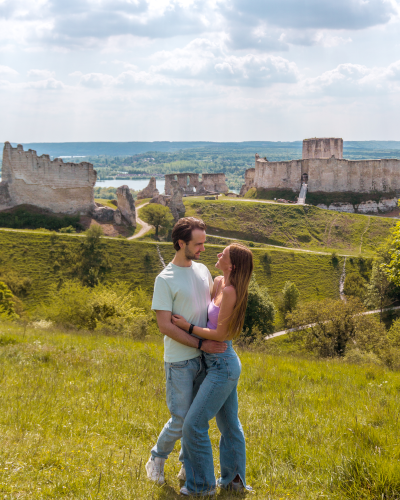 Walking around the grounds of the castle ruins makes you realize how huge the castle used to be. The courtyard of Château Gaillard is open to the public all year round without an entrance fee. You can wander around here and climb the ruins as much as you like. The keep and great hall are open from April 1st until November 6th from Wednesday until Sunday. The opening hours are from 10:00-12:30 and from 14:00-18:00. The entrance fee to this part of the ruin is €3,50.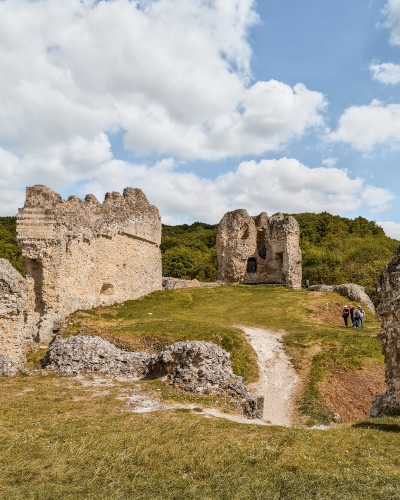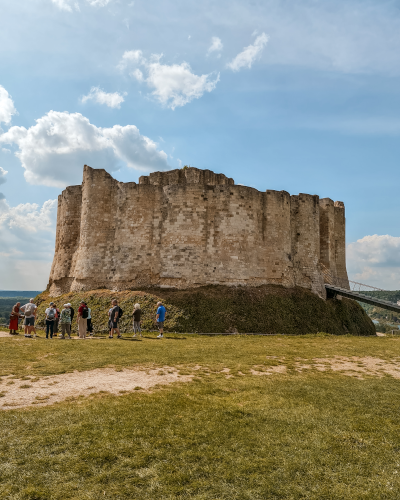 We parked our car at the parking lot close to Château Gaillard. From the parking lot it's about a 10-minute walk (both down- and uphill) to the castle ruins. There's a huge field of grass next to the parking lot at Château Gaillard that offers amazing views of the castle ruins as well as the Seine and Les Andelys. This is also a great spot to have a picnic or simply lay down and relax for a bit.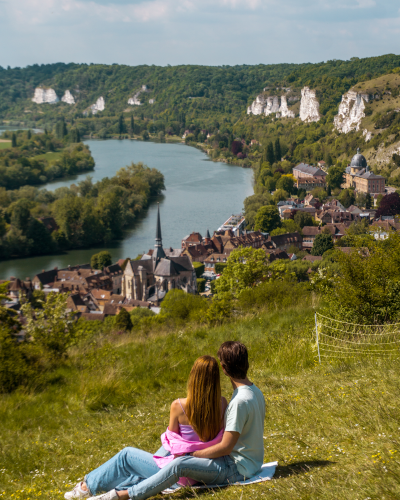 Lyons-la-Forêt
From Les Andelys, it's a 30-minute drive to Lyons-la-Forêt. This village is one of Les Plus Beaux Villages de France, which is an ever-growing list containing the most beautiful villages of France. Currently, there are 172 villages on the list. We can say from experience that these villages are really beautiful and worth visiting.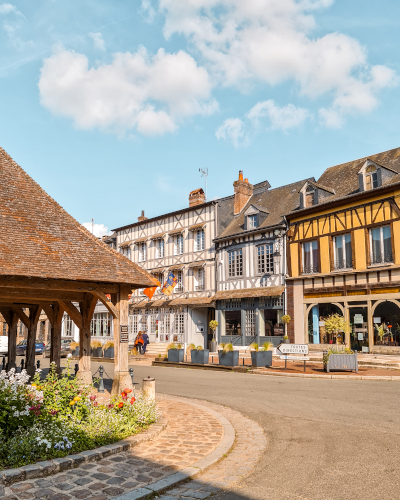 The central square, Place Isaac Benserade, features the iconic 17th-century covered market hall that houses a farmer's market three times a week. The square is surrounded with restaurants, of which some have an outdoor seating area on the square which is a perfect spot for a cup of coffee in the sun.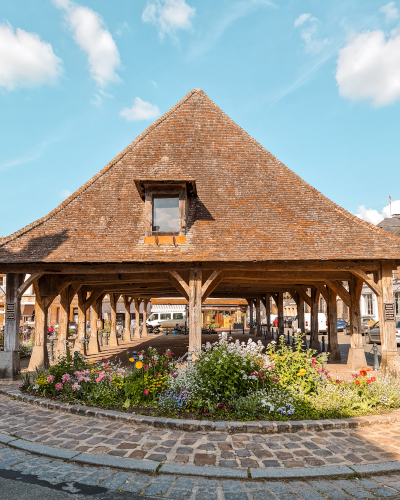 The village with only 800 inhabitants is filled with pretty half-timbered houses from the 17th century. The history of Lyons-la-Forêt goes back further than the 17th century, but because of a devastating fire in 1590, the village had to be rebuilt. Don't forget to bring your walking shoes if you're staying in the area as Lyons-la-Forêt is located in the largest beech forest of France.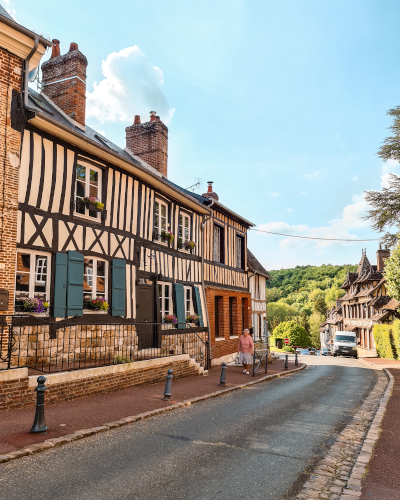 We parked our car at a parking lot called Parking du Besguay. When we visited Lyons-la-Forêt, there were plenty of parking spots available. If the parking lot happens to be full, you can follow the signs to another parking lot nearby.
Day 3
Morning in Rouen
We started the day with breakfast in Rouen in a very pretty tea room called Dame Cakes. Because we couldn't get enough of the pretty half-timbered houses, we did a quick stroll past these houses after breakfast on Rue Saint-Romain and Rue Martainville. At Place Saint-Marc we stumbled upon a market and walked past the stalls here as well. Besides fresh produce, there were also stalls offering antique goods and drug store goods. When we got back to the hotel, we got in the car and drove to Le Bec-Hellouin.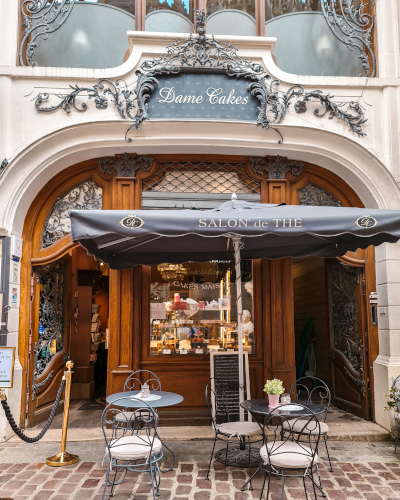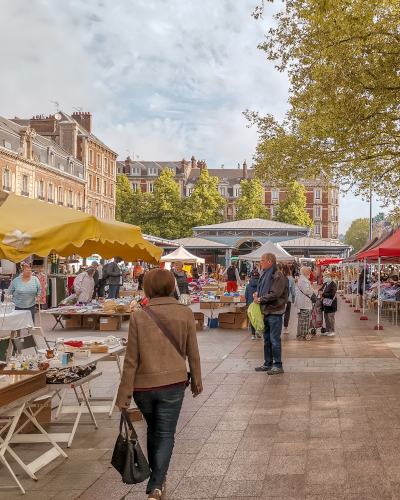 Le Bec-Hellouin
After driving 45 minutes from Rouen, we arrived in the small village Le Bec-Hellouin. Just like Lyons-la-Forêt, this village is also on the list of Les Plus Beaux Villages de France. When we arrived in Le Bec-Hellouin, we first had lunch in the outdoor seating area of the restaurant Le Crêpe dans le Bec, with views of the Abbaye Notre-Dame du Bec. Le Bec-Hellouin only has a handful of restaurants and the food and ambience at this restaurant was nice. Fun fact: Le Bec-Hellouin only has approximately 400 inhabitants.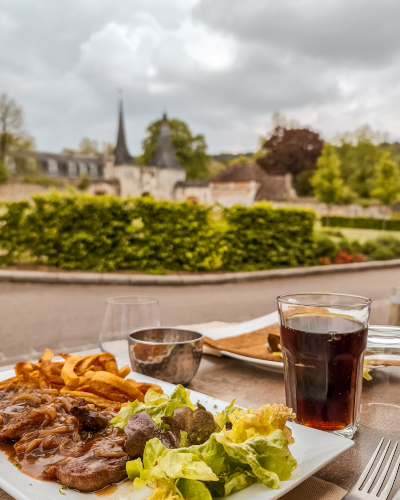 After lunch, we strolled through the few streets of the village. We especially loved the half-timbered houses surrounding Place Guillame le Conquérant and Place de l'Abbé Herluin. You can find Église Saint-André, the village's church, at Place Guillame le Conquérant. This church was built in 1039 and used to depend on the Abbaye Notre-Dame du Bec.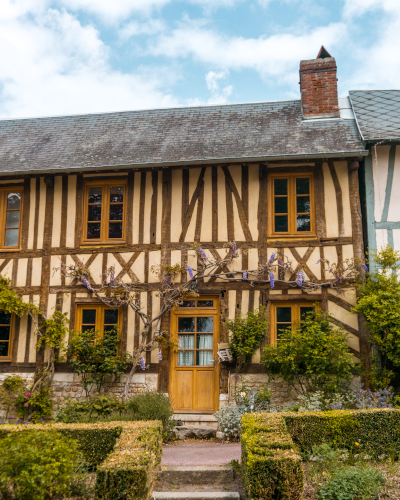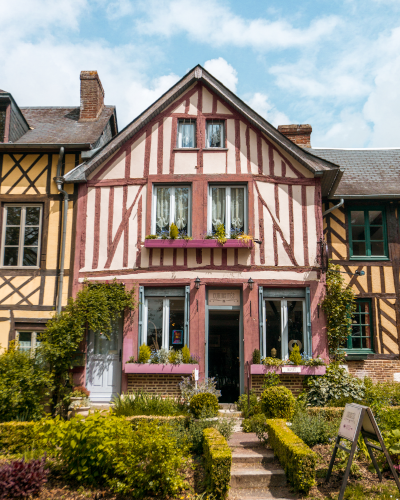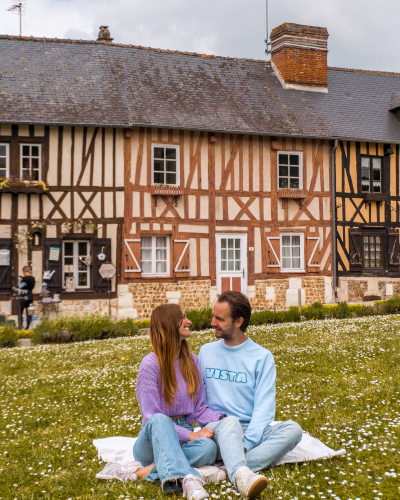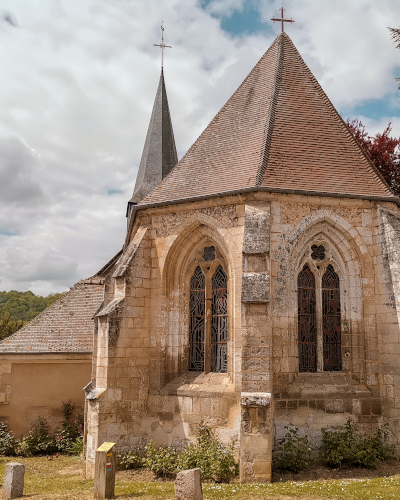 After admiring the pretty houses, we visited the main sightseeing spot of the village: the Abbaye Notre-Dame du Bec. This abbey was founded in 1034 by Herluin, a knight of Count Gilbert de Brionne. Because of two powerful religious men, Lanfranc of Pavia and Anselm of Aosta, the abbey became a major Christian center. Both men eventually served as Archbishops of Canterbury in England. Workers of the abbey were based in Le Bec-Hellouin resulting in growth of the village.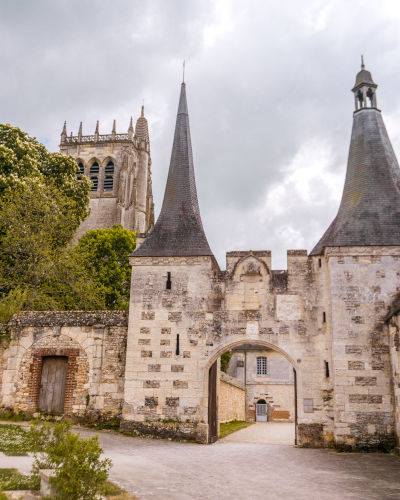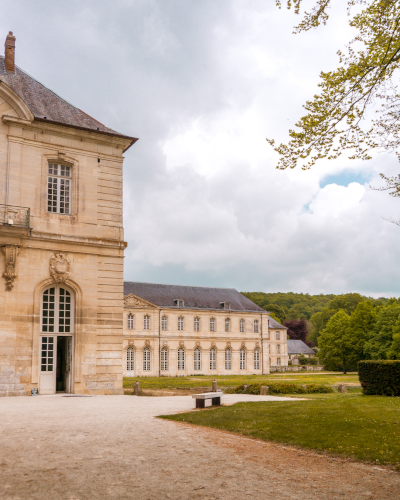 The abbey is surrounded by nature and it's a peaceful area to stroll around. Benedictine monks still live in the abbey so not all parts are publicly accessible. The grounds of the abbey and the abbey church are open daily. There's no entrance fee.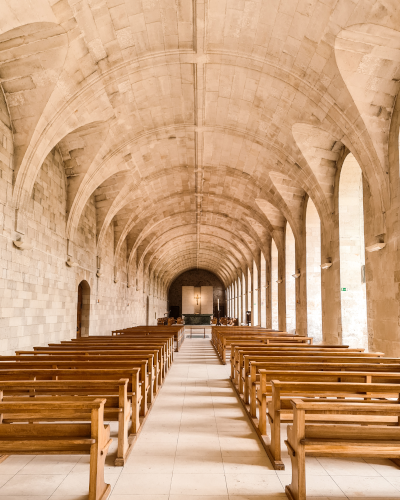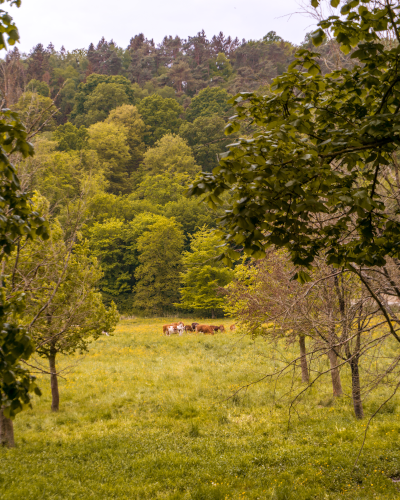 We were able to park our car in the village at Place Guillame le Conquérant. If you can't find a parking spot in the village, there's a parking area just outside the village. Parking in Le Bec-Hellouin is free.
La Bouille
From Le Bec-Hellouin, it's a 30-minute drive to La Bouille. This small village is located on the bank of the Seine. Besides offering beautiful views of the Seine, you can find a lot of pretty half-timbered houses in La Bouille. The prettiest streets of La Bouille are Rue du Grenier à Sel, Rue Quicampet, Rue du Docteur Magalon and Place Saint-Michel.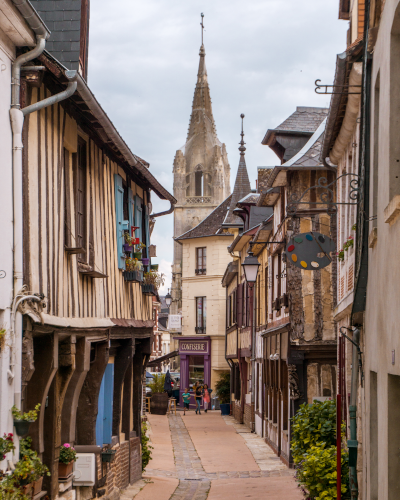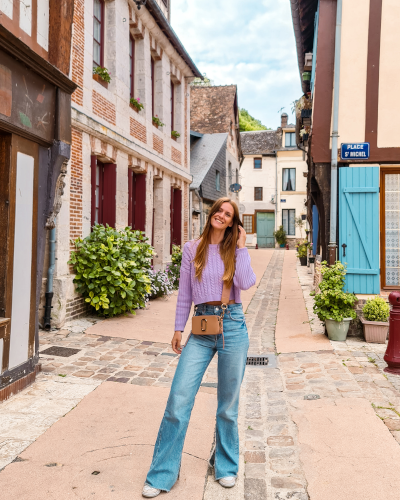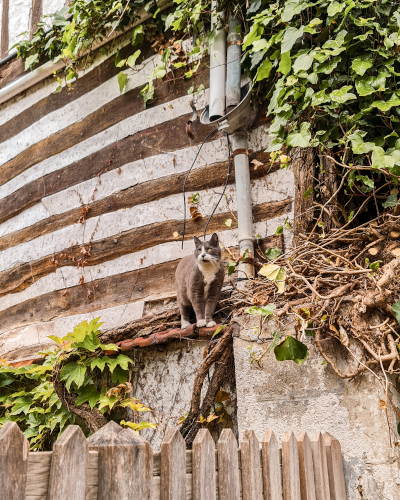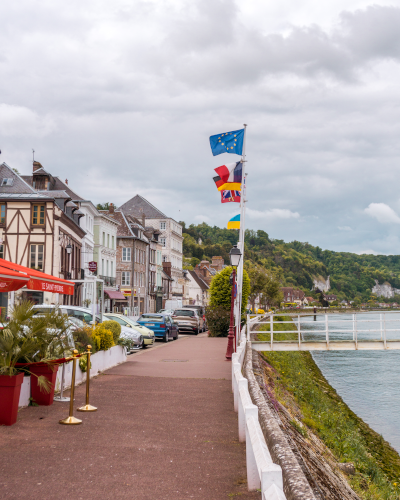 The village's church, Église Sainte Madeleine, dates back to 1423. The former steeple on the church was so small that the church ironically was nicknamed the cathedral of La Bouille. In 1863, the steeple was replaced by the current bell tower.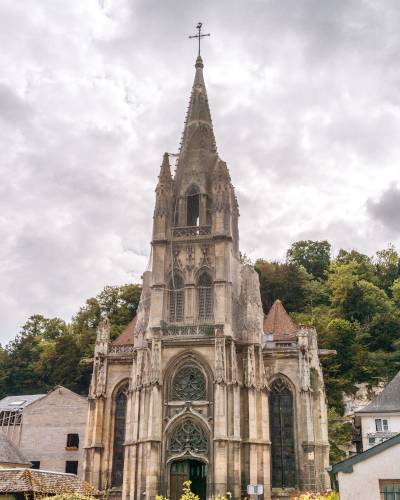 If you happen to be in La Bouille during wisteria season (usually in May), there are beautiful wisteria vines on the crossing of Quai Hector Malot and Rue du Grenier à Sel.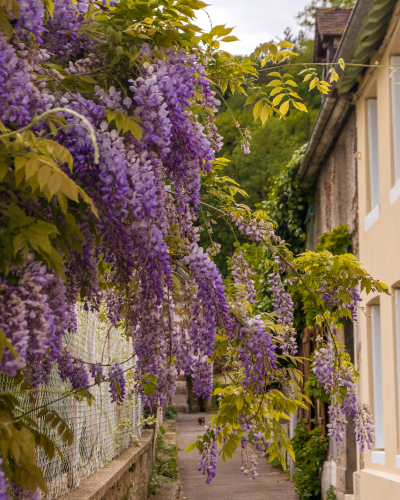 Parking in La Bouille is free of charge and you can park your car at any parking spot in the village. We parked our car along Quai Hector Malot.
Saint-Saëns
Driving an hour up north will get you to the village of Saint-Saëns. To be honest, Saint-Saëns was our least favorite place we visited during our Seine Valley road trip. It's pretty, but not as immersive as the other villages we've visited. The most picturesque part of the village is Rue des Tanneurs, a street that runs along the Varenne river. You can spot different kinds of fish in the crystal clear water of the Varenne river. Parking in Saint-Saëns is free. We parked our car at Place Maintenon, the square on which Église de Saint-Saëns is located.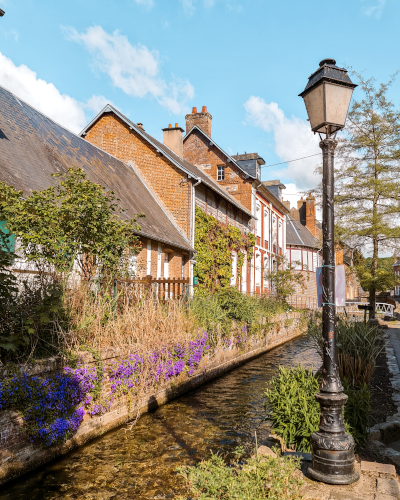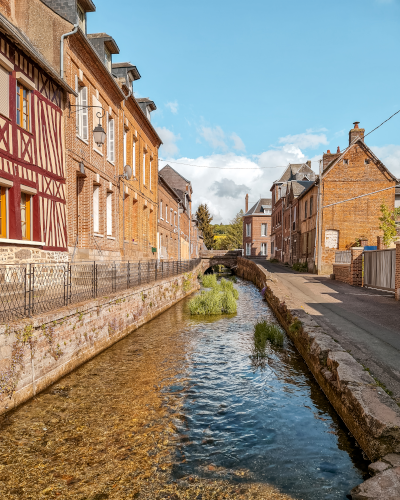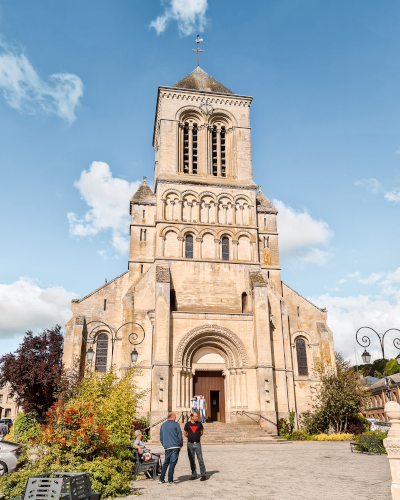 If you ask us, we'd say skip Saint-Saëns and visit Abbaye de Jumièges instead. We didn't have time to visit Abbaye de Jumièges but the abbey ruin looks like it's much more worth visiting than Saint-Saëns. From La Bouille, Abbaye de Jumièges is only a 40-minute drive.
Where to Stay in the Seine Valley
During our road trip, we chose Rouen as our base and stayed there for 3 nights. All places and villages that we've visited are less than a one-hour drive from Rouen and from each other. Besides the location, Rouen is also a great base for this road trip because of the many restaurants. We had dinner in Rouen every night and there were a lot of places to choose from. We often also started the day with breakfast in Rouen. In the smaller villages there are simply less restaurant options and some might be closed on specific days.
We stayed in Ibis Rouen Centre Champs-de-Mars which is located just outside of the city center of Rouen. This Ibis hotel offers reasonably priced parking spaces in their underground parking garage and is closely located to N and D-roads, which makes it the perfect place to stay during a road trip. From the hotel it's only a 15-minute walk to Notre-Dame de Rouen in the heart of the city center.
Click here to book a room in Ibis Rouen Centre Champs-de-Mars.
This road trip through the Seine Valley was one of our favorite short road trips so far. There are simply so many beautiful places to discover in the Seine Valley. We hope we've inspired you to visit this beautiful area of France. Is the Seine Valley on your travel bucket list? Let us know in the comments below!
Be sure to check out:
The Best Things To Do and See in Rouen
The Most Instagrammable Places in Paris
Visiting Monet's House and Gardens in Giverny
How To Get Close To the Pink Lakes in the South of France