The Prettiest Places to Visit in Provence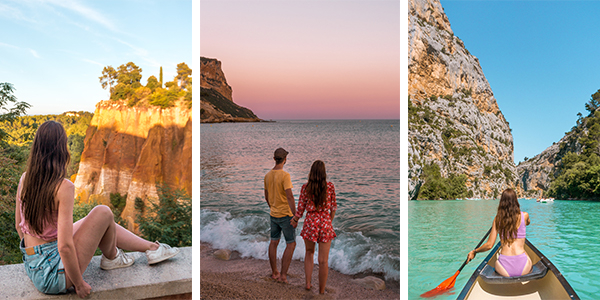 The Provence region in the Southeast of France is well-known for its picturesque villages and stunning lavender fields. During our time in Provence in the summer of 2020, we tried to visit as many pretty places as possible. Read on to find out about the prettiest in Provence!
Verdon Gorge
The Verdon Gorge, or Gorges du Verdon in French, is a 25 km long river canyon near the village of Moustiers-Sainte-Marie. The nature of the Verdon Gorge is absolutely beautiful with turquoise-green waters and limestone cliffs. There are multiple hiking routes along the gorge, but what we really loved doing here was kayaking on the river. Renting a canoe or kayak and seeing the beautiful nature of Verdon Gorge is a must do! When it's summer and the weather allows for it, you can even go for a swim (so don't forget to bring your swimsuit). There are multiple kayak and canoe rental companies located at the beach near Pont du Galetas. From there, you can paddle into the gorge and witness all its beauty. If you're visiting in the summer months, make sure to go early as parking spaces fill up quickly and boats run out fast. When we got there around 9.30 there were long lines at the rental companies. We were very lucky as we got the last boat. If there aren't any boats available, you'll have to wait until someone returns a boat.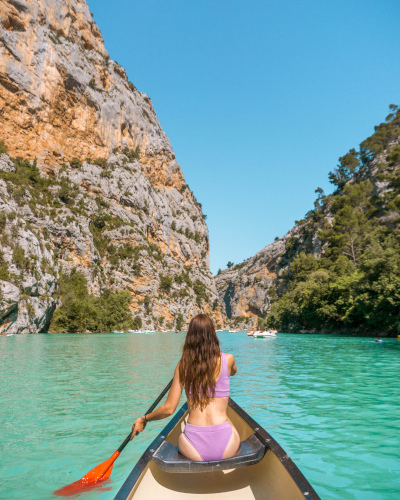 We're not sure anymore, but we believe that this is the company we rented a kayak from. You can check their website for more information. At the time of writing this blog post, online booking is disabled. We assume that it's because the rental company is currently closed. Before visiting the Verdon Gorge, we would recommend checking whether it's possible to book a kayak or canoe online. If it is, book it in advance as this will save you a lot of time waiting (especially in July and August).
Renting a kayak or canoe is possible from April to November and a two seater kayak is around €25. We were provided with a pretty large waterproof container which is perfect to safely store your valuable stuff in.
Click here for the location of the boat rental companies near Pont de Galetas.
Moustiers-Sainte-Marie
Moustiers-Sainte-Marie is considered one of the most beautiful villages in France and we can totally agree with that. The tiny village with 625 inhabitants attracts a lot of tourists from all around the world. One of the main reasons for this is the Notre-Dame de Beauvoir Chapel, which is built inside a cliff between two large rock formations. The climb up to visit the chapel takes 15 to 20 minutes. As it didn't sound compelling to us in the hot summer sun after a morning of kayaking, we stayed in the village. If you look closely between the two rock formations, you will notice something reflecting in the sun: a star. There are many legends about the origin of the star, but none have been verified. Until this day, the meaning and origin of the star remains a mystery. It's quite unique to see a star shining bright in the middle of the day.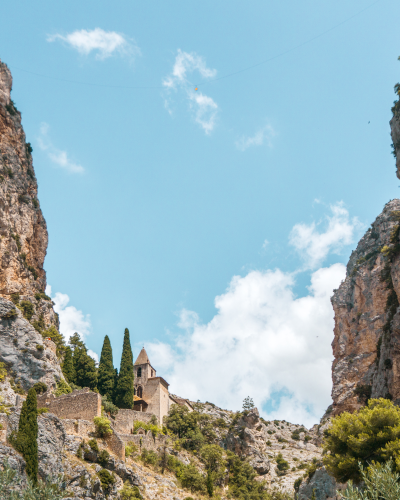 We loved wandering around the village and seeing all its beauty. The colorful buildings against the rock formations and all the greenery are a pleasure to the eye. If you ask us, you can't miss visiting Moustiers-Sainte-Marie during your trip to Provence!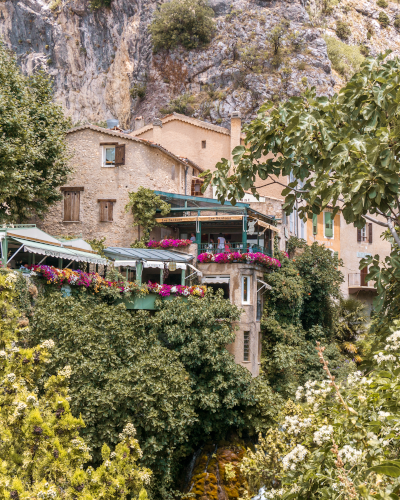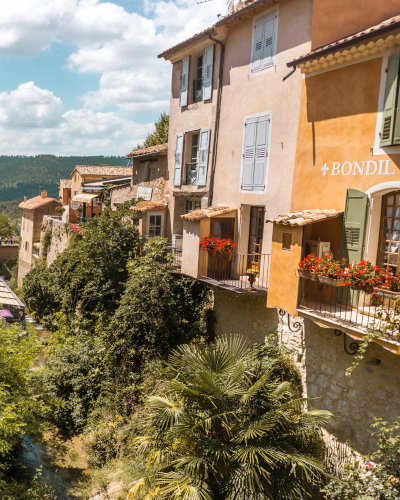 Moustiers-Sainte-Marie is only a 15-minute drive from Verdon Gorge, which makes combining both places on the same day a great idea. We spent the morning at the Gorge and headed to Moustiers-Sainte-Marie for lunch and explored the village in the afternoon. Beware that the village gets flooded with tourists in the afternoon so it might feel packed. We loved exploring the tiny streets a little higher up in the village, away from the crowds. If you want to have the village to yourself, consider visiting early in the morning or staying the night. What a dream it would be to wake up in this stunning village!
Click here for accommodation in Moustiers-Sainte-Marie.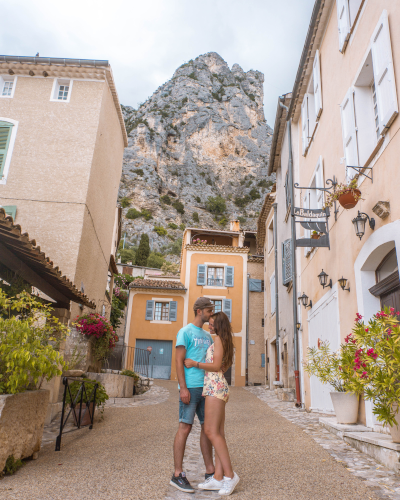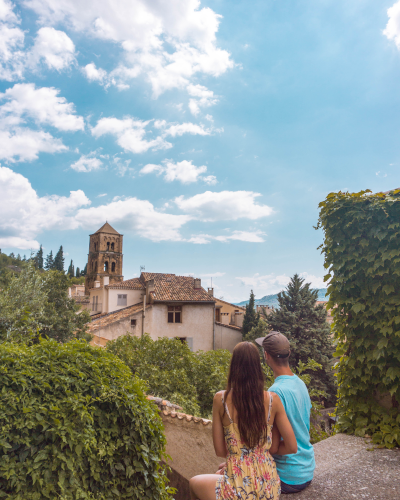 Because the village is so tiny, it's not possible to get inside the village by car. There's a large (free) parking space located just outside of Moustiers-Sainte-Marie. From there, it's a 10-minute uphill walk to get into the village. We didn't have trouble finding a spot, even though we visited during peak hours. Click here for the location of the parking space.
Riez
Riez is the oldest village in the Alpes-de-Haute-Provence department. The village dates back to the first century and you can still find ruins from the Roman Empire as well as from the Renaissance period in the village. When we visited, most of the cafés and restaurants were closed because of the break time between lunch and dinner, which is very common in France. Therefore, the village felt a bit empty and not as lively as other places we've been to. What we loved most about Riez we're all the colorful buildings. It's also not that touristy, which is great. We explored the streets of Riez for a while looking for pretty photo spots. Riez is a nice village to visit, but you don't have to spend much time there. In less than an hour, you've seen the entire village and taken all the photos you'd want.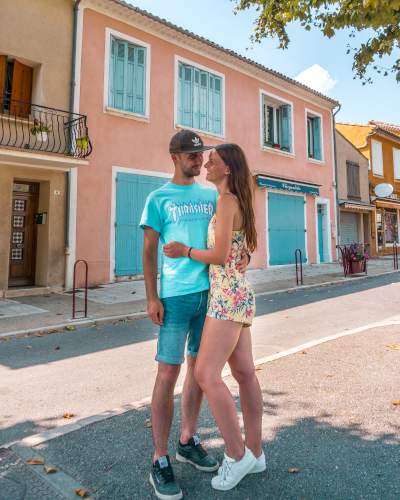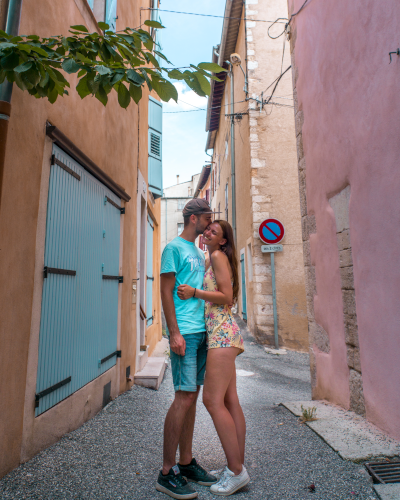 Puimoisson
With 759 inhabitants, Puimoisson is another tiny village in Provence. We wandered the streets of the village for a while and stumbled upon a beautiful viewpoint overlooking the lavender fields. For us, this was the main sightseeing spot in Puimoisson. Puimoisson is even less lively compared to Riez and as it's so small, you've seen it all in a short period of time. The village is picturesque, but there just isn't much to do. The viewpoint is worth stopping by though.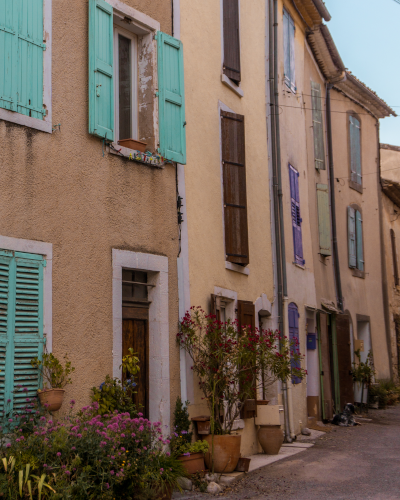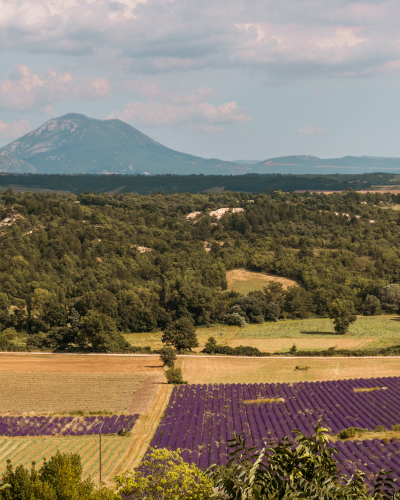 Lourmarin
Another village in Provence that's considered to be one of the most beautiful villages in France is Lourmarin. Lourmarin is characterized by the many boutiques and stores. If you want to buy some authentic souvenirs, there's plenty of choice here. We loved wandering the streets of Lourmarin and it feels like a very lively village. Definitely a place you can't miss visiting in Provence.
Be aware that it's not possible to drive into the village. There are multiple parking spaces available just outside of the village. We parked our car here, right next to the road. Parking there is free and it's a short walk to the village.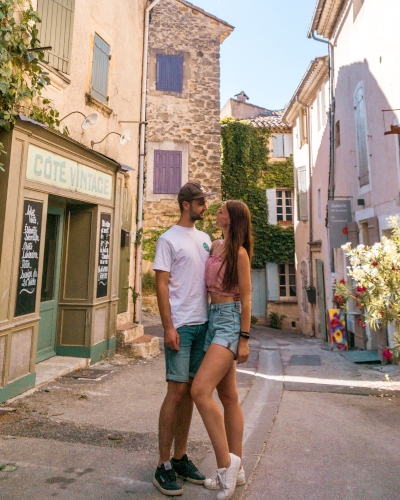 Roussillon
Roussillon is also on the list of the most beautiful villages in France. Roussillon is surrounded by bright orange ochre mountains. We had never seen anything like that before! It's still not precisely known why the geological changes caused the color of the pigment here and not anywhere else in the region. From the 18th century, the ochre was mined and the pigment was used to color houses, but also in cheese rinds, kraft paper and cosmetics products. Nowadays, mining of the pigments has mostly ceased. You can hike through the ochre landscape and visit the former mines. We opted to admire the ochre landscape from the village of Roussillon.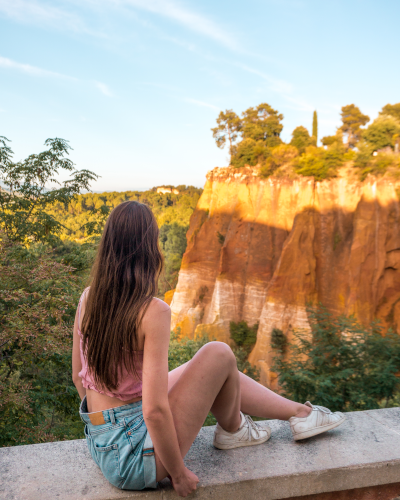 Wandering through the streets of Roussillon you can clearly see the effects of the ochre pigment in all the buildings. While the entire region is covered in yellow and orange colored buildings, the color of the buildings in Roussillon is of a deeper shade of orange. The village attracts lots of tourists and is therefore very lively. We had our first lavender ice cream here, a must-try when you're in Provence.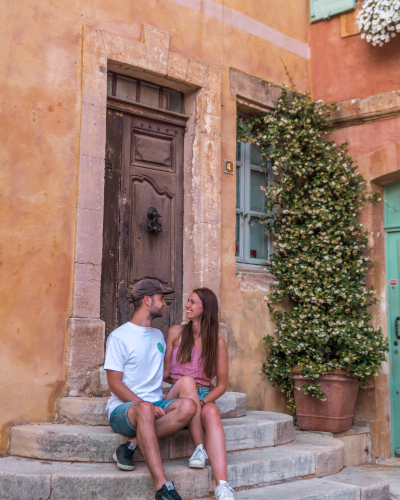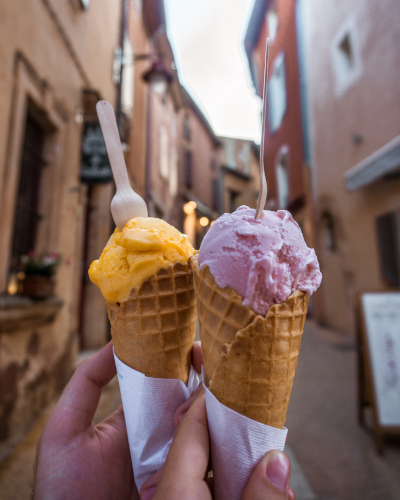 It was a little harder to find parking spaces in Roussillon. As we were visiting in the evening, there were plenty of free spaces but we can imagine that all the spots get filled easily during the day. This is where we parked. Parking here is not free. There's another parking space a little more south.
Gordes
Gordes is the last village in this list that's considered one of the most beautiful villages in France. When driving into the village, make sure to take the D15 route for the best views. There's also a view point with parking spaces along the way that you have to check out. It can be crowded so you might have to wait for a spot.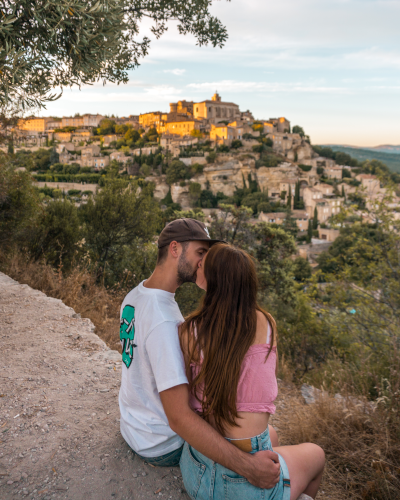 Unfortunately, we didn't explore the village itself but only visited the viewpoint. From photos we can tell it's worth it to wander through the village as well. We will make sure to do that next time we're in the area.
By the way, it's worth checking out the list of the most beautiful villages in France (Les Plus Beaux Villages de France). The list contains 159 villages and they are all beautiful in their own way and probably worth visiting. There are some more villages on the list that are located in Provence.
Sénanque Abbey
The Sénanque Abbey is located at only a 10-minute drive from the Gordes viewpoint. There's a lavender field in front of the Abbey which starts blooming from the beginning of July. We were very lucky to witness the lavender in full bloom in the second week of July as it was a stunning sight. If you want to take photos here and beat the crowds, consider going here early in the morning or at sunset. We went at sunset and had the entire place to ourselves.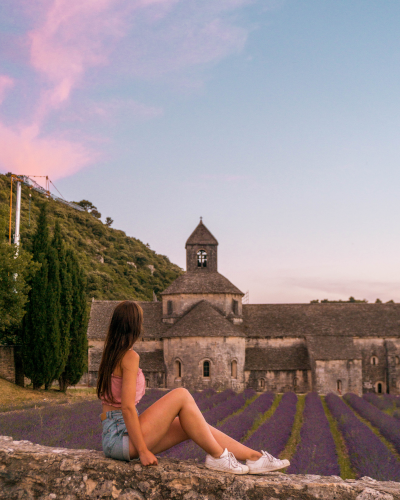 Besides taking photos at this beautiful Abbey, it's also possible to visit it. During specific hours, you can take a guided tour that lasts one hour. As we visited the Abbey in the evening, it was already closed to the public so we didn't do the tour ourselves.
Tour timetable:
Mondays to Saturdays: 10:30, 13:30, 15:00, 16:30
Sundays: 13:45, 15:00, 16:30
Price: €8,50
It's recommended to buy tickets online, which you can do on this website.
Lavender Fields
One of the things the Provence is famous for are its lavender fields. During lavender season, you can find them all throughout the region. In general, the lavender fields bloom from Mid-June to the end of July, and some fields even last until Mid-August. Check out our lavender fields blog post for more detailed information about where to find the best lavender fields in Provence and the exact blooming times:
The Best Lavender Fields in Provence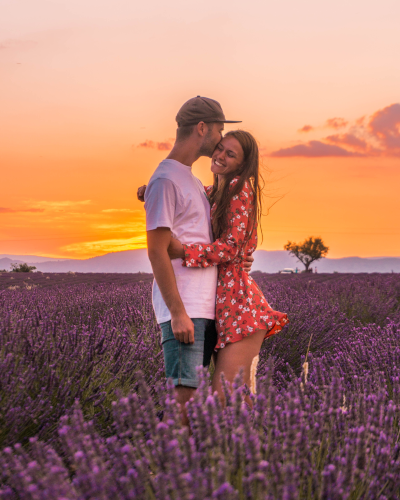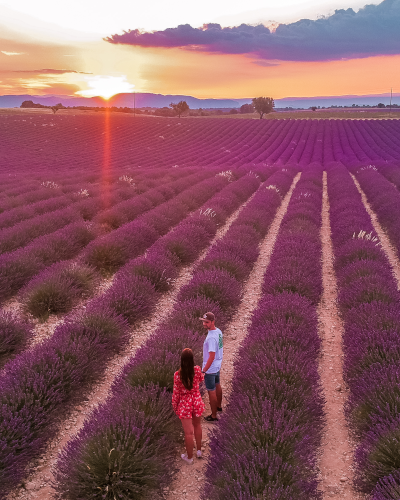 Sunflower Fields
While driving through France in summer, you'll stumble upon many sunflower fields all around the country. They can't be missed. Sunflowers generally bloom from late June until the end of July. While driving through the Valensole Plateau looking for the most beautiful lavender fields, we stumbled upon this beautiful sunflower field with an authentic French house in the background. A perfect photo spot, don't you agree?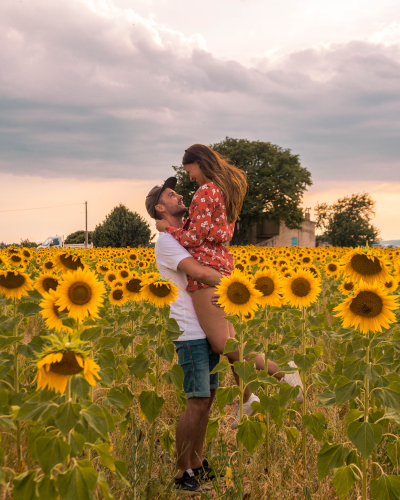 When driving to the pink salt lakes in the very south of Provence, we stumbled upon this huge never-ending sunflower field. We had to make a stop here to check it out. It was definitely the largest sunflower field we had ever seen.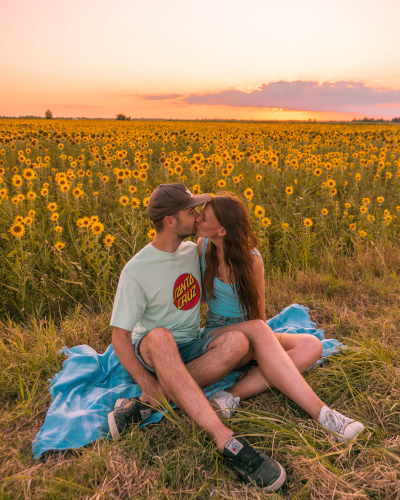 Pink salt lakes at Salin de Giraud
One of the reasons for us to visit Provence and the South of France was because of the pink salt lakes. Every summer, the salt pans turn pink because of a specific type of algae living in the water. To protect themselves from the sun, the algae synthesize beta-carotene, which is a substance that makes the water turn pink. It's amazing to see how bright pink the water is. It can be a bit hard to get close to the pink lakes yourselves, as some areas are monitored by security or simply aren't accessible. We wrote an in-depth blog post on how to get close to the pink lakes without a tour. We recommend checking it out if you want to see this amazing phenomenon with your own eyes.
How To Get Close To the Pink Lakes in the South of France (Without a Tour)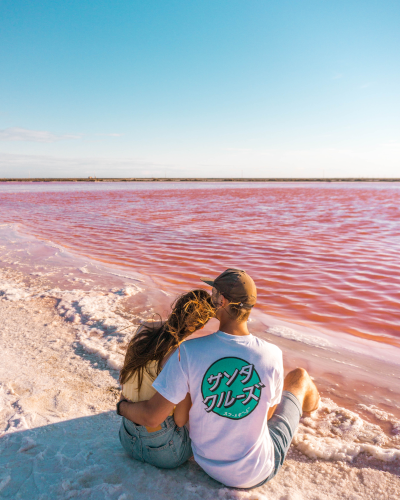 Cassis
Cassis is a very pretty village on the French coast. It's a nice place to visit for a few hours, or to have a beach day. There are multiple beaches in and around Cassis that fill up very quickly in summer. Surrounding the harbor there are many restaurants with outdoor seating areas that are all giving the best European summer vibes. We spent an evening in the village, wandering around, exploring the nearby nature and watching the sky turn pink during sunset (you can't see the sun actually set from Cassis). We fell in love with this village and we will definitely consider staying there next time we're in the South of France.
Parking in Cassis is not free. We parked our car here, but there are signs that lead you to available parking spaces while driving into the village.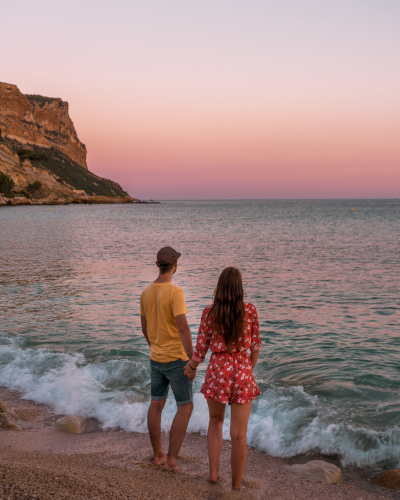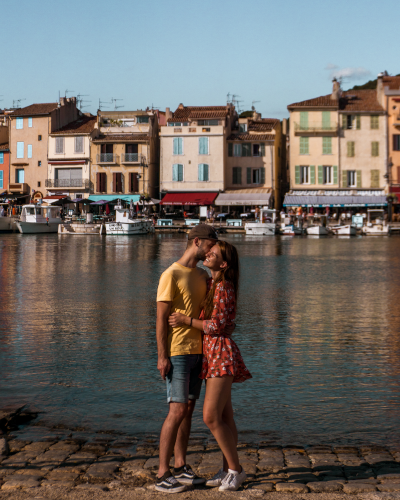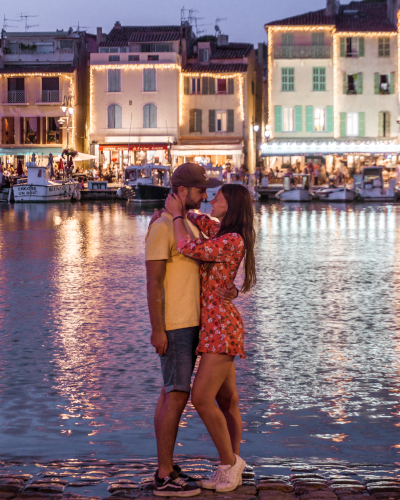 National Park Calanques
The nature in the National Park Calanques is characterized by white cliffs with lots of greenery and stunning clear azure blue waters. The Park is huge and all Calanques have their own names. In the area you can hike, go on boat trips or lay down at the beach. During our visit in Cassis we hiked to the nearby Calanque de Port Miou to witness the nature there. The hike from Cassis to Calanque d'En Vau took us 45 minutes with photo spots at rock beaches along the way. As we were short on time, we didn't spend much time in the Calanque itself. It would have been amazing to see the beaches there and to go on a boat trip around the Calanques, but we have to save that for next time.
There are parking spaces available near most Calanques. We parked our car in Cassis and hiked to Calanque de Port Miou.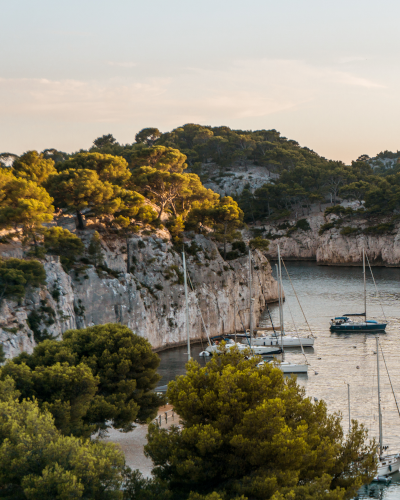 Marseille
Marseille is the capital city of the region Provence-Alpes-Côte d'Azur. It's the second largest city of France, after Paris, so of course it's not like any of the small villages in the region at all. We love large cities, and Marseille didn't disappoint us. The city center offers a huge variety of clothing stores, which makes for a great shopping day. We loved wandering around the area of Vieux-Port (old harbor), which also happened to be a great place for dinner. We had a lovely day in Marseille and can absolutely recommend going here if you're in the area.
Parking in Marseille obviously isn't free. We parked our car in a Q-Park garage just outside of the shopping area. Parking is also available inside the shopping area, but the rates are higher. Marseille also offers park and ride options outside of the city center, but we didn't check those out.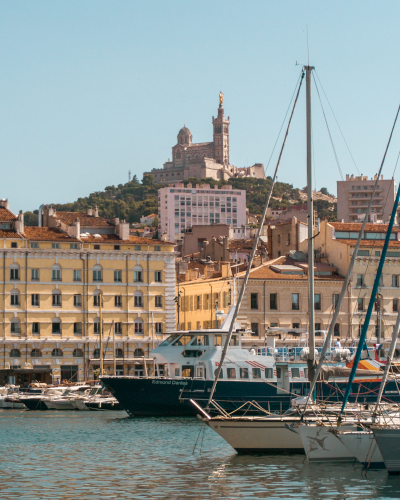 How long to stay in Provence
You can easily spend a week in Provence without being bored at all. If you want to take it slow and spend some time at the beach (or at the pool), we suggest staying 10 to 14 days. If you want to visit all the places we've listed above, you would need a week.
Verdon Gorge, Moustiers-Sainte-Marie, Riez and Puimoisson are all located close to each other. We combined visiting these places together with visiting the lavender and sunflower fields in the Valensole Plateau in one day. It was a very long and exhausting day so it's probably a better idea to spread it out over two days. For instance, visiting Verdon Gorge in the morning and Moustiers-Sainte-Marie in the afternoon on the first day and Riez, Puimoisson and the lavender and sunflower fields on the second day.
Lourmarin, Roussillon, Gordes and Sénanque Abbey are all located close to each other. You can easily visit these places in one day. If you want to do a tour in the Sénanque Abbey, make sure to plan your schedule around the tour times.
You can spend a part of a day or a few days in the National Park Calanques, depending on how much you want to see there. Cassis is a perfect place for a beach day. If you don't want to spend a day on the beach (or if you're not visiting in summer), you only need a few hours in Cassis. You can easily combine Cassis with a visit to Calanques de Port Miou as it's only a 30-minute walk from one place to the other.
We visited the pink salt lakes at Salin de Giraud in the evening, which was perfect. You don't need more than two hours for that, depending on how many photos you want to take there.
If you want to do some shopping and just casually walk around, one day in Marseille is enough. If you want to do a lot of sightseeing, you might want to consider staying a few more days in Marseille.
Where to stay in Provence
Aix-en-Provence
We think that staying in Aix-en-Provence is the best option if you want to visit all the places mentioned above. Aix-en-Provence is centrally located between all these places. Aix-en-Provence is a lively city at night with many restaurants, which makes it a great place for having dinner after a day of exploring. Most shops are also open in the (beginning of the) evening.
Click here for accommodation in Aix-en-Provence.
Villages in Provence
If you want to stay in a small authentic village in Provence, consider staying in Moustiers-Sainte-Marie, Lourmarin, Roussillon or Gordes. As these are among the most touristic villages in the region, they become very crowded during the day especially in summer. If you're staying in one of these villages, you can beat the crowds early in the morning or at night. Because these villages attract many tourists, they are also more lively than other villages with lots of restaurants and boutique shops. Downside of staying in any of these villages is that you're further away from the coast.
Click here for accommodation in Moustiers-Sainte-Marie, Lourmarin, Roussillon and Gordes.
Cassis
If you want to stay at the coast, Cassis is a great option. Cassis is also very conveniently located to the National Park Calanques which makes it a perfect place to stay if you want to explore different Calanques. Cassis is a very lively village with lots of restaurants, but it can get very crowded during summer. The downside is that it can take up to 2 hours to get to Moustiers-Sainte-Marie and the Verdon Gorge. It's a 1,5-hour drive from Cassis to Gordes, so it might not be the best place to stay if you want to spend a lot of time in those areas.
Click here for accommodation in Cassis.
Is visiting the Provence region in France on your travel bucket list? Let us know in the comments below!
Be sure to check out:
The Best Lavender Fields in Provence
How To Get Close To the Pink Lakes in the South of France (Without a Tour)
Camping in South West France: A Summer Getaway in Montalivet-les-Bains