The Best Places to Visit on the Algarve Coast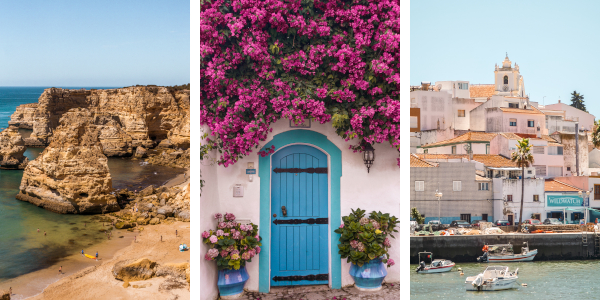 The sun soaked Algarve Coast in southern Portugal is a popular destination attracting thousands of tourists every year. The nature of the coastline is impressive with rugged rock formations and tall cliffs. Perched between the tall rocks and cliffs, you'll find plenty of golden sand beaches that are perfect for sunbathing in summer. Besides the beautiful nature and beaches, the Algarve Coast is home to many picturesque towns and villages too. In this blog, we're sharing the most beautiful nature places, such as Praia da Marinha and Benagil Cave, as well as the most charming villages and towns, including Lagos, Ferragudo, Burgau and Sagres.
Praia da Marinha
Praia da Marina is often hailed as one of the most beautiful beaches in the world, and we can definitely see why. The beach is surrounded by towering limestone cliffs that have been sculpted by the waves over millions of years. These cliffs not only protect the beach, but also create a breathtaking backdrop. The golden beach of Praia da Marinha is complemented by the bright blue Atlantic Ocean, which is very inviting to dive in on a hot summer's day. Don't forget to bring your swimwear if you're visiting in summer, because you'll need it to cool down!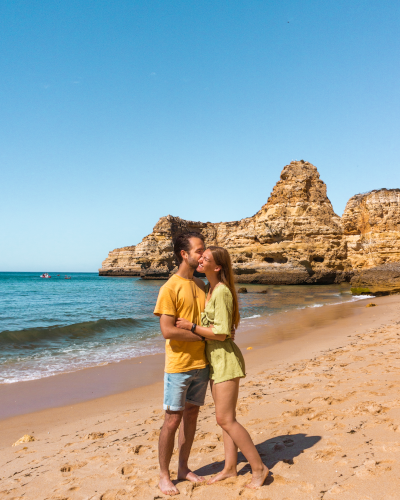 Somehow, we had a hard time finding the path down to the beach. It might have been because we were mesmerized by the beautiful views from the top of the beach. When walking towards the sea from the parking lot, you're probably immediately drawn to a viewpoint a little to your right which offers a beautiful view of the rock formations on the west side of the beach. However, the path down to the beach is to your left, when facing the sea. Just walk down the path and down the stairs until you reach the east side of the beach. From there you can walk all the way to the west to get to the part of the beach with the rock formations backdrop. During high tide, you might have to walk through the sea for a bit to reach the west side of the beach.
Like many other beaches on the Algarve Coast, there aren't many amenities. However, there is a snackbar just when you get off the stairs down at the beach. During the high season there are stalls offering snacks and ice cream near the parking lot.
A major downside of Praia da Marinha is the limited parking space. We arrived there in the morning (around 09:30) on a warm day in the beginning of July and we were able to get a space, but the parking lot isn't big at all and the spaces fill up quickly. Especially considering the size of the beach, parking is very limited. There are bus lines that connect Praia da Marinha to nearby places, such as Lagoa, but buses don't drive regularly. You can check this website for the bus schedules. You either have to get to Praia da Marinha early in the morning (not later than 10:00!) or you can get there by taxi or Uber. If you go for the last option, be aware that you're not the only one in the afternoon that needs a taxi or Uber. It might be harder to find a ride to get you out of Praia da Marina and prices will surge. If you want to avoid that, you can consider going back earlier (around 15:00) or later (around 19:00). The police also often block the road to Praia da Marinha in the afternoon due to crowds and unavailable parking space, so be aware of that too.
Remember that mesmerizing viewpoint overlooking the rock formations of Praia da Marinha when walking from the parking lot towards the sea? That viewpoint is actually the starting point of the Seven Hanging Valleys Trail, which is a 6 km trail from Praia da Marinha all the way to Praia de Vale Centianes, passing Praia de Benagil, Praia do Carvalho Beach and Alfanzina Lighthouse. We didn't do the entire trail, but we did do the part from Praia da Marinha to Praia de Benagil, which is only approximately 2 km long. The trail offers incredible views along the way overlooking the rock formations of the coast. You'll even walk past the top hole of the Benagil Cave, but that doesn't look very impressive from above as it's just a hole in the ground.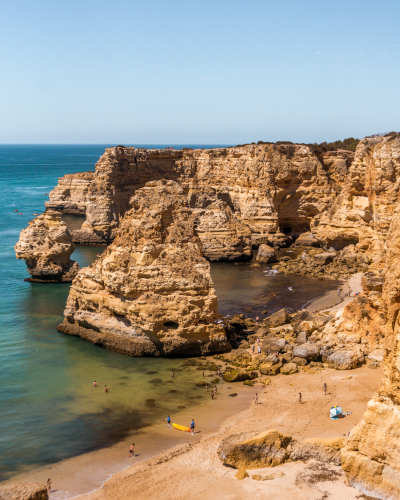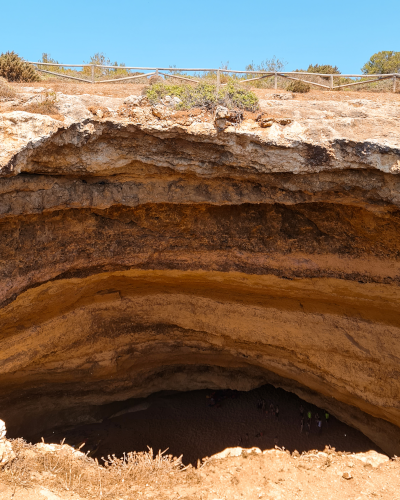 The trail itself isn't hard, but we started our hike at noon and didn't bring enough water. As it was 35 degrees Celsius with no shade, this was very challenging. We would highly recommend not to do this hike around noon in summer and to always bring plenty of water. Don't forget to bring a hat too, otherwise it will feel like the sun is cooking your brain.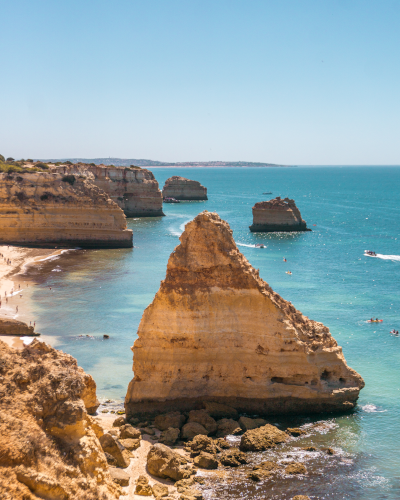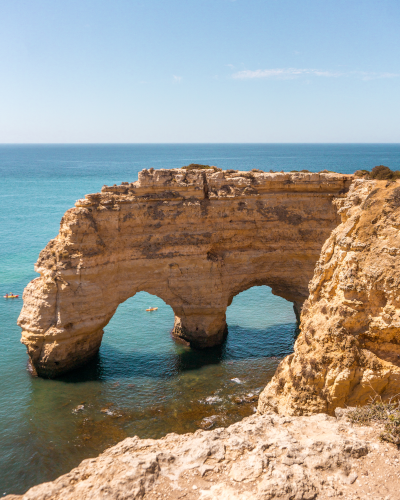 Benagil
Benagil is a coastal town with a small stretch of beach and a few restaurants. We visited Benagil on two occasions: during our hike from Praia da Marinha to Benagil and another day in the morning to rent a kayak. We wouldn't recommend Benagil for a beach day. Half of the beach is filled with kayaks and kayak rental companies, so there's even less space left on the already small beach to put down your towel. However, Benagil is a great place to rent a kayak or go on a kayak, sup or even boat tour.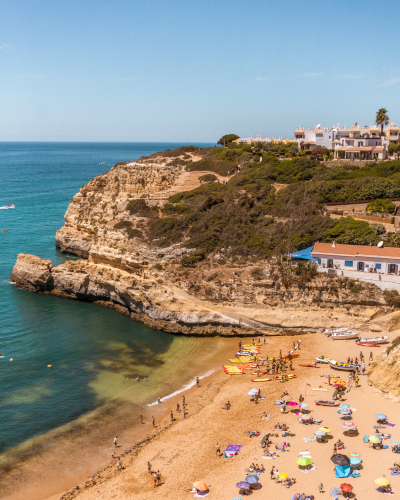 Benagil is mostly famous for the Benagil Cave or Algar de Benagil in Portugese. The only way to get to the cave is from the water. You can either rent a kayak or sup or go on a kayak, sup or boat tour from the beach of Benagil. Be aware that boats are not allowed to embark in the cave. If you want to take photos inside the cave, you have to go by kayak or sup. We rented a kayak for the two of us and paddled to the cave ourselves, without a tour. This way you are completely independent and can stay inside the cave as short or as long as you'd like. We took our time there to admire the natural wonder of the cave (and of course we took plenty of photos). It's not everyday that you're inside a cave with natural lighting from the hole on top of the cave.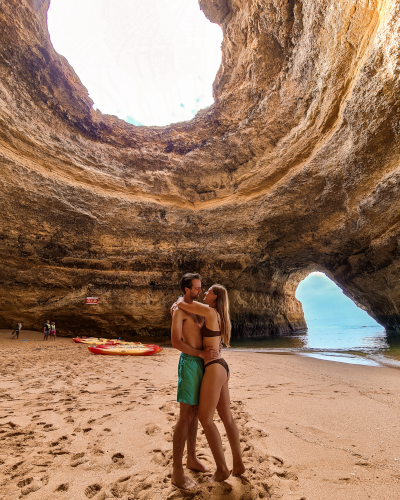 Once we were done admiring the Benagil Cave, we paddled back to the outside world and headed east. Before we even realized it, we reached the rock formations of Praia da Marinha. A few days before, we walked the trail from Praia da Marinha to Benagil so we knew it wasn't that far but with a kayak it's even quicker. It took us around 20 minutes to get there. We didn't expect we could paddle all the way to Praia da Marinha so it was a nice surprise to admire the rock formations from the water and even paddle through them. Overall, kayaking from Benagil to Praia da Marinha and stepping inside the Benagil Cave was a great experience and we can highly recommend it!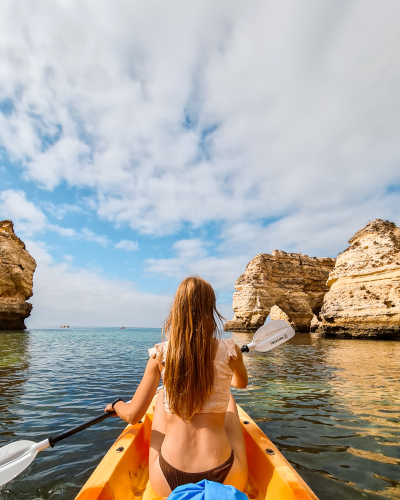 We rented our kayak from Taruga Benagil Tours, which is one of the companies with a stand in front of the beach. We made a reservation for a kayak a few days in advance on their website as we wanted to be sure to have a kayak. However, when we parked our car in Benagil in the morning there were plenty of companies offering us a kayak to rent. If you're planning on going in the morning, we think you don't need to make a reservation in advance.
Back then in the beginning of July 2022, the first time slot for kayak rental on the Taruga Benagil Tours website was 09:30. When we got in the Benagil Cave, there were already a few people inside, but not too many. We could easily take photos without too many people in the background. Nowadays, the first available time slot for kayak rental on the Taruga Benagil Tours website is 07:30. We bet there are even less people that early in the morning. Don't forget to bring a waterproof bag for your stuff and camera gear!
Parking in Benagil is even worse compared to Praia da Marinha. There is only one parking lot with a few parking spots and they fill up very quickly in the morning. We got there at 09:00 and we were able to get a parking spot. When we got back around 11:00, there were no free spots left.
Ferragudo
Ferragudo is an authentic fishermen's village close to the bigger city of Portimão along the Arade River. Ferragudo is often referred to as the most beautiful village of the Algarve Coast, but we don't completely agree. It's a very charming village but we think there is a more beautiful one, but more on that later. Nevertheless, Ferragudo should be on your list of places to visit in the Algarve.
The center of the village surrounds Praça Rainha Dona Leonor, a square with multiple restaurants that don't really look that inviting to eat to us. In the streets surrounding the square, you can find a few shops. If you want to have lunch in Ferragudo, we can recommend Brunch in Rio. They have delicious smoothie and açai bowls, which is one of our favorite things to eat on a warm summer day.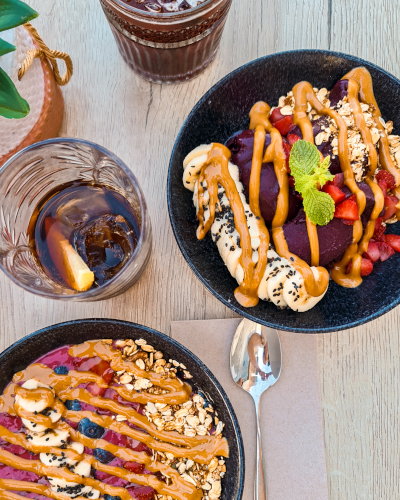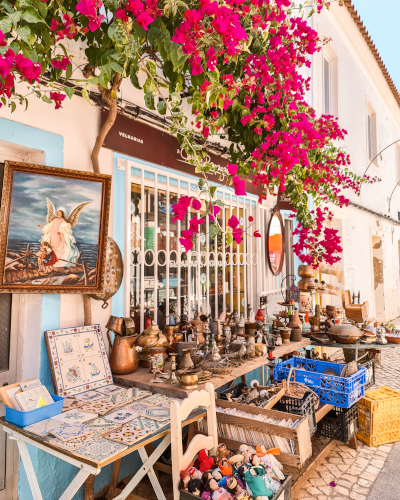 Cross the river from the village center to Rua Infante Dom Henrique. From the other side of the river you'll have a beautiful view of Ferragudo. For an even better view you have to get on the stretch of beach that's filled with fishing boats. The view is so worth it!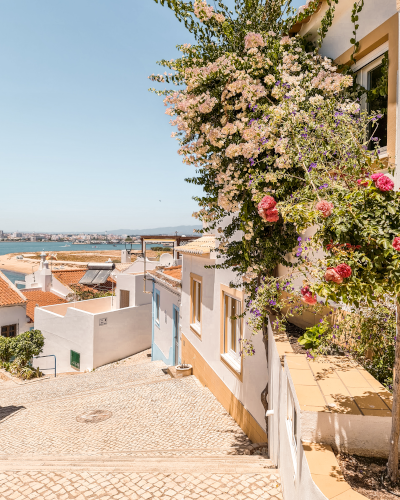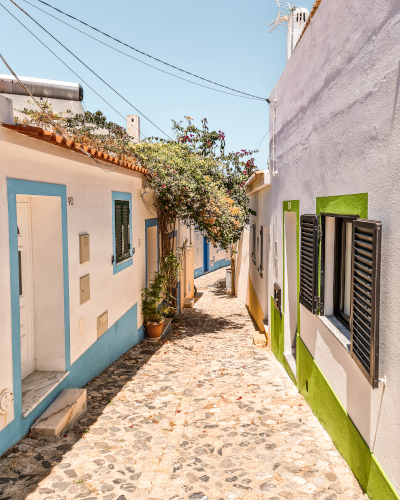 Once you're back in the village center, don't forget to wander through the cobblestone streets between the pretty whitewashed buildings. You can just pick any street to do this and get lost. As Ferragudo is built against a hill, you probably need to climb a bit. During the right season (spring and beginning of summer), there are bougainvilleas everywhere making it even prettier. If you walk all the way up to Igreja de Nossa Senhora da Conceição, you're greeted with a beautiful view of Ferragudo, the river and Portimão.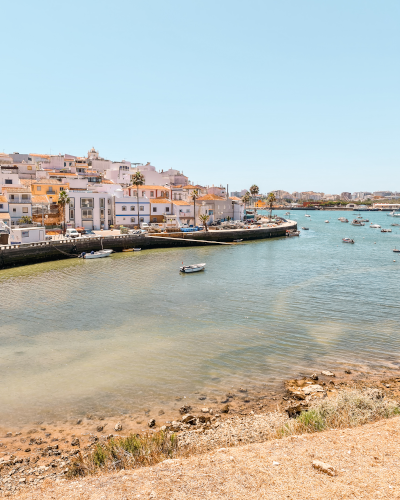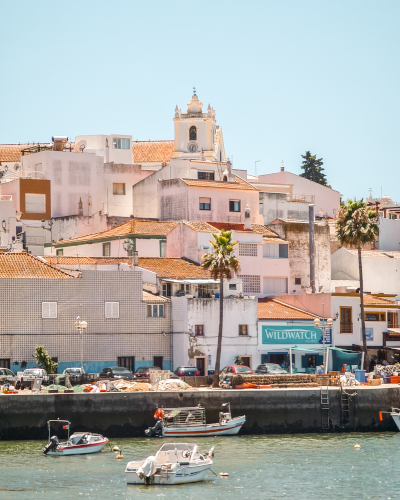 You can also extend your time in Ferragudo and spend some hours at one of the nearby beaches. The beach closest to the village center is Praia da Angrinha which is a big stretch of sand and surprisingly there weren't many people sunbathing when we were there. We parked our car at the parking area near Praia da Angrinha, which is free of charge and there was plenty of parking space available. Praia Grande is an even larger beach near Ferragudo and has a few restaurants on the beach as well.
Lagos
Lagos has it all: historical architecture, golden beaches and mesmerizing rock formations. The Lagos Cliff Walk takes you all the way from the historical city center to Ponta da Piedade, the southernmost point of Lagos overlooking rock formations in the sea. Along the way, you'll walk past the most beautiful beaches of Lagos. Besides that, the historical city center of Lagos has plenty to offer too, from the Castle of Lagos to the Fort of Ponta da Bandeira and the Museum of Lagos. We've listed the best things to do in Lagos in this blog post:
The Best Things To Do in Lagos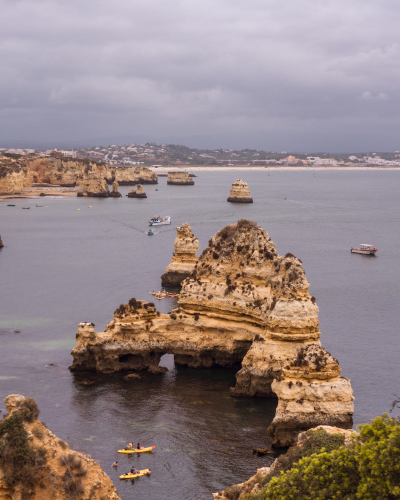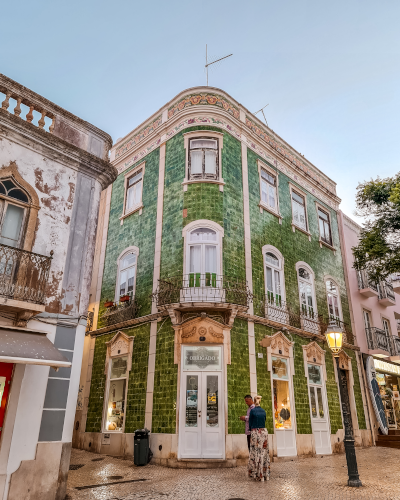 Burgau
While Ferragudo is definitely very pretty, Burgau is, in our opinion, the actual most beautiful village on the Algarve Coast. The village is very tiny but every corner is so picturesque. We would highly recommend wandering through the streets and exploring every inch of the village (which doesn't take that long as the village is so small). You'll stumble upon charming colorful houses adorned with bougainvilleas. We couldn't stop taking photos of all the prettiness.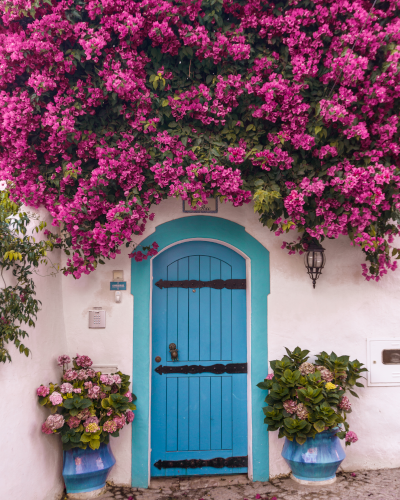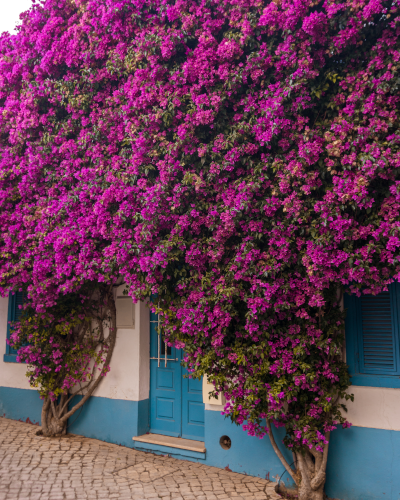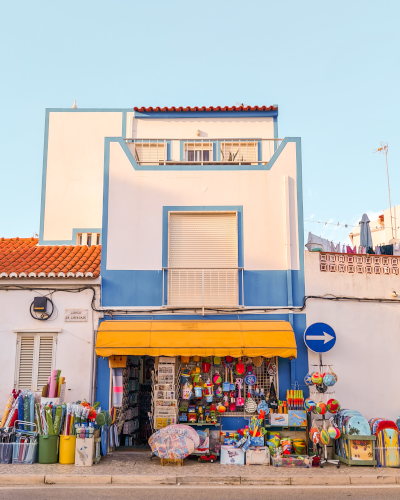 Despite the small size of the village, the beach in Burgau is relatively large. The beach is surrounded by impressive cliffs that look a bit different than most cliffs in the region. There is a beach club where you can rent beds or you can just lay down on your towel for free. As we stayed close to Burgau, we spent quite some time on this beach and it was a pleasant beach that never felt too crowded (in the first week of July).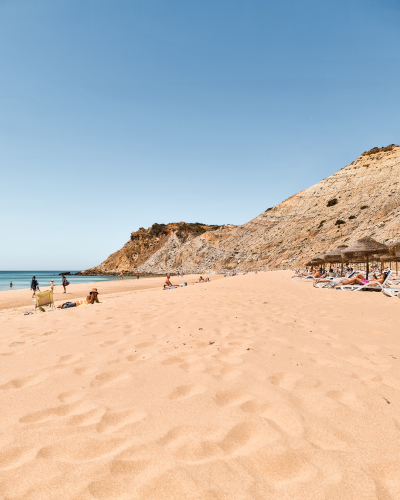 Burgau has a few restaurants and the prettiest one definitely is Miam. Miam blends in with the white and blue surroundings of Burgau so well. The restaurant isn't very big so if you're visiting in high season, you might want to consider making a reservation. We went to Miam twice, once for lunch and once for drinks. The food is good and service is okay. Prices are relatively high for Portugal, but that's the case with more places on the coast.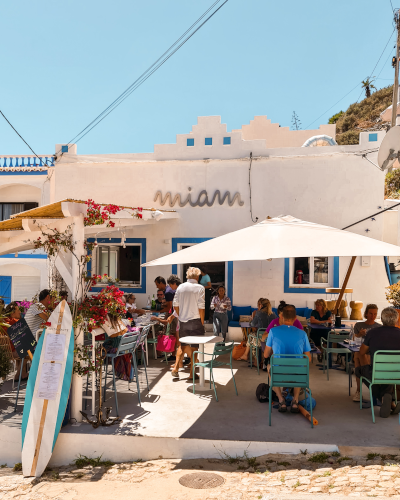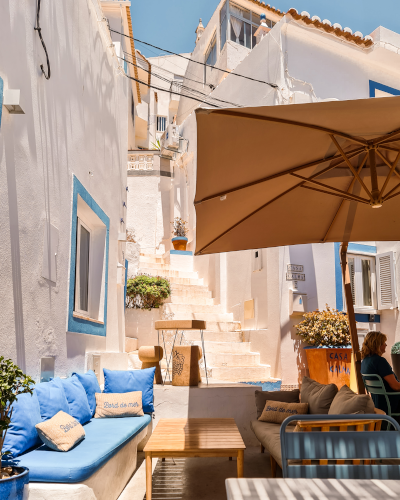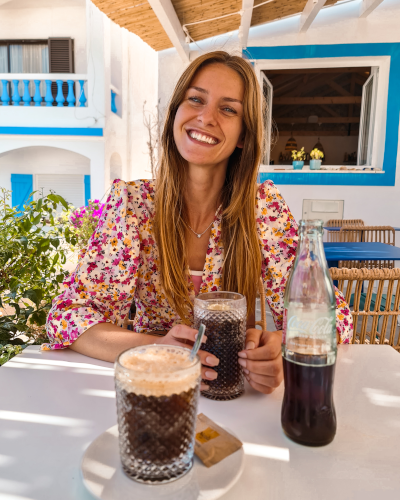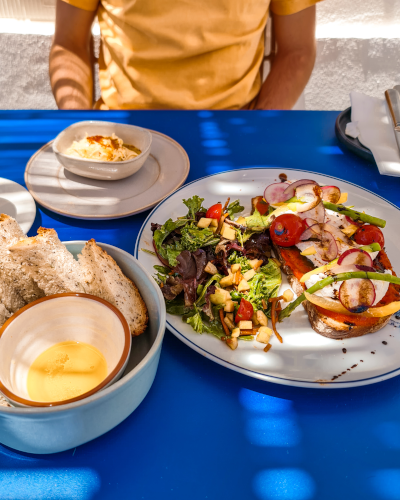 Another place we tried for food in Burgau is O Clube. While O Clube doesn't have an appealing interior we were highly surprised by the quality of the food. We both had a salad for lunch and they were the most delicious salads we had. Judging by the reviews on Google Maps, we weren't the only ones that were pleasantly surprised by the quality of the food. We can highly recommend O Clube for good food.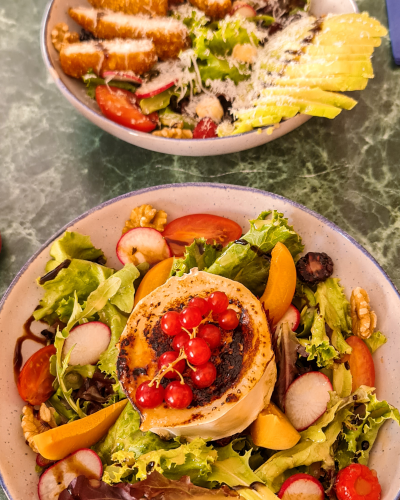 When driving into Burgau, there is a large dirt road parking area at the beginning of the village. During the many times we visited Burgau in the first week of July, there was always plenty of parking space left.
Sagres
Another must-visit on the Algarve Coast is Sagres, a coastal town on the western most point of coast. If you're driving to Sagres by car, we'd highly recommend stopping at the ceramics store Ceramica Paraiso in the nearby village of Raposeira, just 8 minutes away from Sagres. When coming from the east you most probably pass this store already on your way to Sagres. The outer walls of the Ceramica Paraiso are decorated with colorful ceramics, making it a unique photo spot. Make sure to visit the store during opening hours as it's a great place to shop for souvenirs. The ceramics that they sell are reasonably priced and are great to bring home. Don't forget to bring cash as you can't pay by card.
Opening hours of Ceramica Paraiso:
Monday - Saturday: from 10:00 until 19:00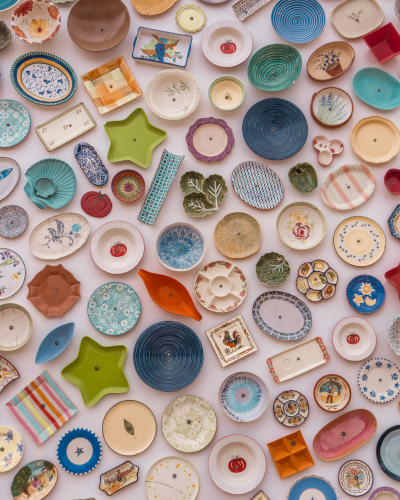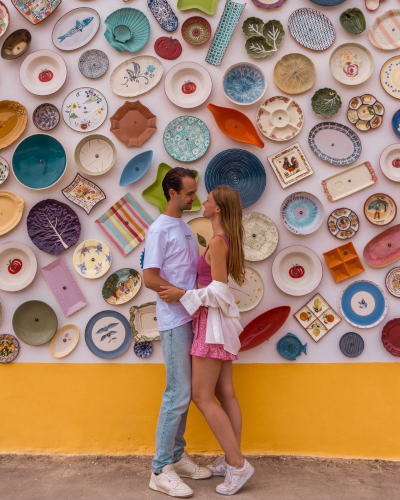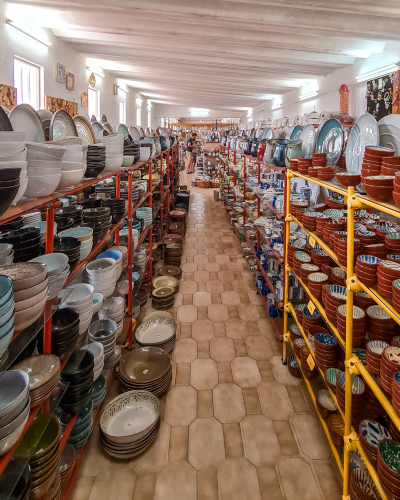 There's also a ceramics store in Sagres with similar ceramics on the outer walls as Ceramica Paraiso. We didn't visit this store so we don't know whether their ceramics collection is just as good as Ceramica Paraiso.
The town of Sagres is lovely with plenty of cafés and restaurants. While in other places on the Algarve Coast it might be hard to find vegetarian and vegan dishes, the options in Sagres are abundant. The beaches in Sagres are great for surfing, resulting in a laid-back surf vibe in the town as well. We loved wandering through the town and soaking in these vibes. Even though we aren't surfers ourselves, there's just something about surf towns we love.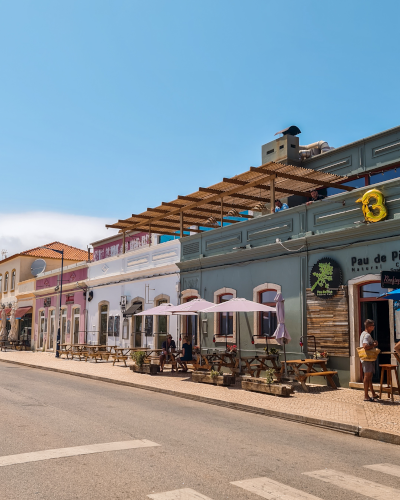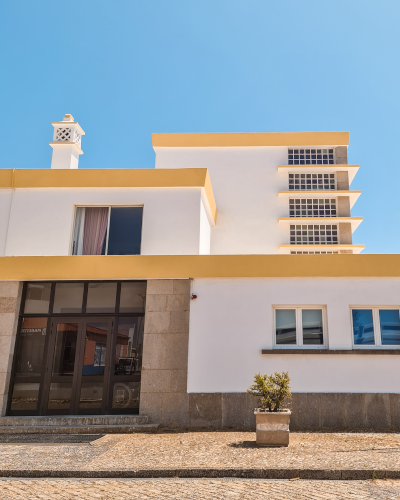 Since we've heard good things about Three Little Birds, we wanted to check it out for ourselves and it didn't disappoint at all! Both the inside and outside seating area is pretty large, so you can usually find a place to sit. We loved their outdoor garden, filled with lots of greenery and oleander. They had lots of delicious food on the menu, making it hard to choose. We went for a salad bowl and a chicken sandwich and it was so good. The service was very friendly and the prices are reasonable, especially compared to the huge portions. We actually wanted to go back for a second time, but unfortunately they are closed on Tuesdays and Wednesdays, which were the only days that fit our planning. However, it's nice that they're open on Mondays as most restaurants in Sagres (and other places on the Algarve Coast) are closed on Mondays. We can highly recommend Three Little Birds. It also looked like a comfortable place to work, but we didn't work there and don't know whether their wifi connection is good enough.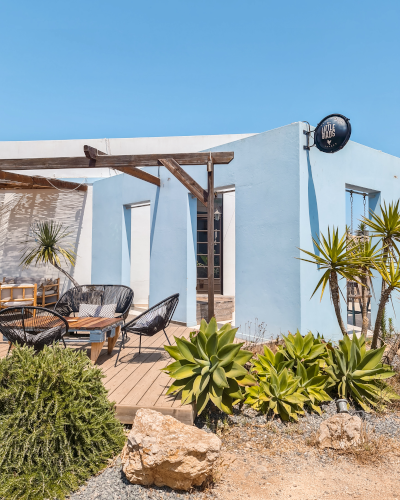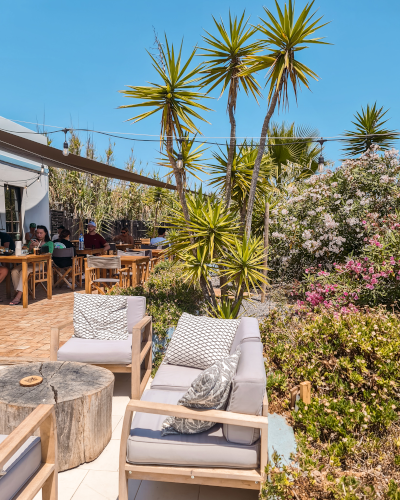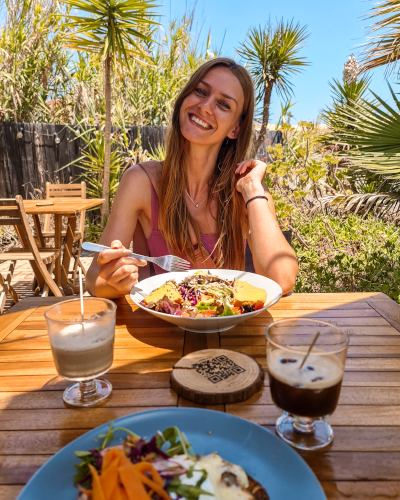 Sagres has multiple large beaches of which most of them are great for surfing too. We walked past Praia da Mareta, which looked like a nice big stretch of beach. There is a beach bar with a restaurant which also offers beach beds for rent. We didn't stay at the beach in Sagres as it was very windy during our visit, making it a bit too chilly to wear swimwear. Every time we checked the weather forecast in the Algarve, it was always 2 or 3 degrees Celsius colder in Sagres compared to Lagos. We think that it's always a bit windier in Sagres due to the position of the town towards the sea. However, we're not entirely sure as it might have been a coincidence with the wind coming from the same direction when we stayed in the Algarve. If you're visiting in the middle of the summer when it's usually very hot, this can actually be an advantage to stay in Sagres. In the first week of July, we thought Sagres was a bit chilly with the strong winds.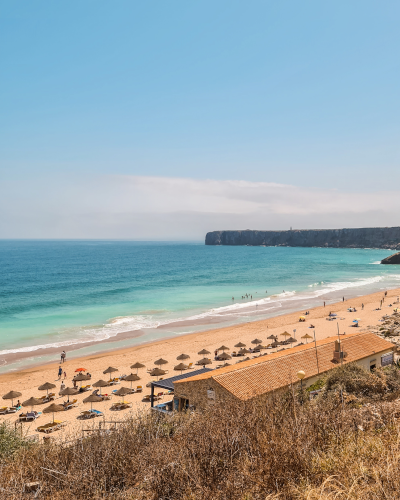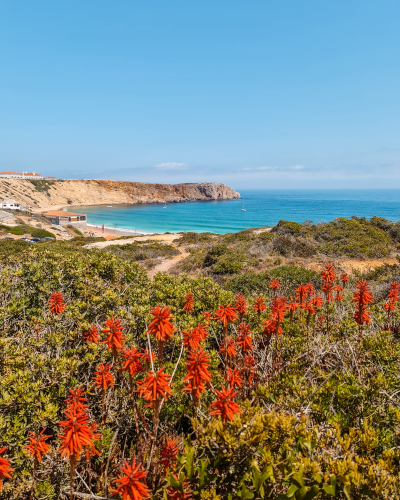 When we visited Sagres, we parked our car near the coastal walk to Fortaleza de Sagres. This car park is free of charge and during our visit there was plenty of free space.
Don't forget to visit Cabo de São Vicente, which is Portugal's most southwestern point. Even though Cabo de São Vicente is very close to Sagres, we wouldn't recommend walking there as it's a 1,5 hour walk from the center of Sagres. The best way to get there is by car. You can park the car near the lighthouse for free. You can walk around the lighthouse and admire the sea views. The lighthouse used to be open for visitors, but unfortunately it's now closed indefinitely. There also is a souvenir shop and a small restaurant. Despite the fact that there isn't much to do at Cabo de São Vicente, it's a very unique location being the most southwestern point in Portugal.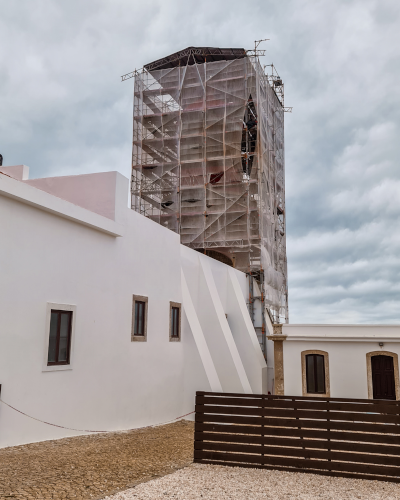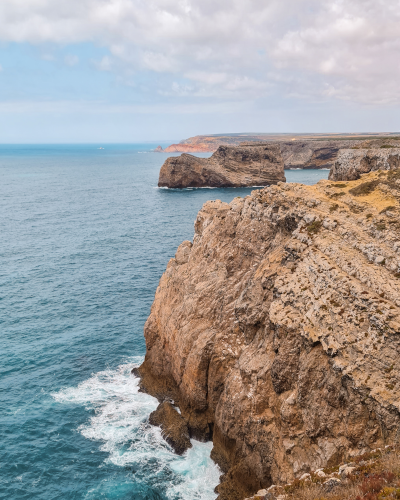 How to get around the Algarve
Lagos and Ferragudo have train stations and there are buses running to Praia da Marinha, Benagil and Sagres, but public transport trains and buses only run a few times a day. The best way to get around the Algarve Coast is by car as you're not dependent on timetables and you can go wherever you want to go. Parking is free of charge almost everywhere. The only place we had to pay for parking was in the city center of Lagos, but parking prices in Lagos are very reasonable and don't exceed €1,20 per hour. As mentioned before, places such as Praia da Marinha and Benagil are extremely popular and only offer limited parking space. To ensure a parking spot we'd recommend visiting these places in the morning.
Where to stay in the Algarve
When you want to visit all the places mentioned above, Lagos would be the most central location. Lagos has a bustling city center with lots of restaurants and stores, so there's plenty of things to do especially during the high season. Furthermore, there are beautiful beaches nearby that aren't just great for sunbathing, but also for photos. However, Lagos is a very popular tourist place which means that it can get very crowded. If you're looking for accommodation in the historic center of Lagos, always make sure to read the reviews. Especially in the high season, some streets are bustling in the middle of the night. We wouldn't want to sleep near a street like that, so keep that in mind.
Click here for accommodation in Lagos.
Our favorite place on the Algarve Coast is Burgau. As Burgau is such a small village, there aren't many places to stay, but if you're lucky you can find a nice place. Burgau has a few nice restaurants and is located next to a pleasant beach, making it a great place to stay. Burgau is only a 20-minute drive from Lagos which means the location is pretty central too.
Click here for accommodation in Burgau.
We stayed in an Airbnb in Salema, another small village on the Algarve Coast. Even though Salema isn't much larger in size than Burgau, there are a bit more accommodation options there. It's not as charming and authentic as Burgau, but the beach is larger and there are a few more restaurants compared to Burgau. Overall, it's a great place to use as a base. Even though the beach in Salema is very nice too, we usually went to the beach in Burgau because we loved the village so much. Luckily, it's only a 10-minute drive from Salema to Burgau.
Click here for accommodation in Salema.
How long to stay in the Algarve
We would recommend staying at least a week in the Algarve, even when you're only visiting the places we've listed above that are all on the western part of the coast. The Algarve has so much to see and so many places to visit. Especially, if you're visiting in summer, you might want to spend some time sunbathing on the beach as well. If you want to visit some places on the more eastern part of the coast, such as Albufeira and Faro, you might want to extend your stay even longer. We stayed in Salema for 9 nights, which was great as we could visit all the places mentioned before and had a few beach days as well. However, we could have easily stayed for 2 weeks and wouldn't be bored either.
We hope you've enjoyed our guide with the best places to visit in this beautiful coastal region of Portugal and that our blog post inspired you to visit the Algarve Coast. Have you been to the Algarve Coast or is it still on your travel bucket list? Let us know in the comments below!
Be sure to check out:
The Best Things To Do in Lagos
The Most Instagrammable Places Along the Algarve Coast
The Best Things To Do in Lisbon
Discovering the Best of Aveiro and Costa Nova do Prado