The Best Places to Eat in Rouen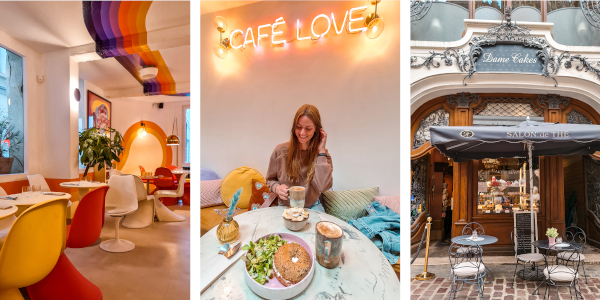 Rouen is a beautiful city located in the Normandy region of France. It is known for its stunning architecture, rich history, and delicious cuisine. As we chose Rouen as a base for our 3-day road trip in the Seine Valley, we tried out plenty of places for breakfast, lunch and dinner. From traditional French dishes to international flavors, there is no shortage of places to eat in Rouen. In this blog post, we'll be highlighting some of the best ones, ranging from cozy tea rooms to classic French bistros. So join us as we explore the culinary delights of this charming French city!
Read more:
The Best Things To Do and See in Rouen
Good to know
Especially on the weekends, restaurants in Rouen fill up quickly in the evening. Make sure you either show up early (preferably when the restaurant opens) or make a reservation.
Most restaurants in Rouen (and France for that matter) operate from 12:00-14:30 for lunch and from 19:00/19:30 onwards for dinner. Between 14:30 and 19:00/19:30 most restaurants are closed. Take this into account if you usually have a late lunch.
Café Love
If you're looking for a place to have breakfast or lunch, Café Love is the place to be. The menu has savory egg dishes as well as sweet dishes such as granola bowls, pancakes and much more. For drinks, different kinds of coffees and juices are served as well as soft drinks. We had breakfast here and opted for granola bowls and coffee, which were great choices. The interior is very pretty with beautiful colors and dried flowers everywhere. The neon sign makes for a lovely photo spot too!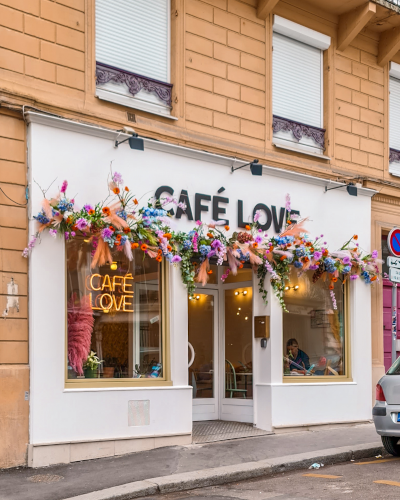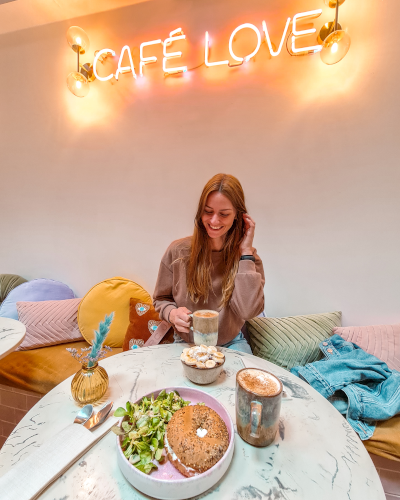 Dame Cakes
Dame Cakes is centrally located in Rue Saint-Romain (next to the Rouen Cathedral) and is therefore hard to miss. When walking past this tea room, your attention is immediately drawn to the mouth watering cakes in their shop window. They serve a wide variety of cakes. We had a meringue and chocolate cake and they were both so good. Accompanied by a nice cup of coffee it was perfect. If you can't get enough of their cakes, you can buy different kinds of cakes and other yummy things such as cookies and scones at the store in the front of the tea room. You can't miss this tea room when you're in Rouen!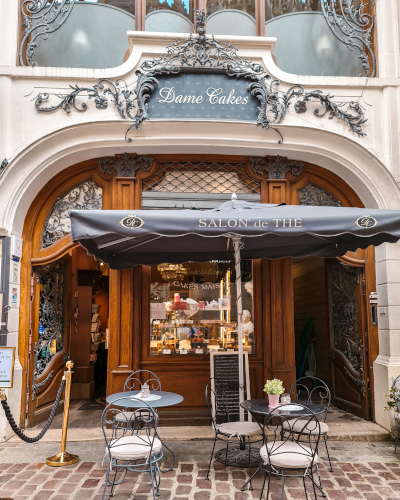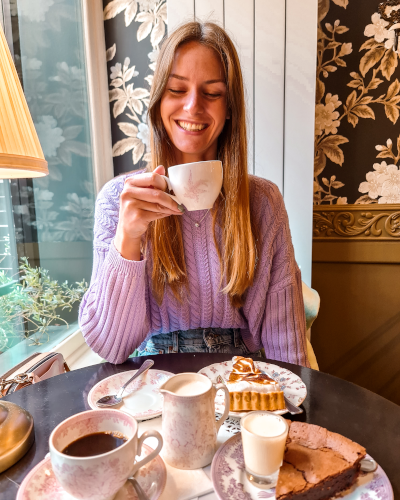 Ginette
Ginette's specializes in sweet potato waffles. They serve a huge variety of these heart shaped waffles with sweet and savory toppings. If you don't like waffles, you can order open sandwiches and salads. All dishes are loaded with fresh ingredients. We had a savory sweet potato waffle and a chicken sandwich, and both were delicious! Ginette's kitchen is open all day, from morning until the evening. However, we think the best time to have their yummy waffles or sandwiches is during lunch.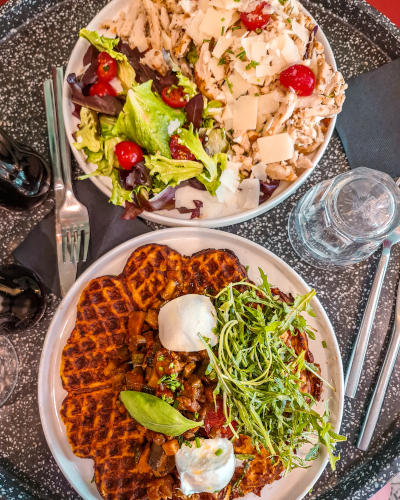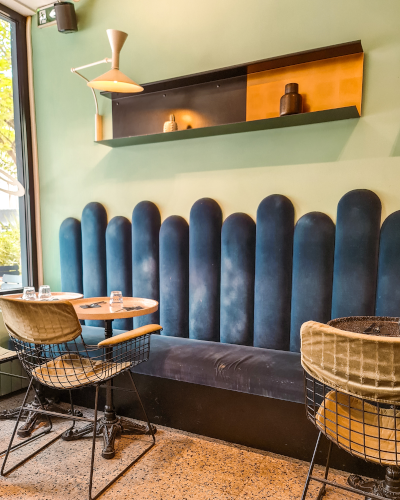 Chez Rose et Max
Chez Rose et Max is a vibrant and lively restaurant with a colorful 70s-inspired interior. The bright and colorful groovy interior is outstanding, from the funky patterned wall decoration to the groovy lighting fixtures. The menu features a variety of delicious shared dining dishes that are perfect for trying a little bit of everything. Everything we tried was delicious. Although we didn't have any, their cocktails looked amazing too!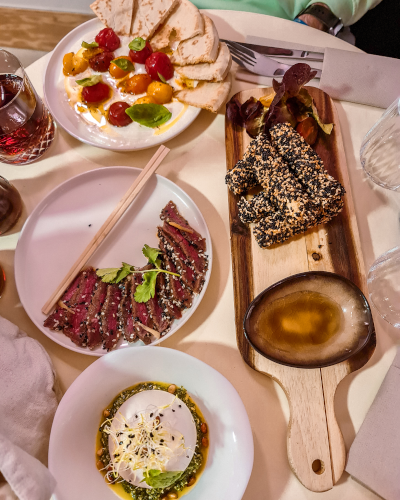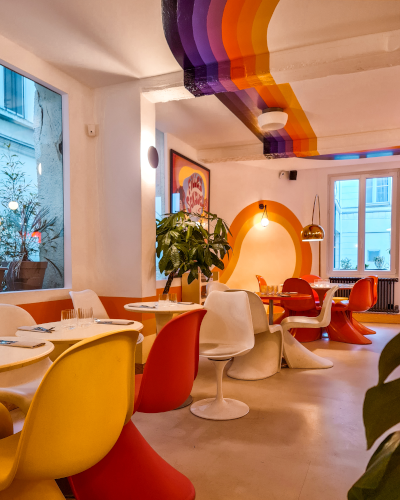 Café Hamlet
If you're looking for a nice French bistro, Café Hamlet is a great choice. The menu has typically French dishes as well as a few Asian-inspired ones. We went for the vegetarian pad thai and a hamburger, and both were delicious. The bistro is located in Aître Saint-Maclou, (LINK) making it a very convenient location to have a bite while sightseeing Rouen.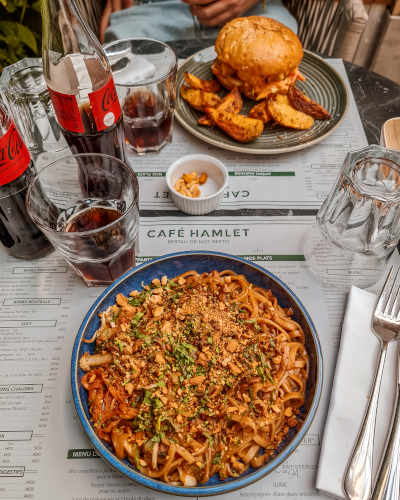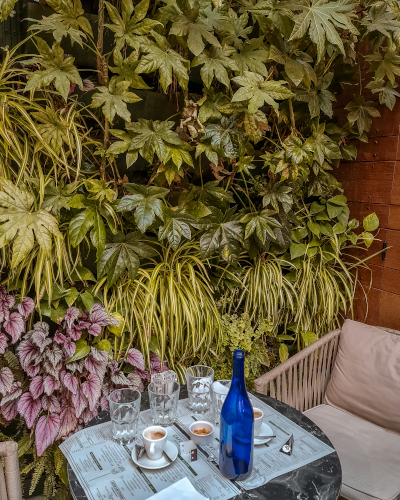 Poké Time Rouen
On our first night in Rouen, we were looking for simple take away food as there was a football match on TV that Joop didn't want to miss. We went for poké bowls at Poké Time and it was a great choice. The service was very friendly and super quick and the bowls were delicious and filling. We can absolutely recommend this place if you're looking for quick and good take away food. It's also possible to dine in as there are a few tables.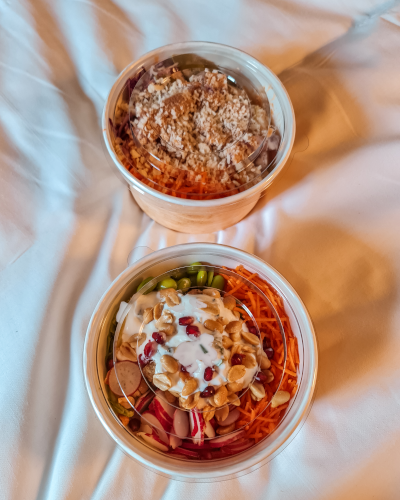 We hope we made choosing a restaurant in Rouen a bit easier for you with this blog post. Have you been to Rouen or is it still on your travel bucket list? Let us know in the comments below!
Be sure to check out:
3-Day Road Trip in the Seine Valley
The Best Things To Do and See in Rouen
The Best Things To Do in Paris
Visiting Monet's House and Gardens in Giverny