All Things To Do in Nancy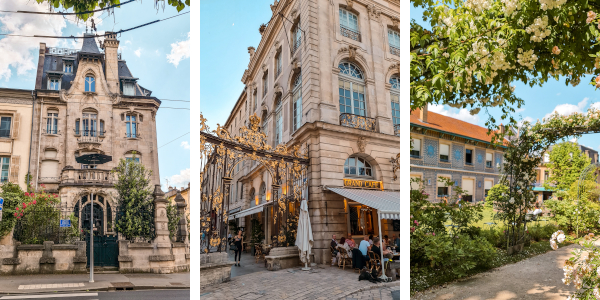 A Complete Sightseeing Guide of Nancy
Nancy is a charming and historic city located in the Lorraine region in northeastern France. Known for its beautiful architecture, rich cultural heritage, and vibrant arts scene, Nancy is a popular destination for tourists from around the world. From its stunning Place Stanislas, a UNESCO World Heritage site, to its top notch museums, including the Museum of Fine Arts and the École de Nancy Museum, Nancy has something to offer for everyone. What sets Nancy apart from other cities is its abundance of Art Nouveau architecture. The city is home to some of the most beautiful and intricate examples of this unique style of architecture, making it a true paradise for Art Nouveau lovers. In this blog post, we'll take a look at some of the best things to do in Nancy, including exploring its Art Nouveau architecture and rich cultural heritage. So, grab a coffee and get ready to discover the best of Nancy!
A paradise for Art Nouveau lovers
Art Nouveau is a popular art and architectural style that originated in Europe in the late 19th century and became popular throughout the world. In Nancy the style is well represented in many of the city's buildings and public spaces. Nancy was at the forefront of the Art Nouveau movement, and the city's architects and designers were among the first to embrace this new style. Many of the city's buildings from this period, including private homes, public buildings, and shops, feature the characteristic curves, flowing lines, and organic forms that are the hallmark of Art Nouveau.
École de Nancy Museum
The École de Nancy Museum is a museum dedicated to the Art Nouveau movement the Nancy School (in French: École de Nancy) which is a group of artists and designers who were active in Nancy in the late 19th and early 20th centuries. The museum is housed in a beautiful Art Nouveau building that was designed by one of the leading members of the École de Nancy: Lucien Weissenburger.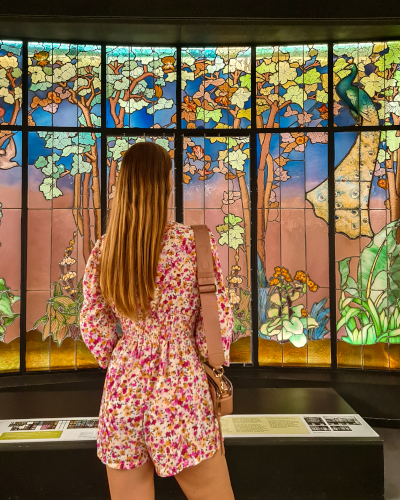 The École de Nancy Museum is dedicated to showcasing the work of the artists and designers associated with the École de Nancy, and it features a collection of furniture, ceramics, glass, and other decorative arts that were created by members of the group.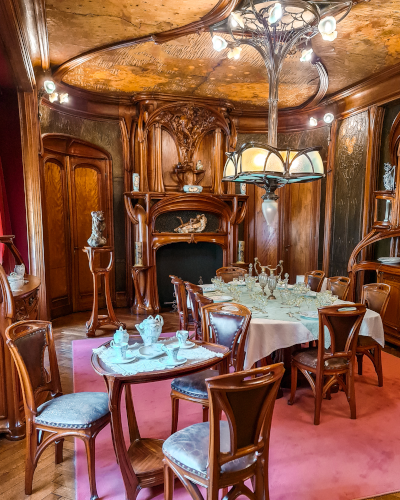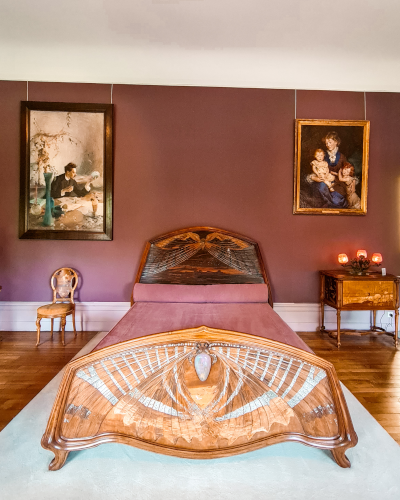 The museum's building used to be the house of Eugène Corbin, who was also a member of the Nancy School. Don't forget to take a stroll through the garden, where you can find the aquarium pavilion. The pavilion is a small building that was used to house an aquarium. The small building is only open to the public on rare occasions, but you can always admire the exterior.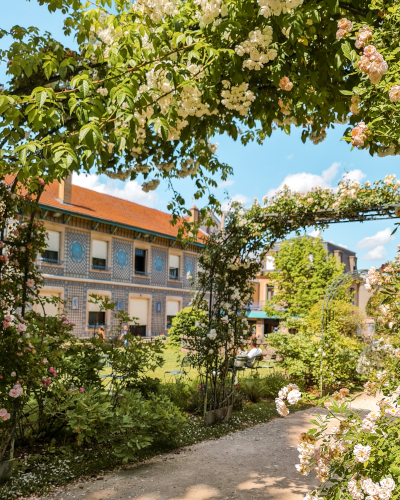 We loved visiting this museum and can highly recommend it, especially if you're interested in Art Nouveau. The museum aims to recreate the atmosphere of the Art Nouveau period, and it does it very well.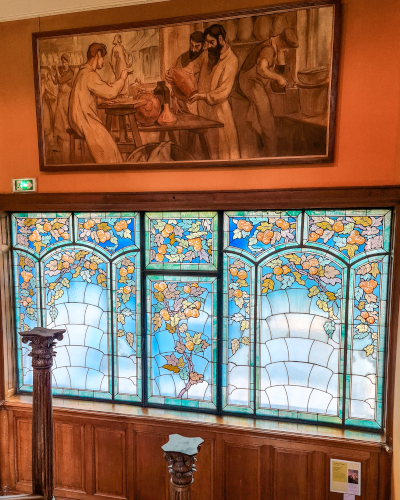 Opening hours of École de Nancy Museum
Wednesday - Sunday: from 10:00 until 18:00
Closed on Mondays, Tuesdays, January 1st, May 1st, July 14th, November 1st and December 25th.
The entrance fee is €7. It's also possible to buy a combination ticket for École de Nancy Museum and Villa Majorelle for €9. Visit this website for more information.
Villa Majorelle
Villa Majorelle was originally built as a private residence for furniture designer Louis Majorelle and his family. Constructed by architect Henri Sauvage between 1901 and 1902, the villa is considered a masterpiece of Art Nouveau design, and is notable for its use of intricate details. The villa features many of the characteristic elements of Art Nouveau, including curved lines, organic forms, and the use of nature-inspired motifs. It was utilized as a display area for Majorelle's furniture and also for the works of other renowned decorative artists of the era, such as ceramist Alexandre Bigot and stained glass artist Jacques Gruber. Nowadays the villa is open to the public as a museum.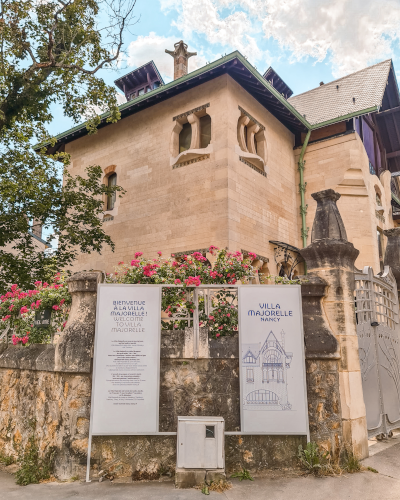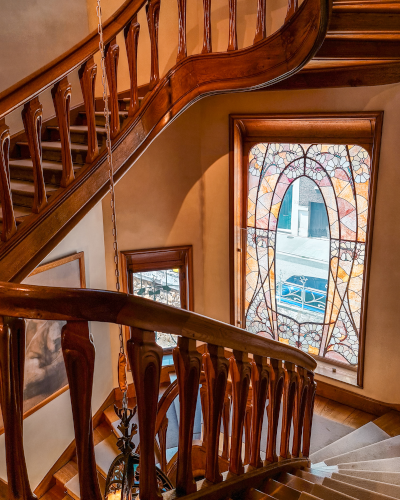 If you ask us, Villa Majorelle is a must-visit when in Nancy. You can walk around the rooms in the villa while admiring the beautiful interiors. The villa is entirely designed in Art Nouveau style, from the exterior to the interior and even all the furniture.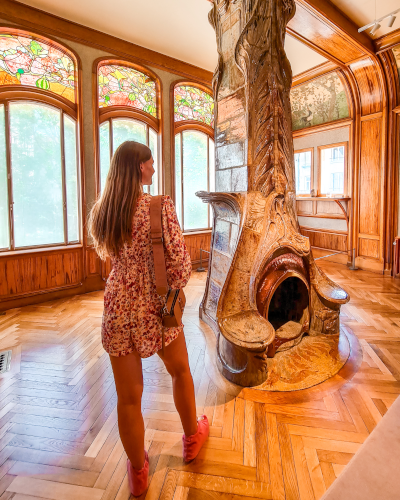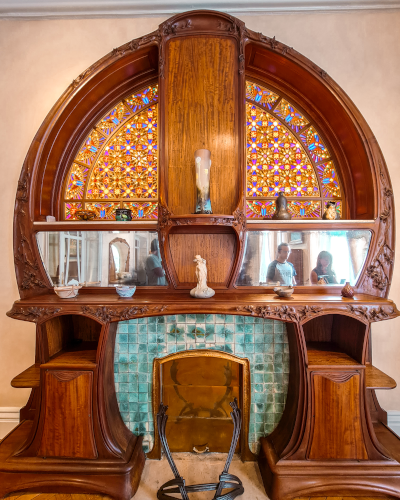 Opening hours of Villa Majorelle
Wednesday - Sunday: from 14:00 until 18:00
Closed on Mondays, Tuesdays, January 1st, May 1st, July 14th, November 1st and December 25th.
The entrance fee is €6. It's also possible to buy a combination ticket for Villa Majorelle and École de Nancy Museum for €9. Visit this website for more information and to buy tickets online.
Avenue Foch
The historic Avenue Foch in Nancy is famous for its many beautiful Art Nouveau buildings. The avenue is lined with a series of elegant townhouses, many of which are considered some of the finest examples of Art Nouveau architecture in France. The buildings are characterized by their ornate facades, intricate details, and sweeping curves, which reflect the fluid, naturalistic style of the Art Nouveau movement. We'd highly recommend taking a stroll along this avenue to admire the beauty of the Art Nouveau architecture. When walking from the city center to École de Nancy Museum or Villa Majorelle, Avenue Foch is on the route.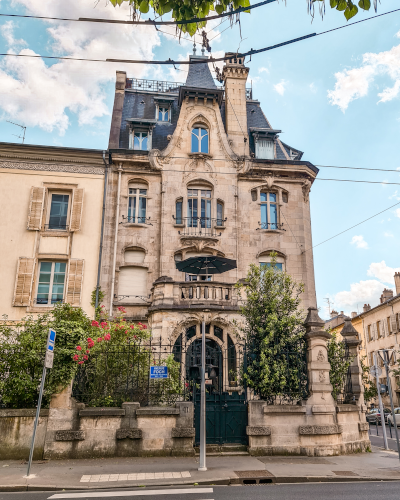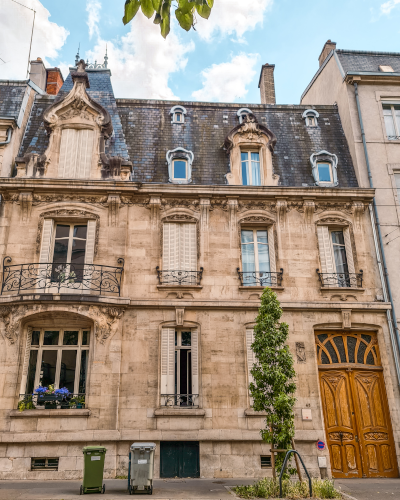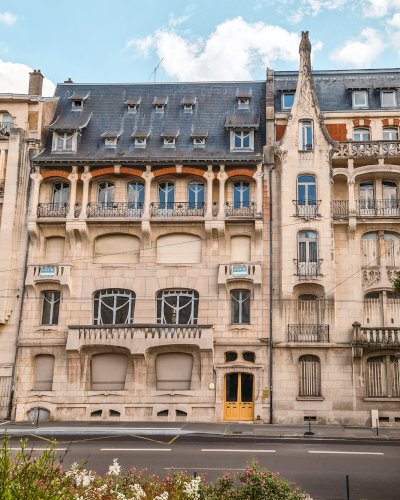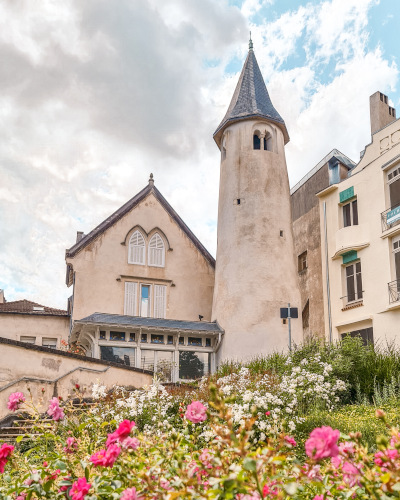 The city center is also home to a lot of interesting Art Nouveau buildings. When wandering through Nancy, it's best to keep your eyes open as you can find Art Nouveau architecture everywhere. Nancy is basically an open-air Art Nouveau museum!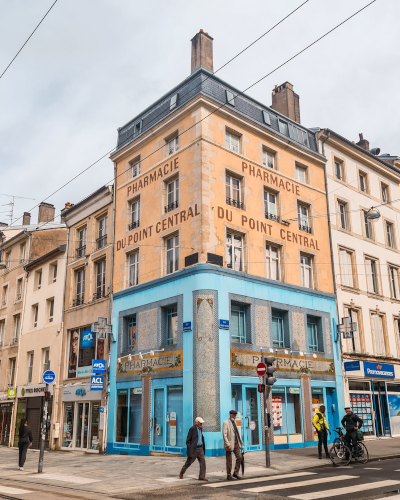 Brasserie L'Excelsior
The historical Brasserie L'Excelsior opened in 1911 and is another fine example of Art Nouveau. Both the exterior and interior are designed by notable members of the Nancy School. The exterior of the restaurant was designed by architects Weissemburger and Mienville. The famous glassmaker Gruber was tasked with creating ten windows featuring copper frames with naturalistic themes, such as pines and ferns, which were also depicted in mosaics on the floor. The sculptors Galetier and Burtin were responsible for the hanging ferns and moldings and beams. The mahogany furniture was produced by Majorelle and paired with tamarind wood paneling. Three hundred luminous chandeliers and sconces, crafted from chiseled copper and signed by Daum, added to the harmonious ivory glow of the room.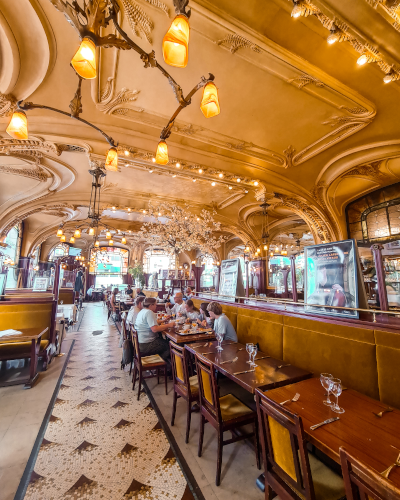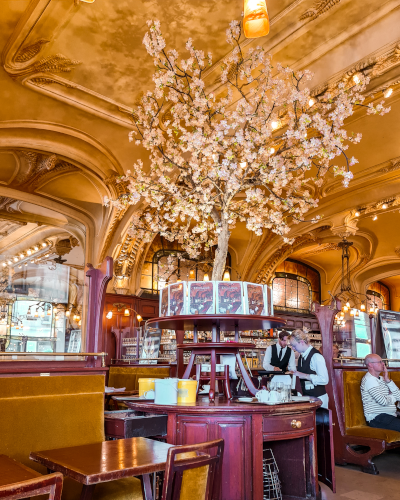 This charming Art Nouveau restaurant is absolutely gorgeous and well-maintained. It's a great place for a drink and/or a bite while immersing yourself with all the beauty. We decided to go for breakfast, which was a great idea as it's the least crowded time of the day. If you want to have dinner here, we'd recommend making a reservation in advance, which you can do through this link on their website.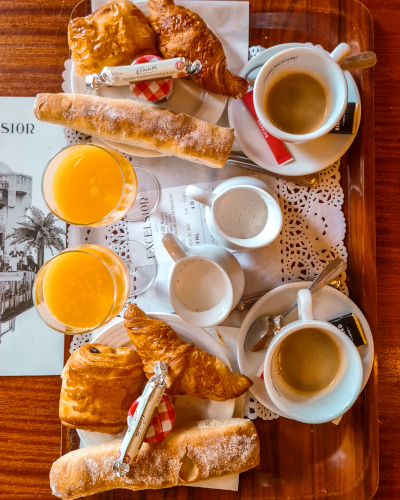 Place Stanislas
Place Stanislas is considered one of the most beautiful squares in Europe, and we can definitely see why. The square is one of the earliest and finest illustrations of an architecturally harmonious and grand public square from the 18th century. It is a prime example of 18th-century urban architecture. Since 1983, Place Stanislas, together with Place de la Carrière and Place d'Alliance, have been recognized as a UNESCO World Heritage Site.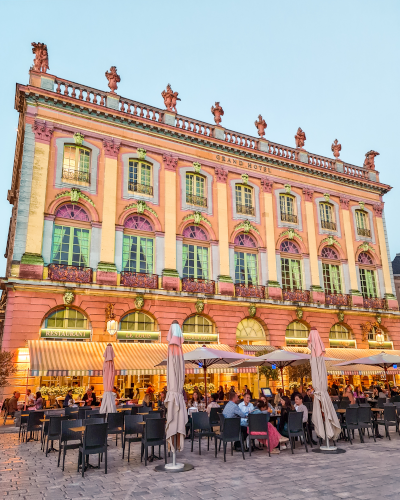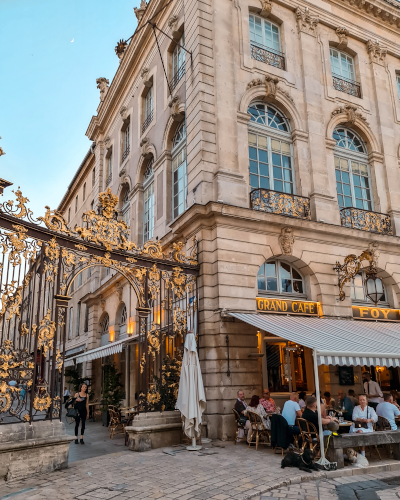 The square was designed and built by the architect Emmanuel Héré at the request of Stanislas Leszczyński, the Duke of the region Lorraine at that time (and King of Poland). Construction took place between 1752 and 1756. In 1831, a bronze statue of Stanislaus was placed in the center of the square, and the square has since been known as Place Stanislas. The square has been used for public gatherings and festivities throughout its history. During a period of low appreciation, it was used as a car parking area between 1958 and 1983. Can you imagine the square being completely filled with parked cars!? Today, the city has designated the square for pedestrian use only.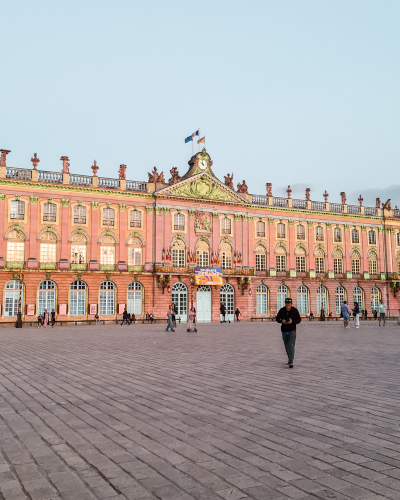 The square is home to Hôtel de Ville (City Hall), the Opéra National de Lorraine, Musée des Beaux-Arts de Nancy and many restaurants with large outdoor seating areas. During our stay in Nancy, we were able to try some restaurants on Place Stanislas. We loved having breakfast at Café des Arts. There's nothing better than enjoying a French breakfast with a cup of coffee while people-watching on a gorgeous square.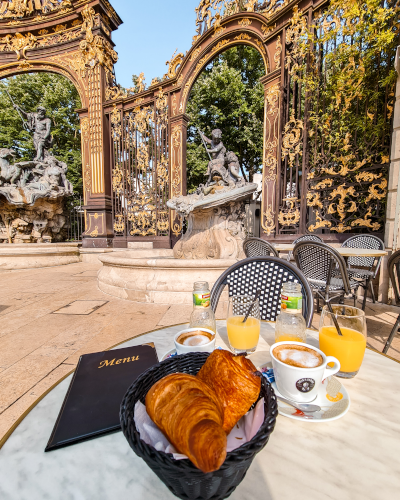 For lunch, we loved Suzette & Gino which is located in the Rue Héré, a street next to the square that overlooks the Arc Héré. Food and service here was great.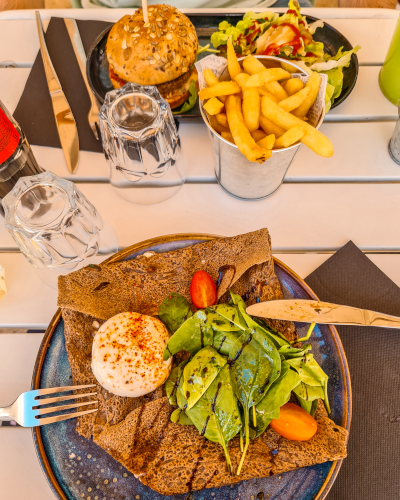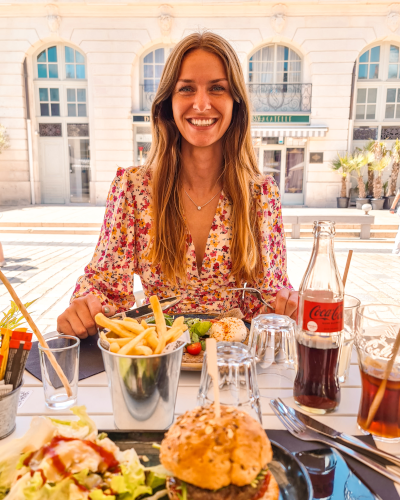 Next to Suzette & Gino is a restaurant called Bistro Héré, where we had dinner. Service wasn't the best here, and the food wasn't great either. Mika's veggie burger was cooked way too long, making it completely black and dry. Considering the slightly higher than average prices, it wasn't worth it.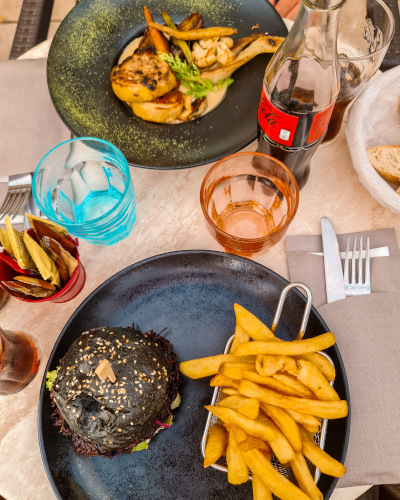 We also tried Café du Commerce for dinner, which was nice. The food wasn't very special, but the service was good and the prices were acceptable. The view of Place Stanislas made up for it.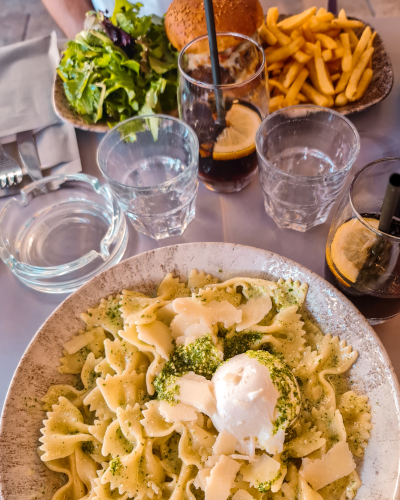 Take a stroll through the city
Nancy is a great city for simply wandering around. This way you'll stumble upon so many architectural gems from the past. We've listed some historical buildings that you can't miss while strolling through the city.
Arc Héré is an arch next to Place Stanislas designed by architect Emmanuel Héré, who also designed Place Stanislas. The arch was built in honor to the French king Louis XV, who was the son-in-law of Duke Stanislas. The neoclassical arch was inspired by the Arch of Septimius Severus in Rome.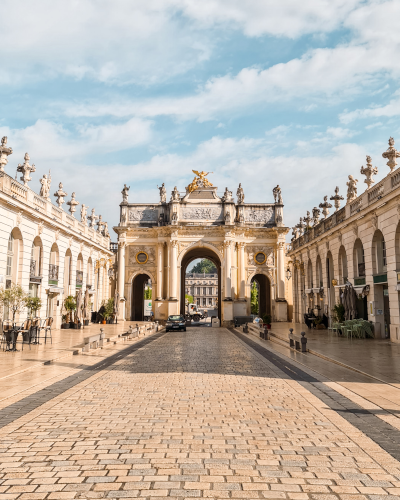 The Basilica of Saint Epvre is a neo-Gothic basilica built in the 19th century by French architect Morey. This basilica was built to replace a church that was demolished in 1863. The neo-Gothic style of the Basilica of Saint Epvre integrates very well in the historic city center of Nancy.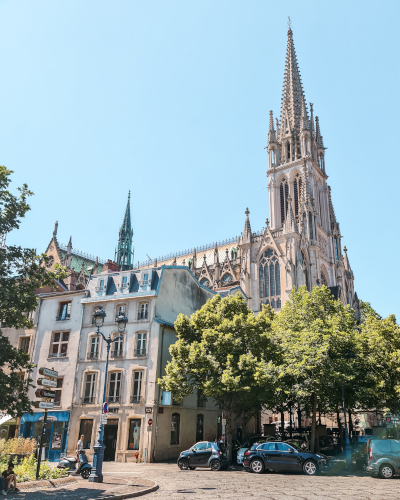 The Porte de la Craffe dates back to the 14th century and is one of the remaining parts of the medieval fortifications that once surrounded the city. It was built as a defensive structure to protect the city from invaders and throughout the centuries the gate was modified and restored multiple times. The two round towers were added in 1463 and had around 10 rooms that served as prisons until the middle of the 19th century. Porte de la Craffe was the only entrance on the north side of Nancy and served as a gate of honor for the Dukes of Lorraine until 1610.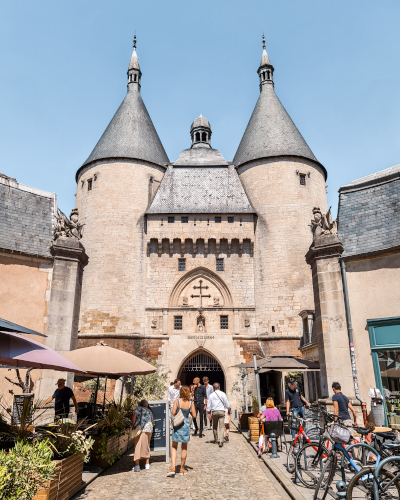 The historic square Place d'Alliance is part of the UNESCO World Heritage ensemble of Place Stanislas. Place d'Alliance was built in the 18th century and was, just like Place Stanislas, designed by Emmanuel Héré. The fountain in the middle of the square was designed by sculptor Paul-Louis Cyfflé and was originally installed at Place de la Carrière. The square is surrounded by private mansions. Fun fact: Héré used to live in one of these mansions.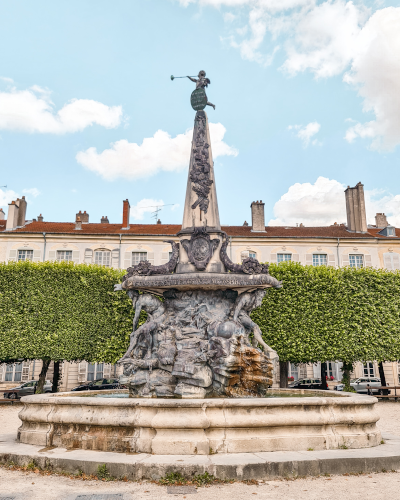 Parc de la Pépinière is a public park close to Place Stanislas. It's a nice park to stroll through and there are plenty of things to do and see too. There's an area where different kinds of animals are presented, such as ducks, rabbits and peacocks. There are kiosks and a brasserie to get refreshments, a mini golf area, and playgrounds for children. If you happen to be in Nancy in late spring or early summer, make sure to check out the rose garden. We were lucky enough to witness it in full bloom and it's absolutely gorgeous.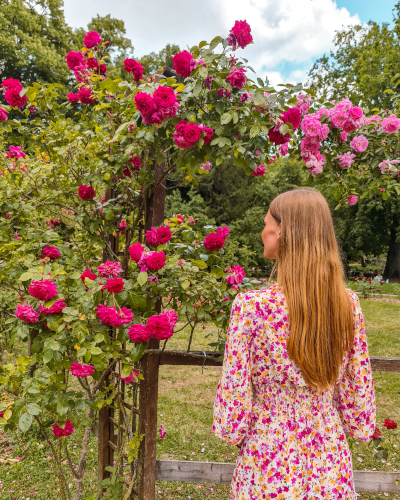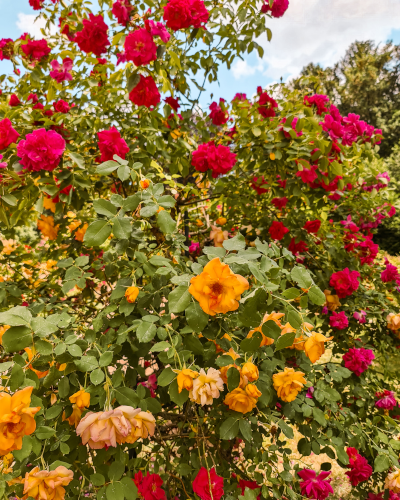 Opening hours of Parc de la Pépinière
Daily from 06:30 until 20:00
The Musée des Beaux-Arts de Nancy (Museum of Fine Arts) is housed in one of the buildings on Place Stanislas and is one of the oldest museums in France. The first collections contained items seized from the members of the clergy or the wealthy aristocracy who had fled France during the French Revolution. Currently, the museum houses art by various European artists, as well as Asian art and, since the 21st century, contemporary art. The museum even has one of the very popular Infinity Mirror Rooms by Yayoï Kusama. Unfortunately, we didn't have time to visit this museum when we were in Nancy so we can't tell you our personal experiences, but the collections sound very promising. Especially on a rainy day, a visit to the Musée des Beaux-Arts de Nancy looks like a good idea.
Opening hours of Musée des Beaux-Arts de Nancy
Wednesday - Monday: from 10:00 until 18:00
Closed on Tuesdays, January 1st, May 1st, July 14th, November 1st and December 25th.
Shopping
The city center of Nancy is a great place for shopping too. There's an indoor shopping mall called Centre Commercial Saint Sébastien with some great stores, such as the game store Micromania, make-up store Sephora and clothing stores H&M and Pimkie. Visiting the mall is a great idea when it's raining outside or on a hot summer's day (we experienced both). If you prefer outdoor shopping, the shopping street Rue Saint-Jean is your go-to place. This street offers sneakers stores such as Snipes, Courir and Foot Locker, as well as big clothing chain stores, such as another H&M. If you want to spend a few hours shopping, Nancy is great for that. Please note that the stores in Nancy are closed on Sundays.
How long to stay in Nancy
We think Nancy is a great destination for a weekend trip. In two days, you can explore the city's many Art Nouveau buildings, including visiting the museums Villa Majorelle and École de Nancy. Additionally, you can take a stroll through the city center and witness the many historic buildings and squares, such as Place Stanislas and Place d'Alliance. You'll still have plenty of time left to take a walk in Parc de la Pépinière and do some shopping. The only thing we were unable to visit was Musée des Beaux-Arts de Nancy. If you're not much into shopping, you could of course visit the museum instead.
Consider visiting Metz when you're staying in Nancy. This nearby city is a 45-minute drive or a 40-minute train ride from Nancy.
Where to stay in Nancy
We stayed at the Ibis Nancy Sainte-Catherine, situated conveniently near the city center. Place Stanislas is only a 10-minute walk away. The hotel has a covered parking garage on the premises, which was ideal for us since we were traveling by car. The rooms were simple, but clean and equipped with all the essentials. Whenever we travel by car in Europe, we choose Ibis hotels for their comfort and affordability. We highly recommend the Ibis Nancy Sainte-Catherine to those seeking a comfortable and reasonably priced hotel.
Click here to book a room in Ibis Nancy Sainte-Catherine.
Click here for more accommodation options in Nancy.
How to get to Nancy
Nancy is well-connected by high-speed trains from Paris. The journey from Paris to Nancy by high-speed train is a little over 1,5 hours. Nancy is also well-connected by high-speed train from Strasbourg, which only takes 1 hour. By car, Nancy is a less than 4-hour drive from Paris and a 1 hour and 45-minute drive from Strasbourg. Furthermore, Nancy is closely located to the borders of Belgium, Luxembourg, Germany and Switzerland.
We hope that this blog post has inspired you to visit the beautiful city of Nancy, a true Art Nouveau paradise. Are you thinking about visiting Nancy or have you already been? Let us know in the comments below!
Be sure to check out:
3-Day Road Trip along the Coast of Normandy
3-Day Road Trip in the Seine Valley
The Most Instagrammable Places in Paris
The Prettiest Places to Visit in Provence