Visiting the Christmas Market in Bruges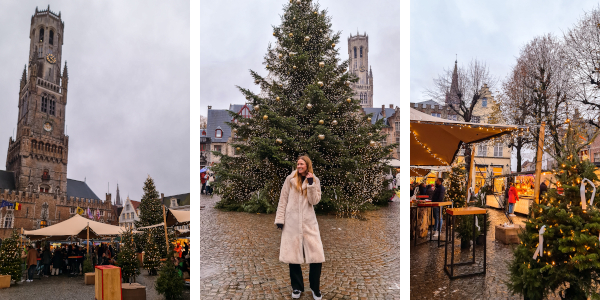 Everything you need to know about visiting the Christmas Market in Bruges
At the end of the year, the picturesque town of Bruges transforms into a winter wonderland. This yearly winter event is called Winter Glow. During which there are two Christmas Markets, a light experience trail and an ice skating rink. On top of that, the historic town is decorated in style, with Christmas trees and fairy lights. There are plenty of things to do and see while immersing yourself in winter and Christmas atmospheres.
In 2022-2023, Winter Glow takes place from November 25th 2022 until January 8th 2023.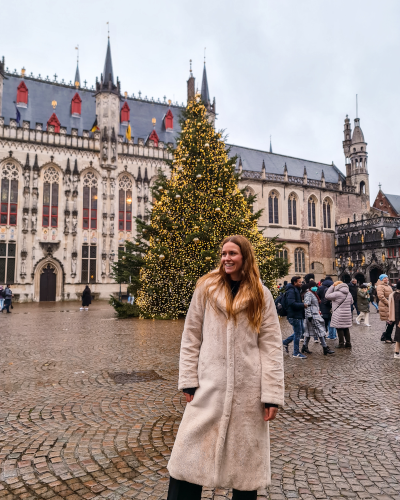 Christmas decorations
If you ask us, the main reason to visit Bruges at the end of the year would be because of the Christmas decorations. During the Winter Glow event, there are over 500 Christmas trees and 41 decorated streets throughout the town center. Besides that, many stores also decorate their storefronts and windows with Christmas decorations. We specifically loved the huge Christmas tree at Burg square, providing beautiful backdrops with the City Hall and Belfort Tower. Wandering through Bruges during Christmas season just adds that extra bit of fairy dust to the already magical town.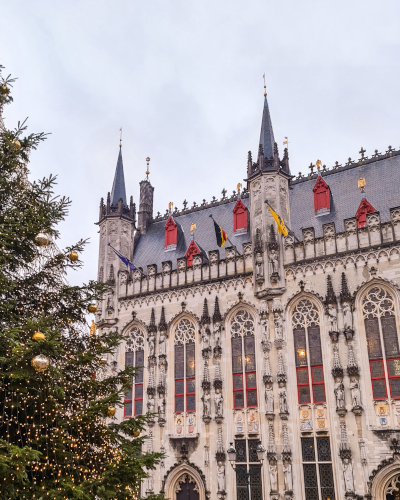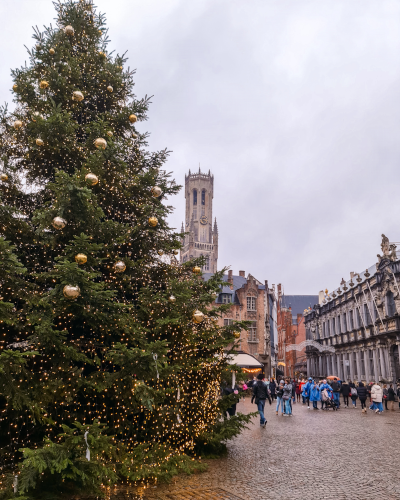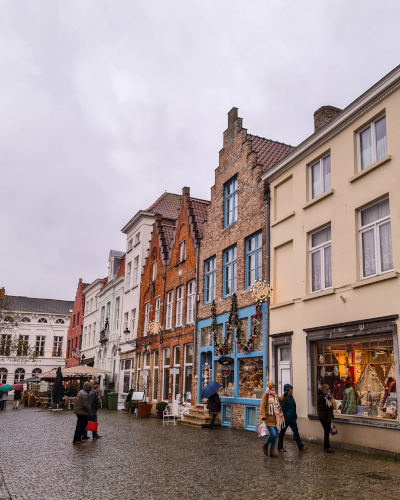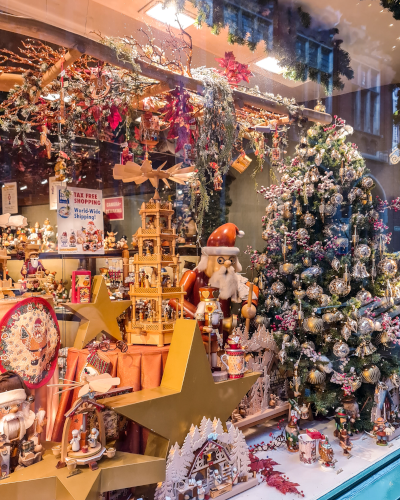 Christmas Markets
During the Winter Glow event, there are two Christmas Markets in Bruges: one at Markt and one at Simon Stevinplein. To be honest, the Christmas Markets in Bruges weren't our favorites. The stalls are located in converted shipping containers which don't look Christmassy at all. Furthermore, many stalls don't sell Christmas goods, but beanies and gloves. Overall, the Christmas Markets in Bruges lack that typical Christmas atmosphere that Christmas Markets in Germany are abundant with. If you specifically want to visit a place with an awesome Christmas Market, we'd say skip Bruges and head to Frankfurt am Main instead.
Opening hours of the Christmas Markets
Sunday-Thursday: from 11:00 until 22:00
Friday & Saturday: from 11:00 until 23:00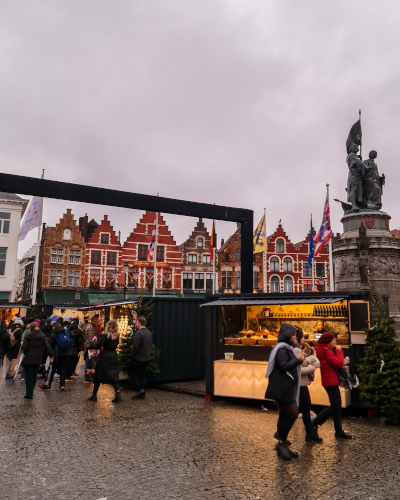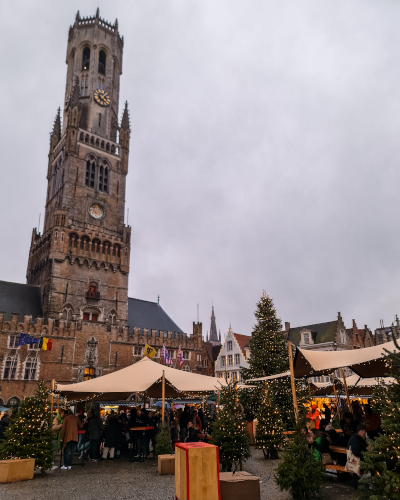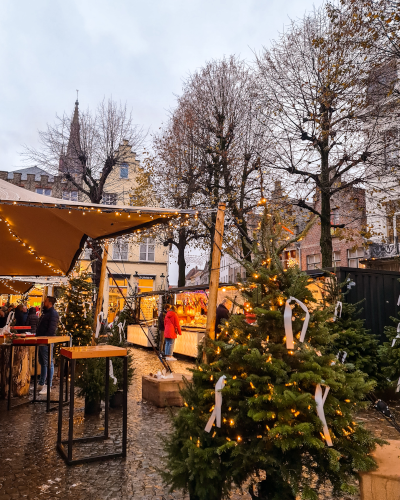 Light Experience Trail
After 5 o' clock, eight iconic places are illuminated by light installations. The route includes locations at Capuchins' Square, in King Albert I Park and on the Lake of Love. Unfortunately, we didn't do the entire route as we were completely soaked by the rain. The light installations we checked out incorporated music as well, making it a more immersive experience. It's a fun route to walk after exploring the town. Check out this link for the route of the Light Experience Trail.
Opening hours of the Light Experience Trail
Daily: from 17:00 until midnight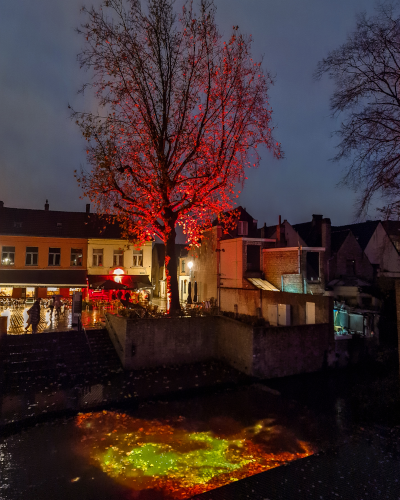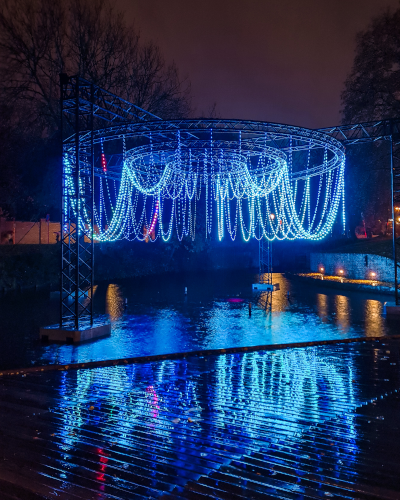 Ice Rink
Of course, an ice rink is obligatory during a winter event. The artificial ice rink floats on the Lake of Love (Minnewater) and is also one of the light installations along the Light Experience Trail. There's a winter bar next to the ice rink where you can enjoy hot and cold beverages.
When we walked past the ice rink in the morning it was still closed. We didn't go back later as it was raining all day and ice skating in rain just isn't that much fun.
Opening hours of the Ice Rink
Sunday-Thursday: from 11:00 until 21:00
Friday & Saturday: from 11:00 until 22:00
The price is €7 for adults.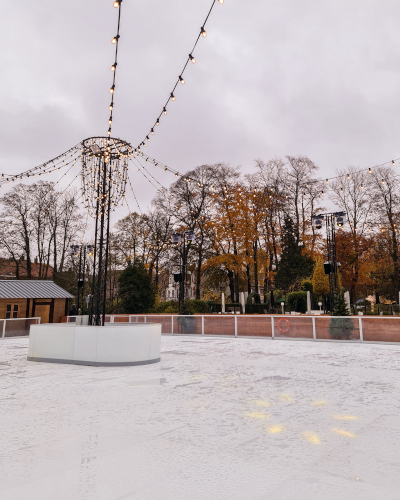 Exploring Bruges
While enjoying Bruges during Winter Glow, don't forget to check out Bruges' sightseeing spots. Besides a Christmas Market, you can find the Belfort Tower, the Provincial Palace and of course the iconic houses at the Markt square. Rozenhoedkaai offers beautiful views of the historical houses, the Belfort Tower and the tower from the Church of Our Lady (Onze-Lieve-Vrouwekerk).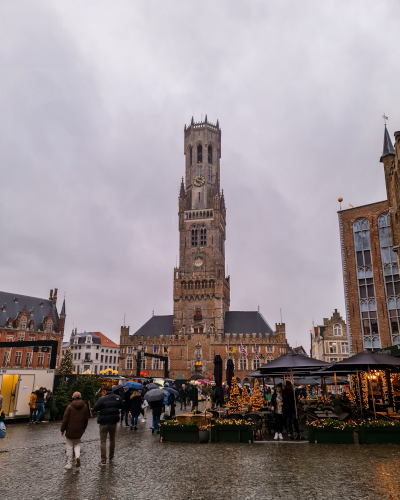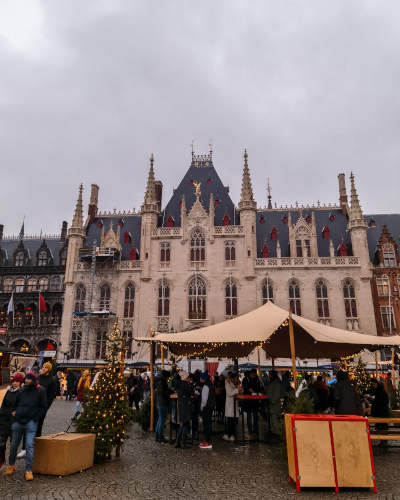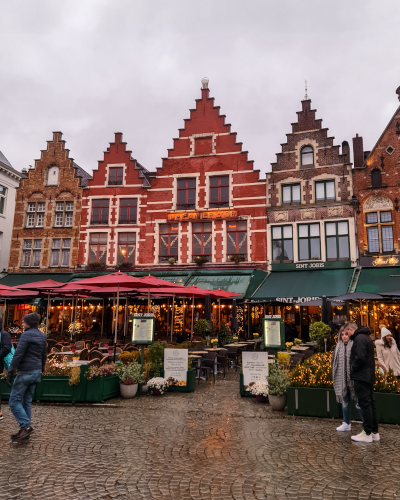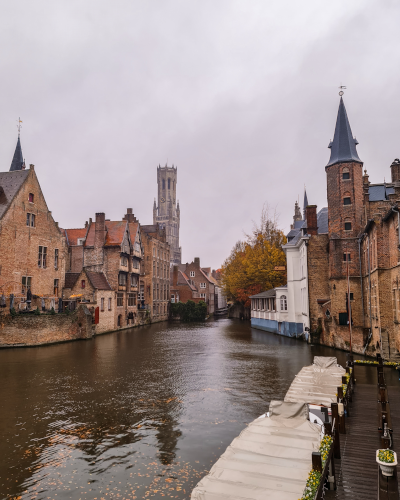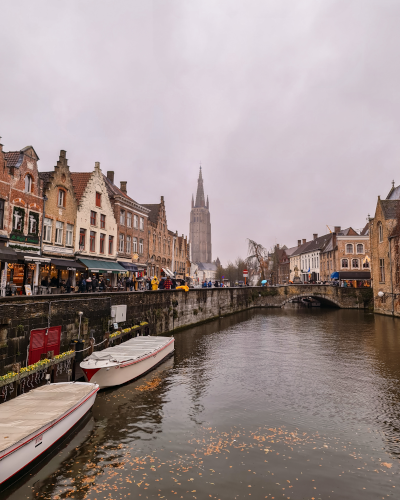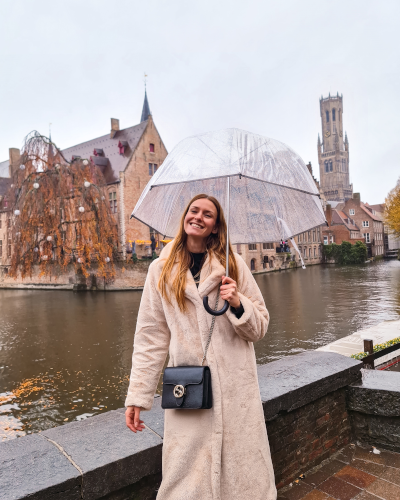 Also don't forget to explore the less-wandered streets of Bruges, just outside of the shopping center. We specifically love Groenerei and Spiegelrei. These streets are significantly less crowded than the streets in the shopping center, but even more beautiful!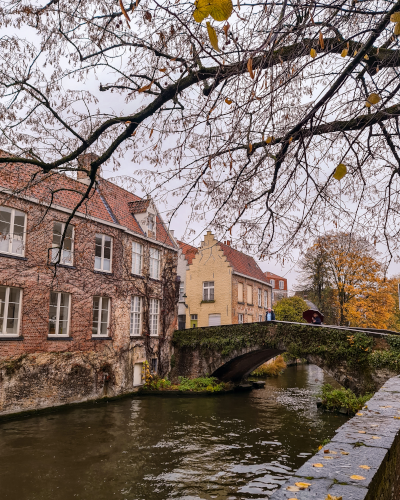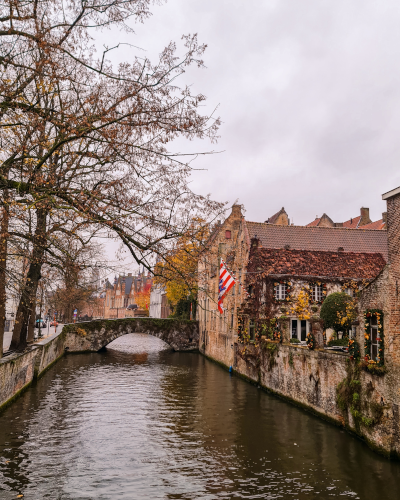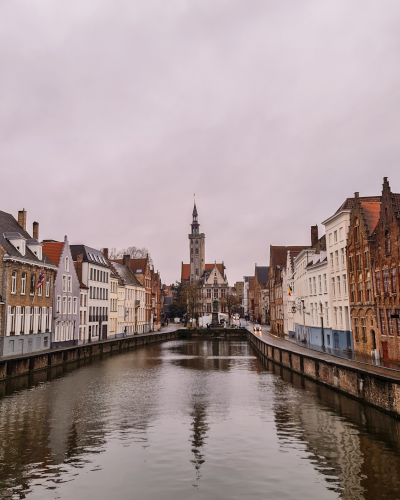 The Old Chocolate House
A spot you can't miss in Bruges is the Old Chocolate House. In their shop on the ground floor, you can buy the most delicious Belgian chocolates. It's the perfect souvenir for your friends and family, and of course yourself! There's a tea room on the first floor where they serve heavenly hot chocolate. You might have to wait a bit for a table, but we assure you that it's absolutely worth it!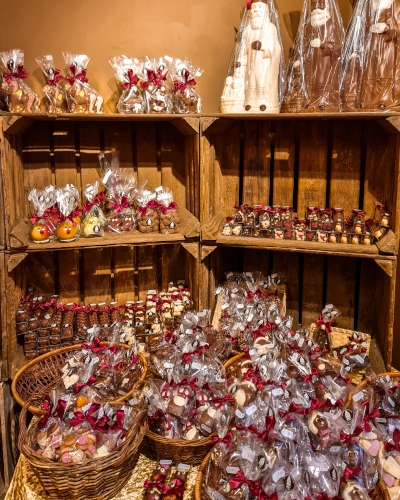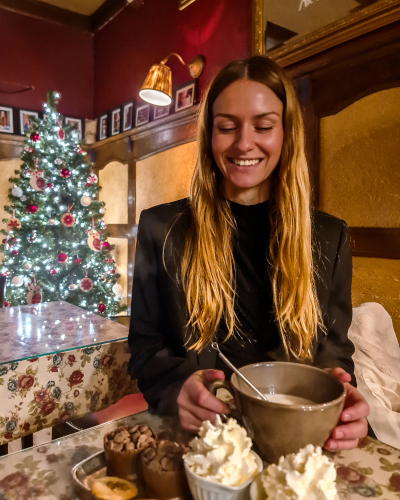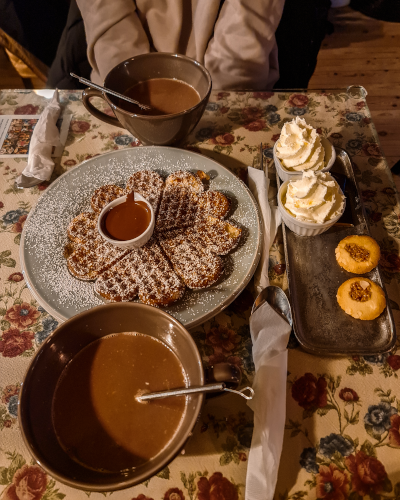 We hope this made you excited for this year's Christmas season. Will you be visiting any Christmas markets this year? Let us know in the comments below!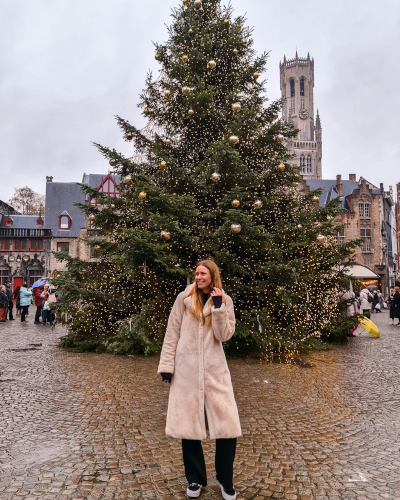 Be sure to check out:
Visiting the Christmas Market in Frankfurt am Main
The Best Christmas Photo Spots in Amsterdam
The Prettiest Places for Ice Skating in the Netherlands
Visiting Kinderdijk in Holland