Visiting the Christmas Market in Frankfurt am Main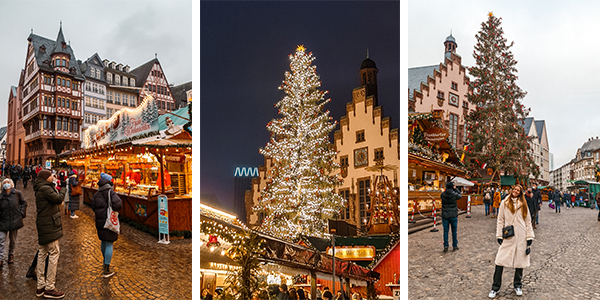 Everything you need to know about visiting the Christmas Market in Frankfurt am Main
Every year, the old town of Frankfurt am Main transforms into a true Christmas village. The combination of Frankfurt's historical buildings and Christmas decorations is a perfect one. There are many stalls offering different kinds of foods, drinks and (Christmas) souvenirs. If you ask us, Germany has the best Christmas markets in Europe and we loved the Frankfurter Weihnachtsmarkt a lot.
Check out our complete weekend itinerary in Frankfurt am Main for more things to do in Frankfurt!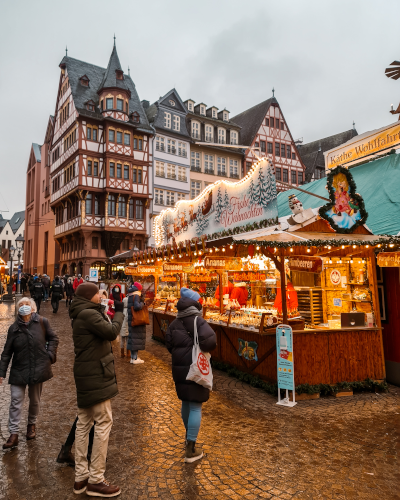 Opening hours of the Frankfurter Weihnachtsmarkt in 2022
In 2022, the Christmas market will take place from November 21th until December 22th.
Monday-Saturday: 10:00-21:00
Sunday: 11:00-21:00
Check this website for more information.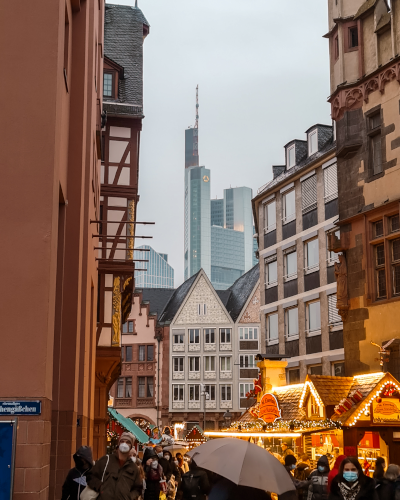 Visiting Christmas markets is our best way to get into that cozy Christmas mood. The ambiance at the Frankfurter Weihnachtsmarkt is amazing. Everywhere you go, you'll stumble upon decorated stalls and Christmas trees. The only thing missing is an ice skating rink. We guess that's just typically Dutch.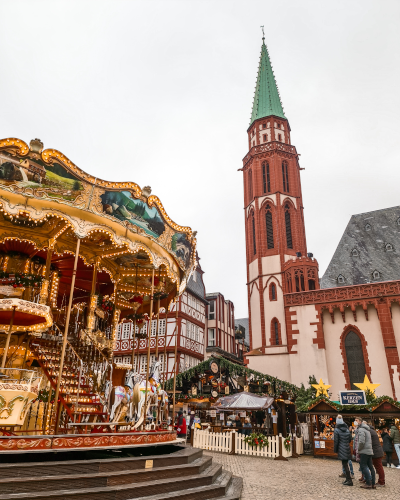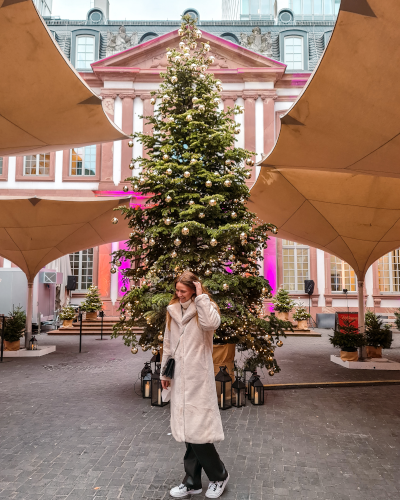 The locations of the Frankfurter Weihnachtsmarkt are:
Römerberg, Paulsplatz, Mainkai, Hauptwache and Friedrich-Stoltze-Platz.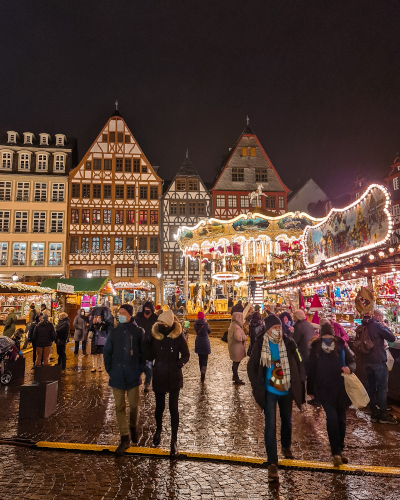 The highlight of the Frankfurter Weihnachtsmarkt is the huge Christmas tree at Römerberg, the heart of the medieval old town. The Christmas tree blends in perfectly with the half-timbered houses surrounding the square. Did you know that the buildings behind the Christmas tree house the city hall?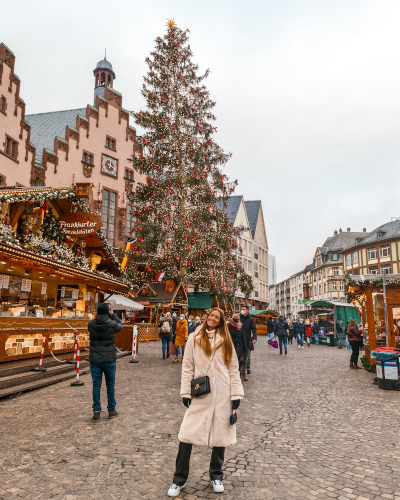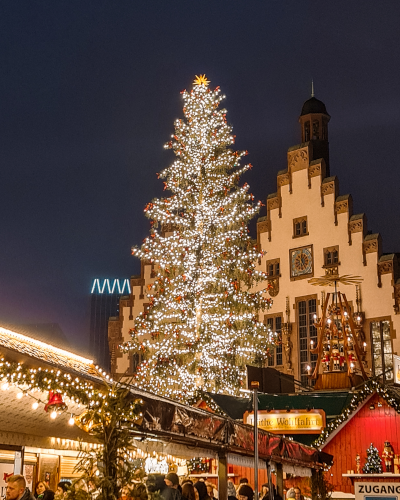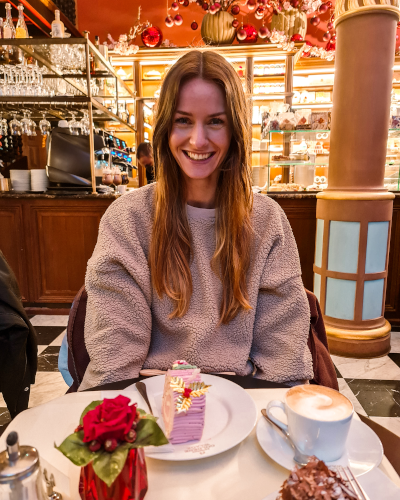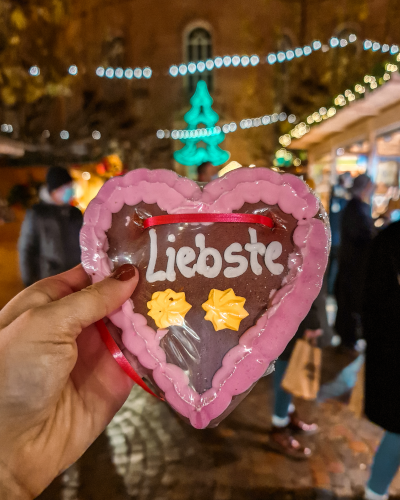 Besides the Christmas market, Frankfurt has a lot more to offer. If you're tired of the crowds at the market, climb up the Dom Tower. From there, you'll have an amazing view of Frankfurt as well as the huge Christmas tree at Römerberg.
Opening hours Dom Tower
Wednesday-Friday: 10:00-17:00
Saturday, Sunday & Holidays: 11:00-17:00
Ticket price: €3 (cash only)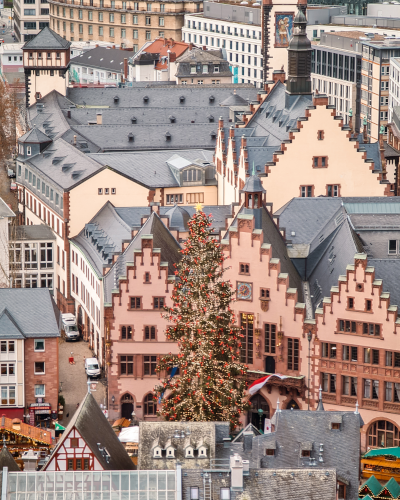 Check out our complete weekend itinerary in Frankfurt am Main for more things to do in Frankfurt.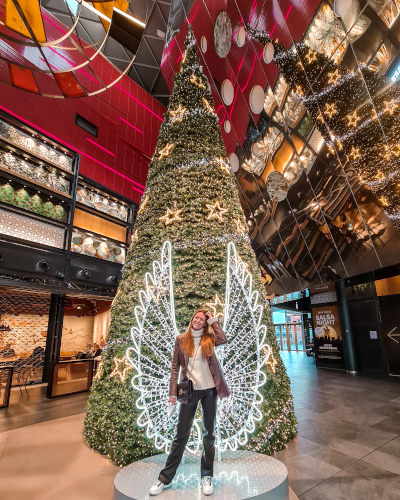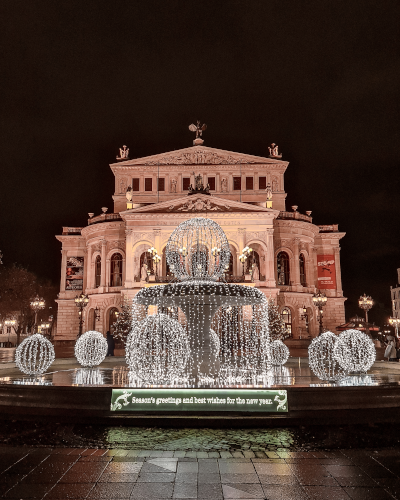 If you're staying a few days in Frankfurt (which we can recommend), consider visiting Mainz as well. Mainz is only 40 minutes by S-Bahn train from Frankfurt. Of course, there's also a Christmas market in Mainz, but it's quite a bit smaller than the one in Frankfurt. We would recommend visiting the Christmas market in Mainz when it's dark. We visited the market early in the afternoon and even though most stalls were open, the market lacked a lot of atmosphere. We assume this is much better when visiting the Christmas market a bit later in the day.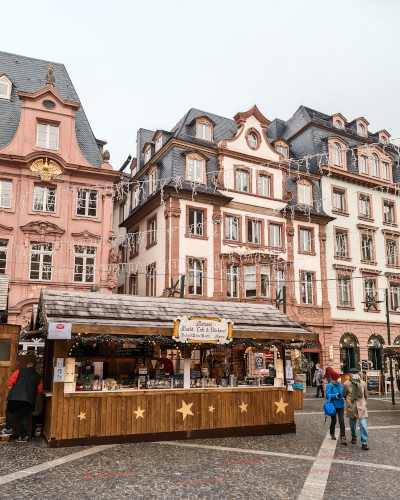 We hope this made you excited for this year's Christmas season. Will you be visiting any Christmas markets this year? Let us know in the comments below!
Be sure to check out:
A Complete Weekend Itinerary in Frankfurt am Main