A Complete Weekend Itinerary in Frankfurt am Main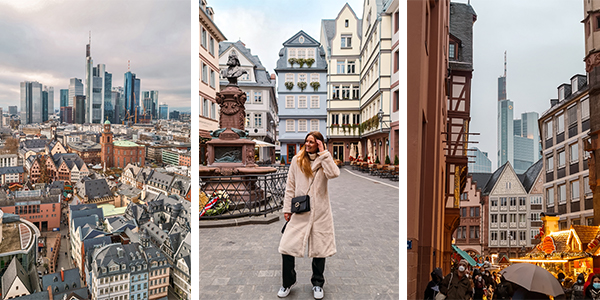 The German city of Frankfurt am Main is one of the few European cities dominated by skyscrapers and is therefore nicknamed Mainhattan. While the amount of skyscrapers in Frankfurt doesn't come close to the amount in Manhattan, from certain angles it can feel like you're walking in German Manhattan. Besides the skyscrapers, there's also a beautiful historical city center. With a good mix of new and old architecture, Frankfurt offers plenty of sights. Read on to find out about the best things to do during a weekend in Frankfurt.
Main Tower Observation Deck
The Main Tower is a 56-storey high, 200 meters tall skyscraper in the center of Frankfurt. The observation deck of the Main Tower is located at the very top of the building. The 360 degree views of the city and its surroundings from 200 meters up in the air are truly amazing. The observation deck is completely outside, which is great for photos (no glass reflections, yay) but also very windy. As we went up there in winter, we were completely frozen by the time we got down. The weather can also change very quickly, so be prepared. When we queued downstairs it was sunny with a bright blue sky. Once we got up, it was cloudy and started raining with some snow here and there. It's probably a better idea to go up the Main Tower in summer, but in case you don't have a choice, the view makes up for it!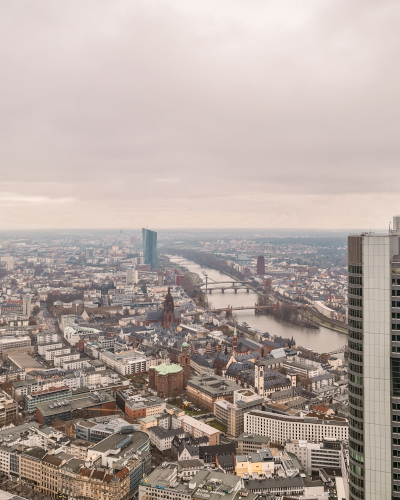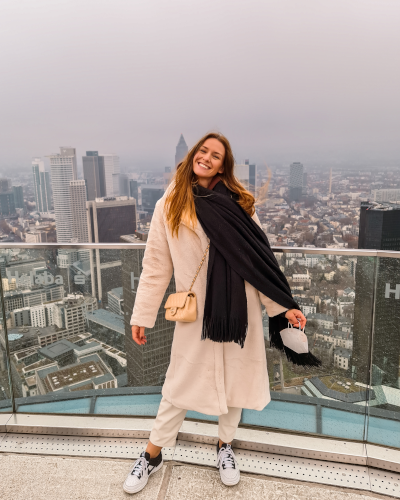 Opening hours in summer:
Sunday-Thursday: 10.00-21.00
Friday & Saturday: 10.00-23.00
Opening hours in winter:
Sunday-Thursday: 10.00-19.00
Friday & Saturday: 10.00-21.00
Ticket price: €9 for adults.
Check this website for more information and to buy tickets online. It's also possible to buy tickets at the entrance.
Dom Tower
The Frankfurter Dom is the main church of Frankfurt and was constructed between the 14th and 15th century. The gothic church has been rebuilt twice, after a fire in 1867 and after bombings during World War II. It's possible to climb up the Dom Tower, which is connected to the Frankfurter Dom. The tower is 95 meters tall and has an observation platform at 66 meters that offers beautiful views of Frankfurt's Altstadt (the old town) and the skyscrapers. As the Main Tower and the Dom Tower are located in different parts of the city (the Main Tower in the modern part and the Dom Tower in the historical part) and there's a huge difference in height between the towers, the view from both towers is completely different. Therefore, we think you won't regret visiting both observation platforms. The only downside to the Dom Tower is that you have to climb a lot of stairs, but the views are worth it!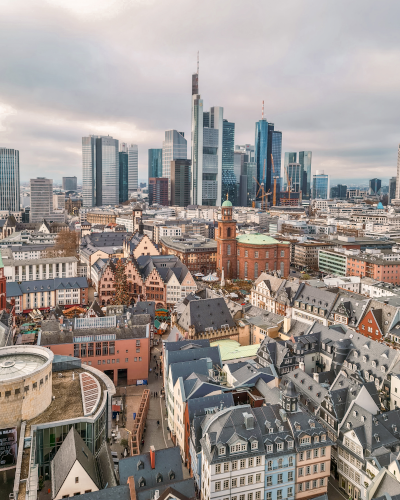 Opening hours:
April 1st until October 31st: 10.00-18.00
November 1st until March 31st: 10.00-17.00
Ticket price: €3 for adults.
You can only buy tickets at the counter right next to the entrance of the tower. It's not possible to pay by card, only cash.
Haus zur Goldene Waage
The Haus zur Goldene Waage is located close to the Dom Tower in the historical part of the city. It's a medieval half-timbered house with detailed Renaissance facades dating from 1619. During the World War II, the well-preserved medieval old town of Frankfurt was almost completely destroyed by bombings. Between 2014 and 2018, parts of the destroyed Altstadt were rebuilt under the so-called Dom-Römer Project. Haus zur Goldene Waage was one of the buildings to be restored. In 2019, the building opened to the public and currently houses a café with a stunning interior and a wide selection of kuche (cakes and pies). It's a perfect place for a coffee and a piece of kuche after climbing the many stairs of the Dom Tower or while exploring the old town of Frankfurt.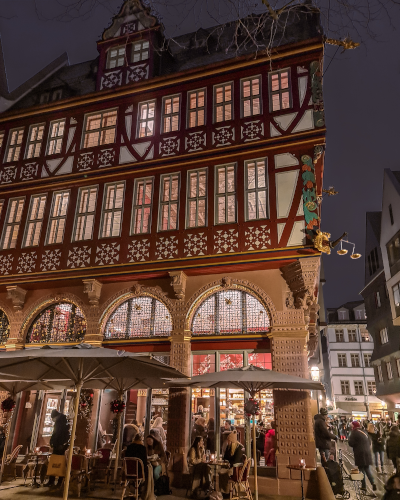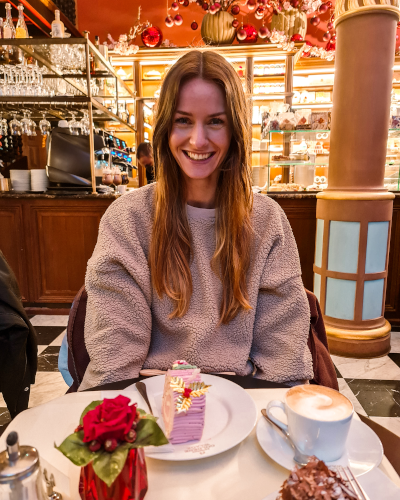 Chicken Market
The Hühnermarkt, or Chicken Market, is a square in the Altstadt that was also rebuilt during the Dom-Römer Project. The square is beautifully restored and is surrounded by medieval half-timbered houses which makes it feel like you went back in time. It's definitely worth it walking across this pretty square.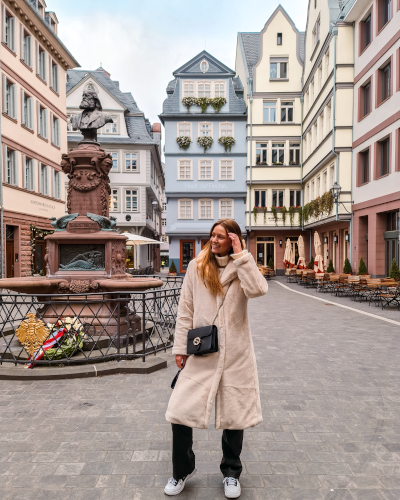 Römerberg
Römerberg, which translates to Roman hill, is a large square in Frankfurt and is considered the heart of the medieval old town. The square is mostly surrounded by half-timbered houses. You can also find the Römer building complex at this square, which has housed the city hall for over 600 years. Römerberg is the main landmark of Frankfurt and you can't leave the city without admiring this beautiful square.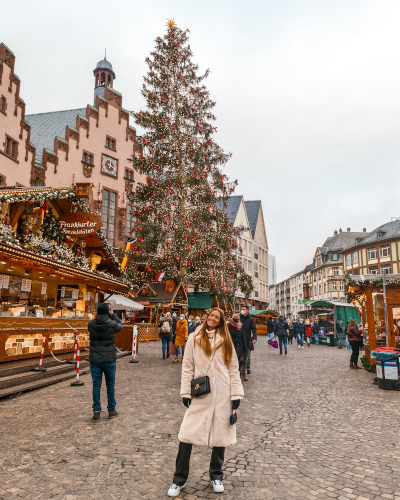 Alte Oper
The Alte Oper, which translates to old opera, is a former opera house dating from 1880. The opera house was heavily damaged during World War II and restored in 1981. It's currently a concert hall. At night, the Alte Oper as well as the fountain in front of the building, are beautifully lit. It's a beautiful sight.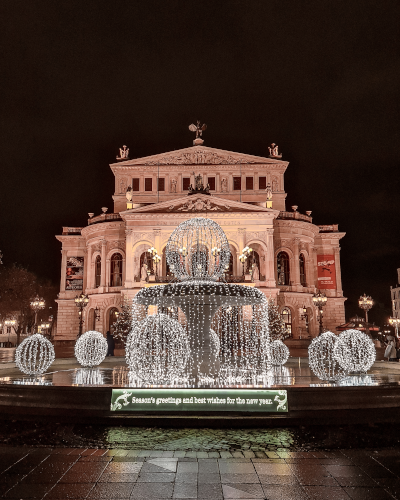 Frankfurt Christmas Market
The Frankfurter Weihnachtsmarkt is a yearly Christmas market stretching through the old town. If you ask us, Germany has the best Christmas markets in Europe and we loved this one in Frankfurt. There are many stalls offering different kinds of foods, drinks and (Christmas) souvenirs. The atmosphere is amazing and it's perfect for getting into that cozy Christmas mood. The only thing missing was an ice skating rink. The Christmas market typically takes place from the end of November until Christmas. We can recommend visiting Frankfurt during this time of the year to be able to enjoy the market. Make sure to check this website for the exact dates and opening hours.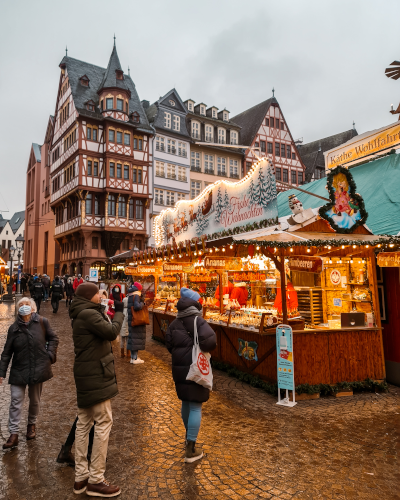 Shopping
North of the Altstadt, you can find the main shopping area of Frankfurt. Along the street Zeil is where all the large chain stores are located. There's also a large indoor shopping center called MyZeil that offers a wide selection of stores as well as lots of places to eat. The shopping area of Frankfurt is large and you can easily spend a day shopping for clothes, cosmetics, electronics and more.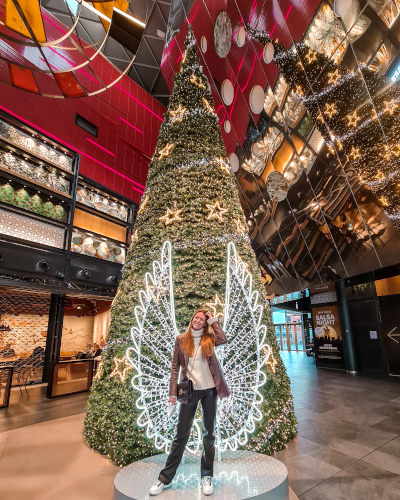 Day Trip to Mainz
When you've seen everything you wanted to see in Frankfurt and still have some time left, hop on a train to Mainz. The S-Bahn train takes you to Mainz in less than 40 minutes. The city center of Mainz is smaller compared to Frankfurt's which makes it perfect to visit on a day trip. We recommend walking around the city center of Mainz and admiring the historical buildings. In case you're visiting Mainz in December, there is also a Christmas market, although we liked the one in Frankfurt better. We visited the market early in the afternoon and it was very quiet. Christmas markets are best to visit when it's about to get dark or at night so maybe we just didn't visit at the right time. Nevertheless, Mainz is a lovely city to walk around and explore.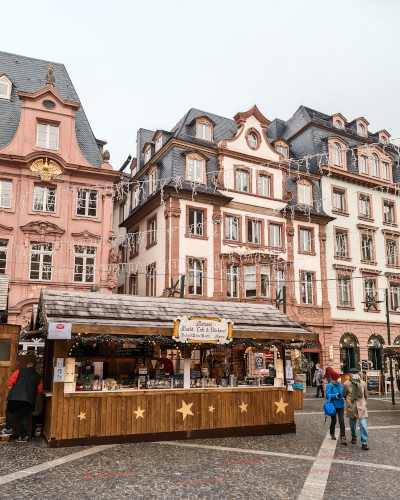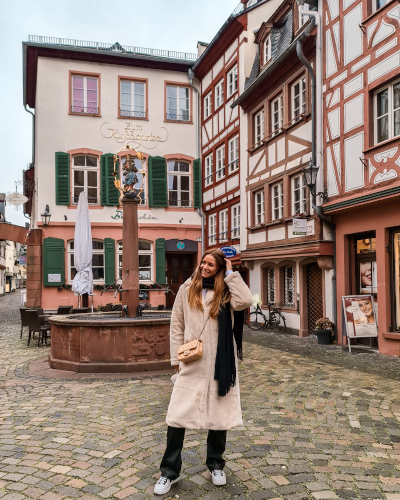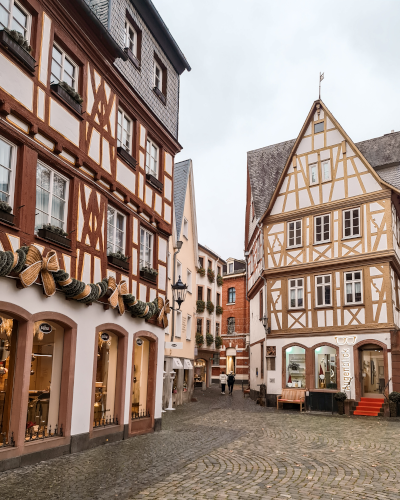 Where to eat
Sunny Side Up
Sunny Side Up can be considered an Instagrammable café with its yellow interior. As Mika loves places that look nice, we had to check this place out. We visited on a Saturday afternoon, at lunch time, and waited over half an hour to get seated. Unfortunately, the overall experience wasn't great. The milk in our drinks (cappuccino and chai latte) wasn't warm. The food tasted good, but the ingredients that were supposed to be warm (such as eggs), were not. The staff was quick, but the level of friendliness was mediocre. The interior looked pretty, but was too bare to be considered Instagrammable for Mika's taste. It wasn't a horrible experience, but there were just a bit too many downsides to justify the wait.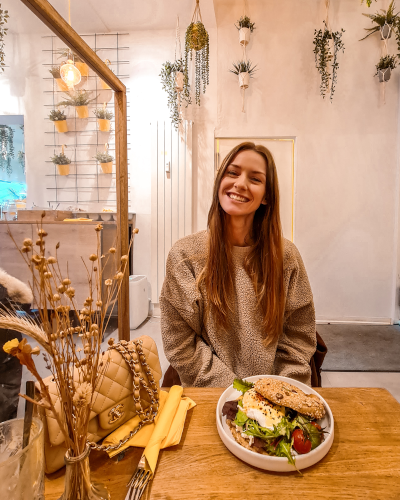 MoschMosch
Ever since snowboarding in Japan, ramen has been our favorite food to eat in winter. As we were craving ramen, we decided to eat at MoschMosch, a German chain of ramen bars. MoschMosch is one of the few places we've come across that serves vegetarian (or vegan) Tan Tan Men ramen. As it's Mika's favorite kind of ramen, she had to order it and she loved it. Besides ramen, they also serve pokébowls, curries and fried noodles. MoschMosch is a great place to eat if you're craving ramen.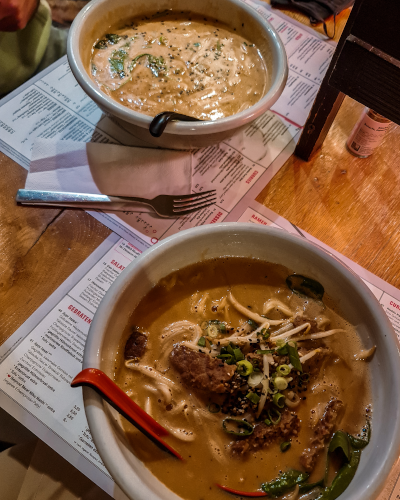 Jamy's Burger
If you can't choose what to eat, burgers are always a good idea. We had a great experience at Jamy's Burger. The food was very yummy, the service was good and the home-made lemonades were delicious. If you're up for burgers, Jamy's Burgers is your go-to place!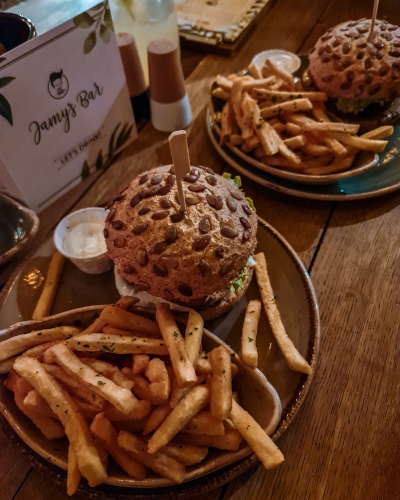 Chipotle
We loved eating at Chipotle so much when we were in the United States. Chipotle only has a handful of locations in Europe, two of which are in Frankfurt. When we found out, we had to eat there. Luckily, the food tasted the exactly same as we remembered. The only thing missing was the chipotle tabasco at the table. Chipotle is the perfect place to eat if you're in for a quick Mexican dinner.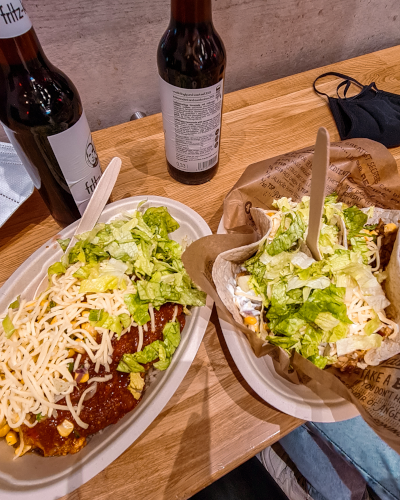 How long to stay in Frankfurt
We stayed in Frankfurt for 4 nights. As we arrived on our first day early in the morning, we had three full days to explore the city. For us, this amount of time was perfect. Two days in Frankfurt is enough to see everything the city has to offer without rushing around. On your "extra" day, you can visit a city nearby such as Mainz.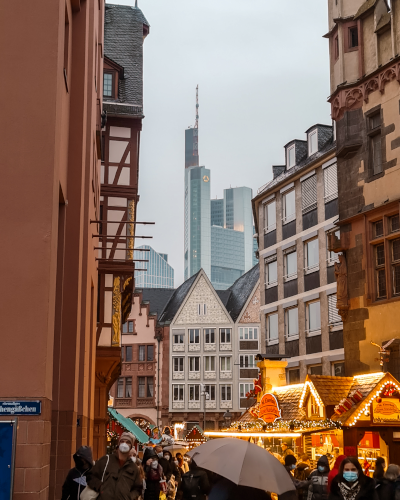 Where to stay
The best area to stay in Frankfurt regarding location would be in or near the Altstadt. This is also the most expensive place to stay. We chose a more budget-friendly option and stayed a little further away from the city center in Ibis Frankfurt Centrum. We love staying in Ibis hotels, especially when traveling by car. Most Ibis hotels have a car park underneath or close to the hotel with decent rates. The rooms are basic and small, but offer everything we need for a short stay. We think the price-quality ratio of Ibis hotels is on point. The walk from the hotel is 20 minutes to the city center. If you wish you can walk along the river, which is a nice area to walk. Click here to book a room in the Ibis Frankfurt Centrum hotel.
Click here to check out other hotels in Frankfurt.
An area you might want to avoid is the area right in front of Frankfurt's central station. There are many hotels located in this area, most of them offering great rates. However, in reviews of the hotels we read that most travelers didn't feel safe walking to and from hotels in this area, especially at night. If you're not susceptible to these kinds of feelings, it's perfectly fine to stay in this area. If you are, you might want to consider staying somewhere else.
Pandemic
At this moment, Germany has some of the strictest rules in Europe to prevent the spread of COVID-19. You can enter Germany when you're fully vaccinated. Before entering the country, you need to register your visit on this website. You have to carry the (digital) proof of registration with you as you can be asked to show it before entering the country or when you're in the country. We assume you have to show before boarding a plane, train or boat to Germany. We drove to Germany by car and since there is no border patrol, we didn't have to show it. Besides that, every federal state has its own rules regarding whether or not you are allowed to eat inside of restaurants, visit museums, theaters or cinemas, etc. Right now, most federal states have a 2G+-policy, which means that you have to be fully vaccinated/recovered and have proof of a booster or negative test. In case you're also visiting Mainz, be aware that Mainz isn't located in the same federal state as Frankfurt. During our trip, the rules in both states differed: the policy in Frankfurt was 2G and in Mainz 2G+. Make sure to check the COVID-19 rules before visiting Germany, as they might change at any time.
Check this website for the current rules on a nation-wide level.
Check this website for the current rules in each federal state. Unfortunately, the website is only available in German.
Note: if you had one dose of the Johnson & Johnson vaccin, you're not regarded fully vaccinated in Germany. Check this website for more information.
Have you ever been to Frankfurt? Let us know in the comments below!
Be sure to check out: