Visiting Cinque Terre - Everything You Need to Know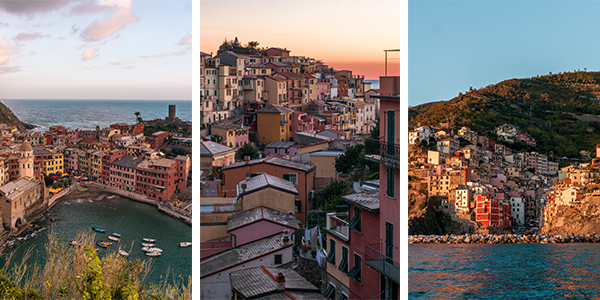 Cinque Terre is the name of the five medieval villages along the Ligurian Coast in Italy: Riomaggiore, Manarola, Corniglia, Vernazza and Monterosso. It is considered to be one of the most beautiful areas of Italy. The well-preserved colorful medieval buildings are just beautiful to look at. When traveling to Italy, you can't miss visiting these picturesque villages. In this blog post we'll provide you with all the necessary practical information you need to plan a trip to Cinque Terre.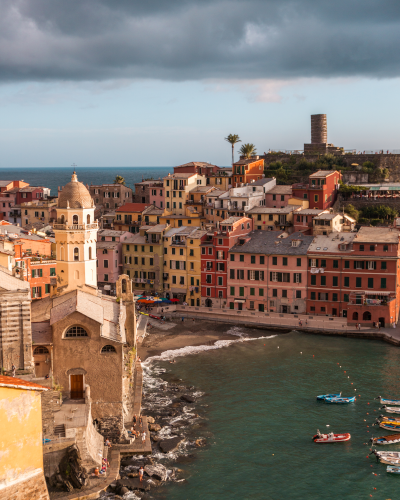 Did you know that we sell prints of Cinque Terre on our webshop KIPAVISTA.com?
Check them out now!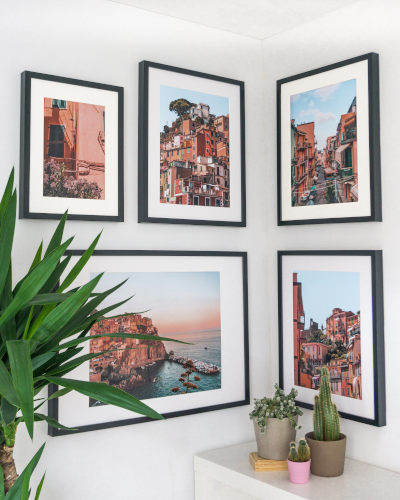 The history of Cinque Terre
The villages have a long history with Vernazza and Corniglia being the oldest of the five. Records of Vernazza and Corniglia date back to the 1000s. Nowadays you'll find fishermen's huts and boats in the villages, but historically that's not how the villagers earned their money. The villages were inhabited by farmers until the beginning of 20th century with wine as the main trading product. Even in the Middle Ages, Vernaccia (a wine produced in Cinque Terre) was famous and considered among the best. All of the villages are still surrounded by wine fields that are perched up the hills. When hiking from one village to another, you'll be mostly surrounded by these wine fields. You can taste the Cinque Terre wine at the restaurants in the area but it's also possible to go on an organized wine tour.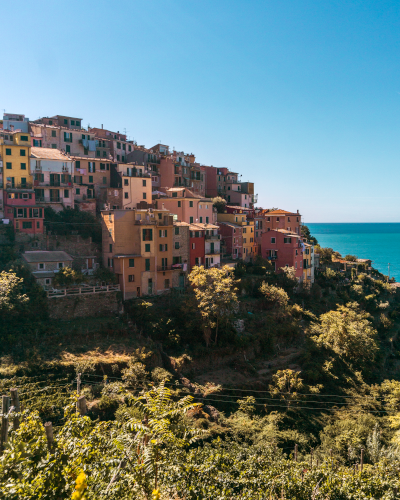 The name 'Cinque Terre' originates from a clerk of the Maritime Republic of Genoa who referred to the five villages under a single name as he thought the villages had many common characteristics. Until the mid-1600s, the villages were often attacked by pirates. You can still find and visit some of the watch towers that were built thousands of years ago, for instance Castello di Vernazza. In 1870, the railway network was built in Cinque Terre, which opened up the villages to the outside world. This resulted in inhabitants migrating away from the area and declining industries. From the 1970s, tourism started to grow and brought some prosperity back to the villages. In 1997, the villages were added to the UNESCO World Heritage List. In 1999, Cinque Terre became a National Park. Nowadays, Cinque Terre is visited by 2.5 million tourists every year.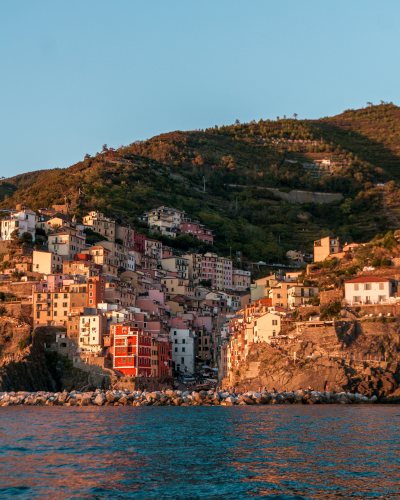 How to get around Cinque Terre
The villages are connected by train and hiking trails. In theory, it's also possible to visit the villages by car. However, parking in the villages is very limited and the roads are windy so it'll take a lot longer than the train that goes straight through the mountains. If you're in Italy by car, we'd recommend parking the car in either La Spezia or Levanto and taking the train to the villages.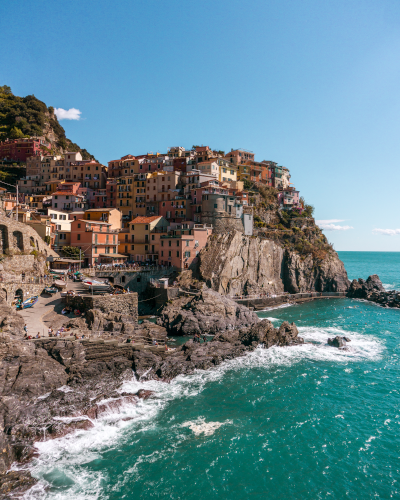 By train
The Cinque Terre Express creates a connection between the villages as well as to La Spezia and Levanto. Getting around by train is the fastest way. The train ride from Riomaggiore (the easternmost village) to Monterosso (the westernmost village) is only 14 minutes. Depending on the season, trains leave every 10 to 30 minutes. A one-way ticket between any of the destinations on the Cinque Terre Express route (La Spezia - Cinque Terre - Levanto) is €5. It's also possible to get the Cinque Terre Train Card. This card allows unlimited train rides between any of the villages of Cinque Terre, La Spezia and Levanto. A 1-day card is €18,20, a 2-day card is €33 and a 3-day card is €47. The Train Card also includes access to the paid hiking trails. We'd recommend to calculate in advance whether you need to buy the Cinque Terre Train Card. If you're planning on taking 4 or more train rides in one day, which is not uncommon, the Train Card is the best option.
Hiking trails
All of the villages are connected to each by (multiple) hiking trails. The duration of the trails varies between 30 minutes and 5 hours. Most of the hiking trails are free of charge, but there are two paid hiking trails: from Monterosso to Vernazza and from Vernazza to Corniglia. To access the paid hiking trails you either need a Cinque Terre Trekking Card or a Train Card. The Trekking Card is €7,50 for 1 day or €14,50 for 2 days. In the off-season, from November until March, all hiking trails are free of charge. We'd recommend checking in advance whether the trail you want to hike is actually open. Trails can be closed for maintenance or due to weather circumstances. The popular trail from Manarola to Riomaggiore (Via dell' Amore) is closed until July 2024.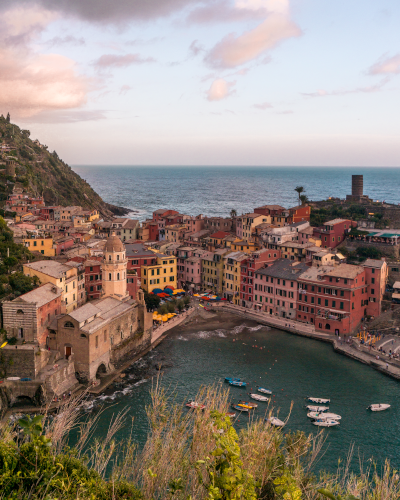 How long to stay in Cinque Terre
According to some, you could easily see Cinque Terre in 1 day. In theory, that's absolutely possible. The villages are small and well-connected by train, so you can easily hop in and out of the five villages in one day (especially if you start early). However, we wouldn't recommend it.
You'll enjoy the villages much more if you don't rush. Furthermore, you'll need time to eat and there's nothing more fun than indulging in Ligurian cuisine without any time restraints.
Depending on your traveling style and whether you'd like to hike, we'd recommend a 2 to 4-day stay in Cinque Terre. In two full days, you can explore all villages by train while taking your time in the villages without having to rush. If you like to take things very slow, or you like to start exploring late, a 3-day stay in Cinque Terre is a better option for you. You'll need at least 2 hours in every village to soak it all up, so keep that in mind. If you're planning on hiking between the villages, we'd recommend staying 3 or 4 days, depending on how many hikes you want to do in a day.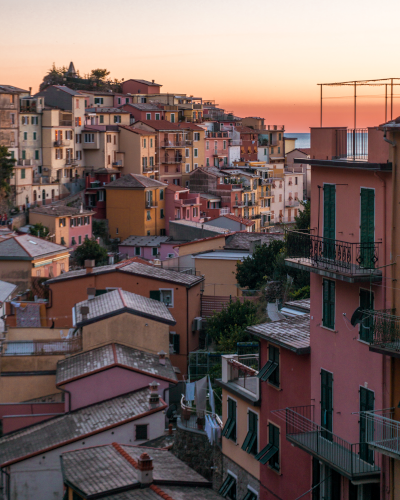 Beach Day
Monterosso is a great place for a day at the beach during the sunny season. If you're planning on a beach day, make sure to extend your stay by 1 day. 95% of the beach in Monterosso is privately owned so you have to pay for access, and a beach bed. Prices range between €30-40 for two beds. We think a beach day in Monterosso is a good idea to relax after enjoying the five villages of Cinque Terre!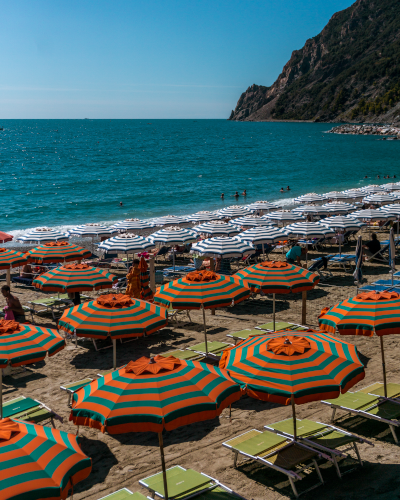 Where to stay in Cinque Terre
You can either stay in one of the villages of Cinque Terre or you can stay just outside of Cinque Terre in La Spezia or Levanto.
Staying in one of the villages in Cinque Terre
If you stay in Cinque Terre, you can enjoy the village you're staying in when most of the tourists are gone early in the morning and in the evening. You'll also be surrounded by all the beauty Cinque Terre has to offer immediately when you wake up. There are plenty of options available with amazing rooftop terraces and views of the village and/or sea. The downside of staying in one of the villages in Cinque Terre is that it's way more expensive than staying outside of Cinque Terre. Besides that, all villages (except for Monterosso) are mostly located on hills. This will probably mean that you have to climb some (or a lot of) stairs on the way to the accommodation. If you're carrying a lot of luggage, this can really be a struggle so keep that in mind.
Click here for accommodation in Cinque Terre.
In 2022, we stayed in an apartment in Vernazza and absolutely loved it. The apartment was close to the train station of Vernazza and there weren't too many stairs to reach it. We had a private rooftop terrace overlooking the village and the sea.
Click here for the Vernazza apartment we stayed in.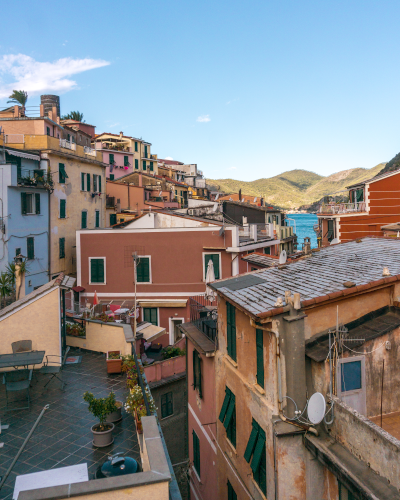 Staying in La Spezia or Levanto
Compared to staying in one of the villages of Cinque Terre, staying in La Spezia or Levanto is generally cheaper, with La Spezia being the cheapest option. If you're traveling by car, we'd recommend avoiding the hassle and staying in either La Spezia or Levanto as parking in Cinque Terre is very limited. In La Spezia or Levanto you can even look for accommodation with private parking options, something that the villages of Cinque Terre don't offer. The downside of staying outside of Cinque Terre is that you'll need to travel to the villages every morning and back in the evening. Besides that, you're also enjoying less of the Cinque Terre experience.
In 2020, we stayed in an apartment in La Spezia. This was the best option as we were traveling by car and didn't feel like breaking the bank. We chose an apartment close to the train station to be able to hop on the train early in the morning. We also decided to spend a late afternoon and evening in La Spezia. We wouldn't necessarily recommend that. La Spezia simply doesn't have much to offer in comparison to Cinque Terre. Having dinner in La Spezia isn't a bad choice, but there's no need to reserve time to explore the town.
Click here for accommodation in La Spezia.
This year we visited Levanto for a few hours as we hadn't been there before. Levanto has a more similar feel to Cinque Terre compared to La Spezia. It has the same colorful houses as the ones you find in Cinque Terre. The buildings in Levanto actually look very similar to the buildings in Monterosso. There's also a huge beach with a lot of beach beds and some beautiful sea side villas to look at. In summer, it's probably a lot easier to rent a beach bed in Levanto than it is in Monterosso. We loved spending a few hours in Levanto and it's a lot prettier than La Spezia. So if you're traveling by car or want a cheaper option than staying in Cinque Terre, Levanto might actually be the best choice.
Click here for accommodation in Levanto.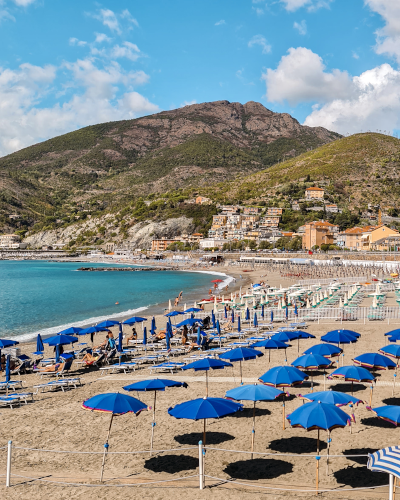 Best time to visit Cinque Terre
As we said before, Cinque Terre attracts 2.5 million tourists a year. Especially considering the small size of the villages, it gets very crowded. Cinque Terre has a long high season from May until October. If possible, we would recommend avoiding July and August as many countries in Europe are on summer break and temperatures get very high in Cinque Terre. June and September have nice temperatures and a lot of sun hours, but those months are still very crowded. The best months to visit are May and October, when the temperatures in general are still nice and the crowds aren't too bad. If you don't care about the weather but want the smallest crowds possible, your best option is visiting in November until March. Be aware that not all restaurants might be open during that time, or that restaurants are only open on weekends.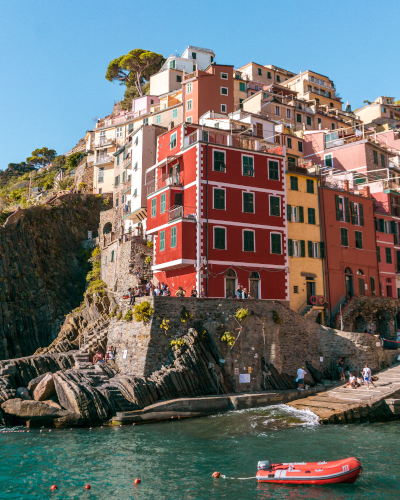 Have you been to Cinque Terre or is it still on your travel bucket list? Let us know in the comments below!
Be sure to check out:
Visiting the Thermal Hot Springs in Saturnia, Tuscany