Visiting the Thermal Hot Springs in Saturnia, Tuscany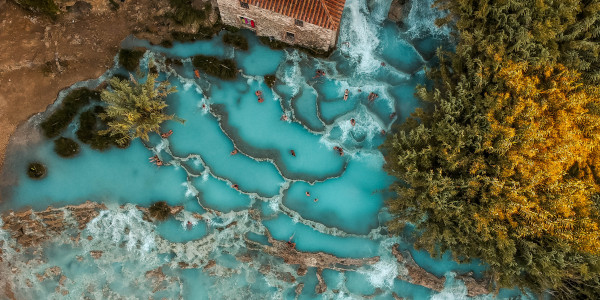 If you're an avid Instagrammer (or spend a lot of time on Pinterest), you've probably seen the thermal baths in Saturnia before. The beautiful turquoise-colored terraces are famous on the social media platform, and we can totally see why! Located in the south of Tuscany, you can't miss these hot springs during your Tuscany road trip. In this blog, we're sharing everything you need to know about visiting these Instagram-worthy thermal baths in Tuscany.
The thermal springs in Saturnia
Historically, it is believed that these thermal baths have health benefits. Since ancient times, people have come to the baths to treat rare diseases. Not so fun fact: in the 18th century, Saturnia was found deserted because of malaria. Apparently the water can't cure all diseases.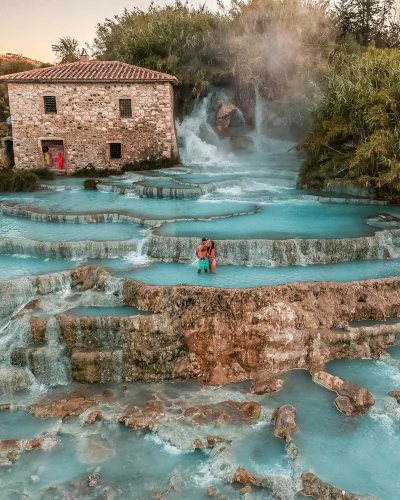 Best time to visit the thermal baths
Whether you believe in the disease treating capabilities of the thermal water or not, the place is incredibly beautiful. For both reasons, the hot springs attract lots of tourists and locals every day. Luckily, the baths are open 24 hours a day and they're freely accessible without having to pay an entrance fee. This means that the baths get crowded very fast. We arrived early in the morning around sunrise (06:45), on a Friday in the beginning of September and it was already pretty crowded. There were also five (!) drones up in the air, getting an aerial view of the blue terraces. Getting there early, doesn't guarantee having this place to yourself anymore, unfortunately. Despite all the early risers, it's still very peaceful to be in the baths while enjoying the soft morning light.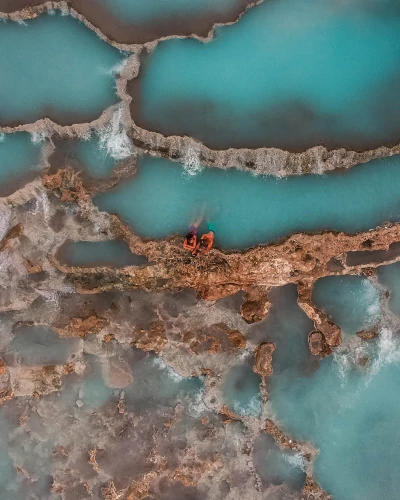 If you want this place to yourself, it's probably best to visit this place when it's dark. It will be a challenge to take photos in the dark so it's probably not your best bet if that's your goal. Early mornings are still less crowded than during the day and the light is very beautiful. If taking photos is your goal, early in the morning is still the best time to go. Just be prepared to perform some Photoshop-magic if you want the frame all to yourself.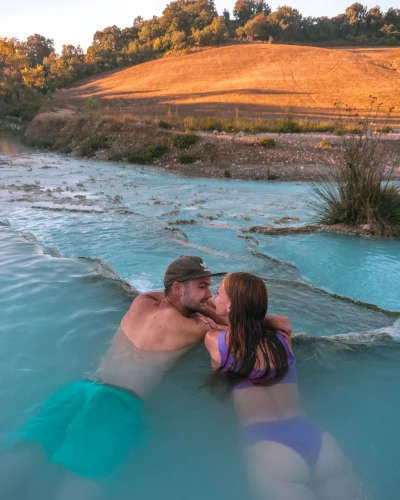 How to get to the thermal springs in Saturnia
The best (and actually only) way to get to the hot springs is by car. Saturnia is located in the south of Tuscany, around 2 hours south of Siena and around 2 hours north of Rome. It's a perfect stop during your road trip through Italy or Tuscany. We stopped by this place while driving north from the Amalfi Coast.
This thermal spring is often referred to as Terme di Saturnia or Saturnia Hot Springs, but, even though this spring is located near Saturnia, it's not what this place is called. If you set your GPS to navigate to Terme di Saturnia, it will send you to a wellness spa which doesn't look like the famous Instagrammable spot at all. Yes, we found out the hard way. The place you're looking for is Cascate del Mulino, which means 'waterfalls of the mill' referring to the waterfalls and the little mill. The location in Google Maps for Cascate del Mulino is correct. There's a large free parking place next to the springs.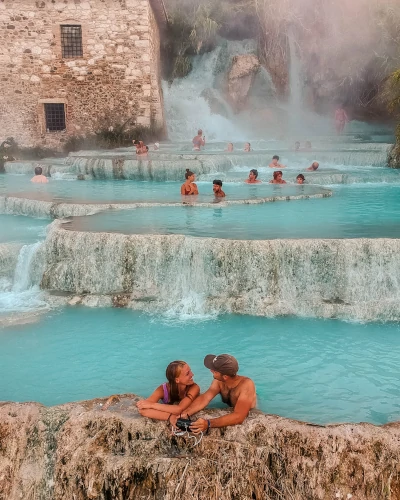 Staying overnight in Saturnia
If you want to visit the thermal baths very early in the morning, it's a good idea to spend the night nearby. We stayed in a hotel in Saturnia, which is only a 5 to 10-minute drive to the springs. The small village mostly attracts people that are visiting the thermal baths. There isn't much to do in Saturnia, but it's nice to walk around the medieval buildings and there are a few cafés and restaurants for drinks and food. So it has everything you need for one night.
We've heard that many people also camp overnight in the parking spot of Cascate del Mulino in their campervans. If you're traveling by campervan, this might be an option as well. We have no idea though whether it's legal to camp there.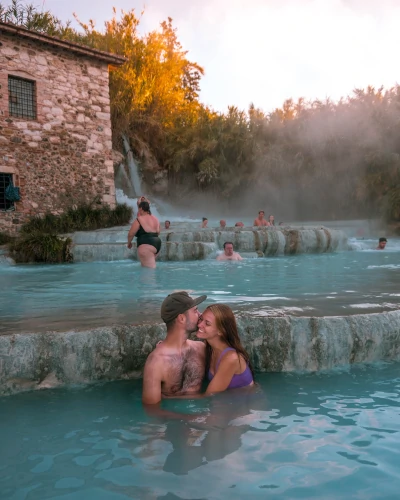 Practical information for Cascate del Mulino
Water temperature
The water temperature is 37 degrees Celsius, which is a very pleasant temperature. Even early in the morning when it's still a bit chilly, it's very nice to get in the warm water.
Smell
Because the thermal water is rich in sulphur, the baths often smell like rotten eggs. However, the smell isn't always that bad. When we visited the baths at the end of the day, there was a very bad smell but early in the morning it didn't smell at all.
Bring water shoes
The bottom of the baths are covered with rough stones which makes it painful to walk on barefoot. Bring water shoes if you have them. We used our flip flops as water shoes which isn't the most practical solution, but less painful than barefoot.
Bring a waterproof bag
If you have one, bring a waterproof bag for your photography gear. It's not easy to walk in the baths because of the rough bottom and you have to climb over the ridges of the pools. It's possible to do it without a waterproof bag and being very careful (like we did), but it's a bit of a struggle.
Red worms
There are tiny red worms in the baths that love to stick to your skin and bathing suit. At first we thought they were leeches, but they turned out to be pretty harmless. They are part of the ecosystem, but we had to pluck them off our bodies when we got out of the water.
Snack bar
There is a small snack bar next to the thermal spring where you can get food and drinks. As we visited right after sunrise, it wasn't open yet.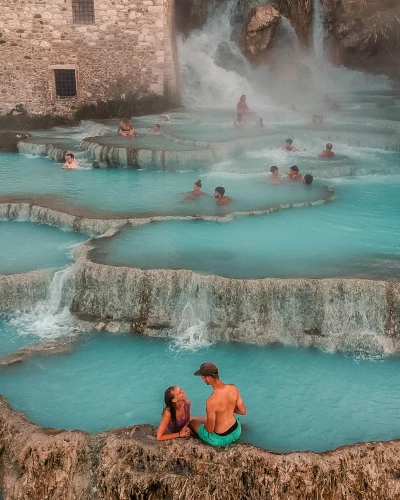 We loved these beautiful thermal baths of Cascate del Mulino and it's a must-stop during your road trip in Tuscany. Have you been here or do you want to go? Let us know in the comments below!
Be sure to check out: