Our Top 6 Favorite Travel Memories of 2020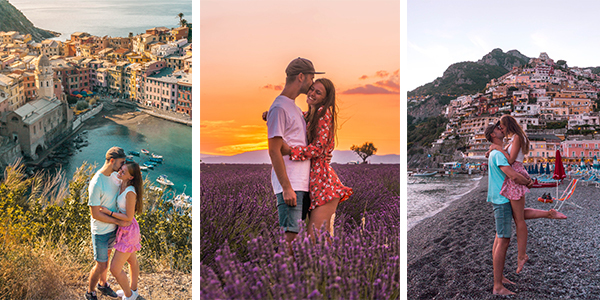 It's been a while since we posted a new blog. 2020 has been a crazy year for all of us. We've had to cancel lots of trips in the beginning of this year, but we were lucky to travel a little bit during the summer. The only countries we were able to visit in 2020 were France and Italy, but we visited some amazing places in those countries. Even though we didn't travel as much as we'd like to, we tried to make the best of the situation. It was hard to pick 6 of our favorite travel memories as all of our travel memories are actually our favorites but here we go.
6. Montalivet-les-Bains
Montalivet is a tiny village on the west coast of France and it has been our favorite summer destination for many years. We try to go there every year and we were so happy we could make it in 2020. We actually booked our stay for 2020 in January, before COVID-19's arrival in Europe and it was unsure if we were able to make it to Montalivet for a very long time. One of our favorite things about Montalivet are the incredible sunsets. We always try to catch as many sunsets as possible whenever we're in Montalivet. Just look at those colors!
If you want to read more about Montalivet-les-Bains, check out this blog:
Camping in South West France: A Summer Getaway in Montalivet-les-Bains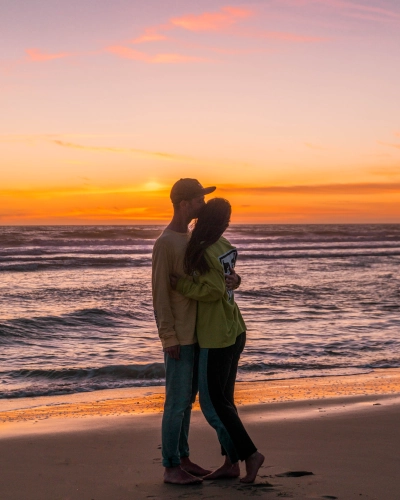 5. Cinque Terre
We had been to Italy before, but we had never been to the Italian coast. We read so many amazing things about Cinque Terre and saw the most beautiful photos of the area. We just had to check it out ourselves. Cinque Terre absolutely did not disappoint. In a nutshell, Cinque Terre is a national park on the coast of Italy consisting of five villages that are filled with pretty, colorful houses. Each village is unique in its own way and we loved exploring all of them. The viewpoints are incredible. This one in Vernazza was definitely one of our favorites. It was quite a workout to hike up the hill in the burning early morning sun, but this view made it so worth it!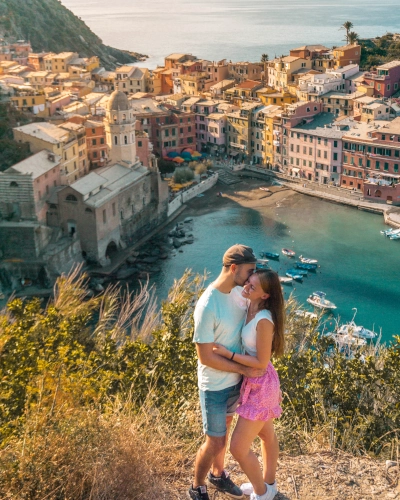 4. Cascate del Mulino
Cascate del Mulino is definitely the most beautiful natural hot spring we've ever been to. The Italian hot spring is loved both by locals and tourists alike, and it gets very crowded during the day. We visited this place right after sunrise and the pools were already filled with people. Despite the crowds, Cascate del Mulino is so beautiful and still worth visiting. The warm blue water is so relaxing and you definitely want to stay in the spring all day!
Note: we edited everyone out of the photo. It's probably impossible to get this place to yourself in daylight during the summer.
If you want to read more about Cascate del Mulino, check out this blog:
Visiting the Thermal Hot Springs in Saturnia, Tuscany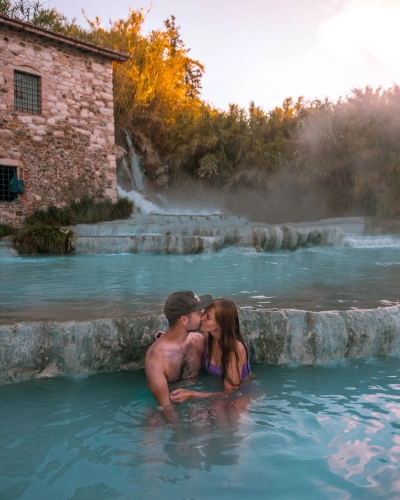 3. Sunflower fields in Provence
We were lucky to be able to visit the Provence region in the South of France during sunflower peak bloom season in the beginning of July. Everywhere we drove, we saw endless fields of yellow sunflowers. You don't need to drive all the way to Provence to see sunflowers though. From late June through July, you can spot sunflower fields everywhere in France (and some more countries in Europe as well, such as Italy and Spain). This was definitely one of our favorite fields with the pretty French house in the background.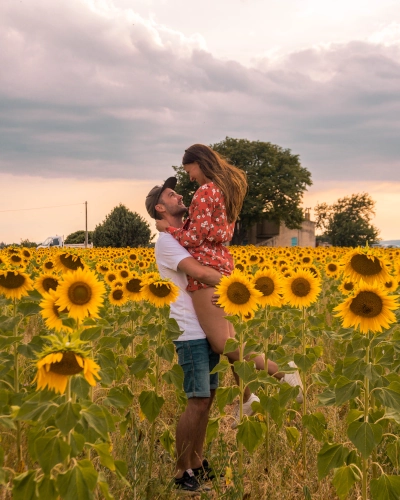 2. Lavender fields in Provence
We didn't only visit the Provence region during sunflower peak bloom season, but also during lavender peak bloom season. We definitely had the best of both worlds. Seeing all the purple lavender was absolutely stunning and it smelled so good! We drove around Valensole for an entire day to take photos of all the lavender fields we could find. This specific field is one of the most famous ones in Valensole and is right next to Lavandes Angelvin. This field is not only stunning during the day, but has incredible sunset views as well. Just look at that sky!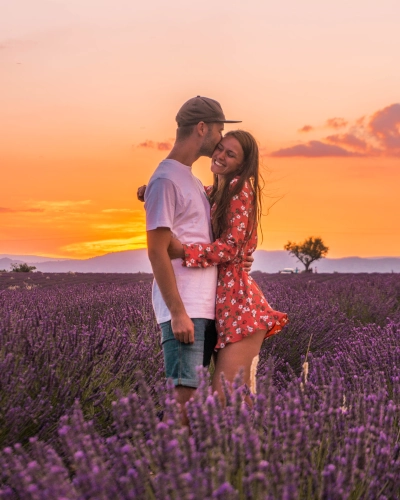 1. Positano
Our number one favorite travel memory of 2020 is Positano on the Italian Amalfi Coast. Mika actually had such high expectations for Positano that she was afraid it would be a disappointment. Luckily, Positano turned out even better than expected. Positano has quite some downsides to be aware of though. Parking is extremely expensive in the little town, there are no public beaches and you have to reserve a beach bed in advance and it's quite hard to get around the town because it's built on a hill and there are so many stairs. However, Mika was completely under the spell of Positano and all the downsides were manageable, and maybe even part of Positano's charm. There's just something special to Positano that makes all up for it. Especially when the night falls, Positano turns into a magical place. Our favorite thing was to relax on the main beach when the beach clubs closed and go for a swim if it wasn't too cold. The early evening is definitely the best time of the day in Positano. We loved every minute of our time there and would love to go back someday!
If you want to read more about Positano, check out this blog:
The Most Instagrammable Places in Positano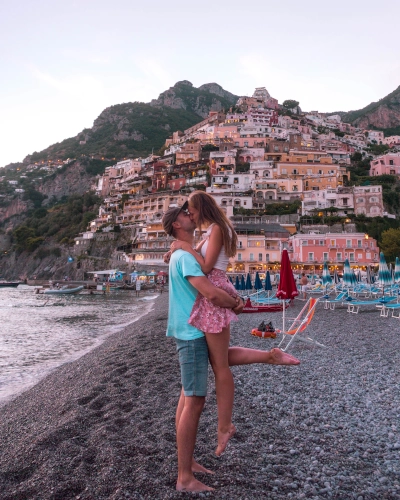 Even though we weren't able to visit all the places we'd planned in 2020, we still made amazing travel memories together. With the pandemic still going on, we don't know yet what 2021 will hold for us in terms of travel. We haven't made any travel plans yet and probably won't make any for the foreseeable future. It's just still too uncertain at the moment.
We'd love to hear from you! What are your thoughts on travel in 2021? Did you make any travel plans yet? Leave us a comment below.
Be sure to check out:
The Most Instagrammable Places in Positano
Visiting the Thermal Hot Springs in Saturnia, Tuscany
The Most Instagrammable Places in South West France
How To Get Close To the Pink Lakes in the South of France (Without a Tour)