The Best Cherry Blossom Spots in Paris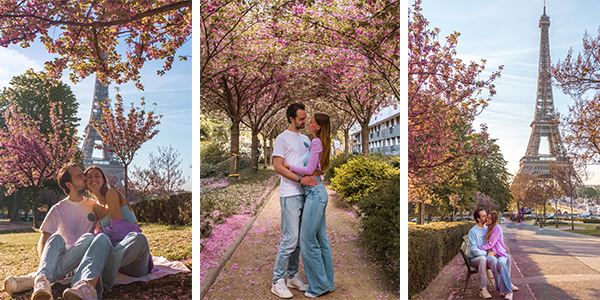 From cherry blossom spots and stunning purple wisteria facades in spring, to the ever present amazing architecture: Paris has it all! Paris is beautiful year round, but spring adds an extra bit of fairy dust to the capital city of France. In this blog post, we're sharing the best cherry blossom spots we've found during our stay, including the exact locations.
Blooming period of the cherry blossoms in Paris
The blooming period of the cherry blossoms is dependent on the kind of cherry blossom and the weather. The first cherry blossoms in Paris start blooming at the end of February and the beginning of March. These blossoms are actually often plum blossoms (not cherry blossoms) and are white or light pink in color. During the month of March you will find different kinds of cherry and plum blossoms in Paris. The most beautiful cherry blossom, the kanzan kind, is the last to bloom. In general, the kanzan sakura trees start blooming in the beginning of April. Cherry blossoms (and plum blossoms) are very delicate, and their blooming period only lasts for two weeks. Timing is crucial if you want to see pink trees in Paris!
We visited Paris from the 15th until the 18th of April 2022 and we were hoping to see some of the last kanzan sakura. Unfortunately for us, the kanzan blossoms started blooming early this year. This meant that most of the trees we found only had a few pink petals left, but were mostly turned green. If you want to see the kanzan sakura, your best bet is to visit Paris in the first week of April.
Parc de Sceaux
We're starting the list with the best cherry blossom spot that is actually located just outside of Paris. Hop on a RER line B train, head south and after just 30 minutes you'll find yourself in the town of Sceaux. Parc de Sceaux is a huge park in Sceaux and every spring, the North Grove in the park turns into a cherry blossom heaven. Luckily for us, the kanzan sakura in the park start blooming a little later than in Paris. So we were right in time to catch them at their peak bloom. We think Parc de Sceaux is the best place to see cherry blossoms in Europe. We dedicated a full blog post about visiting the cherry blossoms in Parc de Sceaux to provide you with all the necessary information for your visit.
Visiting the Cherry Blossoms in Parc de Sceaux near Paris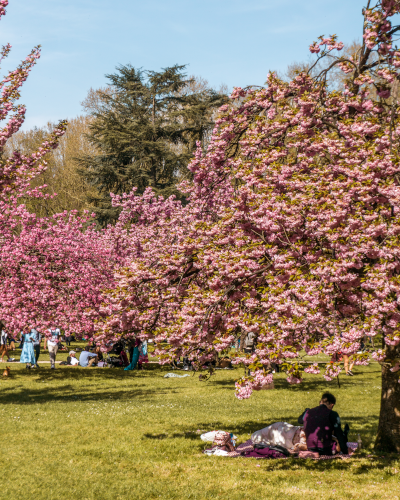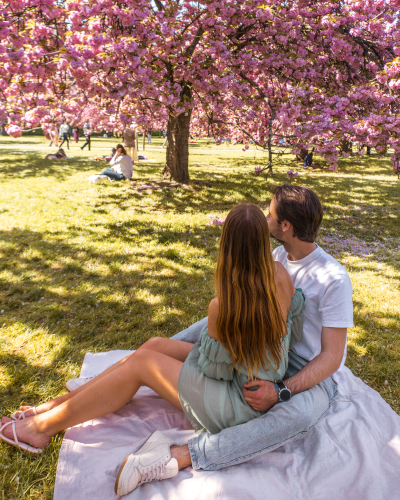 Jardins du Trocadéro
One of the most beautiful spots to photograph the kanzan sakura in Paris is from Jardins du Trocadéro. As the garden is closely located to the Eiffel Tower, you can perfectly frame the Tower with the cherry blossoms, which line both sides of the pathway up Trocadéro. There are also some patches of grass where you can have a picnic under the sakura trees.
Jardins du Trocadéro are loved by photographers and tourists alike. So we would advise you to go as early as possible. It was our third photo spot that morning, and we arrived at 8 o' clock. There were already a lot of client photoshoots taking place. So many that we had to edit people out of our photos. If you want a chance to have the gardens to yourself, head there right after sunrise. We assume that the gardens will be flooded with tourists later in the morning and during the afternoon.
There are cherry blossom trees on both sides of the fountain. We went for the ones on the eastern side, but you can also go for the trees on the western side.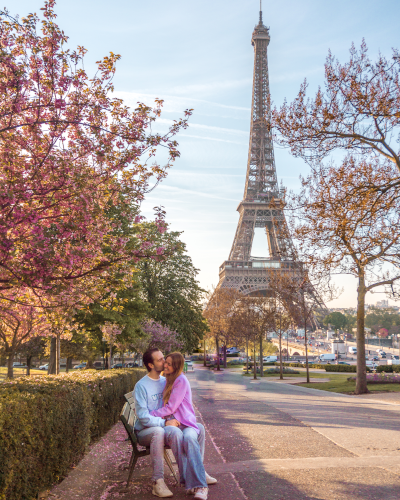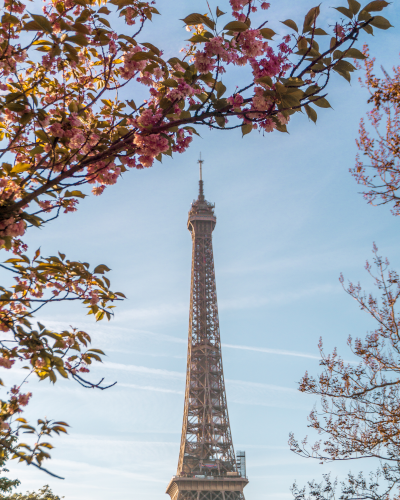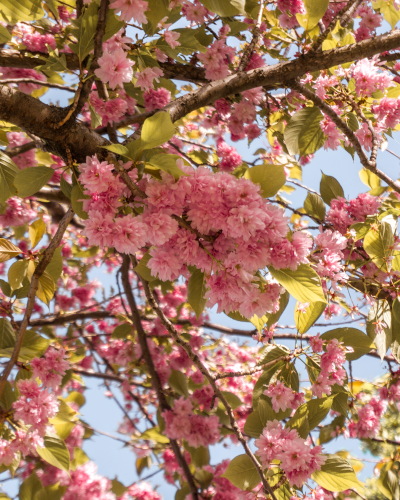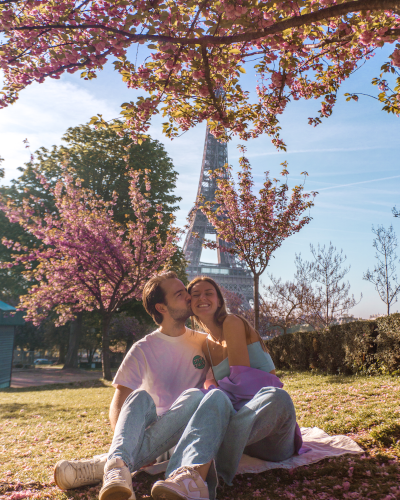 Mail de Bièvre
Mail de Bièvre is a garden in a residential area in Paris. Every April, the kanzan sakura trees in the garden create a pink tunnel, making it one of the most beautiful cherry blossom spots in the city. Unfortunately for us when we visited Mail de Bièvre, a bit too many of the blossoms already lost their petals. So there was no pink tunnel for us. It was still a beautiful sight nonetheless, with a bit of pink in the trees left and plenty of pink on the ground.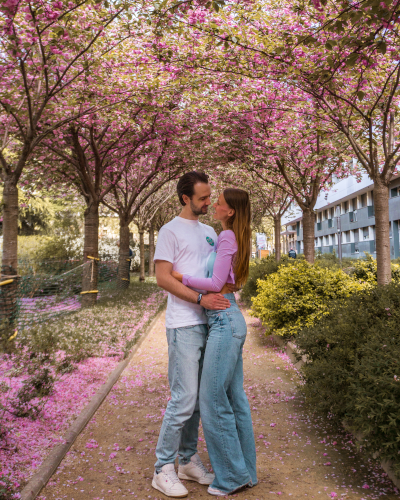 Jardin des Plantes
Jardin des Plantes is a botanical garden in Paris. Besides its collections of plants, trees and flowers, there's also a zoo located in the garden. There are a few cherry blossom trees as well. One of them is a huge kanzan sakura tree that really stands out. Just like the cherry blossoms in Mail de Bièvre, we were a tad too late to see it in full bloom, however. Most of the petals had already fallen. There were a few other trees that still were a bit more pink, but the peak bloom of all of them was over. Nevertheless, Jardin des Plantes has more to offer than just cherry blossom trees and it's also worth visiting the garden outside of cherry blossom season.
Opening hours
From 27 March until September 20 (2022): daily from 07.30 - 20.00
From 1 until 29 October (2022): daily from 08.00 - 18.30
From 30 October (2022) until 28 February (2023): daily from 08.00 - 17.30
Entrance to Jardin des Plantes is free. Check their website for recent opening hours and more information.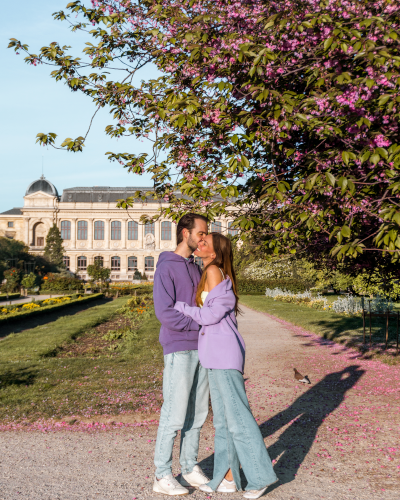 Petit Palais Courtyard
Petit Palais is a museum in Paris with a collection of old and modern art. The palace was designed by Charles Girault in 1900 and it's a beautiful building, from both the outside as well as the inside. In the heart of Petit Palais, there's a lush and green courtyard. Unfortunately, we were way too late for the cherry blossoms in the Petit Palais courtyard. We didn't even spot a single pink petal left on the trees nor on the ground. Nevertheless, the courtyard is beautiful and absolutely worth visiting. The museum's restaurant is also located in the courtyard and it's the perfect spot for a cup of coffee.
We didn't properly research this spot in advance and somehow we were under the assumption that we could enter the courtyard without entering Petit Palais. However, this is not possible. You can only access the courtyard through the museum. When visiting the courtyard, definitely check out the museum as well. The permanent collection in Petit Palais and the courtyard can be visited for free.
Opening hours
Tuesday until Sunday: 10.00 - 18.00
Check their website for recent opening hours and more information.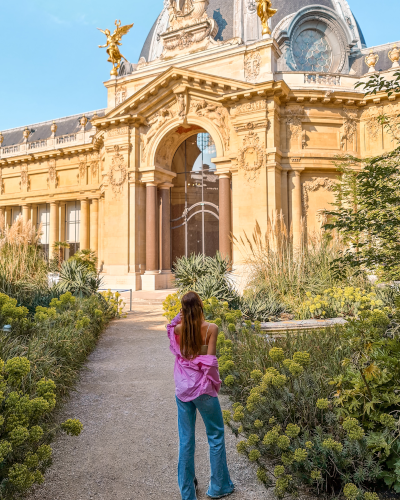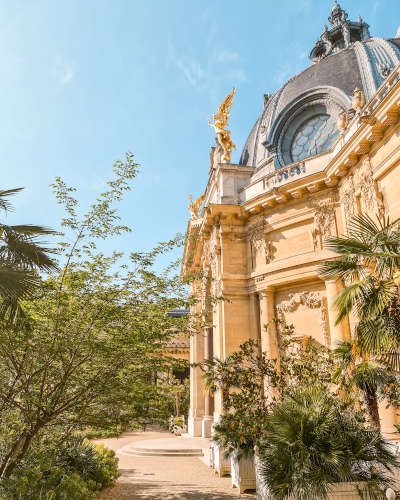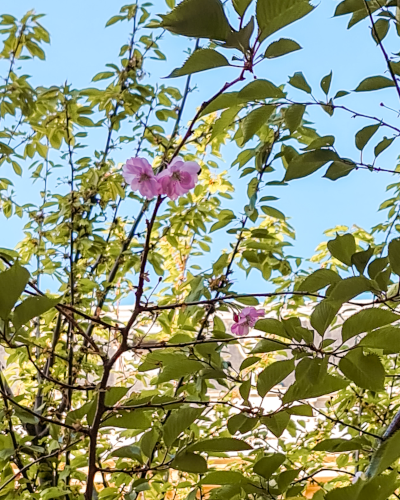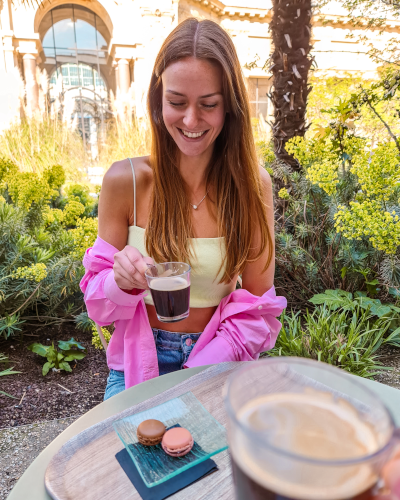 Shakespeare and Company Bookstore
Shakespeare and Company is an English bookstore near Île de la Cité. The facade of the bookstore is beautiful and there are two kanzan sakura trees in front of the store. We walked past the bookstore in the afternoon, just checking whether the cherry blossoms were still blooming. Unfortunately, the trees were mostly green with just a few pink petals left. Besides that, there was such a huge line to enter the bookstore. We only knew about this spot because of the cherry blossom trees in front of it, but apparently it's a very popular bookstore too. Therefore, if you want to take photos here, we would advise you to go early in the morning. Otherwise you'll have a long line of people in your photos.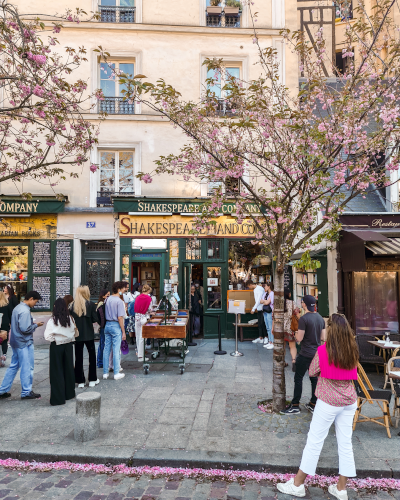 Notre-Dame de Paris
The Notre-Dame de Paris is surrounded by a few cherry blossom trees. When walking around the church you will spot them. Most of the trees already turned green during our visit. From Quai de Montebello across the Seine, we spotted a few trees that still had pink petals on them. Unfortunately, the Notre-Dame is currently under construction, so we couldn't properly capture the cherry blossoms. Hopefully, construction is finished next spring!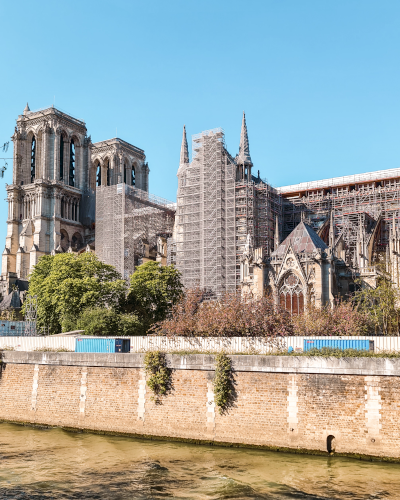 We found all of these spots through Ophélie, who is a travel blogger based in Paris. She has a very extended list of cherry blossom spots in Paris on her blog Limitless Secrets. If you're looking for more cherry blossoms, make sure to check out her article!
Getting around Paris
The easiest way to visit all these cherry blossom spots is by metro. We used Google Maps for metro routes and it was always accurate for us. Be aware that Google Maps not always has the most recent information regarding metro disruptions. Fortunately, we didn't experience any, but always check the information signs at the metro stations. A single one-way metro ticket is €1,90.
Is seeing the cherry blossoms in Paris on your travel bucket list? Let us know in the comments below!
Be sure to check out:
The Best Wisteria Spots in Paris
Visiting the Cherry Blossoms in Parc de Sceaux near Paris
How To Get Close To the Pink Lakes in the South of France (Without a Tour)
The Best Lavender Fields in Provence