The Most Instagrammable Places in Dubai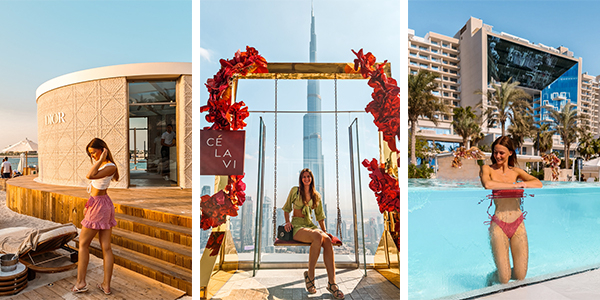 Dubai is a paradise for Instagrammers. With the most beautiful beach clubs, restaurants and bars, you can find an Instagrammable spot everywhere you go. In this blog post, we're sharing the most Instagrammable places Mika found in Dubai, including links to their locations. And don't forget to bring some extra outfits if you're visiting multiple spots in one day!
Read more:
10 Days in Dubai - The Best Things To Do on a Girls Trip
Five Palm Jumeirah
Five Palm Jumeirah is a beautiful hotel located right next to the beach with private beach access and a huge pool. As we were a bit too late for sun beds, we enjoyed some cocktails in their restaurant right on the beach. When you're not staying at the hotel, you can buy a day pass for sun beds. The architecture of the hotel is amazing and perfect for a photo backdrop. Don't forget to shoot the skyscrapers of Dubai Marina from the beach while you're here!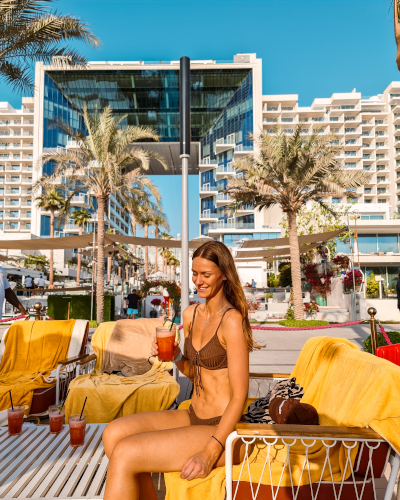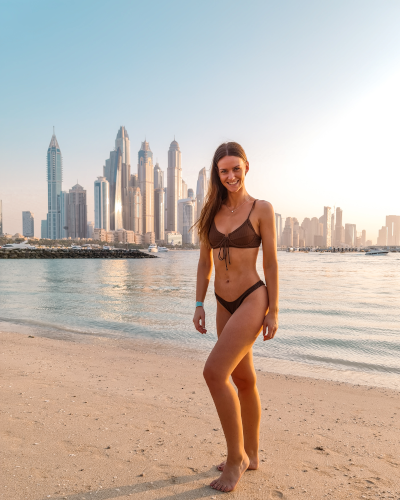 Beach by Five
Beach by Five is a seperate beach area of the Five Palm Jumeirah. You always have to pay for sun beds in this beach area, even if you're staying at their hotel. There's a beach party every Friday here, which is a lot of fun. While we were at the beach party, I just had to take a few photos in their Instagrammable pool.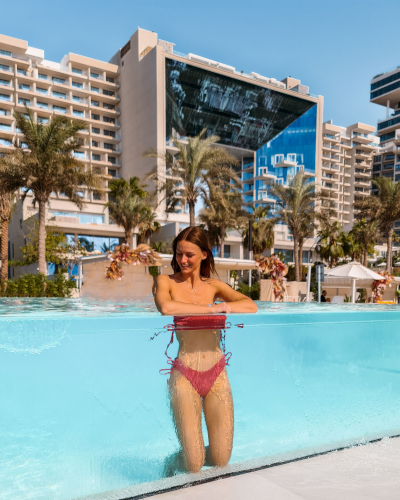 Cove Beach
Cove Beach is a beach club located on the peninsula of the Ain Dubai (the ferris wheel). The Beach Club has multiple pools and private beach access. The beautiful designs of the pool together with the Ain Dubai make a perfect backdrop for photos. After taking your desired Instagram photos, you can enjoy a relaxing day at the beach while taking a dip in the water whenever you want.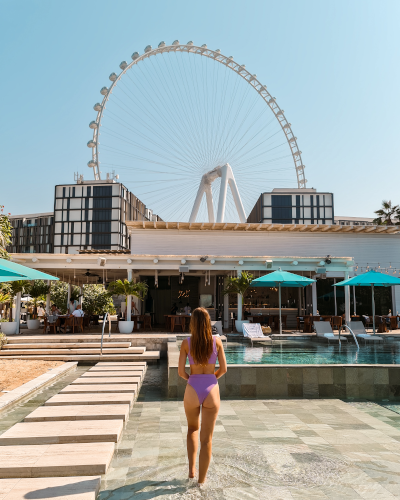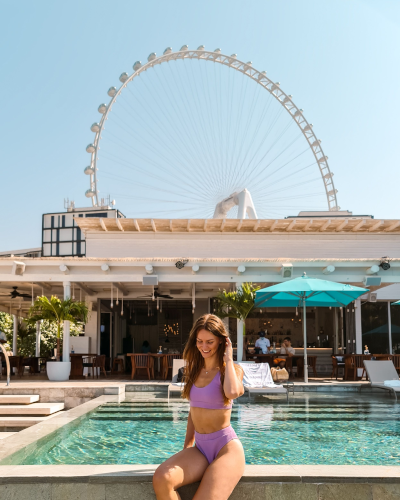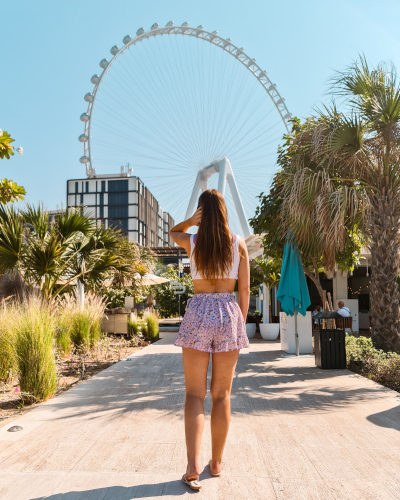 Bla Bla Dubai
On our last day in Dubai, right before heading to the airport, we had breakfast at beach club Bla Bla Dubai. Unfortunately, we didn't have time to lay down at the beach, but I couldn't resist taking a photo, even though it was before opening hours. The beds looked so relaxing and I would have loved staying the afternoon there (especially instead of flying home).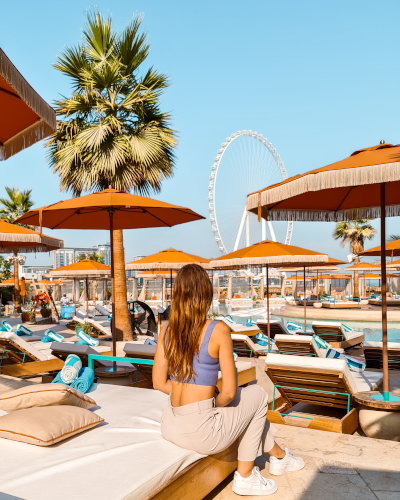 Five Jumeirah Village
Of course I also had to take a photo at the pool of the hotel we were staying at. If you're not staying here, I wouldn't recommend going for the day as there are better beach clubs to spend your time. But I haven't seen a pool in Dubai that I didn't like, so chances are great that the pool at your hotel is a great photo opportunity as well.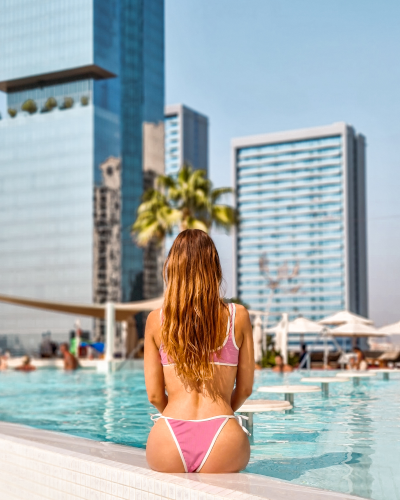 1Oak
Restaurant 1Oak has a cool photo spot beneath the neon sign saying "I ended up at 1Oak". Besides this, 1Oak has a few more Instagram-worthy spots. The food was yum, so I can definitely recommend going here for a nice evening while taking some photos for the gram!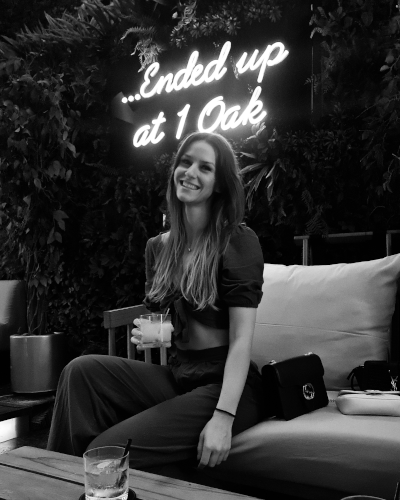 Amazónico
I couldn't leave Amazónico without taking a photo with their stunning stairs. Besides this pretty Instagram spot, Amazónico is a must-visit restaurant. Their food is amazing (I'm still dreaming about the cheese bread) and they have a great selection of cocktails. Absolutely a guaranteed fun night out!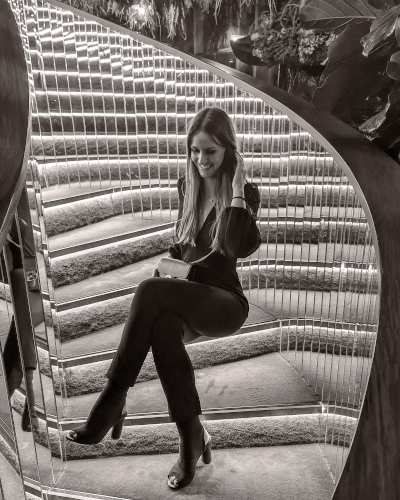 CÉ LA VI
The rooftop bar of CÉ LA VI undoubtedly offers the best view in Dubai. They have this super pretty golden swing with red flowers that's a hit on Instagram. Can recommend going there for lunch, as they offer a delicious set menu. You might have to wait in line before taking a photo with the golden swing, so be aware of that. The earlier you get there, the shorter the line probably will be. When you've finished taking photos with the swing, hop in front of one of the windows for a different photo spot with the Burj Khalifa in the background.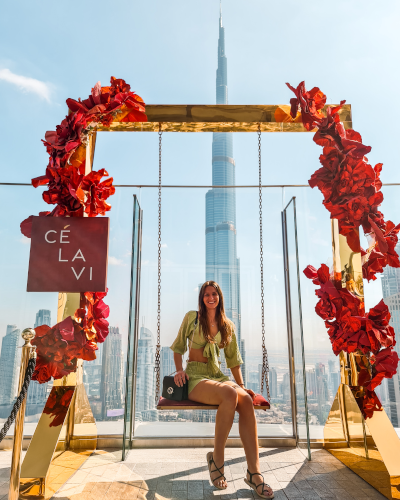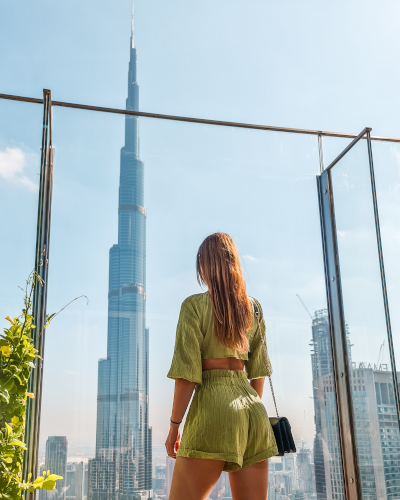 Dior Pop-up Store at Nammos Beach
The Dior pop-up store is one of the prettiest Instagrammable spots in Dubai. Especially during golden hour. You might have to fight with some other girls over a good spot though, so be aware of that.😋 We had lunch at Nammos and were able to pop outside for a few photos. I don't think it's possible to take photos here if you're not having drinks or food at the restaurant or rented a sun bed at the beach. The food at Nammos is amazing though, so definitely not a bad idea to eat there.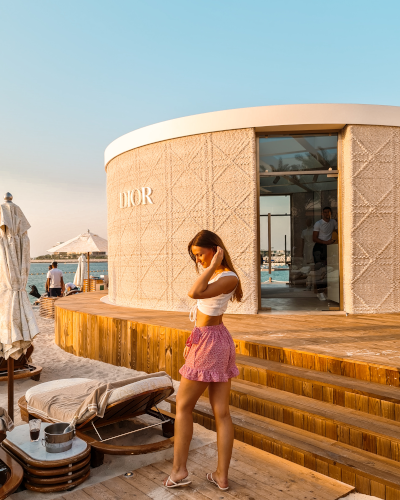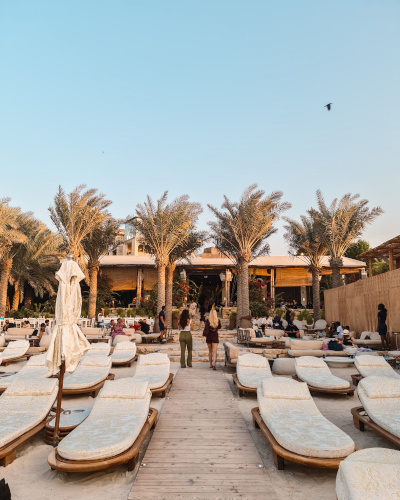 The Scene at Pier 7
Pier 7 is an eight-storey building along the canal in Dubai Marina. Most of the restaurants at Pier 7 are insanely popular because of their amazing views of the Marina and it's hard to get a (last-minute) reservation. The Scene is located on the 4th floor of the building and serves British pub food. The restaurant is a bit fancier than a regular British pub, but not as fancy as other restaurants in Dubai. The best thing about The Scene is that it's not as popular as the other restaurants here and you can easily get a last-minute reservation. The views from the terrace are amazing. There are pretty much no crowds at this Instagrammable spot and the food was delicious too. Isn't this a win-win situation!?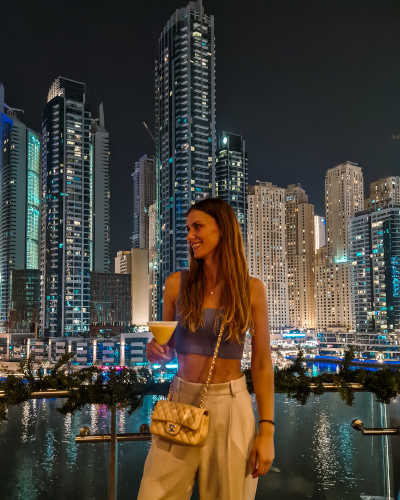 Burj Khalifa Observation Deck
Getting up the tallest building in the world is of course a must-do in Dubai. While you're up there, make sure to take a photo of you sitting next to the window admiring the unique view of the fountain, the rest of Dubai and the desert. When getting inside, make sure to take a photo with these cute wings as well.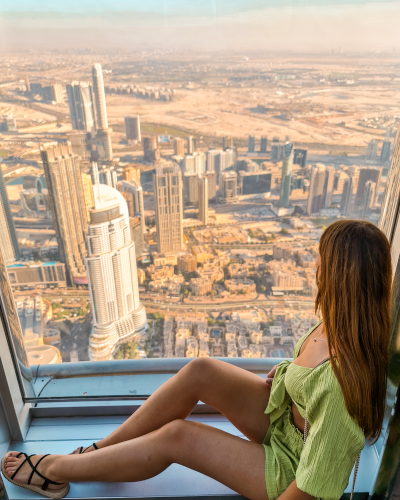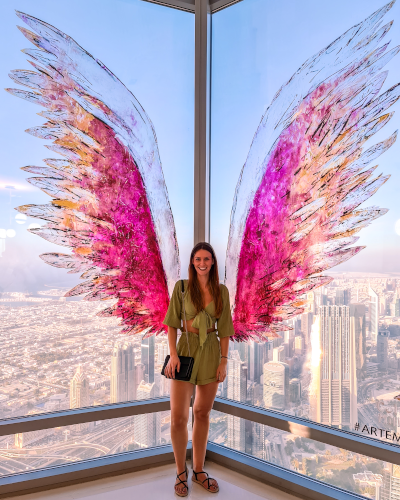 Palace Downtown
Palace Downtown is a hotel located nearby Burj Khalifa in the Downtown district of Dubai. Right in front of the hotel, there's this pond aligned with palm trees which is beautifully lit up at night. Make sure to bring a wide-angle lens or put your phone in wide-angle mode so you can fit all of the Burj Khalifa in your frame.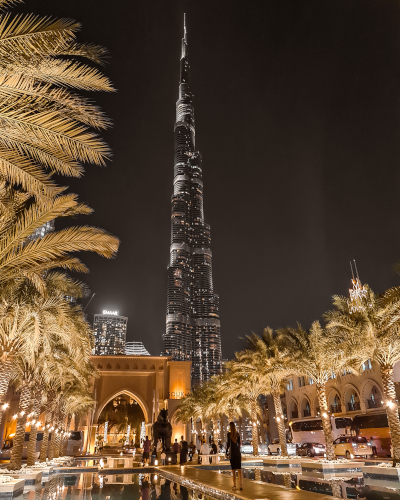 Dubai Miracle Garden
Dubai Miracle Garden is Instagram heaven. The garden is filled with structures made by colorful, fresh flowers. While wandering around the garden, there are so many Instagrammable spots. You probably can't stop taking photos. My favorites are the heart arches and the flower castle.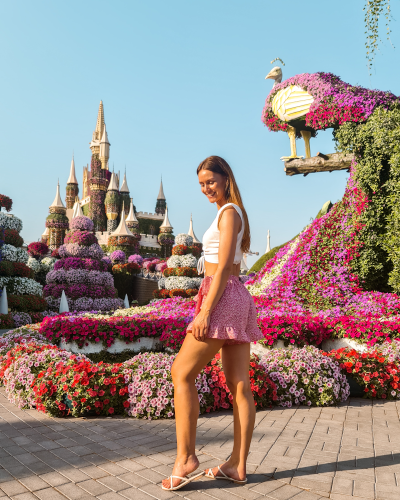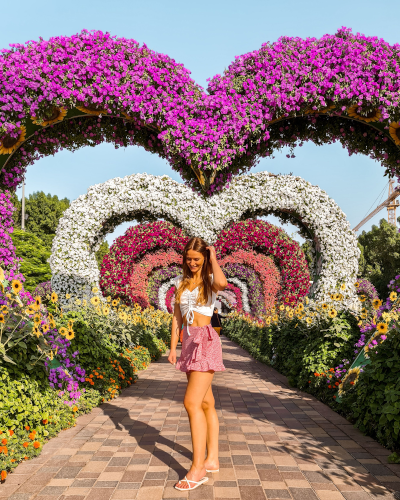 If you need to spice up your Instagram game, it's not a bad idea to book a trip to Dubai. With so many Instagrammable places to choose from, you can fill up your feed for months.
We hope we've inspired you to visit Dubai with these Instagrammable places. Have you ever been to Dubai or is it still on your list? Let us know in the comments below!
Be sure to check out: