10 Days in Dubai - The Best Things To Do on a Girls Trip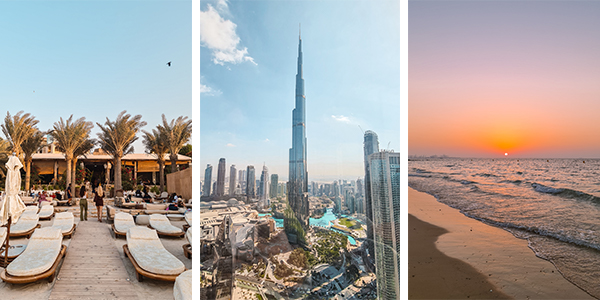 A 10-Day Itinerary of Dubai
Together with my closest friends, I went on a girls trip to Dubai this winter. We had such a great time and enjoyed the winter sun to its full potential. Dubai is a vibrant city with plenty of things to do and places to relax. The perfect mix for a girls' vacation. Read on to find out what we did during our 10-day stay!
Day one
Five Palm Jumeirah
After an exhausting 6-hour flight, we arrived at our beautiful hotel room with a private jacuzzi in the middle of the night. After a short night of sleep we headed to the beach club at the Five Palm Jumeirah to spend the afternoon there. Unfortunately, when we arrived at 14:30, all the beach beds were already taken, but the staff was kind enough to seat us in the restaurant area. So if you're heading to a beach club, make sure to make a reservation for beds in advance (we quickly learned from this mistake).
There was a DJ playing music in the pool area which was a lot of fun. The vibes at the Five Palm were great and we had a lovely afternoon in the sun and pool. We even got to witness a beautiful sunset from the beach!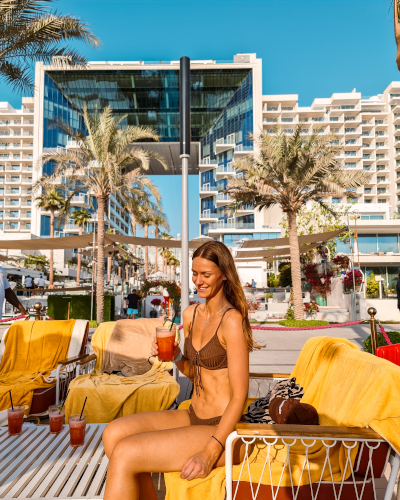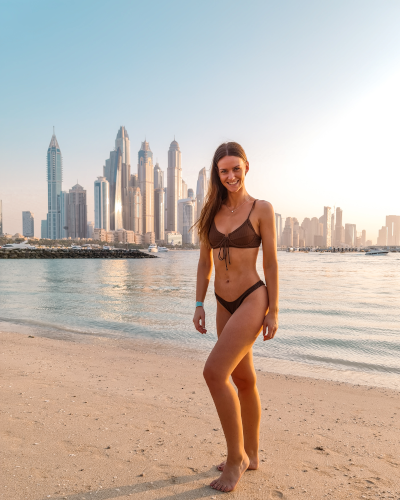 Atelier M
In the evening we had dinner at Atelier M in their Lounge Area. As it was ladies night, we were offered a set menu with 5 drinks included. Atelier M is located in Pier 7 and has amazing views of the Dubai Marina. The lounge area is more like a club area, which is a bit of a weird place for dinner because the music is loud and it'svery dark. All guests were having dinner though and we had a great time nevertheless.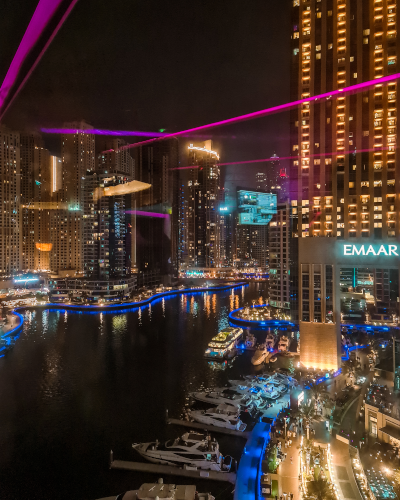 Day two
Pool day
During the day we spend the entire day at the pool at the hotel. We had lots of things planned in the upcoming days and wanted to enjoy our own hotel as well, as the hotel has great facilities. It was a perfect relaxing afternoon. To top it off, I got to witness a stunning sunset from our hotel room balcony.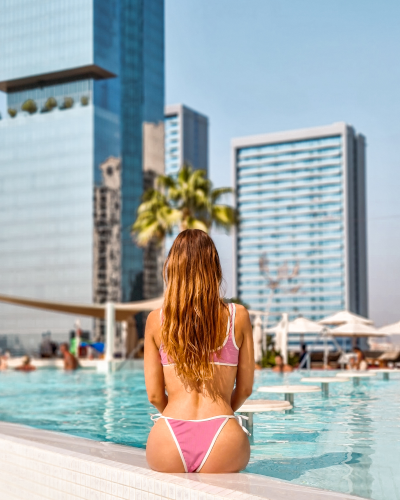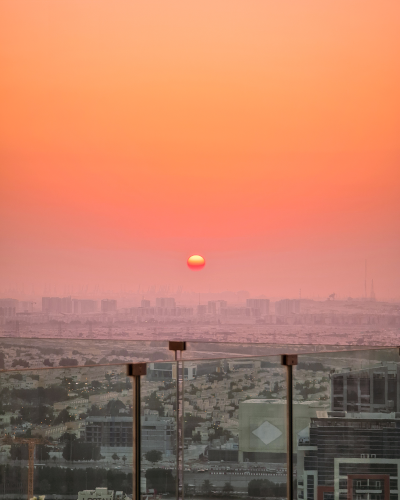 White Dubai
In the evening, we headed to White Dubai for a dinner show. White Dubai is an open-air rooftop and is located right next to a racing club. They had amazing dance performances between our meal courses which were very entertaining. Afterwards, we were allowed to dance as well, but only right next to our table. The food and drinks were great, the staff was very nice and the dinner show was so fun. We had such a great time and it was definitely the best night of our trip. I can absolutely recommend going to White Dubai for a dinner show!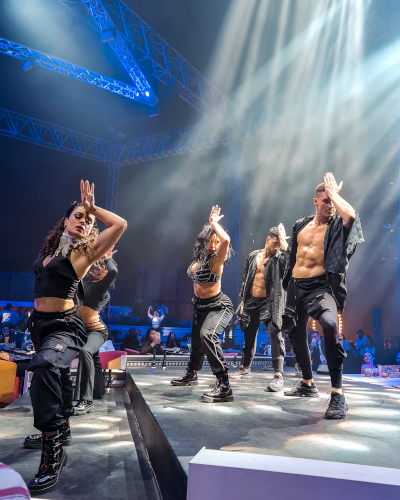 Day three
Dubai Miracle Garden
One of the places I really wanted to visit was the Dubai Miracle Garden. The Dubai Miracle Garden is a flower garden that's only open in winter. Every structure in the garden is decorated with an insane amount of flowers and it's so pretty. I really loved exploring the garden and seeing all the pretty structures. There are Instagrammable spots around every corner! Of course this place isn't for everyone, but if you're into pretty places with flowers (like I am) the Dubai Miracle Garden is a dream come true.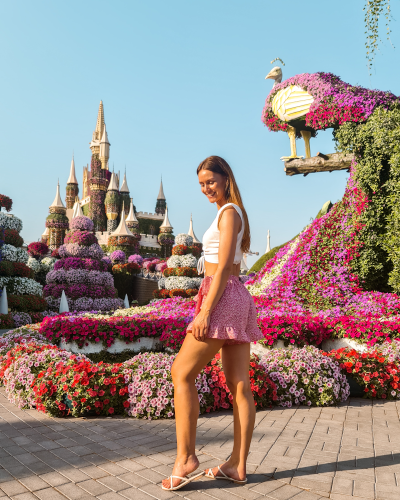 When visiting the garden, make sure to check the weather. We visited the garden around 13:00 and for some of us it was way too hot. If you can't cope with warm weather, consider visiting in the early morning or later in the afternoon. Be aware though that the sun sets quite early in Dubai, around 18:00 every day.
Ticket: AED 55 (approximately €14)
Opening hours:
Monday-Friday: 09:00-21:00
Saturday & Sunday: 09:00-23:00
The Dubai Miracle Garden is usually open from November 1st until April 30th, but this might change a bit every year. Check the website of the Dubai Miracle Garden to see whether the garden is open during your visit.
Nammos Dubai and Dior pop-up store
After the Dubai Miracle Garden, we took a taxi to Nammos Dubai for a late lunch and to visit the Dior pop-up store. Nammos Dubai is a Greek restaurant, which is a little pricey but serves huge portions. You can easily share one plate with the two of you. I love Greek food and it was absolutely yummy, but I wish I had shared the food with one of my friends.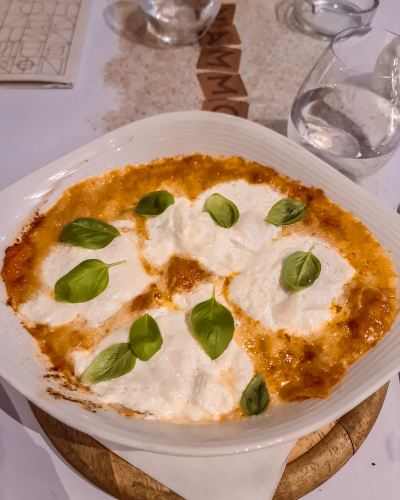 Nammos is located right at the beach and that's where you can find the Dior pop-up store. The beach beds and umbrellas are all decorated in Dior design which is so pretty. The pop-up store is completely 3D printed and looks very pretty too. It's a great spot for some photos and we weren't the only ones with that idea.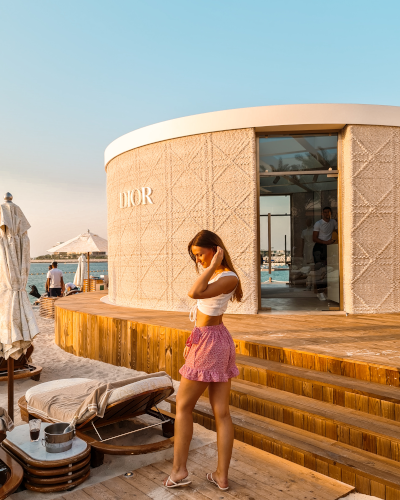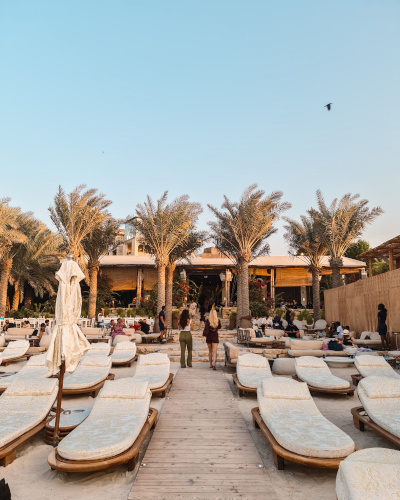 1-Oak Terrace
In the evening we had dinner at the 1-Oak Terrace. The terrace looks like a temporary building located right next to the 1-Oak club area. On the inside, it kind of has a jungle vibe with lots of plants on the ceiling and walls. It did not really give off terrace vibes as it's not outside at all. It was a nice area to have some food, drinks and relax as we were pretty exhausted from our day program. We hoped we could go into the club area after dinner for a drink but that unfortunately wasn't possible without a reservation.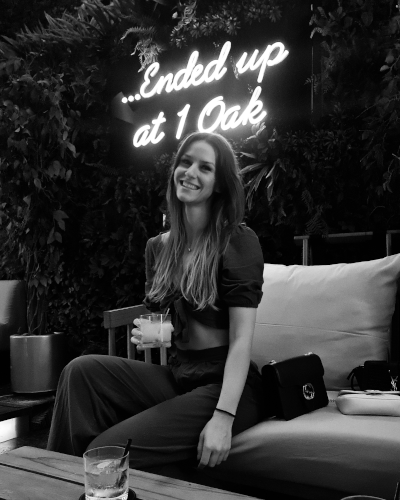 Day four
Palace Downtown Hotel
As we were so exhausted from the day before, we decided to spend the afternoon at the pool of our hotel. In the evening we headed to the downtown area in Dubai. Our first spot was the Palace Downtown Hotel. There's a small pond in the front of the hotel which is such a pretty photo spot of the Burj Khalifa, especially at night with all the lights.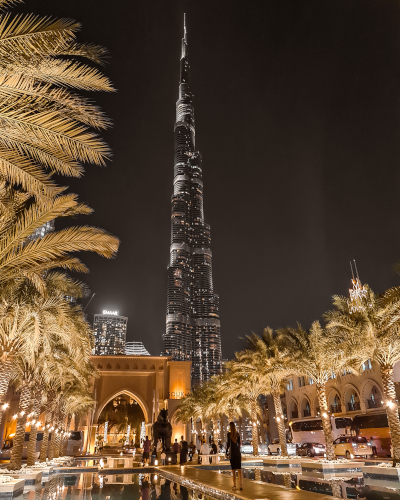 From there, we walked to the Dubai Mall along the Dubai Fountain. It's a lovely area with lots of restaurants and outdoor seating areas. It was a pleasant walk around the fountain pond.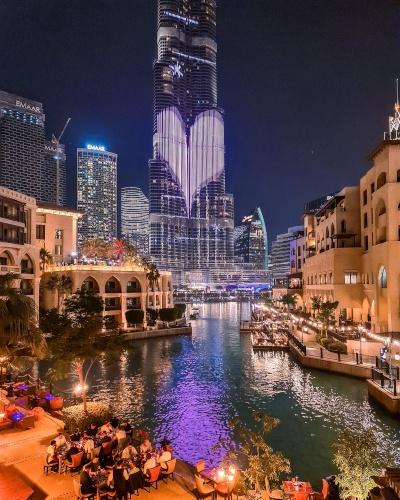 Dubai Mall
The Dubai Mall is one of the largest malls in the world. Besides shopping, the mall offers a great variety of other activities. There's an ice skating rink, one of the largest aquariums in the world and much more. We didn't do any of those activities and just went there to shop and have dinner. The Dubai Mall is great for shopping but it's so huge that we couldn't see all the shops we wanted to see. So we had to return to the mall another time.
Day five
Cove Beach
For our fifth day, we reserved beds at the Cove Beach beach club. We spent the entire afternoon at the beach club and it was very nice and relaxing. Cove Beach has a few pools you can take a dip in, but you can also swim in the clear blue sea. I was lucky to witness another amazing sunset from the beach.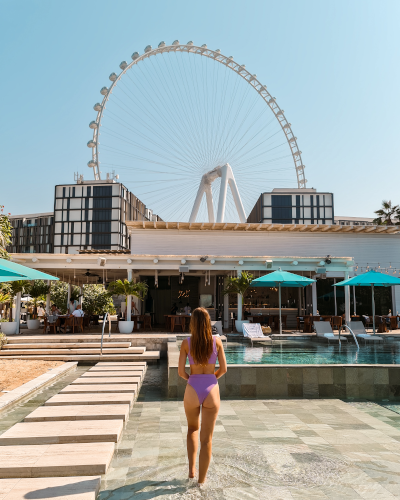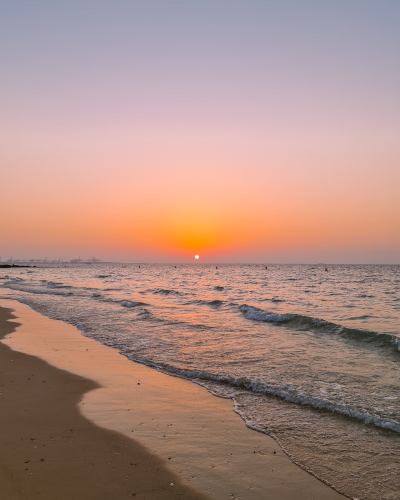 Taco Tuesday
In the evening, we stayed at our hotel for Taco Tuesday: unlimited tacos and margaritas for a fixed price. It was a fun concept and the tacos and margaritas were delicious. We had a great night.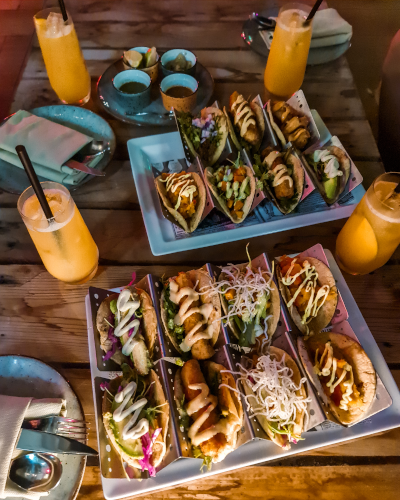 Day six
Al Bastakiya
On day six, we switched hotels. From the more remotely located Five Jumeirah Village we switched to JA Ocean View Hotel in the Dubai Marina area. In the afternoon, we headed to Al Bastakiya. We first stopped for lunch at the Arabian Tea House. The tea house was very pretty, but also very touristy. My halloumi salad and arabic tea were delicious though!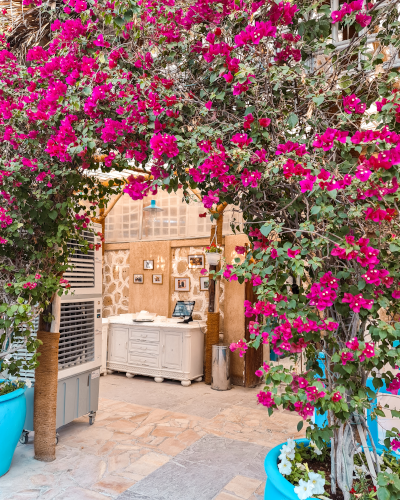 Al Bastakiya is a historical neighborhood in Dubai. In the 1980s, half of the historical neighborhood was destroyed to make way for development projects. The Dubai Municipality planned on destroying the remaining parts of the neighborhood in 1989, but eventually the demolition was canceled and the decision was made to preserve the neighborhood. Wandering around Al Bastakiya, it feels like you're in a different world. There are plenty of shops selling souvenirs and places to have a drink or a snack. The buildings are beautifully preserved and it's simply a nice area to wander around in. If you'd love to see more of the culture and history of Dubai, visiting Al Bastakiya is a must. Keep in mind though that it's mostly a place for tourists. You won't see any locals shopping here.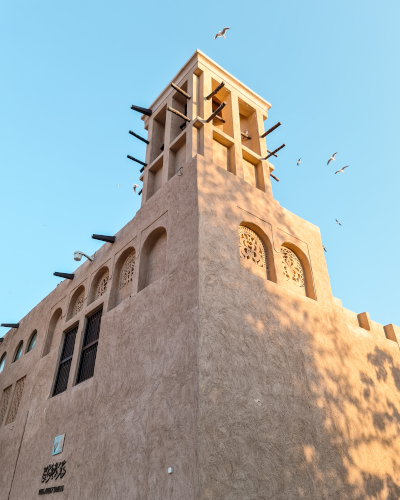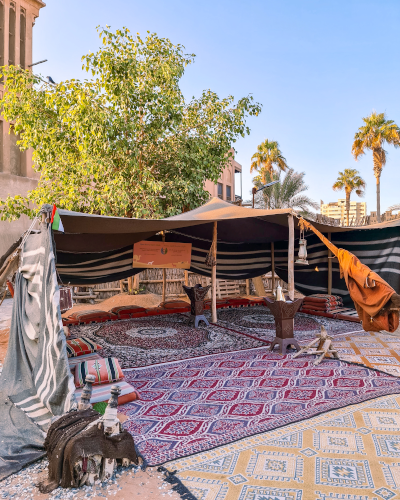 Amazónico
In the evening, we had dinner and drinks at Amazónico. The food was absolutely delicious, especially the cheese bread. Make sure to order those when you're there. Their cocktail menu was amazing too. They offer a huge variety of unique cocktails served in crazy glasses such as a panther or monkey glass. We had such a fun time trying out different kinds of cocktails. It's a great place for food and drinks!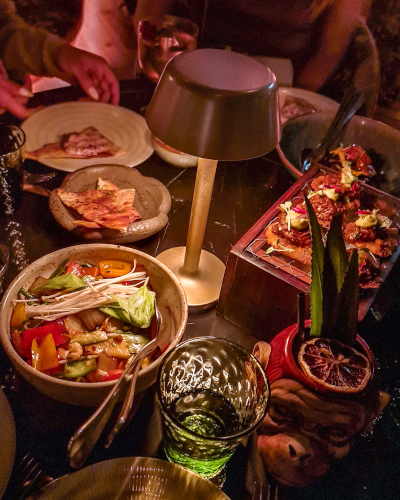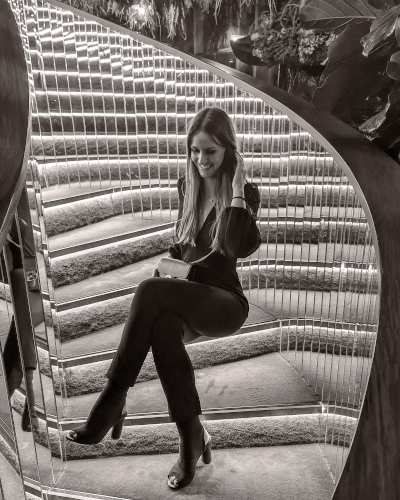 Day seven
Cé La Vi
We were all dying to visit the beautiful rooftop of Cé La Vi, but it was impossible to get in contact with them to make a reservation. Days before, we emailed them, contacted them through WhatsApp and sent comments and DMs on Instagram, but until this day without any responses. We didn't want to call them because of high international fees, but we read in Instagram comments that they also didn't respond to telephone calls. Somewhat irritated, we decided to just show up and hope that they would still have a table available for lunch.
Luckily for us, they did. They serve a three course lunch set menu including water, coffee and tea and it was really delicious. In my opinion, the rooftop of Cé La Vi has the best view in Dubai. They also have this pretty swing on the rooftop which frames the Burj Khalifa perfectly. We had such a great time enjoying the views and the yummy food. We were very unhappy about not being able to make a reservation in advance, but they partly made that up with the great service when we were there. So, I have mixed feelings about this place.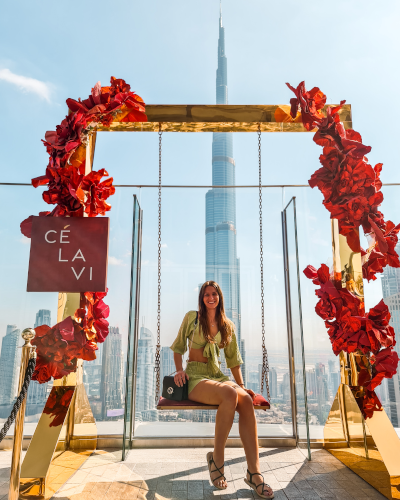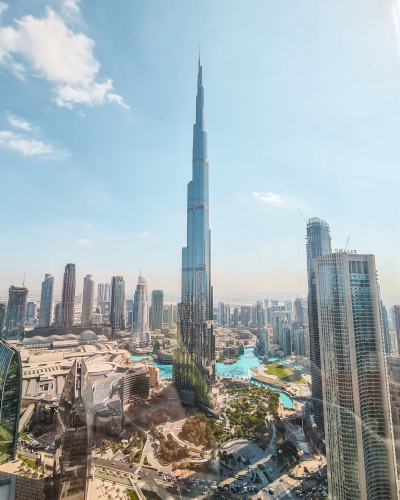 Burj Khalifa
After lunch it was time for us to get up the tallest building in the world. The Burj Khalifa has three observation decks: At the Top, At the Top Sky and the Lounge. At the Top Sky is located at level 148 at 555 meters, and is the world's highest observation deck with an outdoor terrace. Tickets for At the Top Sky are quite expensive, around €90 per person. The Lounge is located at levels 152, 153 and 154 and you can enjoy the view together with drinks and snacks from there. We opted for the "general" observation deck: At the Top. At the Top is located at levels 124 and 125 at 456 meters in the sky. The views from up there are truly amazing. I think it's a must to go up the Burj Khalifa when in Dubai!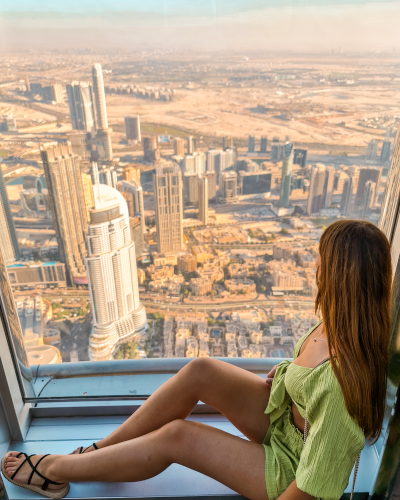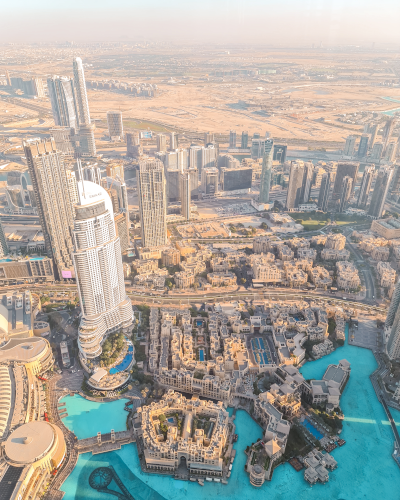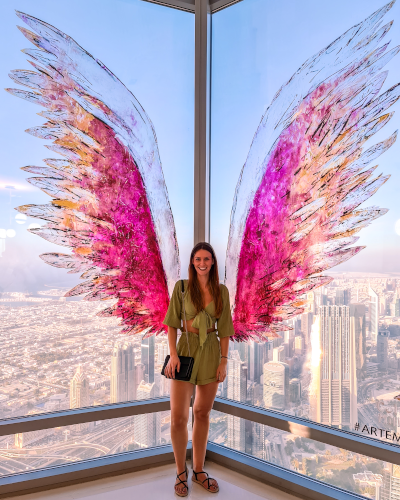 Ticket for At the Top: 149 AED (approximately €35)
Ticket during sunset hours (from 16:00-18:30): 224 AED (approximately €53)
Tip: get a ticket for the time slot of 15:00, by the time you're up the deck it's golden hour. You can stay up as long as you'd like, so you can even stay until sunset if you'd wish (without having to pay for the sunset ticket price).
Opening hours:
Daily: 09:00-23:00
Check this website for current prices and to buy tickets in advance.
Dubai Mall
We could barely see any shops during our last visit to the Dubai Mall, because we were short on time. So we decided to go back there to do some decent shopping. While we were in the Dubai Mall, we popped outside to see the Fountain Show which happens every 30 minutes at the pond right in front of the mall. The fountain show was fun to watch, but I was kind of disappointed that there were no colored lights in the water. In my opinion, the fountain show in Singapore is more spectacular.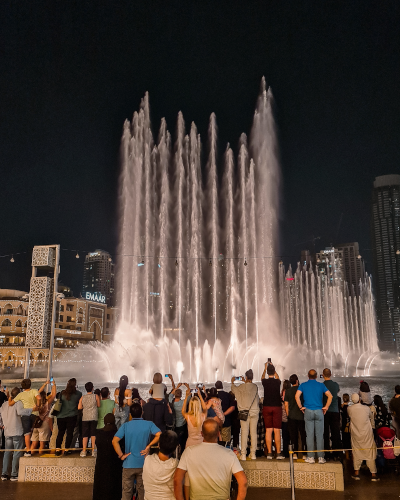 Day eight
Beach by Five
For our eighth day, we booked beach beds for the Bohemia party at Beach by Five. Beach by Five is a separate section of the beach club at the Five Palm Jumeirah hotel. Before getting in the party mode, we made sure we took some photos at the amazing glass-walled pool there.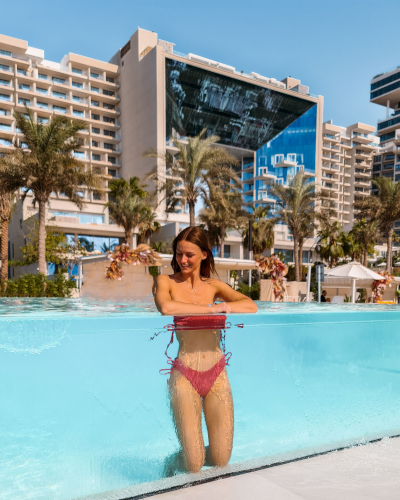 The Bohemia beach party was lots of fun. We enjoyed the music from the DJ while hanging around our beach beds, taking a dip in the pool and dancing. It was the perfect setting for a beach party and the vibes were great. Beach by Five frequently hosts Bohemia parties and I can definitely recommend them for a nice, fun and relaxed beach party.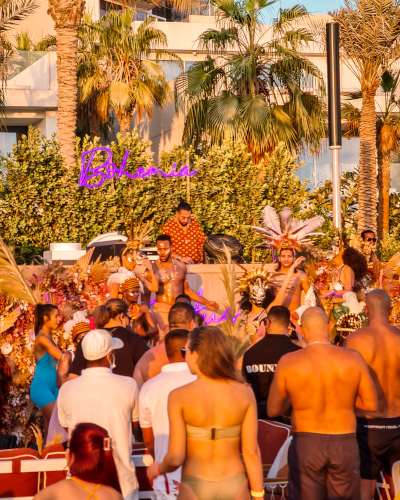 After the beach party, we were exhausted. We had some dinner at Shake Shack (missed it so much, if only we had Shake Shack in the Netherlands…) and called it a night.
Day nine
Public beach
On our last full day in Dubai, we spent the afternoon at the public beach right in front of our hotel. We were all in need of some relaxation to recover from the day before.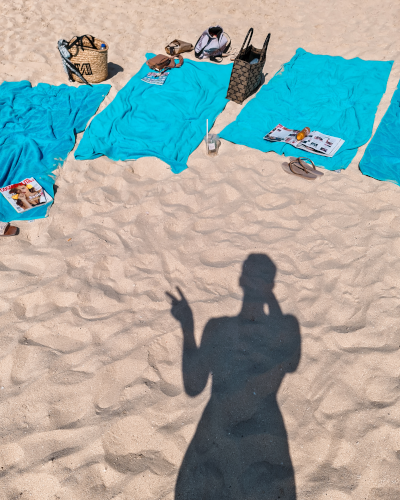 Dubai Marina
In the evening, we decided to walk around the Dubai Marina. The Dubai Marina is such a lovely area and it's so pleasant to walk along the canal, but we just didn't have enough time to explore there. We wanted to have dinner again in one of the restaurants at Pier 7 because of the great views. There are a few restaurants located in Pier 7, but most of them were already fully booked. We eventually reserved a table at The Scene at Pier 7, which is kind of an English pub. We had a table on their balcony with a stunning view of the Marina. The food was good and the entire restaurant wasn't crowded at all. So, plenty of space for us to take some photos of the view. I can absolutely recommend this restaurant if you want to enjoy the stunning views in peace.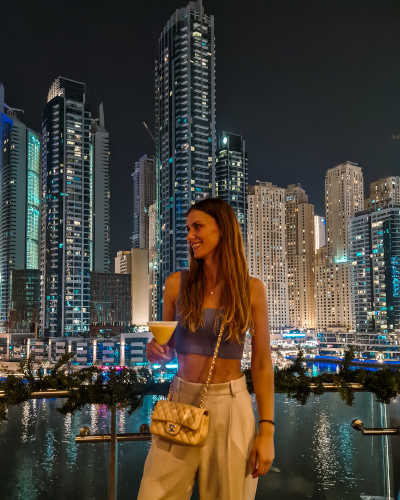 Day ten
On our very last day, we decided to have breakfast at the beach club right across our hotel: Bla Bla Dubai. The breakfast was very good and the entire place looked amazing. Unfortunately, we didn't have time to spend the day at a beach bed, but next time we would definitely want to check this place out. After breakfast, it was time to say goodbye to Dubai and head to the airport.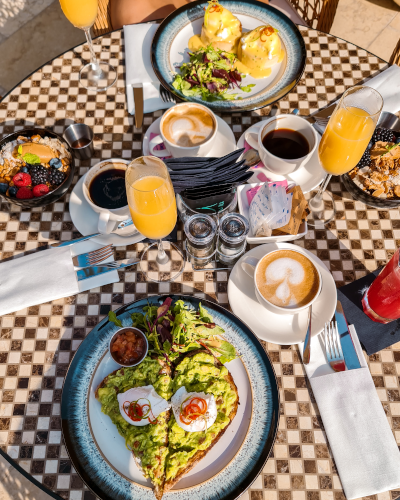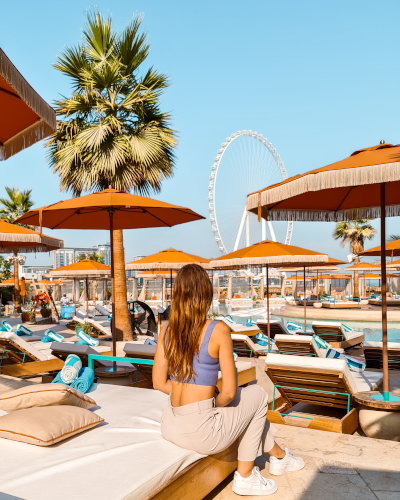 Practical information about Dubai
Ladies nights
Almost all restaurants and beach clubs have ladies night and/or ladies day offers. Most of the offers include a set menu and drinks for ladies night and a beach bed and drinks for ladies day. This is a great way to save money as a lady. We often visited restaurants during ladies night. It was a little harder to enter beach clubs during ladies day, because all beds were often already fully booked. In general, you need to make a reservation in advance for everything, but especially for ladies night/day offers. We used this website to find out about all offers and social media of the specific places we were interested in visiting. On Instagram most restaurants and beach clubs have a story highlight with information about their ladies night/day offer. It might be a bit overwhelming to plan and take advantage of all the ladies nights and days though as there are so many options.
Where to stay in Dubai
We opted for two hotels as we wanted to enjoy the facilities of the Five Jumeirah Village hotel, but we also wanted to enjoy the area of Dubai Marina.
Five Jumeirah Village
The first hotel we stayed in was Five Jumeirah Village. This hotel is located in Jumeirah Village, which is apparently a new, up and coming area, but we always joked that we were staying in the middle of nowhere. There is simply not much to do near the hotel so you always have to leave the area. Despite the location, the hotel itself is amazing. There are two pools, one of which is in the sun the entire day. There are multiple restaurants, all with a different theme and cuisine. There's a nice coffee bar downstairs and the hotel gym is the best gym I've ever seen at a hotel with lots of equipment. The main reason for us to stay here was because of the hotel room that has a large balcony with a private jacuzzi. There are also rooms with private pools on the balcony which are even more amazing.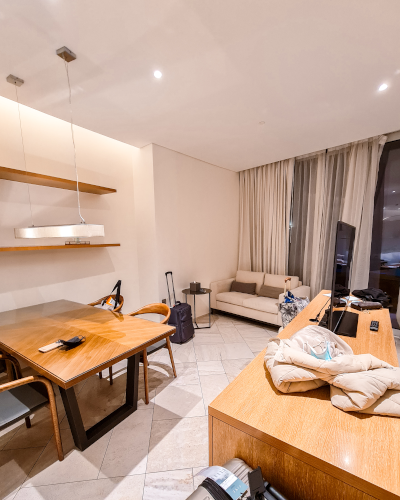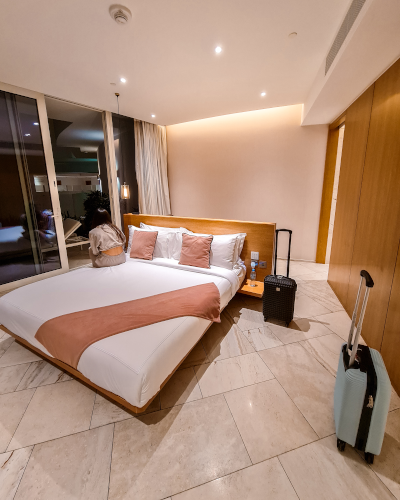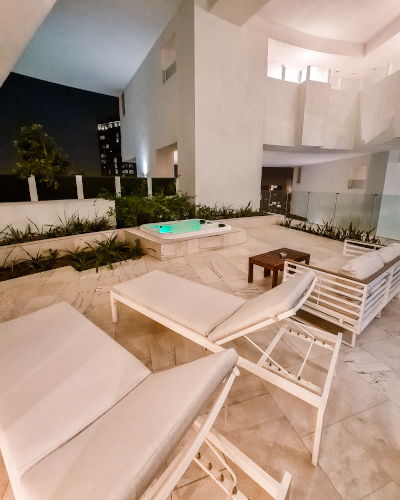 We had a great time in this hotel. And because it was located in the middle of nowhere, we never had traffic getting in and out of the Jumeirah Village area. So in some sense it was even better to stay in a place a bit more remotely than in the busier areas.
Click here to book a room in Five Jumeirah Village.
JA Ocean View Hotel
Our next hotel was JA Ocean View in the Dubai Marina area. The hotel itself was very nice with a beautiful view overlooking the sea. There's a large pool, but unfortunately it is completely in the shade the entire day (we were aware of this before booking). Luckily, the public beach is located right across the hotel with plenty of sun for us to enjoy. We loved that they let us bring the pool towels to the beach. They even provided us with a bag to carry the towels.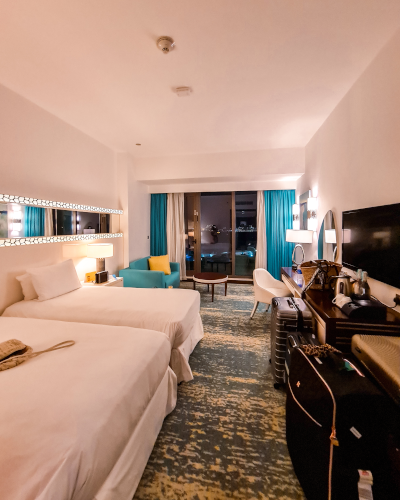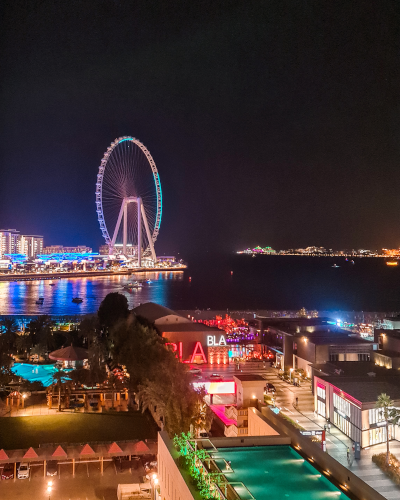 The Dubai Marina area is amazing. There's a large promenade along the beach filled with restaurants and shops. There's also the canal with beautiful views and lots of restaurants and shops as well. It's such a nice area to go for a walk, which we had way too little time for unfortunately. The only downside of staying in Marina is the traffic getting in and out of the area. So take this into account when you're staying here and maybe choose for things to do within the area. Besides the one downside, I can absolutely recommend staying in Dubai Marina and JA Ocean View is a lovely place to stay at.
Click here to book a room in JA Ocean View.
Downtown Dubai
Another nice area to stay in is Downtown Dubai. The Dubai Mall and Burj Khalifa are located in Downtown Dubai. The area is filled with lots of restaurants and of course the mall which offers plenty of things to do. It's a bustling area and I bet it's great to stay here.
One of the hotels located in Downtown is The Address Downtown. If you're staying here, you have access to an amazing infinity pool with perfect views of the Burj Khalifa. Cé La Vi is located next to the infinity pool so we could have a little peek at what it feels like to take a dip in that pool. Would definitely love to stay there next time!
Click here to book a room in The Address Downtown.
Best time to visit Dubai
As Dubai is located in the desert, you'd want to avoid summer at all costs. In summer, temperatures are 40 °C on average, which is a little bit too warm if you ask me. At the end of fall, in winter and the beginning of spring, temperatures are much better. We visited Dubai in mid-November and everyday it was around 27-30 °C. Temperatures drop a little bit more in December, January and February and can get down to 22 °C. Temperatures in March are comparable to November.
For me, November was the perfect time to visit. I quickly get cold and the November temperatures are just right to have bare legs but covered arms at night. During the day, I never felt too hot.
How long to stay in Dubai
10 days is a great amount of time to see a lot of the things Dubai has to offer. But to be honest, I could have stayed in Dubai for another month. There are still so many beach clubs and restaurants left that I'd like to see. We didn't have time enough to properly explore Dubai Marina and we didn't get near the Burj Al Arab at all. If we'd had more time, I would also have loved to visit Abu Dhabi for a few days to check out the Louvre and the Sheikh Zayed Grand Mosque. But I guess I have to save all those places for my next visit.
I would definitely recommend staying at least 7 days in Dubai and if you want to see a lot of places make it 2 weeks.
Getting around Dubai
A major downside of Dubai in general is getting around. Public transport is hardly usable and in general takes twice as long as going by car, or longer. It's also completely possible that you can't get to a specific place with public transport, as public transport isn't accessible in the entire city. So most of the time your only option of getting around is by car/taxi. Traffic, however, is horrible. Especially in the late afternoon and in the evening, traffic can easily add up to an hour of extra travel time.
When getting around by taxi, the "normal" metered taxis are cheapest and the normal cars seat up to three people. As there were 4 of us and there weren't many metered taxi vans around outside of the airport, we often took an UberXL. This is definitely not the cheapest option (sometimes two metered taxis were cheaper), but it was the most convenient for us. We often spend €20-30 per person on taxis each day, which adds up quickly.
Pandemic
During the entire pandemic, Dubai is one of the cities that remained open all the time. To get into the country, we only needed a negative PCR test taken 72 hours prior to our flight departure time (regardless whether you're vaccinated or not). In Dubai, there weren't too many strict regulations to prevent the speed of COVID-19. One of the obvious regulations is wearing face masks indoors. Clubs were open but they served as restaurants. You needed to have a table and were only allowed to dance right next to the table. This meant that clubs were never full as there were only so many people allowed as there were seats. These were the only regulations we had to deal with. There was no need to show a negative test or proof of vaccination anywhere.
Before visiting Dubai, make sure you check the COVID-19 regulations as they might change at any time.
Is Dubai on your travel bucket list? Let us know in the comments below!
Be sure to check out: