Bad Solo Hiking Experience in Triglav National Park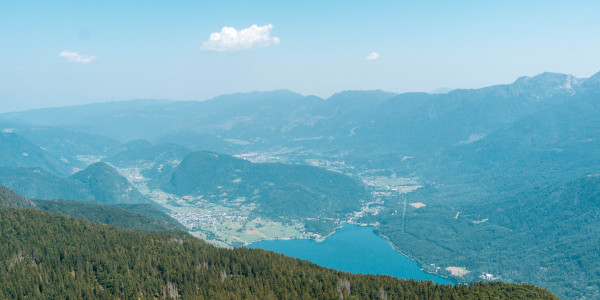 Going on a 13-hour hike as a non-experienced hiker
In June 2019, I went on a solo trip to Slovenia and stayed at Stara Fužina, a village near Lake Bohinj, for three days. Stara Fužina is the perfect starting point for a few amazing hikes in Triglav National Park, which was one of the main reasons I wanted to visit this area. For one of the three days during my stay, I planned a long day hike. After doing some research, I decided to do the Pršivec hike because of the amazing view from up there. In this blog post, I'm sharing my experiences of this day hike. Spoiler alert: it didn't turn out as expected and I made a few stupid decisions along the way.
Read more: Three Days at Lake Bohinj - A Hiking Itinerary
Vogar - Time of arrival: 09:30
I left my guest house in Stara Fužina at 8 in the morning to the start of the trail to Vogar. It was already very hot at that time, 26 degrees Celsius, and it would only get hotter during the day. The trail to Vogar was steep, but there were plenty of trees for shade which made it bearable. I reached the viewpoint 1,5 hours later and what an amazing view! Vogar is also a paragliding take off site and the first viewpoint offers an unobstructed view of the east part of Lake Bohinj. From up here, the lake is heart-shaped, something I didn't notice before. After soaking up the view and taking a lot of photos, I continued to the second Vogar viewpoint.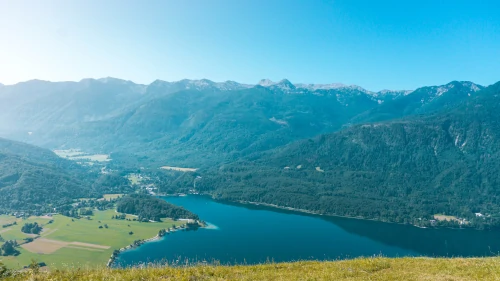 The second viewpoint was only a 15-minute walk from the first. It was a very easy and refreshingly flat walk.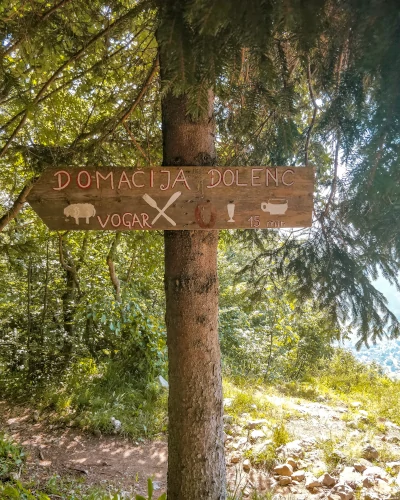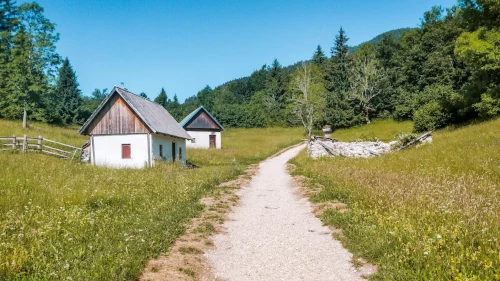 To get to the viewpoint, you have to walk past a hiking cottage which is also a restaurant and hotel. The second viewpoint offered a beautiful view of the western part of the lake.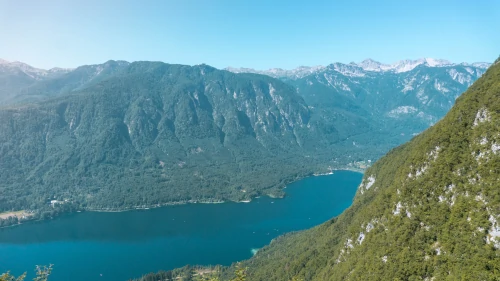 I went back to the hiking cottage and decided to have a break and enjoy a second breakfast. I ordered fried eggs which were delicious.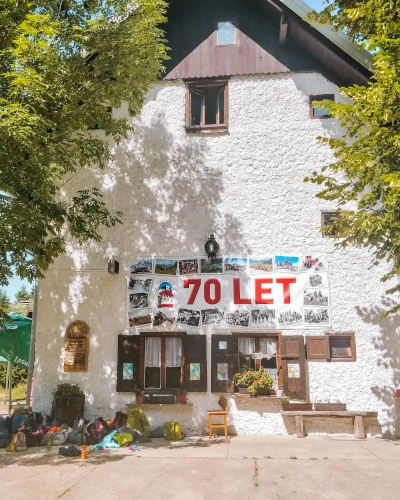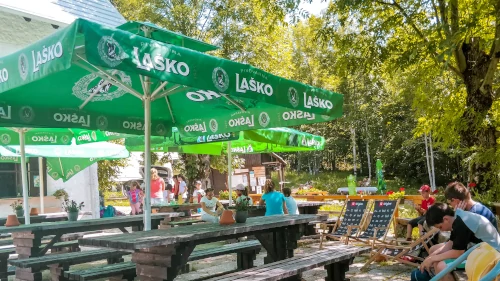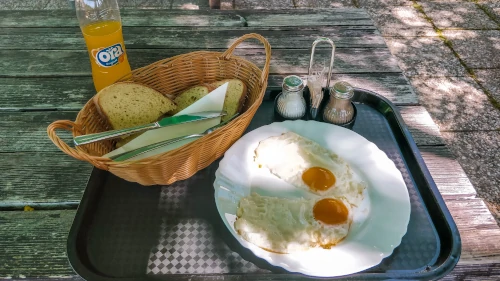 Pršivec - Time of arrival: 13:30
Around 11:00, I continued my hike. From the hiking cottage, it was 2,5 hours to get to the top of Pršivec. The hike started relatively flat, but it quickly became steeper.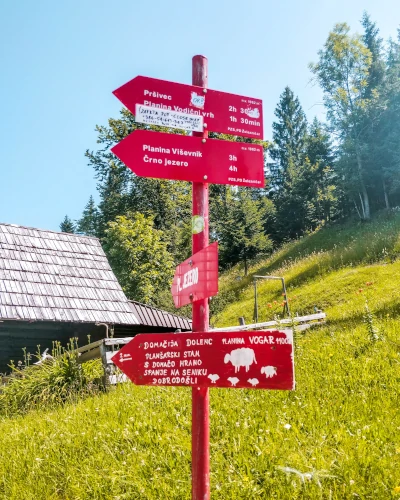 The trail was mostly through the forest, which meant a lot of shade and that was great. Even though the trail is well-marked, I still managed to get lost twice. This was all my own fault. I hadn't seen a marker in a while but I thought I was going in the right direction because I was looking at Google Maps. Ofcourse, Google Maps wasn't accurate at all. Google Maps didn't know the right trail (trails change every now and then after floods and other weather conditions) and my GPS probably wasn't accurate as I was quite high up in a dense mountain forest. After wandering around (twice!) for way too long I decided to go back to the point where I saw the last marker. Eventually, I was back on the right trail again.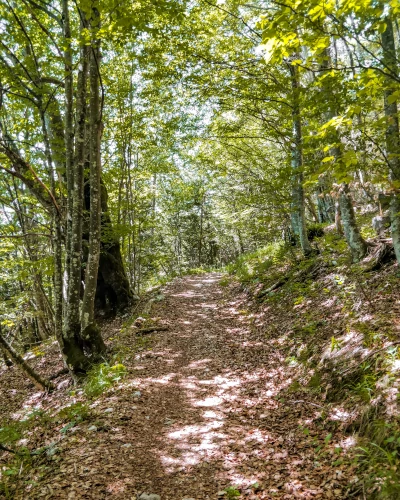 This is probably very obvious, but I'm going to throw it out anyway. If you haven't seen a marker for a while, immediately head back to the last point you saw a marker. This will save you a lot of time, energy, bruises and cuts.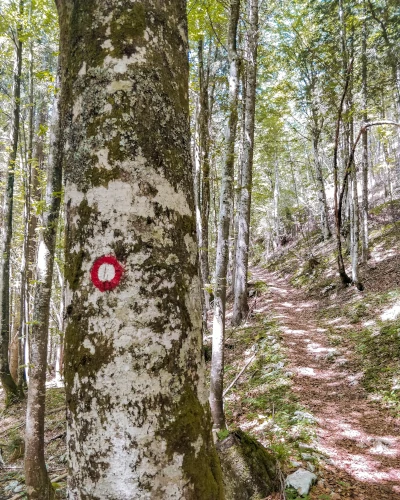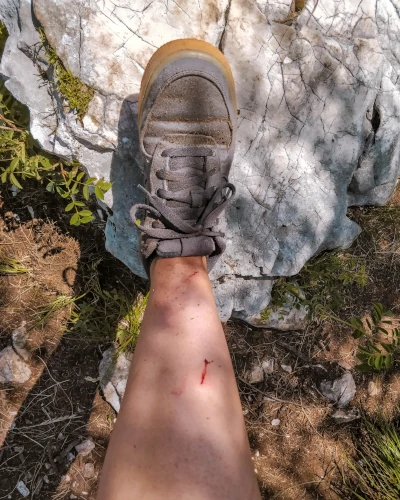 The end of the trail involved some serious climbing up the rocks of the mountain. I was very relieved I made it to the top of Pršivec. Even though I got lost twice, I still managed to get there in 2,5 hours from the hiking cottage at Vogar (just like the sign at Vogar indicated). The view from up here was truly incredible! I couldn't believe how high up I was and it really felt like an amazing achievement. I took a break, ate my lunch and took way too many photos before continuing my trail.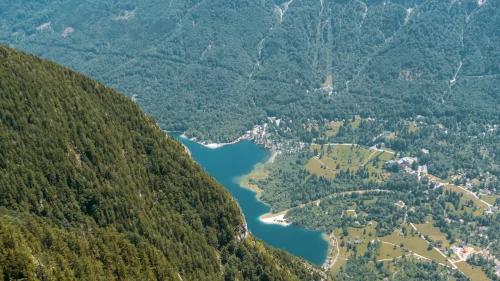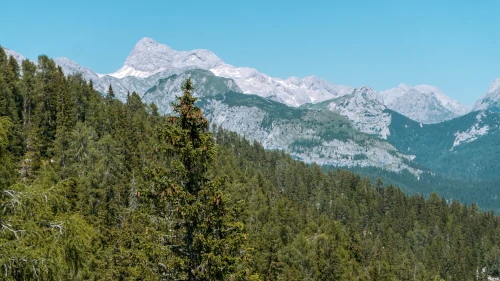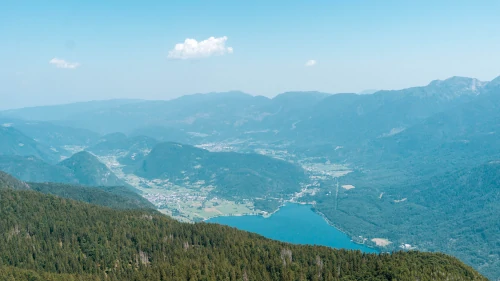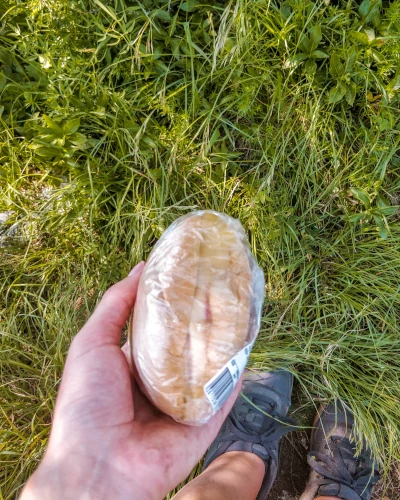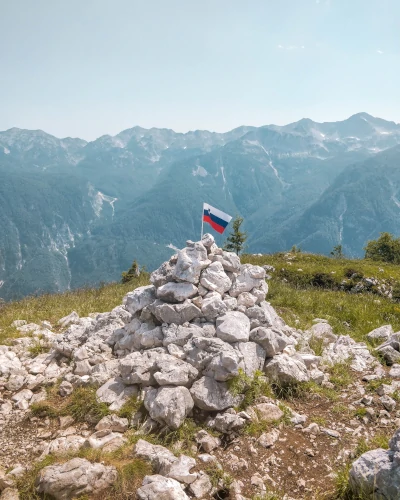 This is when I started to make a few stupid decisions. My intention was to take the same trail back to Stara Fužina. However, I knew that you could also do a round trip by going down at the other side of the lake in the village of Ukanc and then walk back along the lake. I knew not much about that trail. I knew which signs I had to follow (Planina Viševnik, Črno Jezero and ultimately Ukanc) but I had no idea whether the trail would be hard or easy. At the top of Pršivec, I saw a family that just came up the way I was thinking about going down and asked them what the trail was like. They told me it would be way better to go down the trail they took. I found out later that I misunderstood them. But, encouraged by their words and by the fact that they were hiking with two children, I decided to make it into a round trip.
Another mistake I made at the same time was spending way too much time at the top of Pršivec. I arrived at 13:30, but continued the trail back down 2 hours later. Of course I needed to take a break and wanted to capture the view, but I spend way too much time taking photos. I was losing precious sunlight.
Planina Viševnik - Time of arrival: 16:00
I followed to trail to Planina Viševnik, which wasn't hard at all to reach. Along the trail to Planina Viševnik I found a few spots with ice on the ground. This was so weird because it was over 30 degrees Celsius!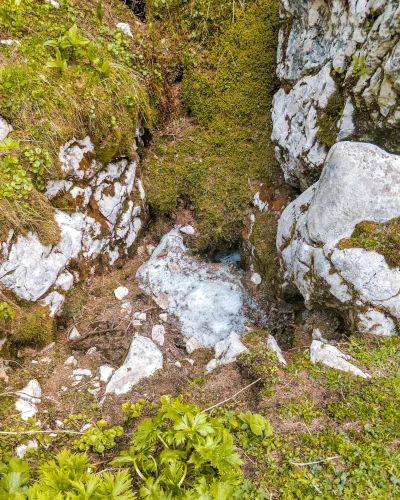 Just 30-minutes later I arrived at Planina Viševnik, it was now 16:00. It was an easy and mostly flat hike from Pršivec. That it was mostly flat, maybe even a bit inclining, troubled me as I wanted to go down. Apparently that wasn't going to happen. I had seen Planina Viševnik before on photos and it looked absolutely beautiful in real life too. I was way too tired though to take out my camera and tripod to take photos. That, and I also didn't want to lose another half hour taking photos. I quickly snapped a photo with my phone and decided to continue the trail.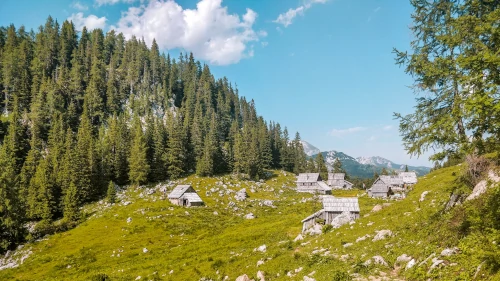 Of course I took a wrong turn here. Luckily, it didn't take me too long to discover I was going in the wrong direction and I got back on the right trail again. If I only had taken this time to take photos of the beautiful valley…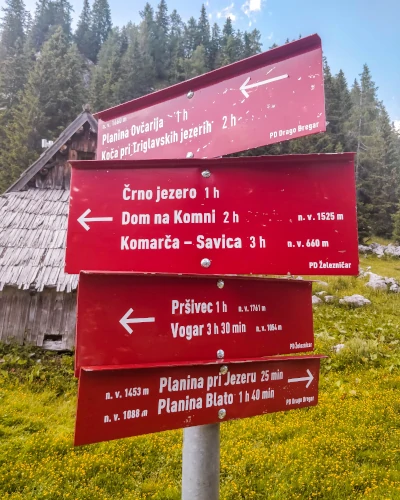 Črno Jezero (Black Lake) - Time of arrival: 17:20
I followed the signs to Črno Jezero and the trail was finally declining. According to the signs, the trail would only take an hour, but I arrived a solid two hours later at the lake. I didn't take any breaks or photos in between and I had no idea why it took me so long. Of course my feet were very tired, but it didn't feel like my pace was slowing down. I hear about Črno Jezero (or the Black Lake) before and it's regarded as a beautiful photo spot. I couldn't really enjoy the lake when I finally got there. All I wanted to do was getting down back at Lake Bohinj. I managed to get out my camera and quickly took a photo of the lake. The lake actually is very beautiful and this photo absolutely doesn't do any justice to it. I was just way too tired to think about perspective, lighting and anything else. This was the best I could do.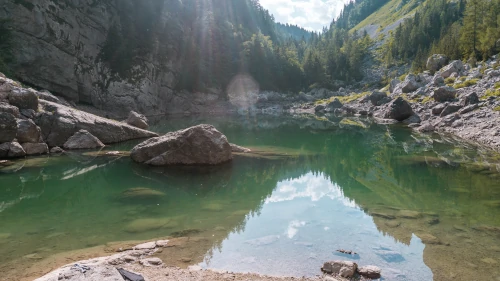 Close to Črno Jezero I saw a sign saying "Hotel Zlatarog: 2h". I had no service and didn't know for sure whether this hotel would be in Ukanc, but it was in the same direction as Ukanc. This meant it was at least 2h to get down the mountain. At this point I was so tired and really regretted my decision of not taking the same trail back to Stara Fužina. It was almost 17:30 and after doing some quick calculations, I had to hurry to get back to my guest house before sunset.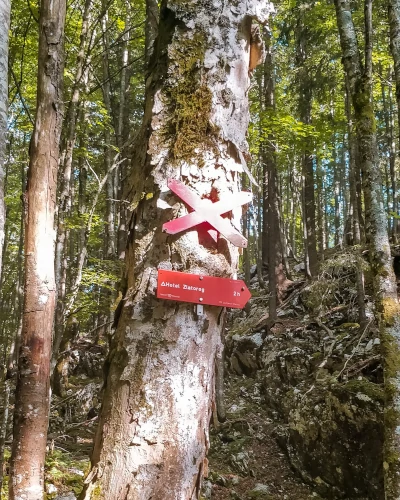 Ukanc - Time of arrival: 19:00
The last part of the trail to Ukanc was the hardest. It was so steep, at most places almost vertical. This was more climbing than hiking. It took me 1,5 hours to get down this very steep trail. Thinking back at the family on the top of Pršivec, I finally understood what they meant with: "it would be way better to go down the trail they took". This trail was so steep, it would be way better to go down this trail instead of going up this trail (like they did). I thought they meant that the trail down to Ukanc was less hard than the trail down to Stara Fužina. It obviously wasn't and they probably didn't know. I bet it was their first time doing this hike, just like me.
At this time, I was getting kind of scared. I was extremely exhausted and my legs were constantly shaking. I still had some food and water left in my backpack, but I wanted to save that for emergency situations. However, I might have been going through an emergency situation already. I didn't came across that many people that day. I knew there was a group of three behind me going down as well. This gave me a little bit of comfort. If something would happen, there were at least a few people behind me that would find me.
I was on the edge of fainting and maybe even fainted once. I couldn't recall exactly what was happening, but I suddenly found myself on the ground. It looked like I blacked out for a moment and tripped. I quickly recovered myself, had a sip of water and continued down as safe and fast as possible.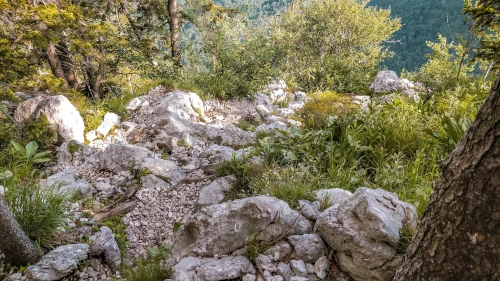 At 19:00 I finally reached Ukanc and I was so relieved. There was a waterfall close to Ukanc (Savica waterfall) that I had wanted to pay a quick visit to. However, it was another 20-minute hike to the waterfall and I just didn't have the energy for it anymore. I still had to walk all the way back to Stara Fužina along Lake Bohinj.
In Ukanc, I had a quick bite at the restaurant before doing the last bit of that day's hike.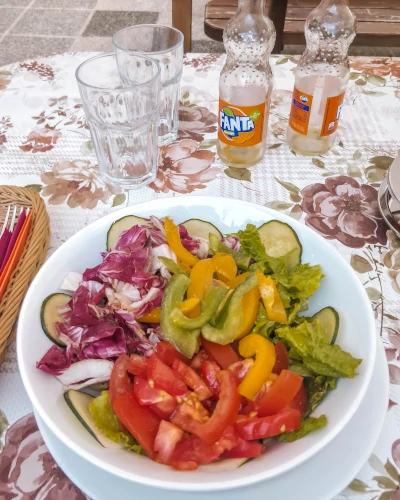 Walking from Ukanc to Stara Fužina would take another hour and 14 minutes. I reached the lake at 20:00 and the light was so beautiful. I quickly took a photo and continued the walk. I was so happy that it was just a flat walk from now on. I was so done with all the in- and declinations. I had one hour left before the sun would set, so with all the energy I had left in my body, I walked as fast as I could.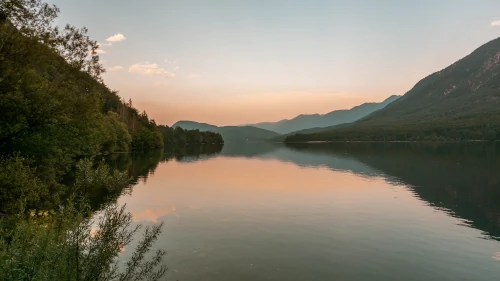 At 21:00, exactly when the sun set, I left the lake behind me. I only needed to walk through the valley to my guest house in Stara Fužina.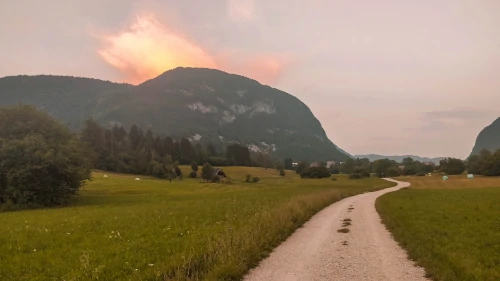 At 21:15, almost 13,5 hours later, I made it back to my guest house in Stara Fužina. I was so happy that I survived this. Obviously, there is nothing wrong with doing this long hike, but I just wasn't prepared for it at all. Besides that, I made a few very stupid mistakes that I wouldn't have made if I was more experienced or better prepared.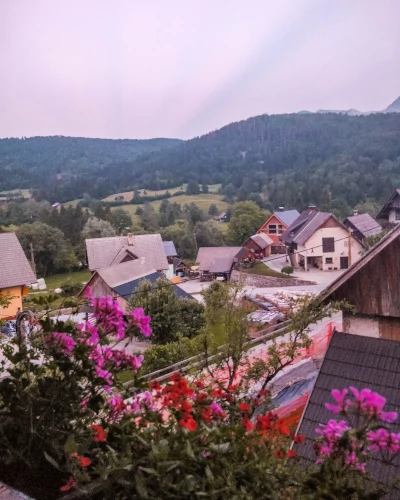 Learning from my mistakes
To clarify, I'm not an experienced hiker at all. You probably could tell from this story. The only hikes I ever did were a few hour hikes and I never went on a day hike like this before. I think the longest hike I did before this one was just two days before from Stara Fužina to the Voje Valley, which took me 5 hours in total to get back to Stara Fužina.
I didn't have any experiences with hikes like this and I never did a hike with vertical inclinations. Furthermore, I wasn't prepared on doing a big hike like this. I didn't bring enough water and food. I also was short on time because I spent way too long at the top of Pršivec. This meant I didn't give myself breaks when I needed it later in the day.
All in all, I'm very glad things turned out the way they did. Aside from a few bruises and cuts, nothing bad happened. And I learned a valuable lesson of never doing anything like this ever again, or at least not this unprepared. Sometimes you need to learn things the hard way. When Joop and I went on a day hike in Yosemite National Park later that year, everything went perfect. We took enough breaks during our hike, but not too many. Our breaks didn't last too long and we didn't spend too long taking photos (I had to chase Joop a bit because he loved taking photos of every squirrel and bird he saw, and there are lots of those). We stuck with our plan of just doing the hike we had in mind. Even when we got back to the car earlier than expected, we just accepted how tired our bodies were and didn't do another hike. Things might have turned out different if I hadn't such a bad solo hiking experience in Slovenia.
I hope you've enjoyed reading my experience hiking in Triglav National Park and maybe you learned something from my story. Have you ever had a bad hiking experience? Let me know in the comments below!
Be sure to check out:
Three Days at Lake Bohinj - A Hiking Itinerary