Our full Tokyo itinerary - part one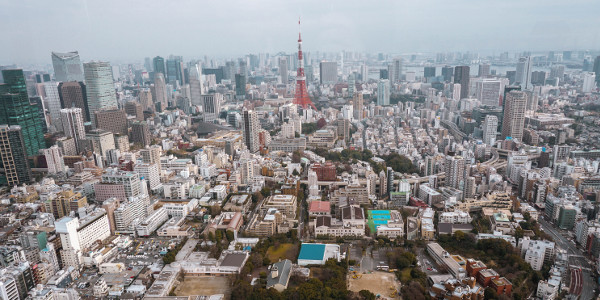 We spent seven days in Tokyo and did so many things that we decided to split our itinerary in two posts. This is the first one outlining our first three days in the Japanese capital. Click here to read part two.
Day one
Akihabara
It was our first day in Japan and as we got to our Airbnb in the middle of the night/early morning, we decided to take things easy on our first day. After sleeping late, we went to the area of Akihabara. Akihabara is also known as Electric Town and it's located in the area around Akihabara Station. It's a shopping district where you can mostly find anime, manga, and video games. There are also lots of arcades around every corner where you can try your luck to get a cute stuffed animal (Pikachu, anyone?). We expected Akihabara to be a huge area with never ending shops and lights. However, it's just a main street and a few side streets, so we were a tad let down. If you walk quickly you can see everything in 25 minutes. Nevertheless, we spend quite some time visiting shops, arcades and malls in the area and Joop even won Mika a Mew, yay!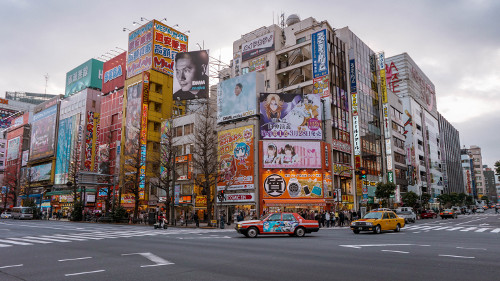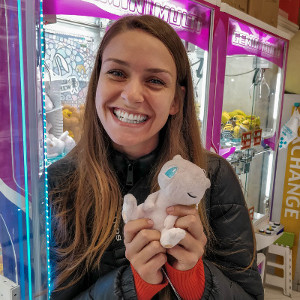 Day two
Shibuya crossing
On our second day in Tokyo, we visited the area of Shibuya and of course the Shibuya crossing. The Shibuya crossing is absolutely a must-visit when you're in Tokyo. You can find the Shibuya crossing in front of the Shibuya Station Hachiko exit. We spent almost the entire afternoon at the crossing, taking pictures of different perspectives and overlooking the masses of people. The area surrounding the crossing is full of shops and malls, so it's definitely worth walking around to do some shopping. When it got dark, we returned to the crossing to take some more pictures. If you don't have all day and want to take nice pictures, go to the Shibuya crossing after sunset. With all the lights surrounding the crossing, your photos will really be coming alive.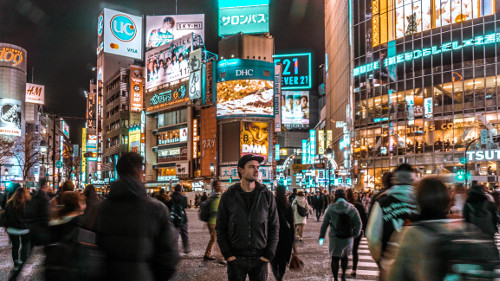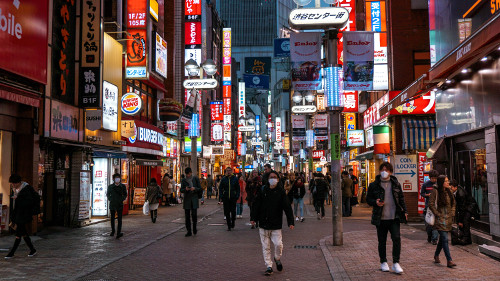 Hachiko statue
Close to the Shibuya crossing you will find the Hachiko statue. You'll walk past the statue when you take the Hachiko exit of Shibuya Station to the crossing. The story of Hachiko is quite sad. Hachiko was a dog owned by professor Ueno of the Tokyo Imperial University. Ueno travelled to his work by train, and Hachiko would meet him at the end of his work day at the Shibuya Station. One day, Ueno died during work and he never returned to Shibuya Station where Hachiko awaited him. The next nine years after Ueno's death, Hachiko waited at the train station, precisely at the time the train was due, for Ueno's return. The statue of Hachiko is a pretty famous spot in Tokyo and people are always lining up to take pictures with the statue. The story was made into a movie in 1987, with an American remake in 2009.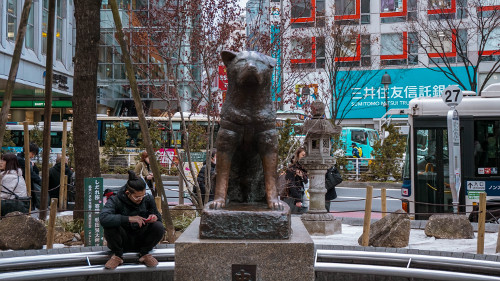 Rainbow bridge
In the evening, we decided to take photos of the Rainbow Bridge. After sunset, the Rainbow Bridge is either lit up in rainbow colors or white and green. When we visited, the bridge was lit up in white and green colors. We went to the shore of Odaiba to get a good view of the bridge and the city skyline behind it. As you have a nice overview over the city, this place is also worth visiting during sunset. Don't forget to bring a tripod for those low-light evening shots (as we did…).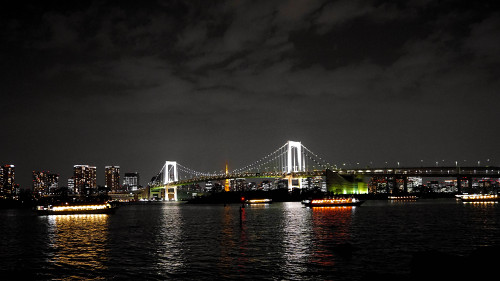 Day three
Mori Art Museum
The Indoor Observation Deck on the 52nd floor of the Mori Art Museum is a must-visit if you like city views. The architecture of the observation deck is beautiful with large windows all around the place. We visited in the middle of the day and it was not too crowded. You could easily sit in front of the windows and take photos of the view without anyone interrupting the photos. There's also an open-air Sky Deck, but this is not included in the ticket price. As it was mid-winter and pretty cold, we decided to stay inside and save some money, and body warmth.
Prices:
JPY 1800 (adult)
JPY 1200 (university student - old university cards of foreign universities work, don't ask why we know this)
Check this website for current ticket prices.
Opening hours
Weekdays and holidays: 10.00-23.00 (last admission: 22.30)
Fridays, Saturdays and days before holidays: 10.00-01.00 (last admission: 00.00)
Tokyo Tower
From the Mori Art Museum it's half an hour walk to the Tokyo Tower. The Tokyo Tower looks like a red and white version of the Eiffel Tower. It's used as a communication and observation tower and it's the second-largest structure in Japan (332.9m). Walking to the tower, there are a few nice spots to photograph it from the streets. There's a four-story building (FootTown) located directly under the tower with museums, restaurants and shops. From there, you can visit the two observation decks: the Main Deck (150m) and the Top Deck (249.6m). We decided to stay on the ground, as we just had a nice view of the city from the Mori Art Museum, and we just wanted to take in the sights of the Tower.
Prices:
Main Deck: JPY 900 (adult)
Main Deck + Top Deck: JPY 2800 (adult)
Check this website for current ticket prices.
Opening hours
Daily: 09.00-23.00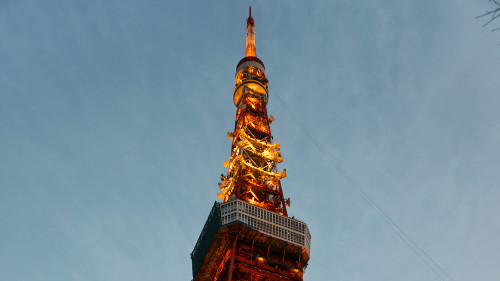 Click here to read part two of our full Tokyo itinerary!
Have you ever been to Tokyo? Let us know in the comments below!
Planning your stay in Tokyo? Click here to get a 10% cashback reward on Booking.com!
Be sure to check out more of our visual experiences on Instagram!