Things to do in Hong Kong: Our complete itinerary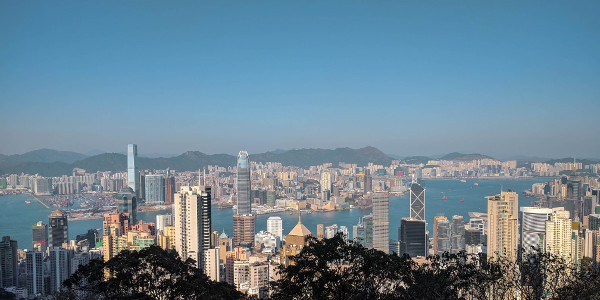 In January 2018 we spent 11 days in Hong Kong. Even though it was freezing cold and we both caught the flu, we totally fell in love with this city! Hong Kong is an intensely dense city with ±6500 people per squared kilometer. Consequently, the area has the most skyscrapers in the world. The public transport is extremely well-designed, which is a huge plus and makes every place easily reachable. We think Hong Kong is such a fascinating city and there is so much to see. Here's our pick of what to do if you ever find yourself in this amazing metropolis.
Avenue of Stars
The first place we visited was Avenue of Stars and we were instantly impressed by the view! The view of Hong Kong Island is by far the most amazing skyline we've ever seen. We spent hours taking pictures from every angle here. We came back multiple times during our stay to watch the skyline (and to take the ferry to Hong Kong Island).
China Ferry Terminal
The China Ferry Terminal is where the ferries to China Mainland and Macau depart from. We had a bit of a hard time finding the right 'Instagrammable' buildings. You have to go inside the terminal, get to the top floor and then find a way out. Once outside you will see the right buildings. Try to visit during sunset on a clear day as the disappearing sunlight reflects perfectly on the golden buildings.
Kowloon Park
Kowloon Park is located in the middle of Kowloon. We've never been to a city park with different kinds of parrots, toucans and flamingos, but Kowloon Park has it all! It's fun to walk around the park and to visit the bird lake, the aviary and trying to talk with parrots.
Opening hours
Daily: 05.00-00.00
No entrance fee.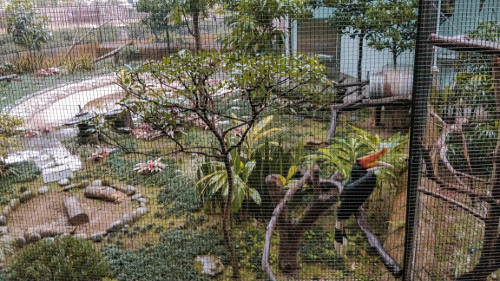 Garden Hill
Garden Hill is one of our favorite places in Hong Kong. It's a hill in the middle of Kowloon with incredible views over the city. The observation deck on top is easily reachable by stairs. Everyone up here is either flying their drone or taking pictures of each other or the view. So, come prepared with your camera gear and bring your drone if you have one because this is the place to fly it!
Victoria Peak (hike)
The Victoria Peak is probably the most famous view point of Hong Kong. This means it's also very crowded. You can reach it by taking the Peak Tram or by hiking to it. We decided to hike as the line at the Peak Tram was very long and we don't like waiting. At first, we just followed the path alongside the Peak Tram. When we couldn't go any further we used a combination of Google Maps and Hong Kong hiking blogs to reach the Peak. We walked in the wrong directions multiple times as we were also very busy with taking pictures and playing with the cats we saw along the way. We advise you to stick to one hiking trail and don't get too distracted :D.
During the hike you probably won't see many people but at the Peak it can be very crowded. We visited at the end of the afternoon and it was packed. There are two buildings with shops and restaurants: the Peak Tower and the Peak Galleria. And of course, they have thought about entertainment as well: Madame Tussauds is located in the Peak Tower in case you get tired of the view. Both the Peak Tower and the Peak Galleria have an observation platform. We didn't visit the observation platform of the Peak Tower as it was packed with people. The observation platform of the Peak Galleria was very beautiful during sunset. We didn't feel like hiking back down and as the line for the Peak Tram was still insanely long, we decided to take the bus instead (bring small coins as there's no change). As the sun had set already, this was a beautiful ride down, looking out over a lit-up, nighttime Hong Kong.
Opening hours
Victoria Peak is open 24/7
Victoria Peak Tram runs daily between 07.00-00.00
Peak Tower daily: 08.00-23.00 (may differ between shops and restaurants)
Peak Galleria daily: 10.00-22.00 (may differ between shops and restaurants)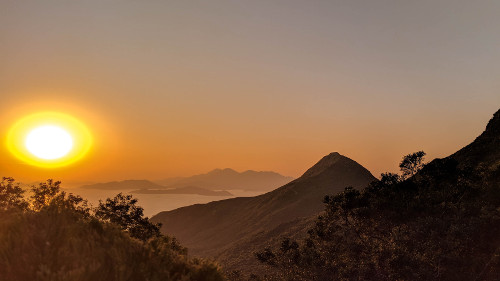 Nan Lian Garden
Nan Lian Garden is a beautifully designed Chinese Garden. It's a very tranquil and peaceful place and we loved walking around the Garden and taking pictures of all its beauty.
Opening hours
Daily: 07.00-21.00
No entrance fee.
Choi Hung Estate
The pastel colored houses and the basketball field of Choi Hung Estate are a true hit on Instagram. Many people have a hard time finding the basketball field as it's on top of a car park and therefore hidden from the eye. When we exited the metro, we walked past a sign with a map of the Estate, including the location of the basketball field. This link is the exact location of the basketball field at the Choi Hung Estate.
We visited the Choi Hung Estate on a Sunday afternoon and it was very crowded. It seemed like all the locals and tourists in Hong Kong we're at the basketball field at the same time. Everyone was taking photos and there even were some girls that brought suitcases full of outfits. It was all very fun to watch. If you want to take photos without any crowds in it, try to visit the basketball field early in the morning and avoid the weekends.
Shek Kip Mei Estate
The Shek Kip Mei Estate is the only place we didn't find on the Internet beforehand, but discovered it ourselves wandering around. The Estate has both older (lower) and newer (higher) buildings and all are painted in pastel colors. Especially the higher buildings are perfect for some nice perspective shots.
As we caught the flu, we had to slow things down a bit and couldn't visit everything we wanted to. We still have the following places left on our list.
"Instagram Pier" at Kennedy Town
The Instagram Pier is actually a public cargo work area, but it was given this nickname due to the high amount of Instagrammers coming here to take photos.
Yick Fat Building
The Yick Fat Building must be Hong Kong's most photographed building. Many photographers and Instagrammers come here daily to capture this massively dense building. You might recognize this place from the movie Transformers 4. It looks very impressive to us, we hope we can make it there next time!
Hong Kong Island
As we were staying in Kowloon, we were mostly exploring the streets over there. Of course, we've been to Hong Kong Island and visited some places like the streets with the street art (Graham Street and the surrounding streets), but we didn't explore this part of the city as much as we'd like to. Next time we have to make sure to spend more time on Hong Kong Island.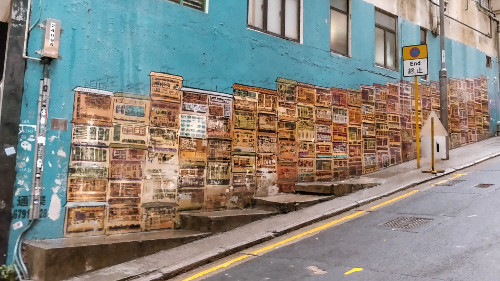 Ng Tung Chai Waterfalls in Tai Mo Shan County Park
We found the Ng Tung Chai Waterfalls on Hongkonghikes.com and it looked pretty nice so we wanted to check it out. We weren't able to do so because we didn't feel well, but hopefully we can make it next time.
Tung Ping Chau
Tung Ping Chau is a beautiful island in Hong Kong. It is the easternmost island and it consists of shale rock. Its surrounded by turquoise waters and it looks like the perfect nature getaway from the city.
Have you ever been to Hong Kong or would you like to visit? Let us know in the comments below!
Planning your stay in Hong Kong? Click here to get a 10% cashback reward on Booking.com!
Be sure to check out more of our visual experiences on Instagram!