New Year's Eve in Kuala Lumpur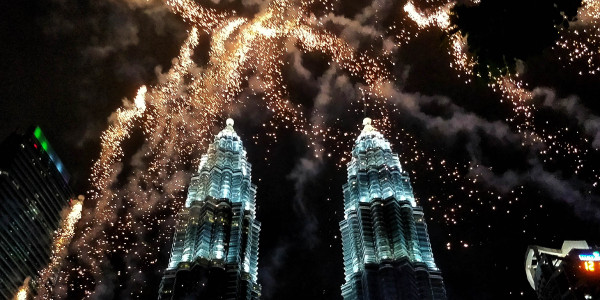 Initially, we wanted to celebrate New Year's Eve in Hong Kong. However, when we started looking for accommodation, almost nothing was available and the only thing we could find were dirty hotels far from the city center for €500,- a night. We decided to look for a different location. All flights around the days of New Year's Eve were pretty expensive and the only place that came up with reasonable flight and hotel prices was Kuala Lumpur. Even though we've already went to Kuala Lumpur hardly a month before New Year's Eve, we didn't really see any other options without spending too much money (check our complete Kuala Lumpur sightseeing guide here).
After doing some research, we decided to go to the KLCC Park where some artists we didn't know would perform and from where you could watch the fireworks at 12 o'clock. We found, what we though was, the perfect spot facing the Petronas Towers and the concert began around 9PM. Every artist performed about 15 minutes after which there was a break for around 30 minutes before the next performance, which was a bit boring.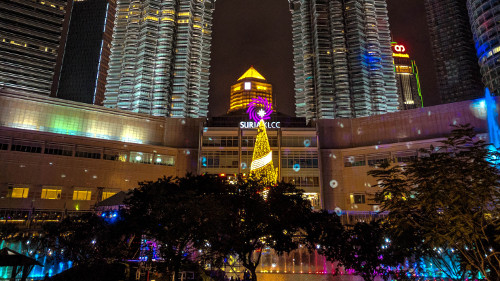 When the clock ticked 12 o'clock, the fireworks started, which happened to be behind us. Our view was almost completely blocked by trees, so that was a bit unfortunate. Luckily, they would sometimes light some fireworks in front of the Petronas Towers, so we were still able to get our Insta shot.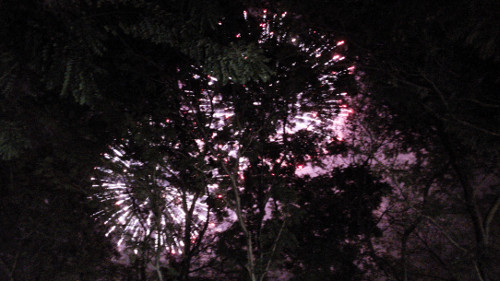 If you're ever in Kuala Lumpur at New Year's Eve and decide to go to the KLCC Park, find a spot facing the stage (with your back facing the Petronas Towers) to not make the same mistake we did. Oh and you are allowed to bring food and drinks! Try not to arrive too late because it gets pretty crowded after 9PM. Even though we had a fun night (we had 7-Eleven ice cream afterwards, yay), we will always prefer celebrating New Year's at home with friends!
Where is your favorite place to celebrate New Year's? Let us know in the comments below!
Planning your stay in Kuala Lumpur? Click here to get a 10% cashback reward on Booking.com!
Be sure to check out more of our visual experiences on Instagram!
Two-week stay on Langkawi island - what did we do?